Some links are affiliate links, which means if you make a purchase through these links, I earn a commission, at no extra cost to you.
Before reading the article, be aware that I wrote a 200+ pages book about traveling as a black person. Click here for more info.
I'm always surprised when I see how people around me are astonished when I tell them stories about what happens to me on the road, anecdotes linked to my color skin. Traveling while black means going through different experiences than my fellow white or Asian travelers. The more I travel, the more I realize it. Traveling while black means developing reflexes without realizing it. Traveling while black means going through different experiences than the other travelers.
This article mostly aims to show another perspective, what it's like when you're traveling and being judged by the color of your skin before opening your mouth, the obstacles and challenges to go through, and of course if you're black, what to expect when you're traveling. Cause yeah, I often get messages from black people who want to hit the road, but they're a bit anxious because they don't really know what to expect. I already talked about it in my article about the fear of racism when traveling, but one of the most common questions I get is "I'm going to X country soon… Have you been? Are they racists? You sure I won't have any problems because I'm black?"
Quite often, some black people don't allow themselves to go to some countries out of fear of racist attacks. You travel to relax, and it's not possible if you're constantly on your guards. The world is way less dangerous than you think (because of the media). Anyway, here's what I noticed after traveling while black by myself for a long time.
Racial profiling
I first start to talk about racial profiling because it's the first obstacle you're gonna potentially face when you travel (at immigration before getting in a country). But I said it before and I repeat myself, in 95% of my travels, I had no problems. Unfortunately, sometimes your trip doesn't start off well before you even set foot in your destination. Several times, when I was going through immigration (at the airport or overland), the guys were spending way more time lingering over my passport. You need to keep your cool and show patience but over time, it can get annoying.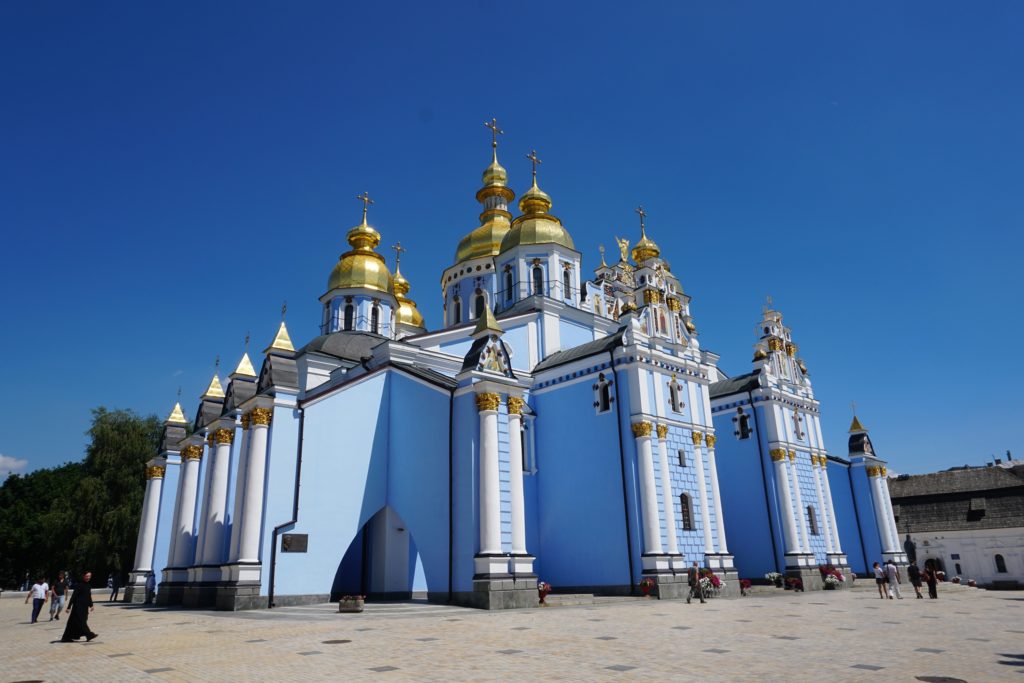 In Ukraine, the immigration officer was thinking while scrutinizing my passport every which way, making sure it was a real one. In Kyrgyzstan, all the other travelers went through immigration without a hitch… except me, the only black person! The officer wanted me to pay him a bribe to let me go (he didn't get anything!). In Sri Lanka, the guys at the immigration emptied my bag and thoroughly searched through it, thinking I was a drug dealer! I could see at the expression of their faces that they were disappointed not to find any drugs. Same thing in Singapore! All the white backpackers went through immigration smoothly… not me! I had to follow an officer in a room, where he and his four coworkers bombarded me with questions… They finally let me go, and the white backpackers told me the officers didn't ask them a single question, they just went through immigration peacefully… I was denied entry to the Philippines cause I didn't have an onward ticket, but afterwards I met a lot of white travelers who got in the country without any problems (and with no onward ticket!).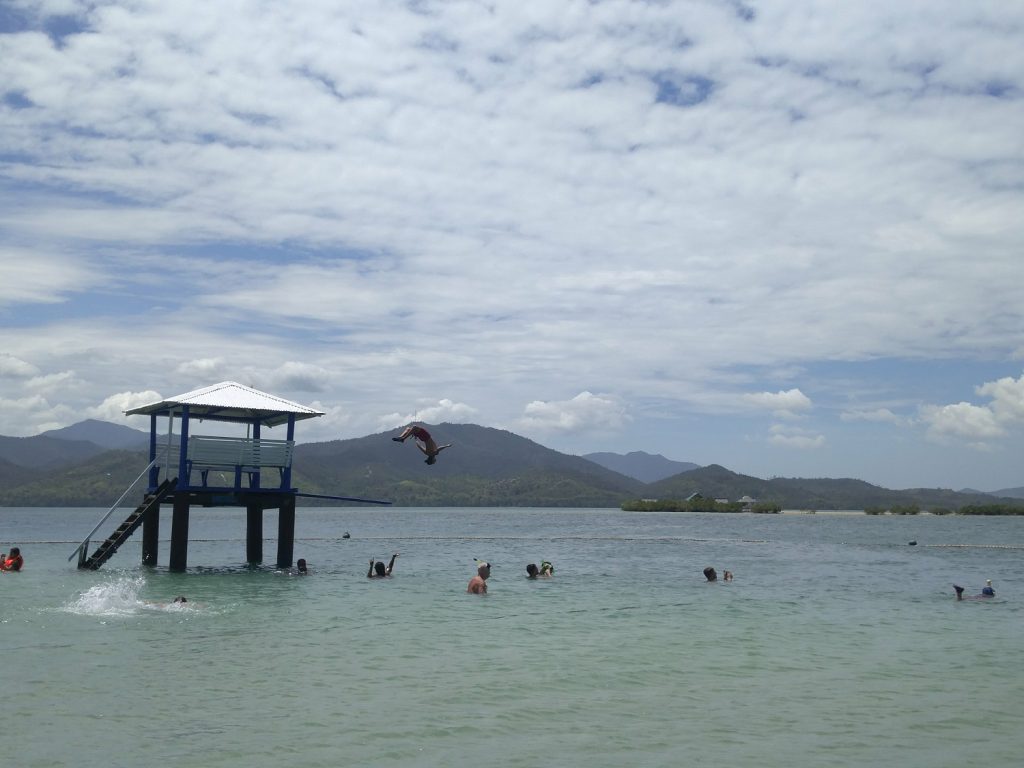 The point is, on a regular basis, in the immigration officers' minds, it goes like this : black person = migrant/refugee/drug dealer/fled his country and wants to settle in our country illegally and find a job. A black person who's just traveling with some money in his pockets, it's not normal, not possible. So the immigration officials search you, they check 15 times to make sure your passport is not a fake one… Several times, some officials wanted to make sure I was actually really French, so they were testing me out in French. I usually come out with a complex sentence in French and they look at me puzzled then "Huh? What did you just say?" I repeat the same sentence with simpler words "Oh ok…". Then they understand I'm actually French. I think it's a shame to be so close-minded, but that's how it is!
The stares
In numerous countries, there are very few, even no black people at all. So obviously, when there's one in the vicinity… Grown up adults turn into big kids and stare at you. It's not racism, just plain curiosity. They see black people on TV or on the internet but in real life, in the flesh!? For several people, I was the very first black person they met. I traveled in Central Asia and this is where the stares were the most insistent. Of all my travels, Central Asia is also the area where black people where the most scarce.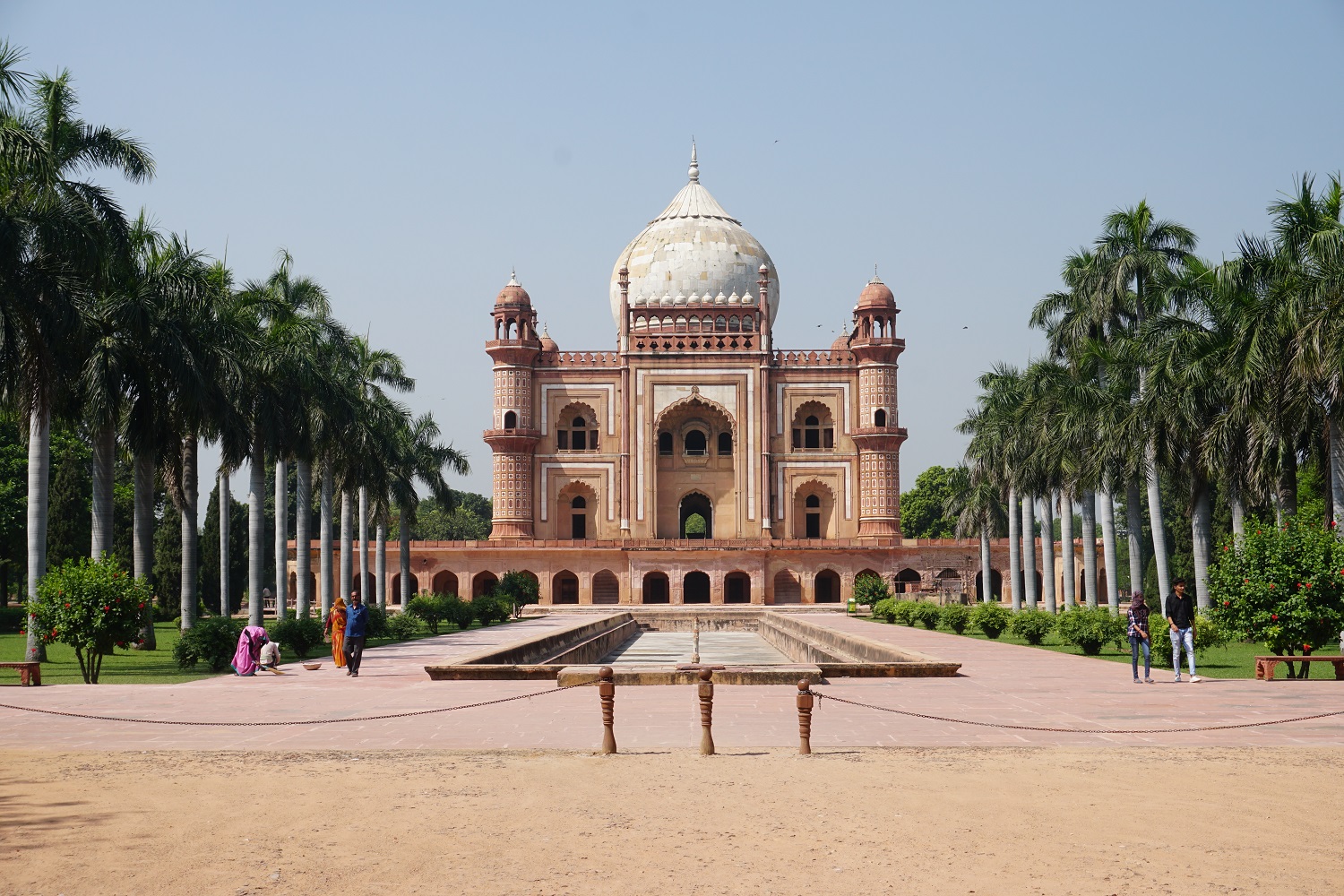 People are going to stop talking to stare at you, sometimes come up to you, in some rare cases they're gonna touch your skin… A lively restaurant with a lot of noise got more silent than a cathedral in less than 10 seconds when I got in. Every single person was staring at me! It didn't happen to me but several black girls talked about people touching their hair. The locals will greet you warmly. An entire bus waved at me in Uzbekistan! Anyway, some people will come up to you to talk, and inevitably…
Asking for pictures
It's crazy when you think about it! People you don't know who want to get a picture with you! Once again, in some areas of the world, they're not used to see black people "for real", to interact with a black person… It's not racism at all, just curiosity (it's normal!). Therefore, to prove their friends and family they did see a black person, they have to immortalize the moment! I think I posed hundreds of times with people who wanted to get a picture with me, either in Armenia, Iran, Moldova, Kazakhstan, Bangladesh… Sometimes locals want to ask for a picture but they're hesitant, then they see someone else asking me, they see me cooperate and all of a sudden 15 people come out of nowhere "I wanna get a picture, too!"
I posed with people who were walking alone and spotted me, with groups of girls, with entire families "Hold my baby in your arms and let's take a picture all together!", even military men at the border in Tajikistan wanted to get their picture with me! One day, a guy told me "Oh yeah several people told me it's been a few days a black guy is in the surroundings! I finally see you!" In 97% of cases, people ask for pictures in a friendly way and with kindness so I just play along. I refused a few times, usually people who were treating me as some sort of animal in the zoo. A girl took her phone out of her purse and put it in front of my face without asking! I pushed her phone away. Otherwise there are all those people who wanna take a picture sneakily. I learned how to spot them, and how to avoid them (in fact I'm quite good!). They're stupid, they just need to ask and I comply. But if you're trying to screw me over, taking a picture thinking I won't notice, then you won't get anything!
People often asked me if I'm annoyed by all those requests, it can be on a very regular basis sometimes (about 50 times per day in Samarkand, Uzbekistan, I'm not lying, and I don't even count all the invitations at various buffets, to have tea, to have dinner…). No that doesn't bother me, almost everyone is nice and welcoming. But I know many black people who are annoyed by all the picture requests, or other ones who don't have my patience… So be prepared if you go to an area with few black people!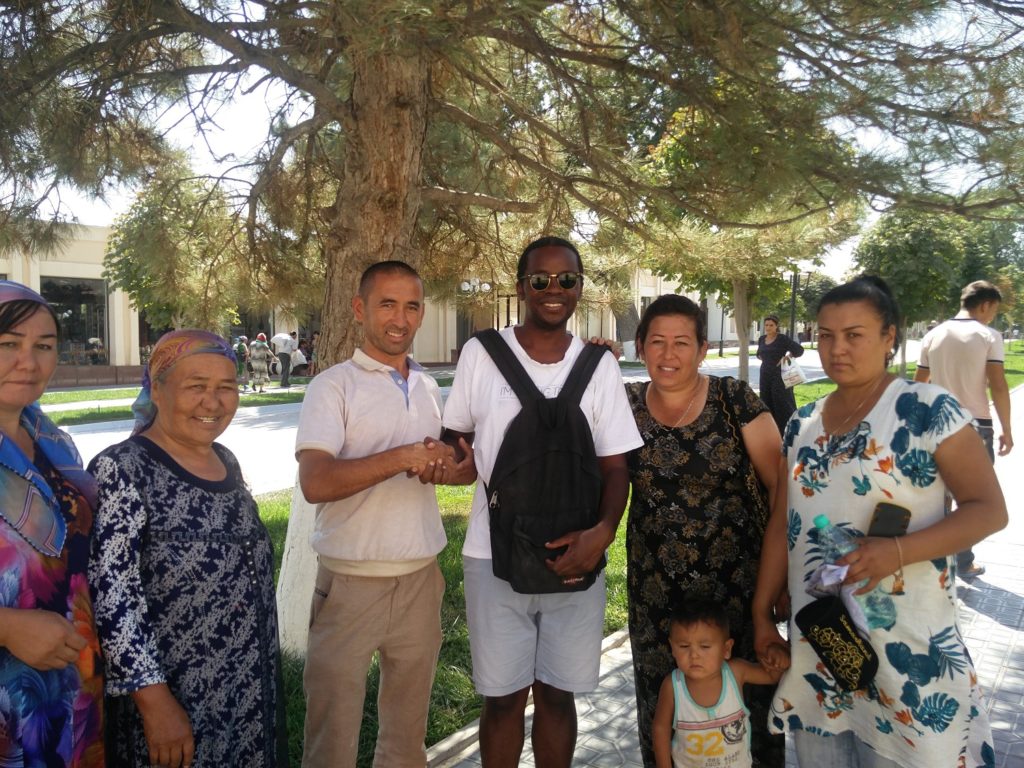 Where are you really from
I wrote a whole article about this. This is a question you're gonna get asked very often. When you're a black person coming from a Western country, for some reason, most of the time, people don't believe you. "Where are you from?" "From France!" "No but where are you really from?" "Really? From Paris!" "No but hmmm… Where were you born?" "In Paris!" "And you grew up there!?" "Yeah!" It's kinda crazy all those people thinking it's not conceivable to have black people from France on this planet. And I'm not even talking about people coming from poor or developing countries. I also had this kind of exchange with other Westerners!!! Incredible!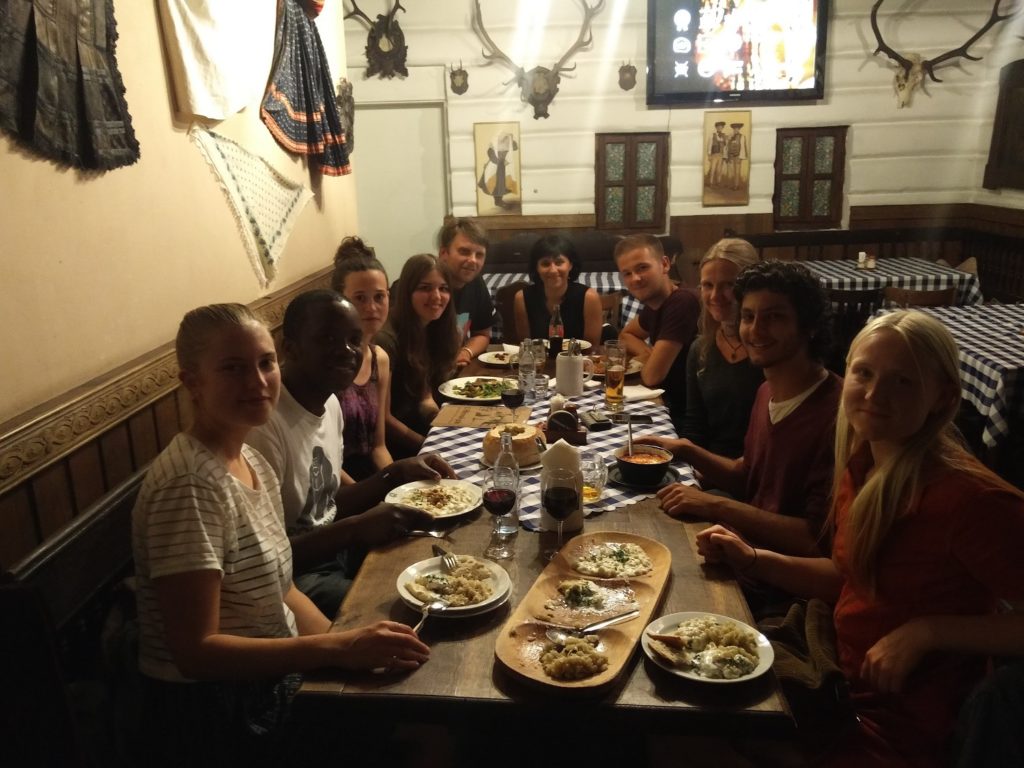 A guy in Azerbaijan told me "You're lying!" after telling him I'm French! Just like the immigration officials, he wanted to test me out in French and realized he was wrong… There are also all the locals talking behind your back. They're having conversations in front of you and you have no idea what they're talking about but at some point you hear "…blablabla Kenya blabla Zimbabwe blabla Uganda…" You don't need to be Einstein to understand they're trying to guess where you're coming from! Several times, I could hear locals calling me out in the street "Hey! Africa!" When I tell 'em I'm not African, they think I'm American. You should see their faces when I tell them I'm not American either! 😀 Completely perplexed! "Where are you from then???" During my travels, I met other black travelers who were going through the same things.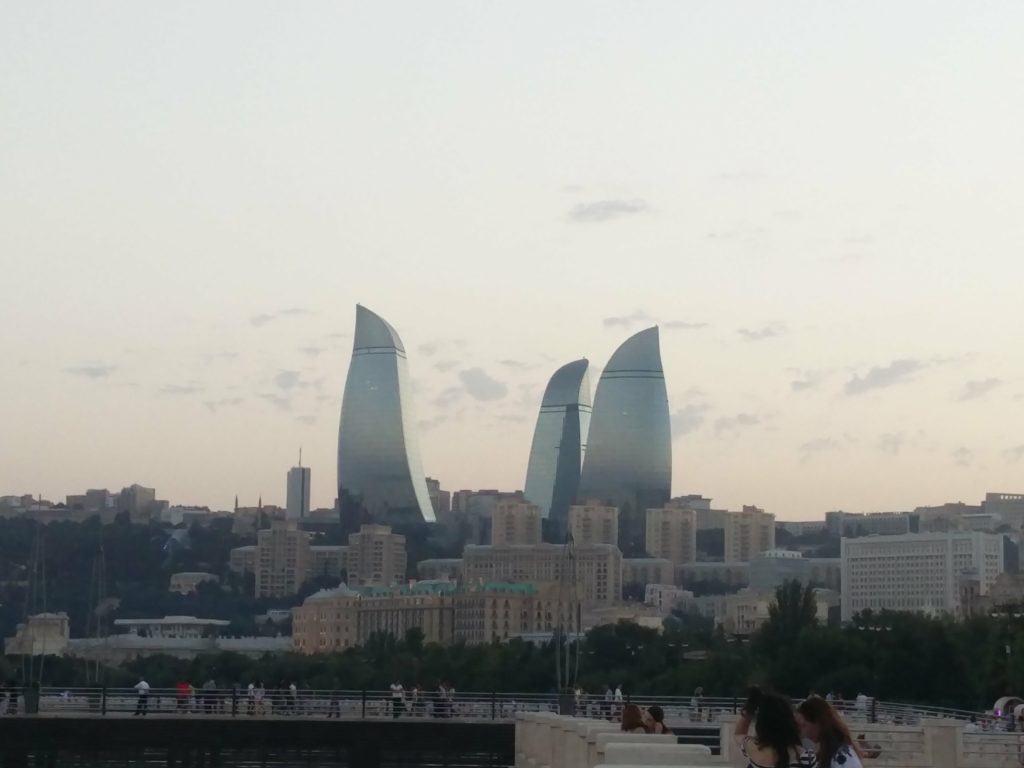 When people ask me this question "Where are you really from? Are you really French?", I'm leaning towards not taking it too badly. Actually it depends who asked the question. A peasant in a remote place in Laos? Fine. A young Italian claiming he's open-minded and has traveled all over the world? It's a bitter pill to swallow. But I know black people (and Asian people, too!) who get very offended (and I mean it, really offended!), when you ask them this question, especially those coming from English-speaking countries. In fact, I think the question is a bit clumsy. Maybe the best thing to do is to rephrase the question and use a different wording "Oh you're French! That's cool! West African descent? Caribbean descent?". That's what a backpacker met in Palawan perfectly did. So I naturally responded "Caribbean descent, from Haiti".
Being compared to a black celebrity
I didn't expect it at all… Traveling while black, when you're in a country with few black people, means being compared regularly to a black celebrity. The crazy thing is… even if you don't look like them at all, they compare you to a celebrity, the only common trait being the color of your skin! In Central Asia, when I was telling them "I'm French", they were often comparing me to Paul Pogba, telling me I look like him… Yeah… I was also called Will Smith… I met a few black people telling me they were compared to basketball players. People often think I'm a soccer player or a rapper (by the way, hip hop took over the world, that's crazy!). Black women traveling are compared to Serena Williams, Rihanna, Michelle Obama… A guy told me "I love Bionce, she's so beautiful!" "Huh!? Who???" "Bionce, moreover I love her music!" "Oh, Beyoncé…"
Some people might say "It's ridiculous". I know several black people who don't really like it "Why being constantly compared to a black celebrity!? The average black people never travel!? Except to flee their country? You have to be a star and to be rich as fuck when you're black to be able to travel!? Do they systematically compare white travelers to white celebrities, Asian travelers to Asian celebrities…? Can't we just want to relax, go on vacation, and have money to spend overseas?" I understand the point of view. But first of all the locals try to bond with you, create some kind of camaraderie, and they also want to flatter you, they never see black people! Don't forget it… Being compared to a black celebrity has its positive side. It's crazy but sometimes you're treated as such : invitations at the restaurant, at the club, the bar, at buffets… A special treatment! Traveling while black is also cool 🙂
Wassup bro
I said it just above, people often thought I was a rapper! Sometimes I make up a wild story and confirm that I'm a rapper (I used to do it a lot back then but not anymore now…). But most of the time, I explain the locals that nope, I don't rap. However, for some reason, they start talking to me with their straight-outta-Compton slang, even though I didn't ask for anything! It happened so many times! "Yo! Wassup bro? How you doin man? blablabla…" I always correct the person then, cause you can clearly hear it's forced (and often poorly imitated!). "Why are you talking to me this way? Just speak normally!" And then they stop… Still, I think it's sad. That probably means they think ALL black people talk this way! Probably because of the media…
Black woman traveling alone
I don't run into black men traveling alone often, but it happens every now and then. However, there are even less black women traveling alone. I ran into a few ones of course, but they're not numerous. Everytime, I try to ask them how it's going for them. Basically, being a black woman traveling solo doesn't cause more problems than white or Asian girls traveling (check your surroundings, etc…). A black woman will go through all the things I'm talking about when you're traveling while black (all the things I stated earlier : the stares, the people asking for pictures, the comparisons with black celebrities…). But there's something more and it's quite sad, a lot of people mistake black women for prostitutes. And it happens all over the world : Western Europe, Eastern Europe, South America, Southeast Asia, etc…
Several black girls told me that on various occasions, guys would come up to them and without greeting them, they'd ask "How much?" Even in cities like Vienna, Barcelona, Hong Kong… Yeah there are real black prostitutes all over the world, most of them coming from West Africa. But systematically think that black woman = prostitute, seriously…? They cannot be "regular" women like all the other ones? Beautiful, smart, independent, who love to explore the world? Black women traveling alone are sometimes being fetishized by the locals. They see them as a hunting trophy, something to brag about "I had sex with a black girl!" Apart from this, black girls don't really have more problems than the other travelers.
What else to expect when you're traveling while black
There's this whole imagery in people's minds : cool, bon vivant, funny, but also good dancer, sporty, womanizer, big dick, etc… Several times I was told "Hey! Come join us on the dancefloor, you know how to dance, for sure!" I talked about it in another article, but in areas with few black people, when you run into one, you'll usually do the nod.
I also noticed something else. In areas with few black people, you try to give the best image of black people (I actually found out I'm not the only one doing this, but several black travelers I talked to). Unintentionally, you become a representative of the whole black community, and the experience the locals will have with you will be decisive for what they're gonna think about black people in general afterwards. Indeed, the locals will interact for the first time with a black person and they wanna gauge "what it's like". They're gonna observe you, a mix between curiosity, questioning and admiration in their eyes. Obviously, if everything goes well, they're gonna roll out the red carpet for the next black person stopping by! On the contrary, if you're a douchebag, it's gonna harm the next black people passing by in the future!
Traveling while black isn't insurmountable, on condition that you show patience and open-mindedness. I know a lot of black people don't allow themselves to go to some countries out of fear of potential discrimination (Russia, India, Italy, Spain…), or they sometimes boycott some countries, but I don't think it's the solution. There's racism everywhere, overseas but also just a few blocks away from your place. No matter which country, you'll find someone who had a bad experience there. This is not new, we talk to three times more people about our negative experiences than the positive ones (and I'm not just talking about racism, but in life in general!). So if you really wanna read negative experiences about a place, do it but with hindsight. An isolated event shouldn't be your main reason to completely boycott a country. Go wherever you want to! I think it's quite ironic that I get messages from American black people asking me if it's safe to go to X country, when you know what's going on in the United States…
Are you black and traveling? Have you noticed other things? You're not black? Reading this article, were you surprised or not at all? Let me know in the comments! Also check out this list of black explorers who traveled around the world, and this list of black travel bloggers to follow!