Some links are affiliate links, which means if you make a purchase through these links, I earn a commission, at no extra cost to you.
I was told that Bukhara was THE city to visit in Uzbekistan, and as I was explaining it in my post about Bukhara, I probably set the bar a bit too high, and I was a little bit disappointed. Thus I was expecting anything for the other cities, and I wasn't expecting anything special regarding my visit to Samarkand. Although I knew there were things to do in Samarkand, I didn't expect much.
Description of Samarkand
Before talking about the things to do in Samarkand, let's talk about the city, since it's so different from our Western cultures. Once again, kids bombard me with "Hello!" in the street, and Samarkand is the city where I was stopped in the street the most often for pictures with me. I was walking with people from Swiss and Germany I met at the hostel, and they were shocked at first, and then in stitches "Everybody's staring at you and ask for pictures, even the cops want to get pictures with you, this is insane!". An Austrian girl also told me "I thought people here kept staring at me, but this is nothing compared to you!" In fact, I don't even notice the stares anymore, I'm used to it…
Yeah, not only people want to get pictures with me, but they also want me to have tea with them at their places. Several times a day. I'm leaving an Uzbek family who invited me to have tea, and this time a fire truck honks at me, and the firefighters in the truck wave at me. Five minutes later, a bus passes by, completely packed, and every single person in the bus (at least 50 people) say "Hellooo!", waving at me. A real star!
A friend told me I should have asked someone to film all this and post a video to make it viral… Complicated when you're traveling solo, but it's a good idea for a black person visiting Samarkand in the future. Because yeah sometimes the ones I was with (from Swiss, Germany and Austria, all white), had "Hello!", but not often. And almost no one asked for pictures with them. But me, black, rare breed in the country, it was "Hello!" and "Can I get a picture with you?" all the time. Seriously, all day, everyday! When I think about it, that time when the whole bus waved at me, it was quite funny, and it deserved to be filmed. Anyway…
That doesn't bother me, they mean well. But this is constantly slowing me down. Everything takes more time. It's also complicated to take pictures, I'm always interrupted… Something didn't help me. I was in Samarkand during a music festival, apparently famous in the whole country (aired on TV, I was watching the festival on TV from my hostel, and I just had to go out and walk for 5 minutes to see how it went live!). Thus a lot of streets were closed and inaccessible. And there was something else. The unveiling of a statue next to the Registan, a statue of Islam Karimov, former president of Uzbekistan. Statue in honor of Karimov unveiled one year after he passed. Therefore all the area was crowded, it was impossible to move on.
As I was visiting the city, I was telling myself "Samarkand is very touristy, and clean". As usual, when I get in a new city, I usually start by visiting the tourist spots, before wandering around and get lost in remote areas of that city. And that's how I got it. They built a wall hiding the "real" Samarkand, the historic city. On one side, we have Samarkand, the original, the authentic. On the other side, Samarkand for tourists. If I had just contented myself with the unmissable in Samarkand, I would have never noticed this. But I walk a lot, often in areas where there's nothing in particular to see. I just go there to watch people, how they interact, the life of a neighborhood… You see different things, and sometimes you have good surprises.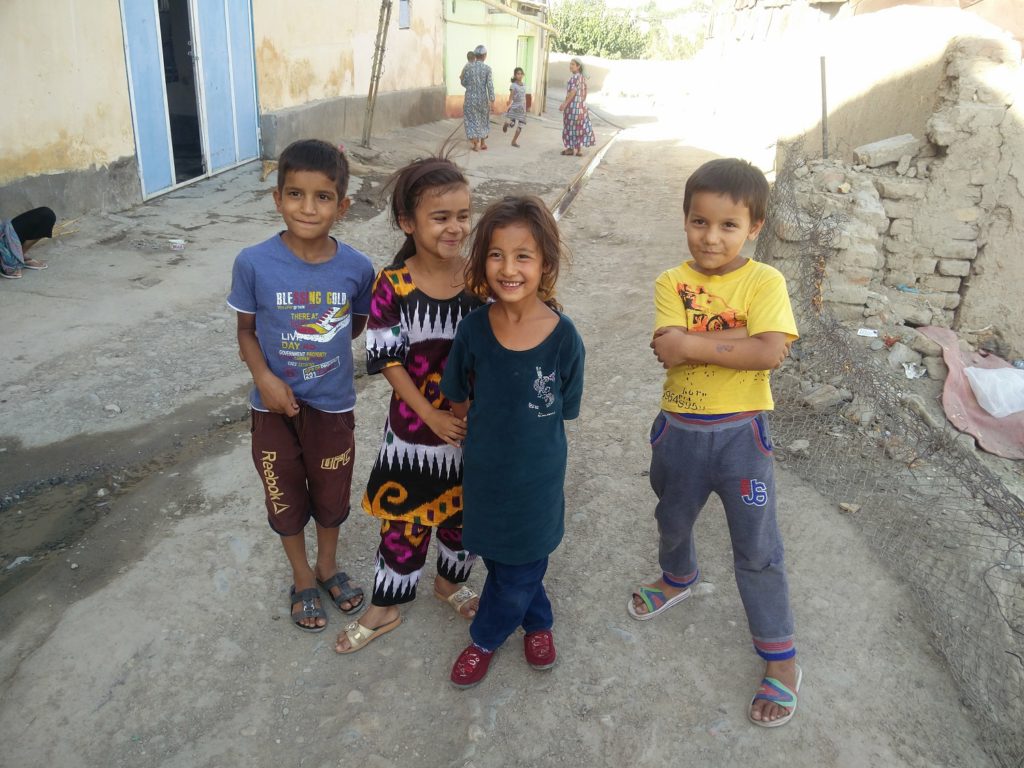 What to do in Samarkand
Registan Square
Anyway, let's see what Samarkand has to offer. The emblematic spot in Samarkand is, of course, Registan Square. You can get in there either by paying 29500 soms, or 7 US dollars, or 5 euros. You'll find three madrasahs (Coranic schools) : Ulugh Beg madrasah, Tilya Kori madrasah and Sher Dor madrasah. Registan means "sandy place" in Persian. You'll need some time to visit all this, and being the most popular place of the city, you won't be alone…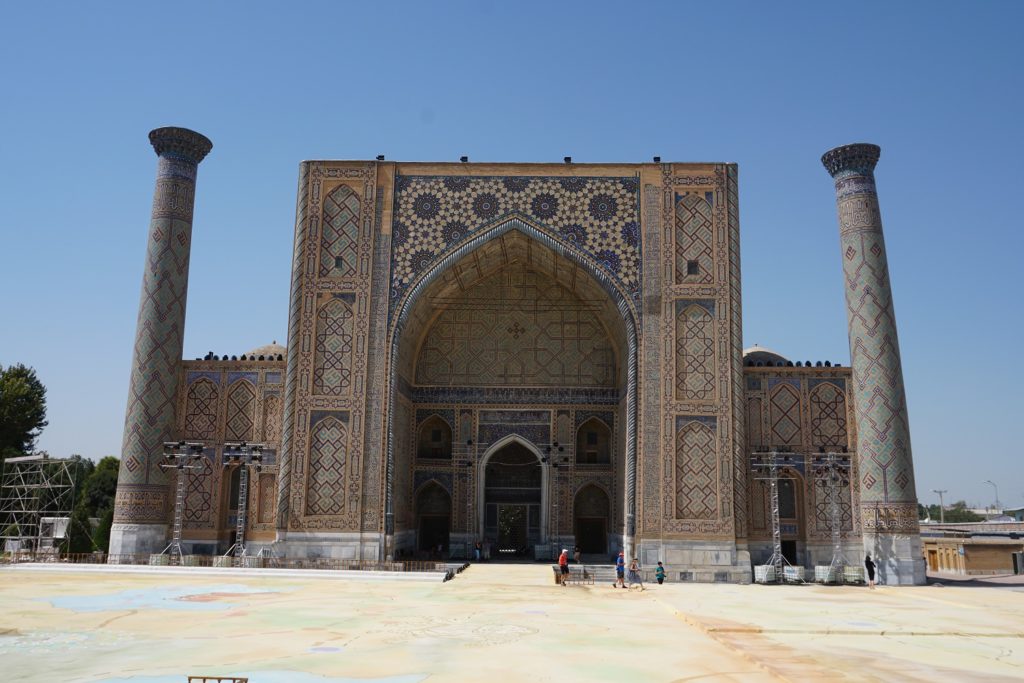 The Bibi Khanym mosque
The other popular spot, attracting hundreds of tourists, is the Bibi Khanym mosque, the biggest one in Central Asia, located next to Registan Square. This mosque was built in 1399, and it deserves to be restored. You'll have to pay 19000 soms to get in (2 euros), and the mosque is worth the detour anyway. There's another mosque I wanted to see, the Hazrat Hizr mosque, but it was under construction…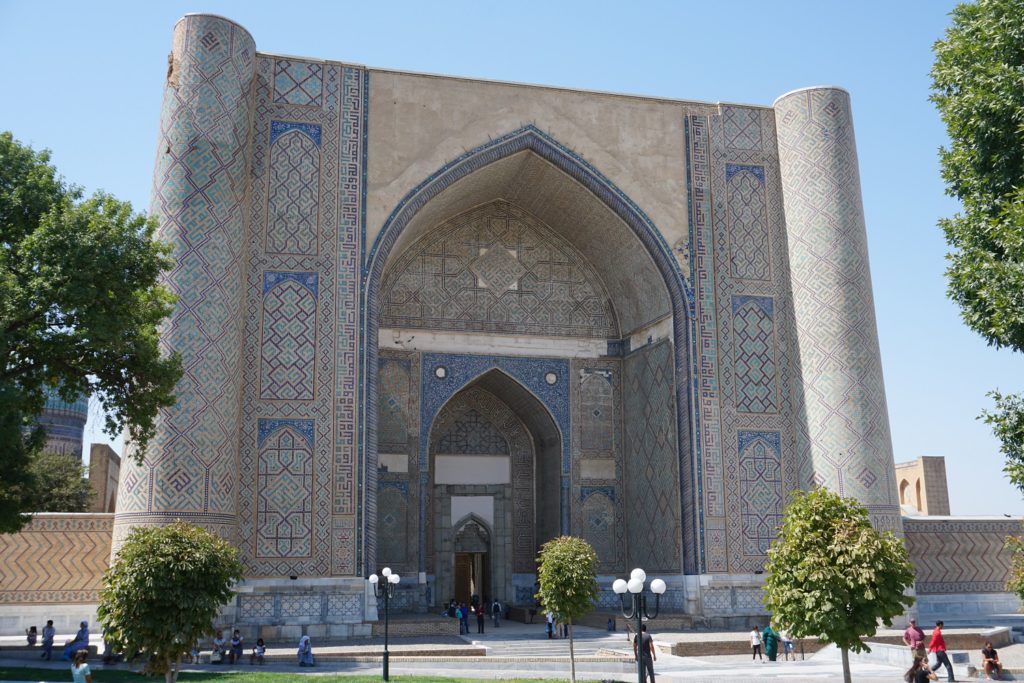 The Siyob bazaar
The Siyob bazaar, which is next to the Bibi Khanym mosque, deserves a visit. It's open from 5am to 7pm, and they sell all kind of spices, traditional clothes, fruits… Guys there will often call you out, trying to sell you something, but they don't insist and it's not annoying (compared to India!).
Gur-e-Amir mausoleum
I also went to the Gur-e-Amir mausoleum, conqueror and emperor who reigned in Samarkand during the 14th century. It's 19000 soms (2 euros) to get in, but it's a small place. To me, I think you can skip it. Those kind of places where they went to take a maximum of money from tourists, with their souvenir shop inside and guys there who want you to buy.
Shah-i-Zinda necropolis
Shah-I-Zinda necropolis was one of my favorite. You'll see a lot of mausoleums there (two wives of Gur-e-Amir have their mausoleums here), and the place is really big, there's a lot to see! It's 10000 soms to get in (a little bit more than one euro), and as I was walking around a few days later (I like to wander around as I said earlier), I realized that it's actually possible to get in there for free, using one entrance in the back, passing by the cemetery!
I won't list everything but there are really maaany mosques, museums and mausoleums to see. You have to make choices because as I said before, it gets tedious after some time. You have to choose. Although very touristy and despite the wall, I liked visiting Samarkand. A lot of people say you shouldn't stay there too long, it's too touristy… But I enjoyed walking around in the city.
How to get to Samarkand
The easiest way to get there is by train. From Tashkent, going to Samarkand will cost you 50000 soms (5.50€) by train, and it will take three hours and a half to get there. From Bukhara, it's easier to get to Samarkand by bus. It will be 25000 soms (less than 3 euros), for a 6-hour ride. FYI, there's also an airport in Samarkand. Click here to check the latest flight prices. Otherwise there are shared taxis to get to Samarkand.
How to get around in Samarkand
You can visit Samarkand by foot.
Where to stay in Samarkand
If you're traveling on a budget, the Amir Hostel is probably the best hostel out there. Click here to book your stay. If you're looking for a mid-range hotel, the Tilyakori Hotel is a good one. Click here to book your stay. If you're into luxury hotels, then you should stay at the Dilimah Premium Luxury. Click here to book your stay. Otherwise click here to check the hotels available in Samarkand.
Finally, if you prefer to stay in an apartment, click here to check the apartments available on Airbnb.
Samarkand travel tips