Some links are affiliate links, which means if you make a purchase through these links, I earn a commission, at no extra cost to you.
Before reading the article, be aware that I wrote a 200+ pages book about traveling as a black person. Click here for more info.
From what I remember, the first time it happened was in Montenegro, summer 2013. A few locals came up to me, and asked to get a picture with me. I didn't understand. Like really, I was perplexed and confused. It never happened in my whole life before, and I didn't understand why strangers stopped me in the street to get a group picture together, as if I was a superstar. But all of them were smiling and they looked friendly, so I complied. After the picture, they watched what it looked like on their smartphone. Then they exploded with joy, they warmly thanked me, they shook my hand, and they left! I watched them leaving. I was stunned!
I was having a great time there. Days were passing by, and I slowly started to get why people kept coming up to me, to get a picture with me. Walking in the street, I noticed people were looking at me as if I was an alien, really! Not just the kids, almost every single person was staring at me, eyes wide open, astonished. Groups of friends were walking in the street, chatting and laughing, then stopped abruptly in their conversation to stare at me. One of them would discreetly tell their friends to watch "Look over here!" and all of them would stare at me, before walking away.
In fact, I quickly realized there was no black people in Montenegro, actually very few. The locals are more or less used to see black people on TV, especially in rap videos. But in the flesh!? It's exceptional! When I started long-term traveling in other areas of the world, I realized there are several countries where I'm noticeable, since there are almost no black people in the surroundings. In fact, for many people (kids but also adults), I'm probably the first black person they saw in the flesh, with their own eyes!
It's quite shocking when you were born, you grew up, and you spent your whole life in a multicultural country. But it's less surprising when you remind yourself that in some areas on Earth, there are no black people. This means if you look different, either being black, white, or anything else, you're gonna get a lot of attention. In India, I saw the locals constantly asking a blonde girl to get a picture with her.
It's quite funny when you think about it, the locals who want to get a picture with you. That's what I call traveling while black! Grown up adults become big kids and keep staring at you. It's not racism, just curiosity. They're not used to see black people (or white people, etc…). On TV, on the internet, in the magazines yeah, but with their own eyes, in the street!? The "rarer" you are, the more people will stare at you. In Central Asia, a lively restaurant got more silent than a cathedral in a few seconds when I got in. Every single person was staring at me!
Actually, some people content themselves with a fascinated stare, others come closer to you, some of them greet you and exchange a few words with you, the most audacious ones touch your skin… It didn't happen to me but several black girls talked about people touching their hair, too! Like curious infants discovering the world! Oh and inevitably, at some point, the question will come up "Can I get a picture with you?"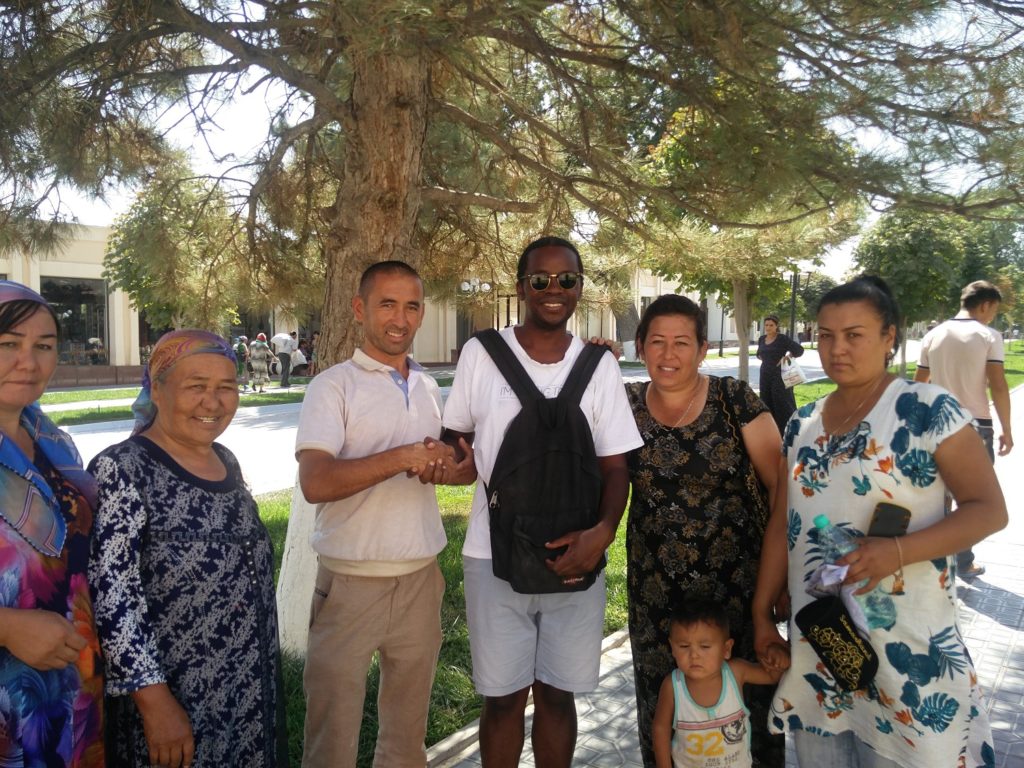 Once again, it may seem incongruous coming from them, but as I said earlier, some of them never saw nor interacted with black people their whole life. Therefore they're curious but above all, they want to immortalize this magic moment. Yeah, they want to prove their friends they saw a black person in the flesh. I'm imagining the conversation "Hey! I ran into a black guy in the street today!" "Come on, stop lying! We just see them on TV!" "I swear I saw one a few hours ago! Look, we even took a picture together!" "Oh wooow you were right!"
Therefore I posed hundreds of times with locals, in Iran, Bangladesh, Moldova, Armenia, Kazakhstan… I'm probably on numerous Facebook and Instagram accounts of people I don't even know! I guess that's part of the game. I know a black girl who was constantly called out for pictures in Mexico and Argentina. I was a bit surprised, I didn't know it also happened in those countries.
Since they're not used to interact with black people, some locals wanna ask if they can get a picture with you, but they're hesitating. They don't know how you're gonna react. They stay a few yards away, watching you. Another braver person sees me, and asks for a picture. Seeing I'm complying, dozens of people come out of nowhere and also want to get a picture! I guess the reactions were more extreme at the time of these black explorers!
This is when people are courteous (almost all the time actually). So I just play along. However, sometimes people try to sneakily take a picture of you. Over time, I learned how to spot them, and I leave the field of their smartphone. Or I turn my head. Or I put my hand on my face. Or I lower my head. It's ridiculous, they just have to ask nicely and I comply.
Does that bother me to be constantly stopped in the street in some areas of the world, to pose with strangers? Am I annoyed? A lot of people asked me this question, and honestly, no that doesn't bother me. 97% of the time, people ask me nicely and friendly. People are welcoming and they're just happy to see someone who looks different. That also makes me laugh sometimes. Moreover, if I can brighten up their days by posing with them, fine!
However, if I feel like I'm treated like an animal at the zoo, putting a smartphone in front of my face without asking, I push the phone away and I refuse. Same thing when people are pointing, laughing, not respecting me… No photos! I talk with fellow black travel bloggers, it also happened to them.
I repeat myself, but black people aren't the only ones who get asked to pose for a picture. It also happens to blond and red-haired people. When traveling, has it happened to you? A local asking to get a picture with you? If so, what do you think? Do you comply? Do you refuse? Do you like feeling like a celebrity? Or do you hate all this attention and think it's ridiculous? Let me know in the comments! If you're about to travel solo, read my article full of tips about traveling alone for the first time!