Some links are affiliate links, which means if you make a purchase through these links, I earn a commission, at no extra cost to you.
The legendary Pamir Highway, also called M41 Highway! That name might not ring a bell, because it's not that famous among the general public, but all those who traveled in Central Asia know at least the name "Pamir Highway", and all those who go to Tajikistan are basically going there for the Pamir Highway (or the Kulikalon lakes hike). Anyway, what's so special about the M41 highway? Read this Pamir Highway travel guide to find out!
What is the Pamir Highway?
That route starts at Osh (south of Kyrgyzstan), and goes all the way to Mazari Sharif (Afghanistan), passing by Tajikistan. Beyond the length of the Pamir Highway (2000 kilometers/1250 miles), the incredible landscapes you pass by while riding through that road is what attracts all the visitors here. On a portion of the road, 30 meters only (100 ft.) separate Tajikistan from Afghanistan. Indeed, the Pamir Highway goes along the border with Afghanistan, and the two countries are separated by a small river (the Panj river). I'm first gonna talk about my road trip on the Pamir Highway, then, I'll give you all the useful tips if you wanna do it too! By the way, if you're into road trips, check out these quotes about road trips!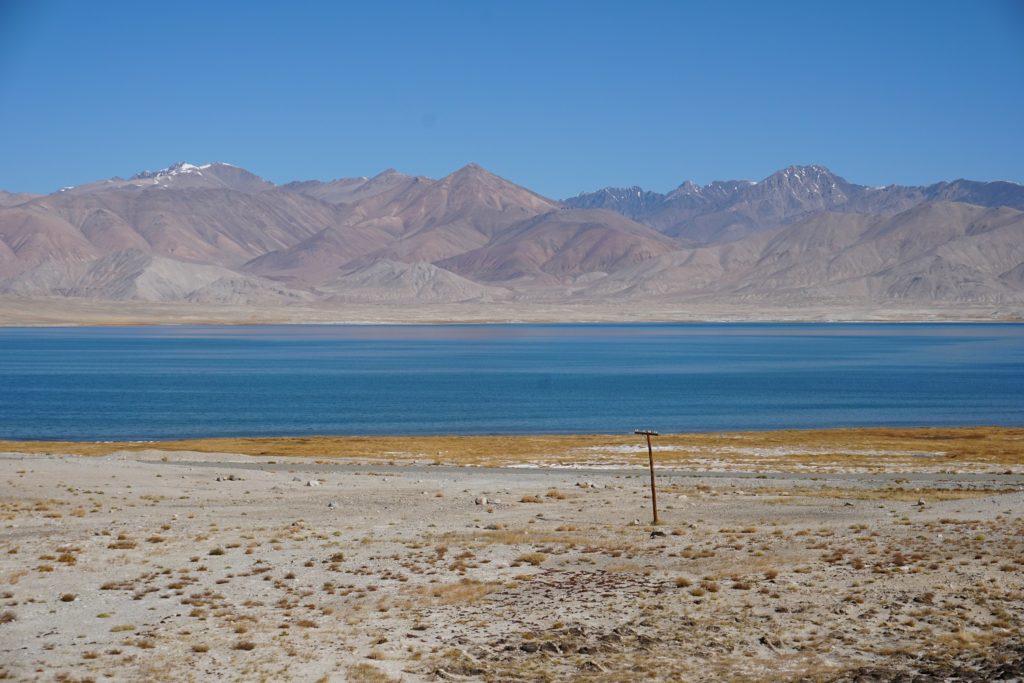 Road trip on the Pamir Highway
Osh
But let's start from the top. Almost all travelers decide to ride from Osh in Kyrgyzstan, to Dushanbe, the capital of Tajikistan, with several stops in different villages on the road to sleep. Actually, the best and most interesting portion of the road goes from Osh to Khorog. By the way, like most people, I did Osh-Dushanbe but you can also do it the other way around, from Dushanbe to Osh.
Sary Tash
After leaving Osh in the 4×4 we rented for a few days, the first step seemed pretty simple : ride all the way to the Tajik border, and cross it! We left Osh at 8:45am, and we arrived at Sary Tash, the border town with Tajikistan, around noon. That little town, for your information, is at an altitude of 4282 meters (14000ft)! The first thing the miliary men said when they reached our car "No pictures here!!!" Actually they told us not to take pictures at least four times. Then they thoroughly searched through our bags, inspected our passports… I'm used to it now! Since it was noon, most customs officers were having lunch. The few ones who were there asked us to wait. One of the customs officers was watching something inside the car, I could see him becoming agitated, but from his look nothing threatening.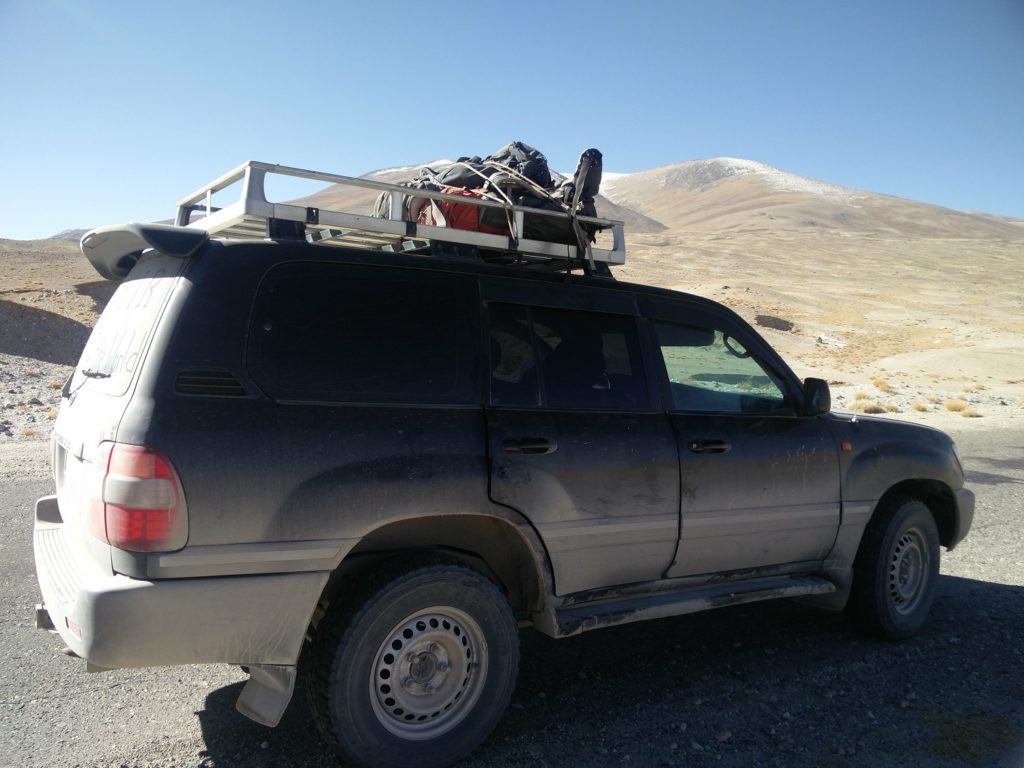 Oh I finally got it. He was watching me, he was actually staring at me with that look of amusement on his face and he decided to call his colleagues via walkie-talkie. His buddies came out of a building behind us, big, tall and strong military men. They greeted me in a friendly way, they laughed and then they asked for pictures. I said "No". "Huh??? Why not?". Thinking about it, it was quite audacious, talking like this to those guys. I'm depending on them to get in the country, I was at their mercy, I could have stayed there, stuck in the middle of nowhere!
"Why? Why don't you want to take a picture with us?" "I'm just obeying your orders, you said no pictures in the area". They burst out laughing "Hahahaha! All right we'll make an exception just for you haha!" I took advantage of the opportunity to ask for a picture, too! "No", in a firm and serious tone. Friendly ok, but they kept it professional. All right, no souvenir for me…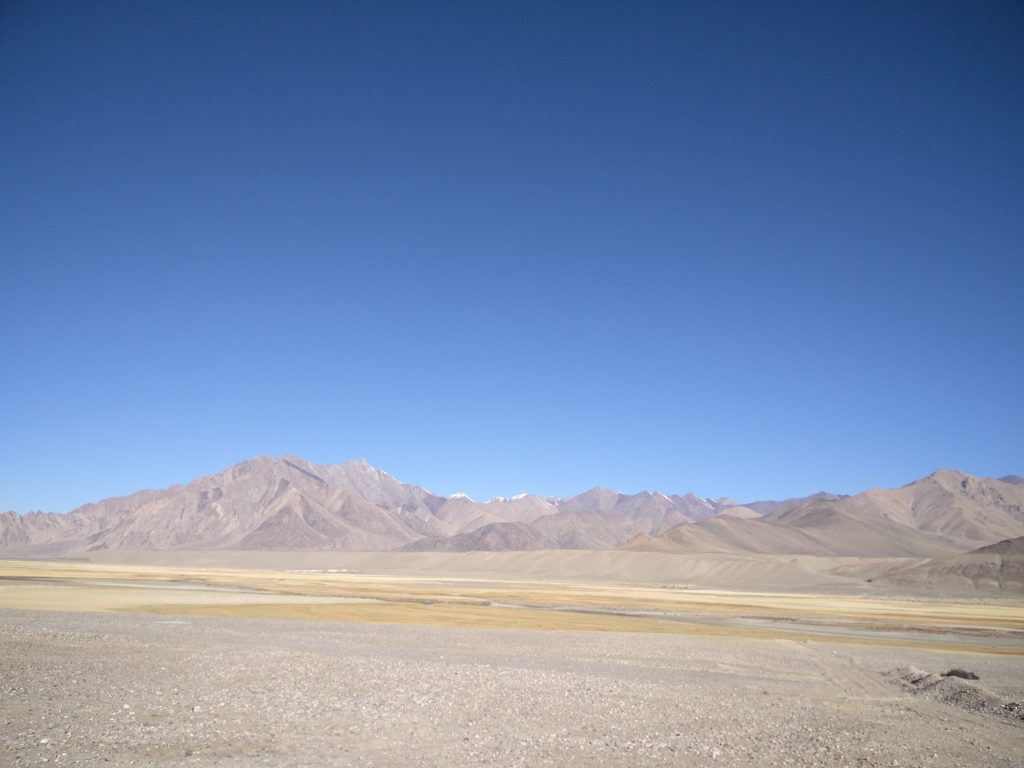 Kyrgyzstan / Tajikistan border
Crossing the border took like three hours. Waiting for the customs officers who were having lunch, the long time we waited while they were searching through our bags, the paperwork, the pictures with me… Oh and there's a 25 kilometers (15 miles) section of no-man's land separating Kyrgyzstan from Tajikistan. We stopped four times, at various checkpoints, and every time our driver paid the military men a bribe. Seriously, he gave money to all of them. I think the bribe was included in the price we (tourists) paid for this trip…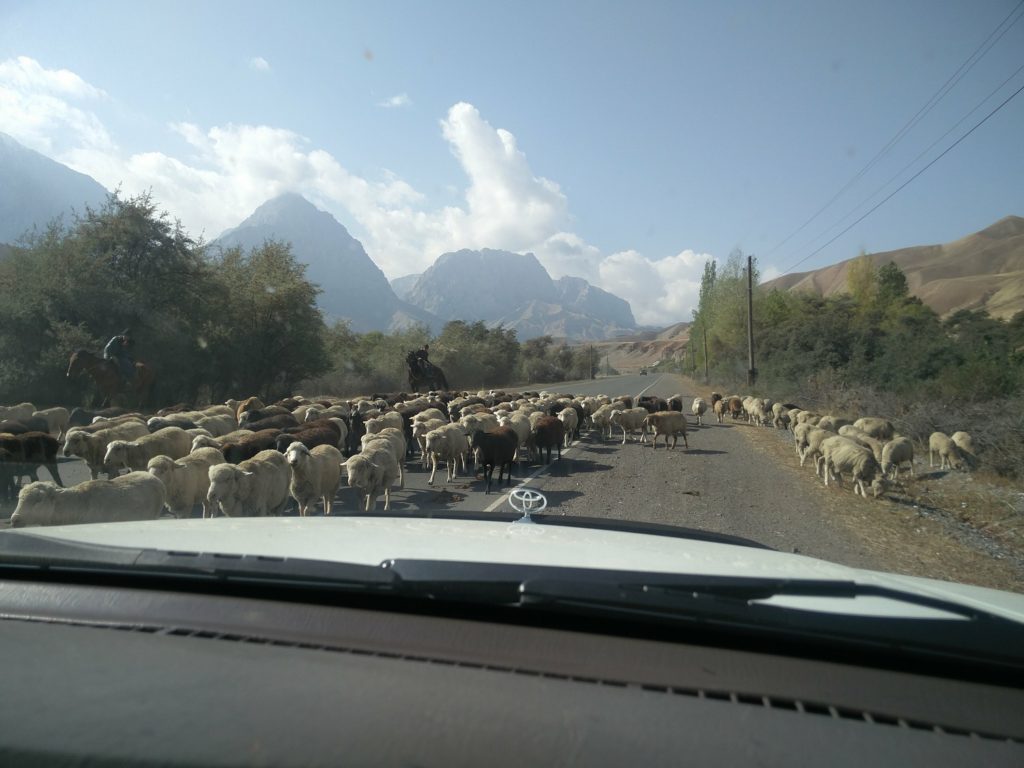 Karakul
Once we crossed the border, the Pamir Highway was deserted. No one. We rode on the highway for like three hours, and seriously, we didn't pass a single car! In three hours! We saw two or three stray dogs (I wonder how they got there…), but otherwise not a single soul. Oh actually we passed by a small village, Karakul, where you'll see a wonderful lake. I got it. We were at an altitude of 4000 meters (13000 ft.), it was cooold up there and the road was unpaved most of the time. We reached a peak altitude of 4655 meters (15000ft)! We finally passed a group of cyclists. Pedalling like this, knowing it's freezing and the road is in shitty conditions, respect!
Murghab
Our first stop will be in the city of Murghab. Let's face it, it's a small town where there's not much to do. A market, a mosque, and that's it! And forget about your social media. There's no internet in the hotel you're probably going to stay at, the Pamir hotel. As the manager said "No Wi-Fi, no problems!". Since there's no internet, take advantage of the opportunity to talk and interact with the locals. Everytime I told them "I'm from France", they didn't believe me. "Where are you really from? Africa? America? But not France!"
As I said earlier, the Pamir Highway is at high altitude (Murghab is at 3600 meters/12000 ft), you get tired faster since there's less oxygen. Two of the people I was with had headaches, they were even dizzy at times. Take all the necessary precautions before going there, and do not go there without a travel insurance! I had a little headache but nothing more, my body was now used to high altitude after spending a few days horse riding along Song Kul in Kyrgyzstan, at an altitude of 3400 meters/11000 ft.
The day after, we hit the road quite early in the morning. Once again, the landscapes were breathtaking and the ride was enjoyable, even though the road on the Pamir Highway is not in good condition. The driver made us listen to some traditional Tajik music. He recorded it on his cassettes (a cassette player in a car, I haven't seen those in a looooong ass time!).
Langar / Bibi Fatima
We kept riding, and we kept passing by villages in our 4×4! People stared at us, trying to see who's inside the car. We passed by Langar, and we stopped at Bibi Fatima, at an altitude of 3100 meters (10000 ft.). This is where you'll find the famous Bibi Fatima Hot Springs! The entrance fee is 10 somoni (one euro) for foreigners, and men and women are given separate pools to bathe in.
As soon as I got in the water, I realized I was the only one with a swimsuit. "Get it off!!!" kept telling the few guys there. Yep, we're all naked in there. I was ill at ease, the young locals kept staring at me and apparently, they were taking great care of every single part of their body, which is definitely not the priority of a backpacker, if you know what I mean…
In the same area, you'll also see a 2200-year-old fortress. This fortress is in the heights of Bibi Fatima, and is in ruins but from there you get to see astonishing landscapes of Afghanistan, just in front of you. One hour is enough, just climb around to enjoy the view, take some pictures, relax in this peaceful atmosphere, and then you can go!
While I was in Bibi Fatima, I noticed that I hadn't seen men and women walking together in the street. Every time, groups of men, groups of women, but no mixing. Bibi Fatima was also the village where I interacted the most with the locals. It was easier, in this area, people greet each other in the street. And I also tried to chat a little bit when they were asking to get a picture with me.
Anyway, the locals told me that there are four languages in the country : Tajik (normal!), Russian (like anywhere else in Central Asia!), but also Wakhan (specifically spoken in this area, Wakhan Corridor, located in the south of the country and northeast of Afghanistan), and Khorog (spoken in Khorog only). Tajik people have their faces marked with deep wrinkles quite young. They look like Persian people (Iran), a little bit like Asian people but not like Russian people.
Ishkashim
Further on the Pamir Highway, we stopped at Ishkashim, exactly at the Ishakshim fort. We were riding along the border with Afghanistan. From the fort, we could very distinctly see Afghanistan, which is just a few dozens meters in front of us. And Pakistan is like 30 kilometers away (20 miles). Sentries were hiding in the fort, and they were watching the river, just in case a reckless idiot tries to cross the river by swimming.
Khorog
We finally made it to Khorog, a big city. It means this is the end of our road trip! I met a lot of travelers there. Khorog is what I call a city where you just rest. You see people who just finished their trip on the Pamir Highway, and others who are about to start. A lot of cyclists, too, having a break there for a few days. Since there are many tourists, people speak good English in Khorog. Even better than the neighbouring countries in "Stan". Just walk around in the city, watch their daily routine… And enjoy a good meal there! Either at Varqa, delicious Tajik restaurant, or Delhi Darbar, very popular Indian restaurant. You can go there by marshrutka (mini van), the ticket costs 1.5 somoni (0.15€…). If there are no more marshrutkas because it's too late (it happened to us), ask the locals if they can pick you up and drop you where you want to. They'll do it with pleasure, and won't ask for any money 🙂
One thing you definitely cannot miss in Khorog : the Saturday morning Afghan market. It's the only opportunity to interact with Afghan people without going to Afghanistan. Unfortunately, the market is not open every Saturday. Sometimes it's there, sometimes it's not, and there's no annoucement beforehand. They make the decision at the very last minute, which means the same day very early in the morning! I went there on a Saturday but it was closed "Sorry, no Afghan market today" 🙁
From Khorog, you'll have to go to Dushanbe, the capital. It's a 12-13 hours ride, once again along the border of Afghanistan. On the other side of the river, we could see little kids playing, women doing laundry. We were waving at them, and they always waved back us, with big smiles.
As I said, the road on the Pamir Highway is definitely not in a good condition (unpaved, rocks on the road here and there…), and our driver was driving way too fast. Because of his driving, one rock burst the car's right tyres. And we only had one spare wheel… In less than 10 minutes, six cars and one truck spontaneously stopped, asking if we needed some help. Nice!
Dushanbe
Dushanbe was the last stop. Not much to do there, no need to stay for a long time, three days are more than enough. There's a market, some beautiful green spaces and parks, and many portraits of the president, Emomali Rahmon. Going to Uzbekistan next? Here's how to get to from Dushanbe to Samarkand. At the Dushanbe airport, as I was about to take a flight to go to New Delhi, I forgot I had a full bottle of water in my bag, but apparently they didn't care, I made my way through the security and they didn't say anything. Before that, a security guy (the one searching through your bag) started talking to me "You're from Paris? I looove France, blablabla…" I saw him coming… Then he asked "Do you have money? Where is it? Show me your wallet! Dollars or somoni?" And then "Give me some money please, for a coffee". He didn't get anything from me, but I guessed it was time for me to leave Central Asia, and to explore another part of the world…
Visa policy of Tajikistan
First thing first, you need to go to Tajikistan! Check the visa policy here! Unless you're from Azerbaijan, Armenia, Belarus, Georgia, Kazakhstan, Kyrgyzstan, Moldova, Russia or Ukraine, you'll need a visa to get there. Nothing complicated, you don't need to go to an embassy, just apply online here! You'll have to pay 50 US dollars. During the process, they'll ask you if you want a GBAO permit, which allows you to go to the territory of Badakshan. The Pamir Highway being on that territory, you'll have to ask for that GBAO permit, and pay an additional 20 US dollars. That means the Tajikistan visa will cost you 70 US dollars. Before getting there, click here to check the latest flight prices.
How to travel the Pamir Highway
You'll probably start from Osh in Kyrgyzstan or the other way around from Dushanbe, the capital. In both cases, to travel the Pamir Highway, you can travel either by public transport (not recommended, sometimes you'll wait for hours in some villages, waiting for the marshrutka to be full before leaving), hitchhiking (doable, but most cars passing by are already full, you'll have to be patient), with your own car if you have one, cycling (all the cyclists I met in Khorog said it was one of the best experiences they ever had), with a travel agency (the most expensive!) or the more convenient, rent a 4×4 with driver. That's what I did.
If you go to the Pamir Highway from Osh, check the Kyrgyzstan visa policy here. But you probably don't need a visa 🙂
How much is the Pamir Highway trip
If you decide to rent a 4×4, the best thing to do is to travel with a full car, to split the costs. Ask your hotel/hostel if anyone plans to travel the Pamir Highway. I don't know for Dushanbe, but in Osh you'll find easily. We were five, and we paid 700 US dollars total (140 US dollars each) for 5 days/4 nights. The price included the car, the driver, and the ride from Osh to Khorog. The price didn't include the meals, accommodation in the different villages and the ride from Khorog to Dushanbe. For a one-week trip, you'll pay about $1000 for 5 people.
If you wanna try traveling the Pamir Highway by public transport, it will obviously be a lot cheaper. Same if you decide to hitchhike. If you travel the Pamir Highway by bicycle, you obviously won't pay that much, and from what I heard, the experience is incredible. If you want to rent your own car, you have an idea of the rates here. But FYI, it's really hard to drive there, the road is sometimes in very bad condition! If you travel the Pamir Highway via an agency, it will be more expensive and you'll get the exact same experience…
Where to find people to travel the Pamir Highway
If you go to the Pamir Highway from Osh, you can stay at the Osh Guesthouse. This is where I stayed, and this is where most backpackers go. There's a big board with useful information : available cars, next departure dates, number of people per car. Thanks to this board, I found out the next car was leaving two days later, and they needed one more person to "fill" the car. The staff at the Osh Guesthouse is very friendly, however the guesthouse is not very clean… Otherwise, you can stay at another place (check Booking), but go to Osh Guesthouse just to check the next departures, the cars available…
Accommodation on the Pamir Highway
Regarding accommodation, you'll see by yourself, it's quite expensive for what you get. 10 US dollars per night at Murghab with no internet and power cuts, 15 US dollars per night at Bibi Fatima with no shower and of course no internet (we had to go to the hot springs to have a wash, 10 minutes away!).
However, in Khorog, you should definitely stay at the Pamir Lodge. This is where you'll find all the travelers starting or finishing their Pamir Highway trip! In Dushanbe, everyone stays at the Green House Hostel. Click here to book your stay. If you're not into backpackers hostels, there's also the Hello Dushanbe. Click here to book your stay.
Food on the Pamir Highway
You'll have to pay for the meals but it's cheap. We never paid more than 15 somoni (1.50€) for a meal with tea. Actually it was more about 10 somoni (one euro).
Internet on the Pamir Highway
Not only on the Pamir Highway, but also in the whole country (Dushanbe might be the exception), internet is reaaally slow… I really needed the internet, so I took a local SIM card. The SIM card costs 35 somoni (3.50€) with 1GB, 58 somoni (5.80€) with 2GB. I didn't get it to waste my time on Facebook or Instagram, but with a local SIM card, you can use your phone as a modem (tethering & portable hotspot), and work on the blog so that you guys can read me 😀
While we're at it, don't forget to use a VPN. I use ExpressVPN, fast and efficient. Here's why you should use a VPN when traveling.
When to travel the Pamir Highway
The best time to travel the Pamir Highway? From April to October. Actually from June to September. From November to March it's freezing.
How long is the Pamir Highway road trip
We did Osh-Khorog in five days, but many people told us it's a bit too fast. If you have time (and if that doesn't bother you being cut off from the rest of the world), one week, or even ten days, it's better! People usually do a one-week trip.
Pamir Highway travel tips
Traveling soon? Check out my travel resources page! This list of travel accessories can also be useful!
Do not go to Tajikistan without a travel insurance! The Pamir Highway is at high altitude, many people feel faint. Better safe than sorry! Here's why you should buy travel insurance!
Want a tailor-made trip to Tajikistan? Get a free quote here!
Regarding Khorog-Dushanbe, we paid 250 somoni (25 euros).
I did Khorog-Dushanbe in one day, but of course you can do it in two days. A lot of travelers spend a night in Kalai Khum, a small village between the two cities.
In Khorog only (and its area), the time zone is different than in the rest of the country (one hour ahead of time!). It can be confusing at first…
Dushanbe means "Monday"! This is Persian, it literally means "the second day of the week", which starts on Sundays.
In Kyrgyzstan, they have 3 soms coins. In Tajikistan, they have 3 somoni bills! Someone needs to explain me their logic…
If needed, get a Central Asia guidebook