Some links are affiliate links, which means if you make a purchase through these links, I earn a commission, at no extra cost to you.
Turkmenistan, a mysterious country, and also one of the most secluded countries in the world. My experiences in Ashgabat, and also in Darvaza were interesting. I only realized later that this country fascinates a lot of people. Indeed, during the few weeks after my travel to Turkmenistan, I met a lot of travelers watching me with admiration and respect when I was telling them I had been to Turkmenistan "They granted you a visa!? Wooow! So lucky! How is it over there?"
I started feeling great pride in visiting this country, even though I didn't do anything special, apart from applying for a visa they granted me. Still, I learned a lot about the country, and I made some mistakes. Wanna travel to Turkmenistan? Here are a few tips before going to Turkmenistan, and the mistakes to avoid.
Visa policy of Turkmenistan
That's the biggest issue about Turkmenistan, the visa! Before discussing more in detail about the visas, there's one important thing to know : applying for a Turkmenistan visa is like playing the lottery. They can grant you the visa, or they can reject your application without any explanation, there's no rules! A few examples : a couple applied for a visa. They gave it to the girl, not to the guy. A group of ten cyclists applied for a visa. Nine of them were granted a visa, not the last one. Four friends doing a road trip in Central Asia applied for a visa. Three rejections, one approved…
You understand now that it's not because you applied with someone, that you'll get the same response. That's the reason why before applying, you need to think about a plan B, and get organized. Some people try to see if there's a pattern : they don't like Westerners, they don't like men with beards, you need to avoid applying during the summer…
Truth is, those are just assumptions… I applied in August and I'm from Europe, they gave me the visa. Although everyone I met at the embassy were telling it was useless to apply "That's the second time in a year I'm applying, second rejection!" "I applied three weeks ago, I'm still waiting for their response…" "Fourth application in three years, new rejection…". It was the first time I was applying, and they gave me the visa. I guess I was lucky. There are two types of visa : tourist visas and transit visas. Let's talk about it!
Tourist visa
Thanks to the tourist visa, you can stay up to 30 days in Turkmenistan. But almost all the travelers (including me!) opt for a transit visa. Why? Because you need to make a booking for a tour via a tour company when you ask for a tourist visa. All right, they'll take care of everything for you (paperwork, activities, etc…). But there's a snag : you'll be permanently in the company of a guide during your stay in the country, and most importantly you'll have to pay EVERYTHING for you, and for the guide. Which means spending 150 to 200 US dollars… Per day! Accommodation, food, the guide… are included in the price! Not only you will spend a lot of money, but you'll also have no autonomy at all!
I can't really help out for the tour companies to contact, but you have some options here. Applying for a tourist visa doesn't mean you'll automatically get the visa. Chances of being rejected are lower than with a transit visa, but rejections still happen…
Transit visa
Probably the visa you'll be asking for. Some things to know. The visa is usually valid for five days. Sometimes three days, sometimes seven days, but it's not common. Mostly five days. And the visa is date-specific. This means you cannot enter the country before the start date, and you have to leave before the expiry date. For instance, your visa is valid from December 1st to the 5th. You can get there on the 1st, the 2nd, the 3rd or the 4th, but you'll have to leave on the 5th. And you can leave the country on the 2nd, the 3rd or the 4th if you want to, but the 5th is your last day to leave!
You can apply for a visa in several cities : Abu Dhabi (United Arab Emirates), Aqtau and Almaty (Kazakhstan), Ankara and Istanbul (Turkey), Baku (Azerbaijan), Beijing (China), Berlin and Frankfurt (Germany), Bishkek (Kyrgyzstan), Brussels (Belgium), Bucharest (Romania), Dushanbe (Tajikistan), London (United Kingdom), Mashhad and Tehran (Iran), Paris (France), Tashkent (Uzbekistan), Tbilisi (Georgia), Vienna (Austria), Washington DC (USA) and Yerevan (Armenia).
If I'm listing all the places where you can apply, it's because it's important. When you'll get in the embassy you chose, they'll ask you various documents : your passport (of course!) valid at least six months with two empty pages, one ID photo, an application form completed (they'll give you one at the embassy), photocopies in color of your main passport page and visa of the country you're traveling to after Turkmenistan, and a hand-written letter stating your dates of stay in the country, from which border you'll get in the country, and from which border you'll leave.
The last point is very important, you cannot say you're gonna cross the border from X city, and arrive from Y city. They won't let you in! And you have to leave at the border stated on your letter, and not somewhere else! Or you'll get fined!
In my case, I came from Iran, and I was going to Uzbekistan! I knew I wanted to visit Ashgabat and Darvaza. So I stated in my letter I was coming from Bajgiran in Iran, and that I wanted to leave at Konye Urgench to go to Uzbekistan. I come from the south, I leave in the north! Remember, you also have to tell them the dates of your stay, which is why you have to be organized! I started applying for my Uzbekistan visa, and when they gave it to me, I applied for the Turkmenistan visa (because they ask a photocopy of the visa you're traveling to after Turkmenistan!).
I estimated which day I could be in Turkmenistan, and I applied from there! Before this, when I applied for my Uzbekistan visa, I also estimated when I'd be there, because they also ask your dates of stay… Yes, you have to get organized! And don't forget your application for the Turkmenistan visa can be rejected. You need to be prepared for any eventuality, and think about a plan B… Now you understand it's not easy!
Some travelers apply for a visa in Tehran, and ask to pick it up in Mashhad (a lot closer to Turkmenistan). Convenient, but you have to go to Mashhad, and sometimes find out there that your application has been rejected… If they grant you a visa, you'll have to pay 55 US dollars. Cash only. US dollars!
Now you get it, organization is all you need to think about. You can come from Uzbekistan and go to Iran. Come from Iran (from Sarakhs) and go to Uzbekistan (from Farab). Come from Iran and go to Afghanistan. Come from Kazakhstan and go to Iran. You can even come from Baku by Caspian sea ferry and then go to Uzbekistan. But you cannot come from a country, and ask to go back to that same country! That's what it's called transit visa!
When I had my visa in Tehran, I went to Mashhad (12 hours ride by bus). From there I went to the Meraj Bus Terminal, and took a bus to go to Guchan (2 hours ride for 50000 rials, which is one euro). And from Guchan I took a taxi to go to Bajgiran (the border!). It was a 1h15 ride, and I paid 500000 rials (11 euros). Usually taxis wait for the car to be full to go, but I asked the driver to go now because I didn't want the border to be closed when I'd be there. So I didn't bargain much, and there was just me and the driver in the car.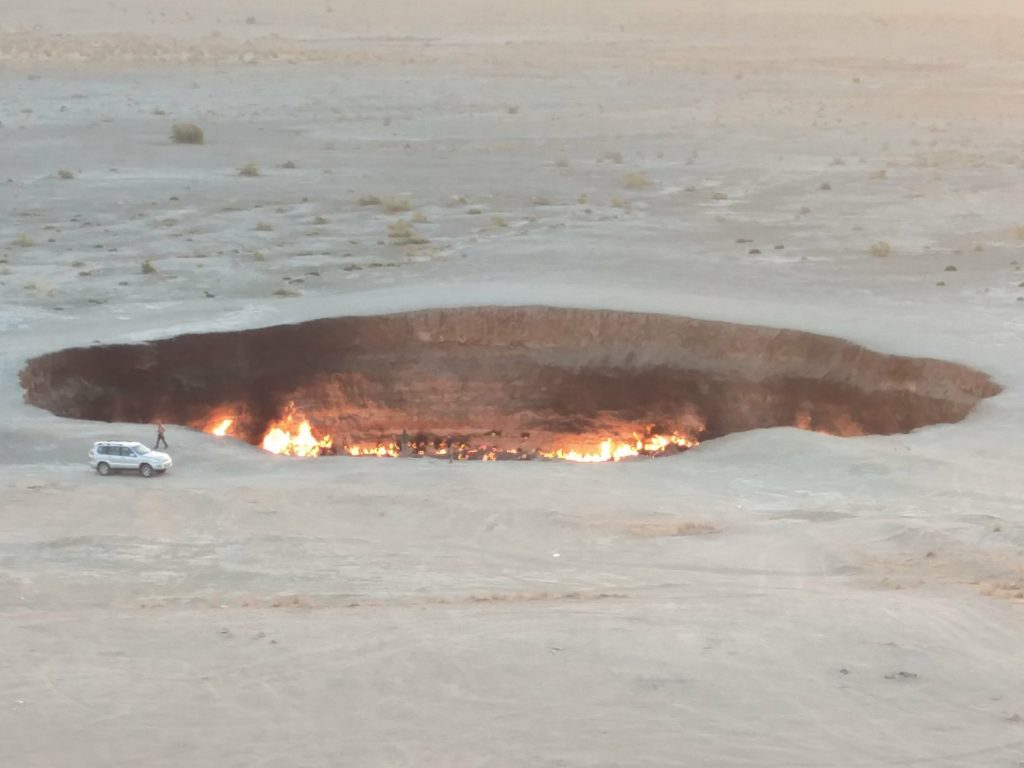 At the border, they take your passport, your name, you pass the security, they open and check your bag, and they ask if you have any medicine. if that's the case, you need to explain what they are for. They also ask if you're sick, and they take your temperature… You also have to pay 14 US dollars. Cash only. US dollars!
On the Turkmenistan side, you take a bus for 10 manats (2.50 euros), until a checkpoint. And from there a taxi to your hotel. I paid 10 dollars (35 manats) for that ride and a Turkoman guy laughed at me… I should have paid 10 manats, not more! Anyway, crossing the border takes one hour. Add one more hour waiting for the bus, going to Ashgabat…
Money in Turkmenistan
The official currency is the manat. But from what I noticed, dollar is king there. Hotels only accept US dollars for payments, some taxis will ask you to pay in dollars (don't hesitate to refuse!), and tour companies also ask for dollars. One thing you need to know : you cannot exchange your manats back into dollars. The money you exchange in manat, you'll have to spend it! And of course, manats cannot be exchanged once you leave the country. I didn't know all that, and I really had a hard time "getting rid" of all my manats… Oh, and take dollars. Better than euros there.
If you need dollars but you don't have any (ATMs give manats…), go to the "State bank for foreign Economic Affairs of Turkmenistan" in the south of the city. You pay them with your credit card, and they'll give you dollars (taking a 3% commission).
Accommodation in Turkmenistan
In Ashgabat, there's only one hostel, Syyahat hostel. You'll get a bed in a dorm for 10$ per night. Being the cheapest option, all the travelers go there and there's often no beds available. Knowing it's not possible to book, you have to go directly there. I heard the place is not very clean, there's no internet, but backpackers are fine with that for one or two nights.
Apart from this hostel, you'll just find regular or luxury hotels (at least 60$ per night). I tried the Syyahat, full. I tried another one but I forgot the name. Payment in US dollars only and I just had manats… They didn't accept credit cards. I ended up at the Ak Altyn Hotel. 75$ per night… I had my own bedroom, there was a restaurant, a gym, a pool, a bar, a club… Moreover, the staff was very nice. There was everything you're looking for in a good hotel but at this price, I'm going back home in Paris after two weeks on the road! Those are the prices to have a roof over your head in Ashgabat…
Internet in Turkmenistan
Turkmenistan being a totalitarian regime, a lot of websites are blocked. Facebook, Instagram, Twitter, international press… A lot of websites are blocked. You need to use a VPN in order to surf the net freely. I use ExpressVPN, fast and efficient. I really recommend it! It allowed be to surf the net freely! Think about it before getting in the country! Wanna know more about VPNs? Here's why use a VPN when traveling!
Safety in Turkmenistan
That's what I was explaining in my post about Ashgabat, you have to follow a lot of rules in the country, and the president runs the country like a boss since 2007. But that doesn't mean the country is dangerous. It's quite the opposite, the police and military presence is very important. There's no delinquency, and you won't have any problems. I never felt unsafe or ill at ease. Nothing bad happened to me but please, do not go to Turkmenistan without a travel insurance! You never know what could happen. Here's why you should buy travel insurance.
I didn't see a lot of tourists, but I honestly think that even a girl could travel solo in Turkmenistan with no problems. Essential rule : don't talk politics with the locals. Turkoman people are very kind and welcoming, you'll see it. I'm used to it now, but the "Hello!", "Where are you from?", kept going. And I don't even talk about all the people asking to get a picture with me.
For your information, when the locals were coming to me to chat, they were often asking me "What are you doing here?". "I'm doing tourism, I'm visiting your country". Then the Turkmoan were discreetly watching around me, before asking, a bit surprised "You're doing tourism!?" Oh ok I get it "Actually I'm in transit" "Oooh ok…" Yep, when you say you're doing tourism, they hear "I have a tourist visa" but they don't understand, you're not with your guide… It's clearer for them when you say you're just in transit.
Turkmenistan itinerary
If you opted for a tourist visa, the tour company will arrange everything for you. If you opted for a transit visa, I think that going from south to north, which is what I did, is not bad 🙂 Obviously when you go to Turkmenistan, you want to see Darvaza. So coming from Iran, you can spend a few days in Ashgabat, go to Darvaza, and then keep going north to Uzbekistan. Or the same backwards (more complicated, you'll need an Iranian visa before getting in Turkmenistan). Some people come from Sarakhs in Iran and leave at Farab to go to Uzbekistan (not far from Bukhara). Not bad, but you'll have to rush if you want to see Darvaza. Up to you guys! If you have time, you should definitely see Yangykala canyon!
All right! I think that's it! Do not hesitate to comment if the article was useful, if information is missing… I tried to gather all the information I had about this country!