Some links are affiliate links, which means if you make a purchase through these links, I earn a commission, at no extra cost to you.
Turkmenistan, does that sound familiar to you? I'm not sure… And Ashgabat, its capital? Even less familiar I guess. Yes, you can open a new tab and check on Google Maps where this country is on a world map. And honestly, like most people, I didn't know much about this country, Turkmenistan, one of the most secluded countries in the world (with North Korea). But as I was getting closer to Ashgabat, the capital of Turkmenistan, I did more and more research, and I learned more and more about the country. Once I got in Turkmenistan, I already knew a lot, and I was able to start my visit serenely. Before we talk about my visit to Ashgabat, a few explanations about Turkmenistan!
History of Turkmenistan
In case you didn't know, Turkmenistan was part of the ex-USSR. After the dissolution of the USSR in 1991, Turkmenistan became an independent country, and Saparmyrat Nyyazow became its president. President is the official term. I'd rather say one of the most authoritarian dictators in the world. "Elected" president for life, he imposed his rules to the country : he picked February 19th (date of his birthday) as the National day of the country, there are statues of that guy all over the place in the country, until recently his face was on all the different manat bills (their currency), and Turkoman kids study books written by the president. Needless to say, those books praise him. The most famous is Ruhnama "The Book of the Soul", and according to him, his book is as important as the Quran and the Bible…
The president passed in 2006 and his successor, Gurbanguly Berdimuhamedow, still president to this day, is not better. A personality cult is promoted around him as well, and we can see his portrait almost everywhere in the country. In this context, no wonder Turkmenistan is one of the most secluded countries in the world. The situation of the human right is disastrous : no freedom of speech nor freedom of the press, a lot of websites are blocked (Facebook, Instagram, Twitter, Pinterest, international press…), political parties are forbidden (except the official party), there are suspicious deaths in prison… This is one of the most corrupted and repressive country in the world.
Turkmenistan, a totalitarian regime
What about the international community? Why don't they do something? Pretty simple, Turkmenistan has a huge gaz reserve, and they also have a lot of oil. And the country often asks counstruction companies from Western companies to build or renovate buildings in the country.
Anyway… The question you might wonder now… Why the fuck did you go there??? You were not scared? It wasn't dangerous? FYI, there's no correlation between the dangerousness of a country and its political regime (democracy, dictatorship, totalitarianism…). In a totalitarian country like Turkmenistan, journalists or those in opposition with the political power get arrested, not the tourists. In those countries, the police presence is often very important, and therefore there's almost no delinquency.
Just some basic rules : don't talk politics with the locals, and you won't have any problems. And most importantly don't take photos of official buildings, of the army, police officers… More than once, I didn't know if I could take a picture of this place or that building, so I didn't take a lot of pictures in Ashgabat. On top of that, there are military men everywhere, and they're doing the military salute when you walk past them.
Regarding my stay in this country and in Ashgabat, I wanted to travel in Central Asia, including Darvaza in Turkmenistan, and they granted me a visa (very difficult to get it). So I just went there. And it was time for me to visit Ashgabat, the capital city of this country!
Description of Ashgabat
First thing that struck me. The city is very clean and very well maintained. Completely different from Iran in general, polluted and with lots of detritus on the floor. Roads are impeccable (mostly 4-lane roads), and the cars… All extremely clean! I found out why later… It's forbidden to drive with a dirty car, or you'll get a fine… Therefore, Turkoman people take great care of their cars.
Follow the rules in Turkmenistan
There are a lot of different rules to follow in this country, and you better know them if you don't wanna get in big trouble! It's completely forbidden to smoke in all the public spaces of the country : in the street, in the parks, in public buildings, in your car if you're driving (but the passengers can smoke!). There's a Turkmenistan curfew from 11pm to 6am, do not stay outside during this time slot! From my hotel room, I could hear sirens from police cars constantly during the night.
Oh and don't even think about hitting on a beautiful Turkoman girl, foreigners cannot find themselves alone with a Turkoman woman. Either at the restaurant, outside, in a car… Otherwise you'll get a fine, you might go to jail and you'll get deported from the country. Oh and the girl is gonna get in trouble as well… Exception : on a professional field, it's tolerated.
The locals are nice
A lot of rules to follow. I listed the main ones but there are even more you should check out before traveling to Turkmenistan. But actually there wasn't anything too restrictive if we think about it. I don't smoke, I didn't go there by car, I don't stay out late at night and I limited my interactions with the women in the country, on purpose. Complicated when those girls come to you "Hey there! Where are you from? What are you doing here? etc…" Yes, people keep asking for pictures (mostly young guys), I still hear "Hello!", some guys greet me from their cars, honk at me, wave at me… And when I say I'm from France, two names come up all the time : Zidane and Pogba. They say I look like Pogba… Anyway, communication with the locals is limited, they speak Turkmen and Russian, and apart from a few ones, their English is basic.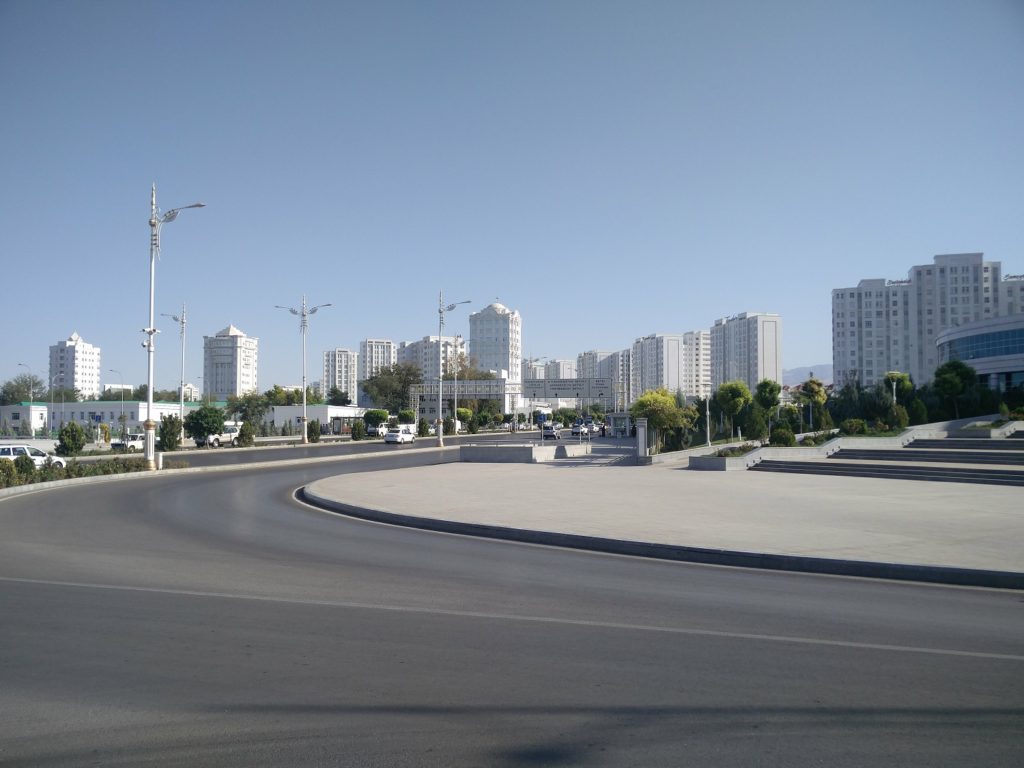 Regarding the Turkoman women, they greet me and ask me what I'm doing here. Some of them look like Russian girls, a lot start to look like Asian girls (brunette, slanting eyes…). Almost all of them wear long dresses, and a scarf they tie around their hairs. I have to admit that I was limiting my conversations with them on purpose, knowing the rules of the country. And knowing there's a secret police, watching what everyone's doing.
I saw a lot of people on the edge of the road, sticking out their arm, waiting for a car to stop. Like Tehran, any car can be a taxi. I did it myself, and you rarely wait for more than two minutes before someone stops for you. Once in the car, you can "admire" the big white marble buildings, and the towers inspired by Dubai.
Getting in the country is difficult for foreigners, which is why tourism isn't really developed (there are no begpackers here haha). Apart from a few expensive museums, there's no real tourist attractions in Ashgabat… It was still interesting to see what the capital city of a secluded country looked like. And to find out that the inhabitants are welcoming and helpful.
How to get to Ashgabat
Unless you're already in the area (Central Asia or Iran), you will hae to take a flight to go to Ashgabat. Click here to check the latest flight prices to go to Turkmenistan.
How to get around in Ashgabat
The city is vast. You can ask your hotel to hire a driver for the day or for a few hours just for you. I don't have the prices… Otherwise stick out your arm and wait for someone to stop. You'll never wait for a long time, someone will quickly stop. I did it several times. There are also official taxis.
Where to stay in Ashgabat
In Ashgabat, there's only one hostel, Syyahat Hotel. Often fully booked… Otherwise there are just regular or luxury hotels… The hotels with the best reviews are the Yyldyz Hotel, the Oguzkent Hotel and the Nissa Hotel. Bear in mind that hotels only accept US dollars. It's impossible to pay in manat, their currency! For your information, there's Airbnb in Ashgabat! Click here to check the apartments available there!
Ashgabat travel tips