Some links are affiliate links, which means if you make a purchase through these links, I earn a commission, at no extra cost to you.
Being constantly on the road. Pack, unpack your bag. Take the train/bus/a flight. New city, sometimes new country. And everytime a new roof over your head, a new hostel, a new environment, new faces. We don't have any control over some aspects of the hostels we're about to stay at, I'm thinking about the people you meet once you're there. I had a lot of fun in some cities, I'm thinking about Batumi or Bratislava, although Bratislava is limited from a strictly touristic point of view. All this just thanks to the fantastic people I met in the hostel I was staying at.
Staying at a hostel doesn't offer only advantages : limited privacy, shared bathroom, sometimes curfews (it happened in Kiev!), potential theft, sometimes shitty roommates… But the advantages outweigh the downsides : price (it's a good way to save money when traveling), facility to meet people (perfect when you travel solo!), common areas, conviviality… After having stayed in hundreds of hostels, my intuition got better and right now, I can tell (without pretension) how to pick a good hostel. If you're about to travel solo, read my article listing tips about traveling alone for the first time!
The hostel's staff
It's a LOT better if the owners are former backpackers! They usually know what they're talking about, and they know exactly what travelers are expecting and what they're looking for. Usually small hostels, family owned hostels, or owned by experienced backpackers… Are better, more convivial, and the owners pay more attention to the needs of their guests! The hostel might be "average" but if the staff is friendly, helpful, answer your questions, gives advice and tips about what to do in the city, where to eat… It completely offsets the hostel's flaws! To get an idea about what to expect, read the reviews on Booking.
The location of the hostel
This is one of the first thing I check before booking! The hostel might be perfect, but if it's one hour away from the city center, activities, places to visit… It's useless! You'll waste your time and your money on public transportation. I'm not necessarily looking for a place in the city center (I don't mind walking a bit), but not too far from everything. The best option is to be not too far from the major things you want to see in the city, in an easy to reach and safe area (sometimes you go back "home" late in the evening).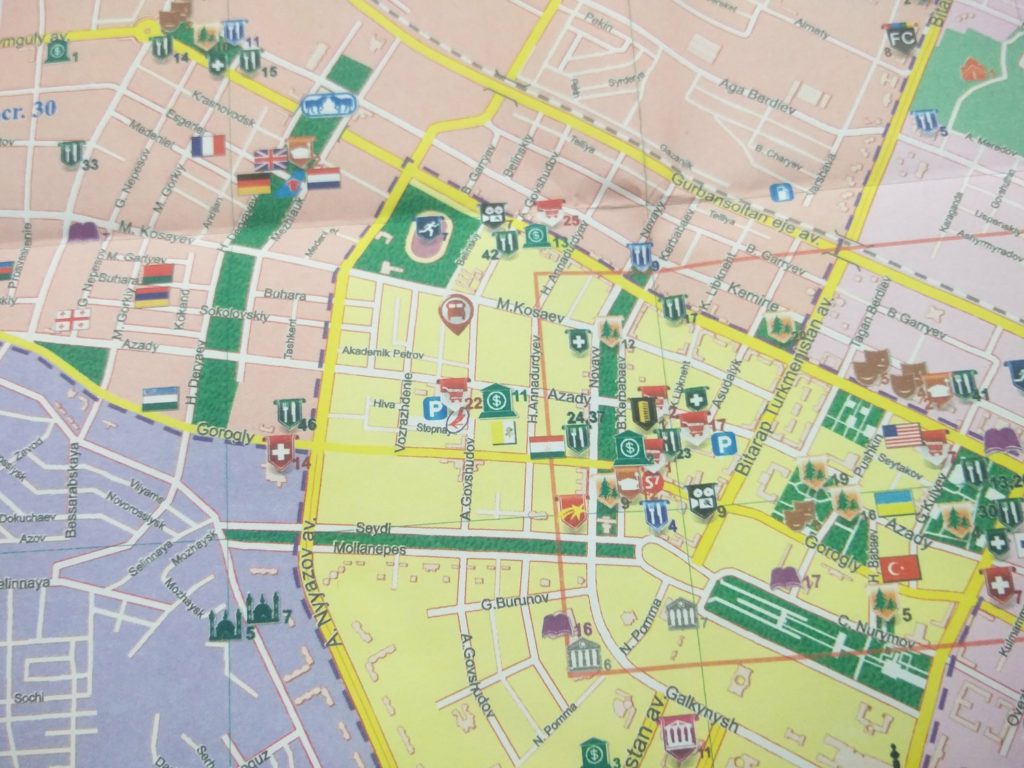 Internet in the hostel
Yes internet connection is also important! Carefully check if the hostel has free WiFi, and that the WiFi is available 24/7. Sometimes they even provide computers! In some areas, internet is a luxury (I'm thinking about Tajikistan…). In those areas, a lot of hostels don't have internet, or the internet is available during limited time slots (a few hours in the morning, and a few more hours in the evening). Sometimes they do have free WiFi, but internet is reaaally slow. I sometimes heard "People are sooo addicted to their smartphones and computers, I can do without the internet for a few days!".
But it's a little bit more than that. Thanks to the WiFi, you can book the next hostel and/or train/bus/flight ticket, stay in touch with your loved ones, check and download the city's map, check how to go to your next destination… Internet is very useful! Oh, make sure internet is available (more or less) everywhere in the hostel (read the reviews!). Sometimes the WiFi is only available in the common areas, and not in your room. Not convenient, everybody's in the common area, but there's no interaction at all…
The hostel breakfast
Is it included in the price? When is it exactly? I saw "from 8 to 9" (seriously!?) but also "from 7 to 11" (more reasonable, adapted to early birds and late risers). In Central Asia, almost all the hostels propose to have breakfast. But it's not always the case, so you have to check. It's cool when it's included in the price, you don't need to do the shopping or to eat outside. It's even better when it's included in an expensive country (hello Scandinavia!). When it's included, it's cool to see what they're going to give you. I've had excellent surprises, but also bad ones…
When the breakfast is optional when you're booking online, I always pick the option "with no breakfast", even if I intend to take it. And once I'm there, I ask for the breakfast, specifying I will pay for it. It's cheaper than paying online, it's more convenient for the owner (who doesn't pay a commission to the website) and it allows you to test out their breakfast. If it's not good, just stop taking it. If it's included in the price, ask for a discount with no breakfast. Most of the owners accept.
Travelers' reviews
Nowadays a lot of websites send an e-mail to the visitors after their stay, asking them to leave a review about the hostel they stayed at. Hostelworld for the hostels, Booking, Agoda in Asia, Jumia Travel in Africa… You can quickly get an idea about a hostel, just by reading other peoples' reviews. Don't get every single complain too seriously, some people are never happy. But when you see the same comment over and over again ("Slow WiFi", "The owners are fantastic!", "The hostel was really hard to find", "Great breakfast!"), you get an idea about what to expect.
Don't forget the word of mouth. I stayed at several great hostels thanks to the good advices from fellow travelers. Or reading articles on the internet. For instance, if you go to Croatia, you can read articles about best hostels in Croatia. If you want to stay in a quite hostel, do not book that perfect hostel if the reviews say this is the place to be to party all night long (and vice versa). One last thing : don't be fooled by the owners when you're leaving the place. Some of them will ask you with a big smile to leave a nice review. Give them what they deserve.
The common areas in the hostel
Some hostels have a bar, the best ones have at least a common area (living room, courtyard, sometimes a pool…) to relax, socialize with other guests and meet people. You can chat, watch TV, play games like a geography quiz questions game. The common kitchen is usually a real icebreaker! People start a conversation easily and the atmosphere is often relaxed. Don't forget it, food brings people together! Keep an eye on the common fridge, put your food in a plastic bag and label it. Thefts happen (especially alcohol!).
Presence of lockers in the hostel
It's always better when the hostel has lockers! It's cool to have fun and laugh with people you met two days ago, but you just can't trust them too fast, who knows what might happen. Being from Paris, I'm always very wary. Some people let their computers or tablets in evidence in the dorm and spend the day outside, what the fuck!!! Get several combination locks
, hostels don't always provide them. Lockers usually have a key. With the lockers, hostels sometimes have strongboxes (to keep your passport, money…). Lock your backpack with a combination lock
, and tie your backpack to your bed with a security cable lock
. Another aspect of this is checking if it's possible to leave your baggage in the hostel if you have to take a flight/train/bus late (after the check-out), or if you get in the hostel before the check-in. It's often free, but sometimes you have to pay a small fee.
Check-in / Check-out time
It's usually around noon but don't forget to check. It's a torture to ask the guests to leave before 10am, but I've seen this. Most of the hostels are flexible. If you leave a little bit after the check-out time, they won't be mad at you (but don't abuse!). And if you get there before the check-in time, quite often a bed will be ready for you. Another thing : is the reception open 24/7? In Kiev and Odessa, it clearly stated on Booking.com "reception open 24/7", but it wasn't the case. In Kiev, a Spanish guy had to extend the party for another few hours because he missed the curfew.
Bathroom / Toilets in the hostel
Sometimes, each room/dorm has its own bathroom. Obviously it's better, there is less chance to find a dirty/smelly/shabby bathroom, and we share the place with less people. But sometimes, you have to share with everybody, and therefore you have to wait sometimes… Don't forget your flip flops
! Watch the pictures if there are any before booking. Quite often, hostels provide a towel, but it's not always the case. Bring yours, ideally a microfiber towel
, it dries pretty fast and it doesn't take up a lot of space in your backpack
.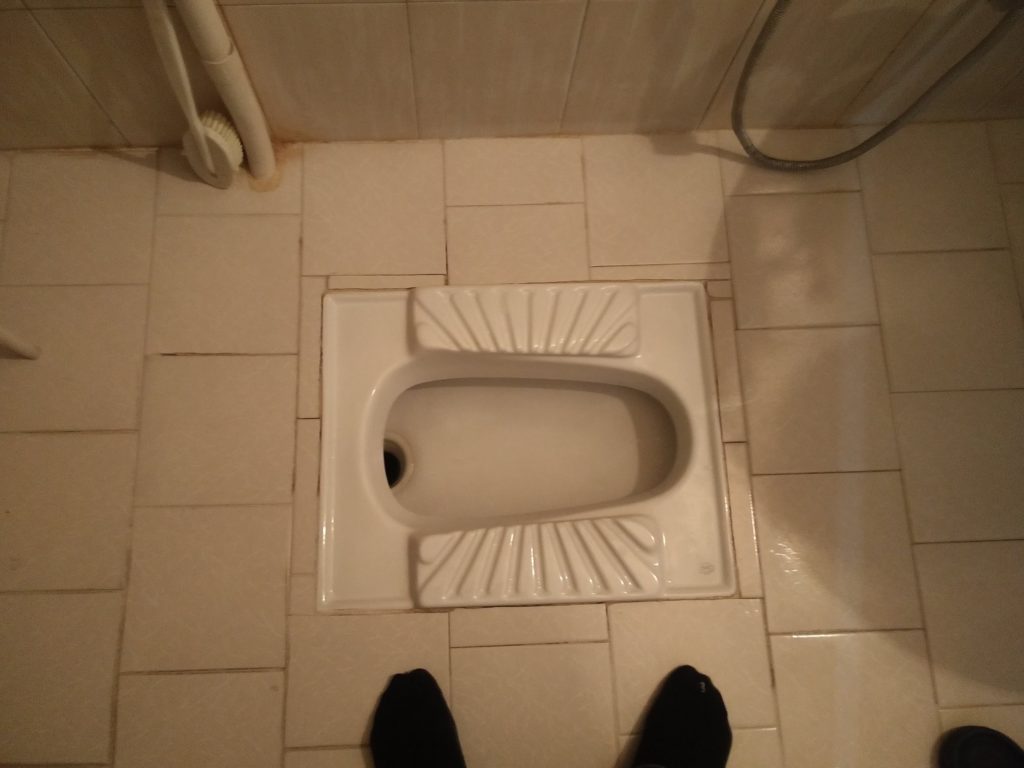 Other details to take into account when picking a hostel
The price of course. A hostel might be the cheapest one, but far from everything. Dorms are cheaper, but not always worse. I was quite often alone or we were 2-3 people in 6-bed dorms (sometimes 8-bed dorms!). Because often travelers on a budget book the cheapest dorms (those with 8 or 10 dorms, sometimes 12), and the dorm is full. All you have to do is book the option "just above" (4, 6-bed dorms, often barely more expensive), and you'll see by yourself, there are a lot less people. Think about it!
We don't often think about it, but the outlets. This one, we find out on the spot. In a lot of hostels, there are not enough (especially in dorms!). Six people in the same room and only two outlets… People fight over who's gonna charge their phone. After facing the problem several times, I decided to buy a power strip. Super handy because 1. You can plug your phone, your computer and your camera at the same time. 2. You're helping out the other ones! Look at your roommates' faces, disappointed to see you took the only outlet to charge your phone. Then watch those same faces lit up when you show your power strip "Hey! If you want to, you can plug your computer, too!"
Is there a laundry service in the hostel? Most of the time yes, rarely free but cheap. It's important in Baku for example, where there's no laundromat in the city!
In some countries (Iran, Turkmenistan…), you won't find any hostels in the popular booking websites. Keep that in mind! Word of mouth can help, tripadvisor, or some hostels have their own website. Just type "hotel +city" on google and you'll get results.
Some hostels arrange airport/train station transfer. Useful when you arrive late at night. I've seen this a lot in Central Asia, and also in Iran.
Last but not least, some hostels organize activities for their guests : free walking tour, cooking class, bar crawl, geography quiz questions… I even stayed in a hostel organizing Russian classes, in Kyrgyzstan! Whatever the activity, a hostel organizing such things, it's a good sign!
Some common sense when staying in a hostel
Use the bathroom as if it was yours (same for the toilets), and leave the place as clean as possible.
Wash your dishes, and leave the kitchen and the common areas as clean as possible.
Respect other peoples' sleep (no noise in the room if someone is sleeping, either early in the morning or late at night), avoid making noise with plastic bags when everybody's sleeping in the dorm in the morning (prepare your stuff the day before). Don't talk loudly when the whole dorm is sleeping.
Try to interact with the other ones, but if you feel like the person doesn't want to talk, don't insist.
Put your phone in vibrate mode or in silent mode. We don't need to hear all your notifications : whatsapp, messenger, etc…
Don't snooze in a dorm please!!! Your alarm clock rings, you turn it off, it rings again 9 minutes later, you stop it, one more time after 9 minutes… This is common sense but I've been through this a few times! And it wakes everybody up!
Wow… I had to get it off my chest! After all these hostels I've been to, I had a lot to say! If you follow all these advice, you should have a great time in hostels in general. Do not hesitate to comment if I forgot anything.