Some links are affiliate links, which means if you make a purchase through these links, I earn a commission, at no extra cost to you.
"You're going to Iran in August? Are you fucking crazy? You're gonna die of heat! If I were you, I wouldn't go… I'd wait a little bit… September or October, it seems better…" I heard those kind of remarks a lot before getting in Tehran (heard this in Chisinau, in Odessa, in Tbilisi…). But I was eager to go to Iran and find out all the things to do in Tehran. It was on my way and I was already used to hot temperatures (in Yerevan it was like 37°C/99°F during my whole stay there).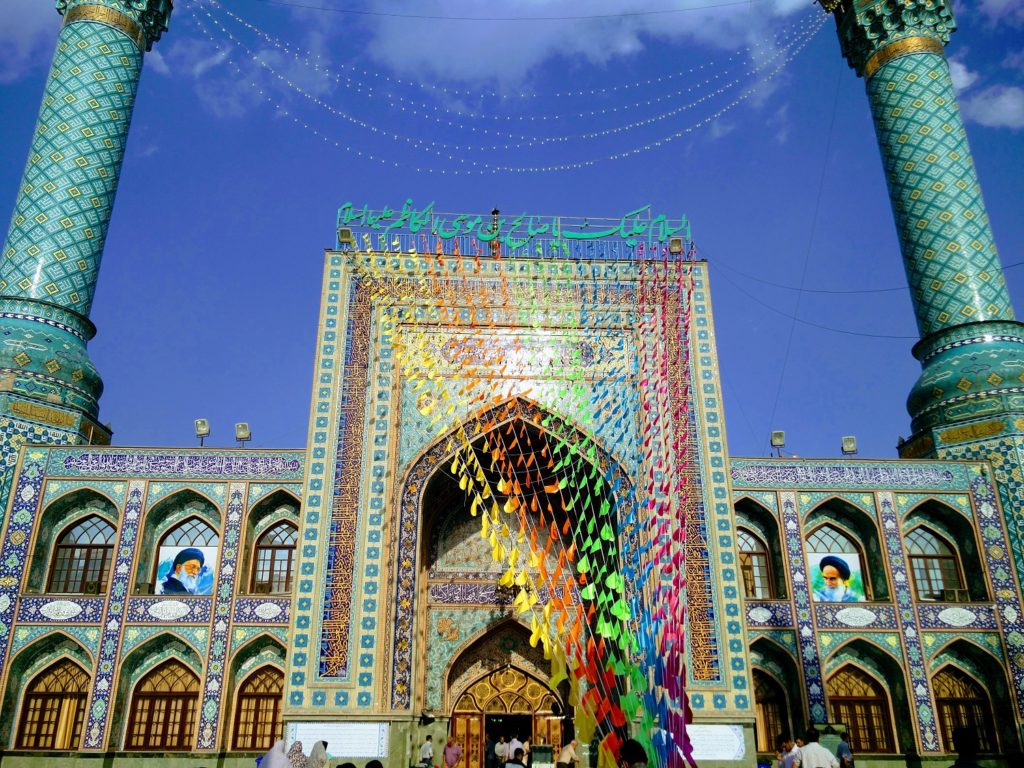 Description of Tehran
So here I am in the Middle East, specifically in Tehran, the capital of Iran. Before talking specifically about all the things to do in Tehran, let me describe Tehran, since it's so different from our cultures. One of the first things I noticed once I got in this huge city of 15 millions inhabitants : it's VERY polluted, and just by breathing, you can feel it. There are cars everywhere, horn blasts all the time… Big noise pollution as well. And it's a pain in the ass just to cross the street, like in Ho Chi Minh City.
Iranians drive like crazy, they never put on their turn signal and even when you start to cross the street, they don't stop, they just keep going and brush past you. You literally have to slalom between cars to be able to cross the street. A little stressful at first, but you quickly get used to it. Fortunately, I thought about getting a travel insurance before traveling, just in case!
Kindness of the Iranians
Fortunately, a few other things made me forget all this : the warm welcome and the kindness of people there. I had a glimpse in Tbilisi and Yerevan, where I met a lot of Iranians. But in their home country, it's a whole different thing. "Welcome to Iran! Welcome to Tehran! Enjoy your stay in our country!" I heard this tens of times, really! I also heard quite often "What are you doing here? Why are you coming in our country? Don't you guys think we are terrorists? Your media portrays us as bad people, we're in the axis of evil, etc…"
They are a bit surprised to see people coming from Western countries visiting Iran, and they're happy to hear "I wanted to come to see what Iran looks like. I heard a lot of great things, about the people here and the beauty of the country. And I want to see all the beautiful things to do in Tehran". It seems like they take badly the way they think they are perceived by people from Western countries (terrorists, etc…). I had to reassure a lot of them during my stay in Iran "We are not all fooled by mass media. Some people, like me 🙂 do their research on their own and know you guys are not like that."
First off, when they hear a speech like that, they are touched. But imagine, a black guy telling this! There are almost no black guys at all in Iran (I met two in three weeks!). I was invited to have some tea, they embraced me, they told me "Thank you so much, it's so nice to hear!". And I don't even talk about the photos… Seriously, at least 10 times a day, someone asked "Can I get a picture with you?". Young, old, men, women… Some of them hesitate, then they see someone else asking me, they see me cooperate and all of a sudden 15 Iranians come out of nowhere to get their own picture as well… What a phenomenon, the locals who want to get a picture with you!
The subway in Tehran
Same thing in the subway, people stare at me, then they smile at me when I look at them (in the restaurant, waiters were looking for an eye contact just to smile!). They literally watch everything I'm doing. I'm just looking at something on my left, they all check what I'm looking at. Same if I look at something on my right. I'm reading a book
in the subway, and they break their neck to check what I'm reading. And they just watch me. They keep watching. They have their eyes glued to me.
The subway… An experience by itself in Tehran. First, you need to know that the first and last wagons of the subway in Tehran are for women only. They can sit anywhere in the subway, but those two wagons are just for them. It's because there has been too many touching in the past. This explained why I was only seeing men inside the subway, almost all the women go to their wagons.
Several times, some Iranians who were seated got up to give me their seats, in the subway but also in the bus (Whaaat!? It will NEVER happen in Paris!). I always declined. And in the subway, you'll almost always see Iranians selling random stuff, basically almost anything. And people buy!!! Toothpaste, tissues, socks, earphones, razors, belts, chewing gums, sports bags, selfie sticks, and even the doll from Frozen singing "Let it go" in Persian! Men, women, and even kids, barely 4-5 years old are suddenly storekeepers working in the subway. And they insist when they see me (I'm a rich tourist…). People didn't seem to be shocked by those little kids selling stuff, it looks normal.
Getting around in Tehran
Tehran is a huge city. In some parts of the city there's no subway so you'll have to take a taxi. Either by using the Snapp app, it's their Uber, super cheap. Or by using official taxis (yellow cars). Or unofficial ones : a car pulls up alongside you and the driver asks where you're going. If it's on his way, he'll pick you up and drops you off a little further. You can also stick out your arm by the side of the road and believe me, in less than a minute, a car will stop to pick you up. Don't be surprised if the taxi doesn't go when you're in there. Taxis go when they're "full", which means with 4 passengers. Otherwise it's not profitable for the driver. This explains why some drivers clearly state "Taxi just for you" when they call you out.
The hidden face of Tehran
As you may know, women have to wear a headscarf in Iran to cover their head, selling and drinking alcohol is strictly forbidden, and men cannot wear shorts (even under 40°C/104°F…). Iran, a conservative country? Not sure… Just a few hours after arriving in Tehran, I drank rosé. I saw a guy clearly inebriated around midnight on a Thursday night outside. I talked and laughed with some Iranian guys in the street and during the conversation, they naturally proposed drinking vodka with them (yeah I talk to people outside sometimes… Anyway it's very easy to start a conversation with someone you don't know in Iran).
I also heard about clandestine orgies. Men and women meet up in a secret place and they just have sex all together all night long, with no protection. Some Iranian girls spot tourists passing through Tehran on Couchsurfing, and they contact them "to have a drink". It often ends up with the two having a sexual intercourse. So… There's the "clean" facade and a hidden society : alcohol, hookers, parties, drugs… I talked to a lot of Iranians, and it seems that the young generation is fed up with all the traditional rules they have to respect. Therefore they try to liberate themselves from those rules their own way (extreme way I have to say!).
Example of a rule to follow : you cannot kiss your special one in the street, or you can get arrested! But I saw some couples holding hands. Honestly, I was pretty sure they were not much into their rules. In Baku, I met a group of 20 Iranian girls. None of them was wearing a headscarf, not even one! In Tbilisi, all the Iranian guys I met were wearing shorts, and drinking lot of beers…
No bars in Tehran
The golden youth seems to be the one having more "fun". Iranians, in general, relax in the evening having a walk with the family. The son, grandma, the parents, the sister and the little baby all together. Hard to see this happening in France or Western countries, but you have to remember that there's no bars nor clubs in Iran. And with the heat, Iranians don't want to be stuck home in the evening. Therefore you see families playing badminton together in the evening (especially around national bridge).
It's different for the golden youth. They take their car, they all meet up around a square and they ride slowly around that square, blasting music on their car radio. They look at one another, they watch, they exchange contacts… Then they chat via Telegram, and a few days later they meet again, this time in a villa, for an orgy. Needless to say, orgies are illegal. If they get caught, they are directly sent in prison. I almost attended phase one, where they're all riding slowly in their cars. My contact cancelled at the very last minute. Would have been interesting to see this…
What to do in Tehran
I'll talk about it later, but this is not the blog to check in order to know what's interesting to see in Tehran (and in Iran in general). Because I almost spent the entirety of my stay in various Iranians' places, and not at the hostel. They fed me, they hosted me, I lived liked a regular Iranian guy, I learned things I would have probably never known if I had been solo. A less touristic trip as a solo traveler, but a lot more authentic. Still, I managed to check a few things to do in Tehran. Just below a non-exhaustive list of places to see.
The Golestan Palace
The Golestan Palace is probably the most famous attraction of Tehran. It's also one of the most beautiful places in Iran. It's a former royal palace from the 16th century, and it's a UNESCO world heritage site. Unfortunately, it's not possible to take pictures inside the palace. Content yourself with the pictures from outside, and enjoy the gardens surrounding the palace. The entrance fee varies from 150000 to 600000 rials (3.50 to 14€), depending on the different parts of the palace you want to see.
The Niavaran Palace
Another one, the Niavaran Palace, attracts a lot of people. This is where Mohammad Reza Pahlavi, the last shah (emperor) of Iran used to live, with his family until the Iranian revolution in 1979. This is not one of those palaces existing for centuries, it's been completed in 1968, but still, interesting to see. Once again, the price varies, depending on what you want to see (from 150000 rials, or 3.50 euros).
The Grand Bazaar
The Grand Bazaar, go there in the morning! I went there early in the afternoon, and there was nothing left and almost no one. This bazar is huge. Just like me, if you miss the turmoil of the bazar, no problem, there are a lot more (smaller) in the city.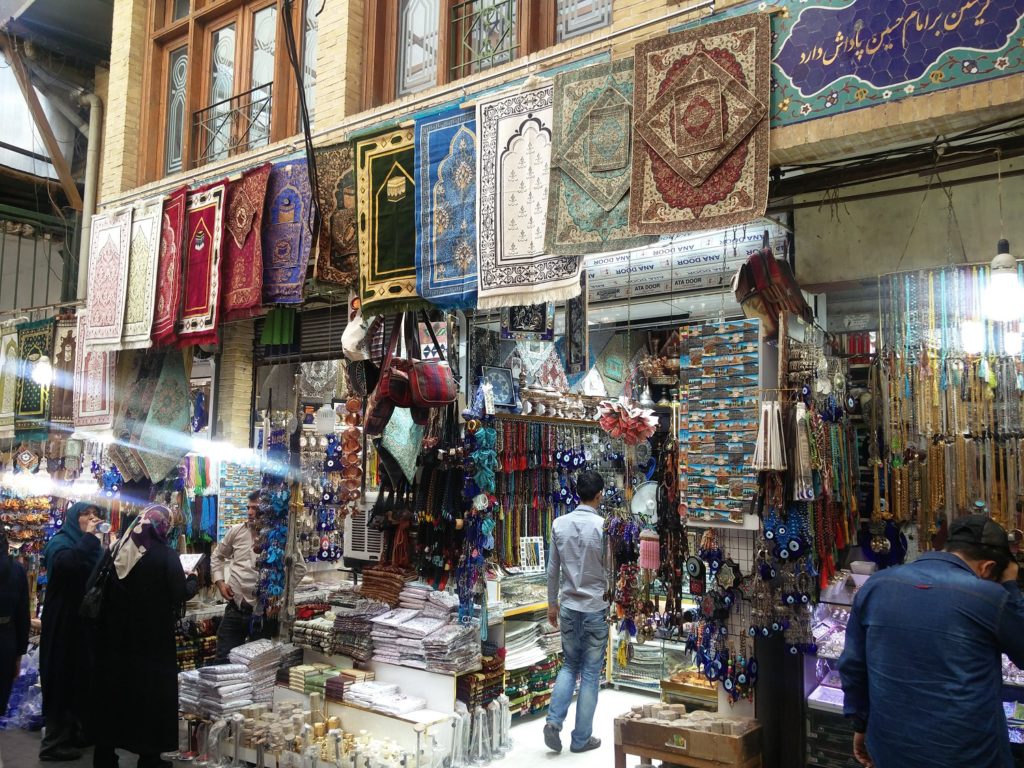 The Azadi tower
The Azadi tower, attracting many tourists but also locals. This tower, 45 meters (148 feet) tall, was inaugurated in 1971 to commemorate the 2500th year of the foundation of the imperial state of Iran. There's a museum inside (entrance fee : 150000 rials or 3.50€), and it's possible to get on top of the tower to have a view of the city. I recommend to go there!
The Jamshidieh park
The Jamshidieh park in the north of the city. Nothing special but very popular among Iranians (and I was living 10 minutes away from the park!). A lot of families go there to picnic, friends play cards (forbidden not that long ago), couples relax… A park in the heights of the city, so by going there, you won't skip leg day! It's a good way to stay in shape!
Imam Khomeini shrine
Imam Khomeini shrine is supposedly a place to visit, but I didn't go… I mean, I was just in front of the shrine, but I didn't get in. My Iranian hosts, always up for doing anything, refused to get inside, because they really don't like Khomeini. Instead of letting them wait for me outside under 40°C/104°F, I decided not to get in. Entrance is free.
Milad tower
I also skipped Milad tower because my hosts were not interested at all ("This tower looks like a dick!"). Although this tower in the city, it's not possible to go there by subway (there's no subway stations at all for miles around). You'll have to take a taxi. Apparently it's possible to get on top of the tower, and admire the city.
Interesting to see this big city, Tehran, but you don't need to extend your stay too long there. Iran has other beautiful cities to discover, and those who don't like big cities will be happy to leave (traffic, pollution, incessant horn blasts…).
Tehran travel tips
I wrote an article with a lot of travel tips before going to Iran (money, visa, safety…). Check it out!
Check the visa policy of Iran for your country. Most countries can get a visa on arrival if you arrive by plane. Citizens from the US, from the UK, and from Canada need to join a tour group to visit Iran. Check my guide for more info!
Many websites are blocked in Iran. To use the internet freely, you need a VPN. I use ExpressVPN, fast and efficient. I really recommend it! It allowed me to surf the net freely.
Ladies, bring a headscarf to cover your head, it's mandatory. Gentlemen, no shorts (no bare legs in general!).
Eating outside is cheap in Tehran and in Iran in general. You can get a meal for 100000 rials (a little bit more than 2 euros).
I spent two nights in the Seven Hostel. I recommend, the staff is nice and there's a rooftop to relax.
Bring all your cash with you before getting in the country. Their ATMs only work with Iranian cards, our cards are completely useless there. You cannot pay, you cannot get money with your card!
In Iran, especially in the city center of Tehran, you'll see several girls (and a few guys) with a dressing on their nose. That's plastic surgery, they get a nose job. I even saw a model in a clothes store with a dressing on its nose!
The subway ticket costs 8000 rials (0.15€), and the bus ticket 5000 rials (around 0.10€).
Traveling soon? Check out my travel resources page! This list of travel accessories can also be useful!
Do not leave home without a travel insurance! You never know what could happen. Anyway, before going through customs, they'll ask you to show a document proving you're insured… Here's why buy travel insurance!
Click here to check the latest flight prices to go to Iran.