Some links are affiliate links, which means if you make a purchase through these links, I earn a commission, at no extra cost to you.
Tashkent is the first stopover of almost all travelers who decide to visit Uzbekistan. Bur for me, it was my last stop, before going to Kazakhstan. Indeed, I didn't go straight to Uzbekistan by plane, but overland from Turkmenistan… And I already had the opportunity to visit Bukhara and Samarkand, before getting to the Uzbek capital, Tashkent.
Everyone agreed about one thing, when I was reading other traveler's opinions about Uzbekistan "There's no need to spend a lot of time in Tashkent, it's a big city and there are not many things to do in Tashkent. Two days are enough, there's a lot better elsewhere in Uzbekistan" When you start visiting Uzbekistan with Tashkent, you don't know what you're missing elsewhere in the country, because you haven't seen anything else with your own eyes yet! Moreover, there are things to do in Tashkent. But when your last stop is Tashkent, like me… Yes I have to admit it, you're not blown away by the city.
Description of Tashkent
Before talking about the things to do in Tashkent, let's describe the city, since it's so different from our Western cultures. Unlike its comrades Nukus, Khiva, Bukhara or Samarkand, Tashkent doesn't look like an old city, with an ancient history and 2000-years-old tourist attractions. Actually, it looks more like a recent city. That's what I was thinking and I found out why, after talking to a local.
On April 26th 1966, an earthquake that registers 7.5 on the Richter magnitude scale destroyed most of the city. About 78000 homes didn't survive the earthquake and were destroyed, and 300000 Uzbeks became homeless. Everything had to be rebuilt, and there's not much left from the Silk Road era in the city. I met an old man who was there when the disaster happened. He told us he lost everything, and he had left to Samarkand for a few years, before heading back to Tashkent.
I already talked about it before, but in Uzbekistan, I'm a star! They keep asking to get a picture with me. Yeah and they also honk at me, wave at me from their cars, twice guys in their cars did a U-turn when they saw me, and stopped alongside me for a picture! Like Tehran, a brave person asks for a picture, and 15 come out of nowhere to get their own picture as well. Even kids come talk to me (it happened in Mandalay, Myanmar as well).
In fact… They try to communicate with me! Because English hasn't infiltrated all the different areas in the world. Very few people speak English in Uzbekistan and in Central Asia in general, even the young people! Don't forget, we are in ex-USSR… In the hostel it's ok (actually not always!), but in general it's complicated. You really need to speak Russian in order to completely enjoy your stay in Uzbekistan. The few ones who speak English almost all came to me in the street, asking me if I was lost, if I needed some help… Very kind 🙂 And they keep asking me if I'm married, if I have kids, what I'm doing for a living in France…
Anyway, this area is really a crossroads between Asia, Russia and the Middle East. I can see readheaded guys with green slanting eyes in the street. There's also an important police presence outside. Cops are all over the place, every 50 meters (164 feet) you can see one. I was seriously wondering if they put all those cops to combat the unemployment rate in the country.
Because when you take the subway in Tashkent, it's the same. A first guy at the subway entrance search through your bag. A little bit further, after paying your subway ticket (a token for 1200 som, less than 0.15€…), two other guys do the same. Three guys to search through one bag, I don't know if it's necessary… They're bored as fuck, for sure! I saw a cop on duty hitting on a girl, taking her phone number, and leaving her with with a knowing wink. Daily routine!
What to do in Tashkent
Amir Timur museum
I didn't stay very long in Tashkent, since I followed other travelers' advice who visited the city before me. Still, there are a few places to see. Amir Timur Museum, that you can also find on the 1000 soms bills. Museum in the honor of Amir Timur (also called Tamerlane), a conqueror who lived in Samarkand during the 14th century. I can't tell anything more. Yes I passed by the museum, yes it was open, and no I didn't get in. I'm not much into museums…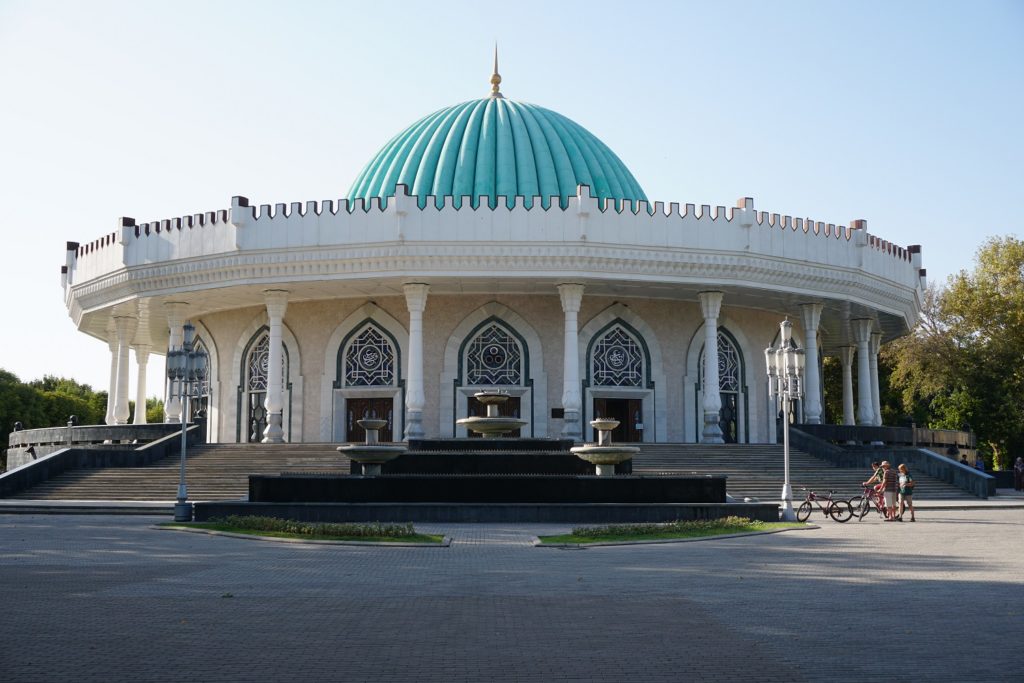 The Amir Timur Park
But there's also the Amir Timur Park not very far, with of course a big statue of Amir Timur. A lot of young people in the park when I went there, and couples. Just behind the park, you'll see the Hotel Uzbekistan, and its particular architecture. Back in the days, when tourists were coming to visit Tashkent, they had to stay in this hotel. Yes, there was only one hotel in the city, this one.
Independence Square
Independence Square deserves a stopover. Formerly called Lenin Square, Independence Square is in the heart of the city (there's no real city center here…), and attracts a lot of locals. Independence Square hosts special events of the city, military parades…
Other things to do in Tashkent
But there's also the Hazrati Imam mosque, the cathedral of the Assumption of the Virgin, the Chorsu bazaar (no pics, a big crowd formed around me to get pictures. When I finally left one hour later, I realized I didn't take any picture of the bazaar!), Alisher Navoi park, Kukeldash madrasah, Tashkent "sirk" (circus), the Tashkent Television tower (it's possible to get on top for 45000 soms, less than 5 euros, but it's forbidden to take pictures once you're on top), the plov center next to the tower to eat the best plov in the city…
As you probably noticed now, there are things to see in the city! Take three days to discover the Uzbek capital!
How to get to Tashkent
Tashkent will probably be the first city you're gonna visit in Uzbekistan. You can get there by plane. Click here to check the latest flight prices. If you're already in the country, the easiest way to get to Tashkent is by train. Either from Khiva, Bukhara or Samarkand. From Samarkand, it will cost you 50000 soms (a little bit more than 5 euros) to go to Tashkent by train. It will take three hours and a half. From Bukhara, they have afrosiyob, their fast train. It takes three hours to go to Tashkent from Bukhara by afrosiyob. But I don't have the prices.
How to get around in Tashkent
Tashkent is a big city, you'll have to take the subway. You can also take the taxi. In fact, anyone can be a taxi driver. Stick out your arm and someone will quickly stop for you. You won't pay more than the equivalent of 2 euros. There are also the marchoutka but honestly, knowing how cheap it is to take the subway or a taxi, it's not necessary to take them.
Where to stay in Tashkent
If you're traveling on a budget, the Art Hostel is made for you. The staff is really nice, the breakfast is excellent and they even have a swimming pool! Click here to book your stay. If you're looking for a mid-range hotel, the Mirzo Boutique Hotel is great. Click here to book your stay. If you're into luxury hotels, then you have to go to the Hyatt Regency Tashkent. Click here to book your stay. Otherwise click here to check what are the hotels available in Tashkent.
Finally, if you prefer to stay in an apartment, click here to check the apartments available on Airbnb.
Tashkent travel tips