Some links are affiliate links, which means if you make a purchase through these links, I earn a commission, at no extra cost to you.
Myanmar, a wonderful country, attracting every year more and more tourists. Indeed, during the last few decades, Myanmar was almost completely secluded from the rest of the world, further to the military coup staged by Ne Win in 1962. Ne Win was a military commander who led Myanmar for 26 years! But since 2011 and the dissolution of the military junta, the country slowly opens up itself on tourism. It's now a lot easier to travel to Myanmar!
You get it, foreigners going to Myanmar for the sole purpose of visiting the country is very new for the locals. And with the internet and all the social media, pictures of the wonderful Burmese landscapes spread all over the world wide web very quickly, making more and more people want to visit Myanmar with their own eyes (most people want to see Bagan!). Wanna travel to Myanmar? Here are some travel tips to make sure your stay in Myanmar goes smoothly.
Visa policy of Myanmar
Check the visa policy here. Most foreigners need to apply for a visa before getting there. It's not complicated at all, click here, fill the form, and pay the visa fees. It's 50 US dollars. A few days later, you'll get your e-visa in your inbox. Print it, and hand it to the customs officer when you go through customs. With the e-visa, you can stay up to 28 days in the country. Citizens from Brunei, Cambodia, Indonesia, Laos, Philippines, Singapore, Thailand and Vietnam can enter Myanmar without a visa.
You'll most likely get there by plane. Click here to check the latest flight prices. Just for your information, if you apply for a visa online, you'll have to get in the country from the Yangon airport, the one in Mandalay or the one in Naypyidaw. You can also come overland from Myawaddy, Tachileik or Kawthaung. It's not too restrictive anyway, most people enter the country from Yangon, Mandalay or Myawaddy! On the e-visa, you'll notice they ask for an onward/return ticket. But unlike Bangladesh or the Philippines where I was denied entry to the country, in fact they don't care. They didn't ask for anything when I went through customs. Before going there, don't forget to buy travel insurance! Here's why you should buy travel insurance.
Accommodation in Myanmar
You'll see by yourself, accommodation in Myanmar is quite expensive compared to the rest of Southeast Asia. Everything is relative, it's still very cheap compared to Western countries. But we're above the prices of the neighboring countries. The explanation is pretty simple. I said it earlier, Myanmar opened up itself on tourism recently, and the number of tourists skyrocketed the last few years. Myanmar didn't anticipate the influx of tourists, and regarding the hotels, the demand is higher than the supply. Click here to book your hotel room.
I didn't have any problem to find accommodation but think about it. The government is well aware of the problem, and new hotels are built to receive all those new visitors. For your information, do not try couchsurfing! Like Turkmenistan or Uzbekistan, Burmese cannot accommodate foreigners.
Is it safe to travel to Myanmar
When I tell people I've been to Myanmar and I loved the place, quite often people stare at me, all surprised "But… Myanmar is not dangerous!? Weren't you scared???". No, Myanmar is not a dangerous country. As usual, just use your common sense : don't talk politics with the locals and watch your steps. I know what scares people. All those things we hear about the Rohingya people. Indeed, in Arakan, located in the west part of the country, live the Rohingya people. Or I'd rather say they survive, since they're massacred in this part of the country.
I wanted to write about the reasons of this massacre but it's way too long. I invite you to do your research if you're interested by the subject. Just to let you know, there are checkpoints before getting in a dangerous area, and the military men won't let you pass. You also need to know we're talking about a small part of the country, and it won't be accessible for you anyway. Thus, as a tourist you won't have any problem.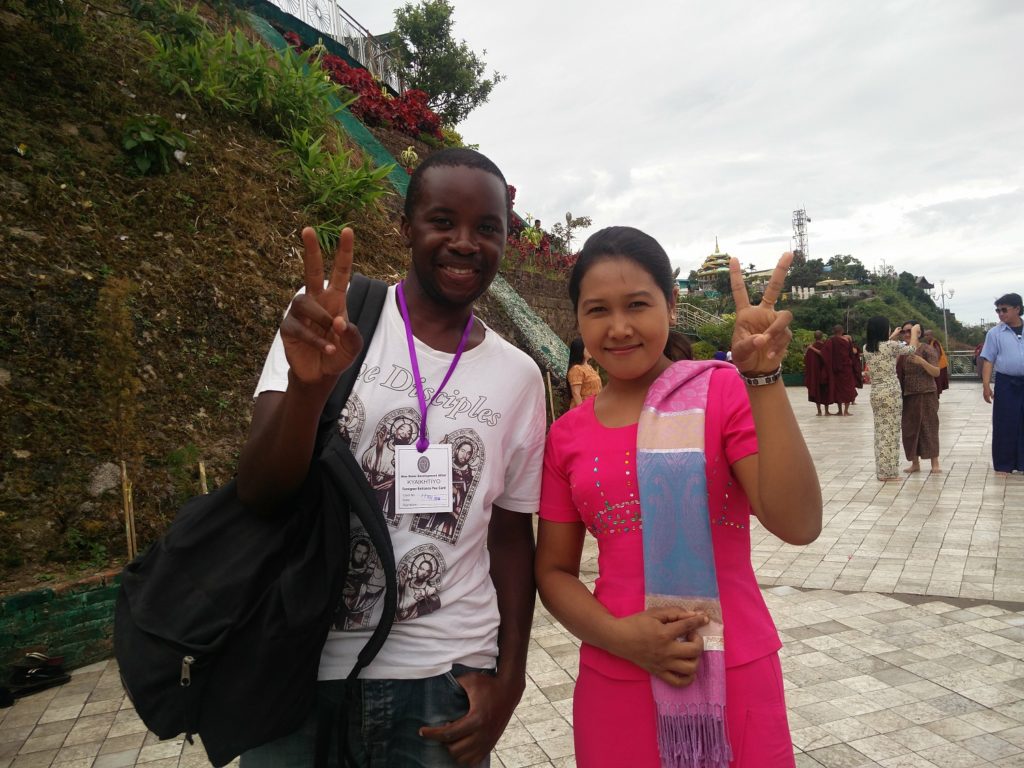 If you're a girl and you're traveling solo, it's the same, there are no safety issues. I met several several solo female travelers and they all told me their stay in Myamar went off very well. I repeat myself but don't forget to get a travel insurance before going there, you never know! The only snag in Myanmar : malaria. Unfortunately, malaria is present in the country, so you have to be extremely careful. If you go to the countryside, especially during the monsoon (from June to October), risks are higher! I warned you! You'll find on the resources page a list of vaccines to get before traveling.
Is it ethical to travel to Myanmar
I was talking about rohingyas earlier. They're victims of the worst atrocities you can imagine. Therefore many people don't know if it's a good idea to travel to Myanmar… It's a personal decision. For your information, almost all the other Burmese regions are not involved in the conflict. And i said it several times, the Myanmar government's actions are not reflective of the ideas of its population. It's up to you!
If you want to travel to Myanmar responsibly (read : support the local economy and not the government), travel independently, and not with a tour agency linked to the government. Stay in small guesthouses, hotels and hostels run by locals. Think about where and how you spend your money.
Transportation in Myanmar
It depends where you are but getting around in Myanmar is very easy. Unlike Central Asia where you have to manage by yourself, everything is very simple and convenient for tourists. Everytime I was making a trip from one city to another one, I took the bus. And everytime, they were picking me up just in front of my hotel, and they were dropping me in front of the hotel of my arrival city. Easy peasy!
If you want to get around in a city, it also depends. In Yangon and Mandalay, I was always walking. In Bagan, you have to rent a scooter or a bicycle. Around Inle Lake and Hpa An, you spend the day following a guide, on a boat or a tuktuk. And when you're free, you can rent a bicycle to get around. We're far from the struggles I had at the Tashkent train station. I was in front of a lady who just spoke Russian and not a single word of English, and I had to make myself properly understood to buy a train ticket (I had to make her understand where I wanted to go, which day, ask her the schedule, the prices…).
Food in Myanmar
Ouch… I didn't have any expectations but I have to admit I was a bit disappointed… The food is not really varied in Myanmar. Be prepared, you're gonna gobble a lot of fried rice and fried noodles during your whole stay there! I met a French girl who couldn't anymore, she had been there for three weeks! However, it's very cheap! I don't remember paying more than 2000 kyats (1.25€) for a dish with a soup.
The first few days, when I was going to a restaurant and I was asking for the menu, I thought the locals were trying to rip me off! Because in the local restaurants (not the touristy ones), there are no prices on the menus! But I quickly understood that's just the way it is there. One thing I found horrible : they make a "kissy" sound with their mouth to call out to a waiter! The first time I saw this I really thought they were trying to get the attention of a cat passing by, but actually no! That's a way to call the restaurant staff!
After handing you the menu, they stay behind you until you order your dish. Back home, the waiters give us a few minutes to make our decision, then they come back to take our order. Not in Myanmar, they stay behind you. Same when it's time to pay. They hand you the bill and wait in front of you. We get used to it, but it's a bit stressful at first. I also noticed that at the (local) restaurants, they usually don't serve dessert. This is something I noticed in Southeast Asia in general. One last thing about food : be careful, travelers' diarrhea is causing big damage in Myanmar, and I was a poor victim of it for a few days…
Myanmar culture
I talked about it in my article about Yangon, the Burmese people have their own, strong culture. We see things in this country that we can't find anywhere else in the world. First thing first, thanaka. You can't miss it, they all put thanaka on their faces (check the guide above-mentioned!). It looks like yellow paint but it's actually some kind of sunscreen and also an antiperspirant. It's supposedly good for the skin. Men wear longyi, those long traditional Burmese skirts. And they spend the day chewing betel, it's like tobacco. They chew it, drink water, and spit out the whole thing on the floor. Because of betel, they have red or black teeth and since they keep spitting on the floor, there are red stains all over the place on the floor.
I was a bit surprised by one thing when I arrived, Burmese still read a lot the newspaper, especially in Yangon. In the street, you can still see guys selling the newspaper and many people buying. They then sit on a bench or on the edge of the sidewalk, and they read the newspaper!
Another thing you need to know : you cannot sit with your feet pointing at someone, it's not polite! If you pay attention, you'll see the locals often sit cross-legged, hiding their feet. Feet are the dirtiest part of the body, therefore it's disrespectful to have your feet pointing at someone. Indeed, we're often barefoot in Myanmar (before getting in the hotel or an apartment you have to take off your shoes, same before getting in a temple, sometimes before getting in a small shop…). The young generation is more open about it, but the older people are strict. I saw some old guys glaring at tourists, who were seated legs outstretched, pointing at someone.
One last thing : when you give money, hand the bill with your two hands! And do the same when they give back the change, take it with your two hands! Doing so, you're respecting the person in front of you. Back home and in Western countries in general, we're used to give and take money with one hand, but it's frowned upon there. If, by any chance, you see them not using their two hands, they give the change with one hand, with the opposite hand on the forearm.
Myanmar itinerary
It will depend on the amount of time you wanna spend in the country. People usually enter the country from Yangon, and spend a few days there. Check what to do there. You can take advantage of the proximity of Kin Pun, four hours away from Yangon, and see the golden rock if you want to. And go to Hpa An after that. From there, head to the north and visit the area around Inle Lake, Mandalay and finally the wonderful village of Bagan and its hot air balloons. You can do it in two weeks. I wrote articles about all those places. If you have to make choices, opt for Yangon (for the Shwedagon Pagoda), Mandalay and Bagan. After Myanmar, it's quite easy to go to the neighboring countries if you want to. If you wanna go to Chiang Mai in Thailand from Hpa An, I give all the information at the end of my article about Hpa An. If you don't have much time, here's a 7-day Myanmar itinerary.
I almost forgot! I wanted to go to the capital of the country, Naypyidaw, just out of curiosity! Almost no one goes there and for good reason, it's a ghost town! Six times bigger than New York, and you don't see a single person in the street from what I heard! A deserted city! It's a real experience. So why didn't I go there? Everytime I wanted to buy a bus ticket, or when I was talking about it to the locals, they were doing everything they could to dissuade me from going there "No, there's nothing, you'll be exposed to scorching heat, no really don't go". I ended up listening to them and now I regret it…
I said it before, Yangon was the capital of the country until 2005, then the capital was moved to Naypyidaw for mysterious reasons, and the inhabitants didn't like the relocation of their capital city. This explains why they didn't want me to go. Anyway, think about it if you go to Myanmar one day!
When to go to Myanmar
The best time to go to Myanmar? From November to February. From March, it starts to get way too hot! Then from June to October, it's the monsoon!
Myanmar budget
I don't really like talking about budget on this site because every single person travels their own way. Consequently, budget varies a lot depending on how you travel. Some people get by really well with 20 euros per day all included, others need at least 60 euros per day all included.
FYI, for a night in a hostel, you'll pay between 4 and 10 euros. A night in mid-range hotels costs between 15 and 40 euros. It's a lot more for luxury hotels. Having a good meal in a local restaurant is between 0.50 and 2 euros. Multiply by 10 if you're having a meal in a Western/top of the range restaurant. Getting around from one city to another one is about 10 euros. As I said, budget varies depending on how you travel.
All right! I think I said the most important things about this wonderful country. I really recommend people to go, especially since there are not too many tourists yet. This will probably change within the next few years…