I took a van in Ho Chi Minh, Vietnam, to go spend 3 days in Phnom Penh, Cambodia! On the way, we stopped at the border to get our passports stamped and pay the visa fees. Simple formality. But our driver asked us to pay $35 for the Cambodian visa, even though the actual price is $30. I know what you think. Five extra dollars, that's not much for a Westerner. But we were 20 people in the van, and they make the trip several times a day! It adds up quickly! Out of principle, I refused to pay $35 at first. But I was at their mercy, and the driver was ready to hit the road again and leave me at the border. I had to pay…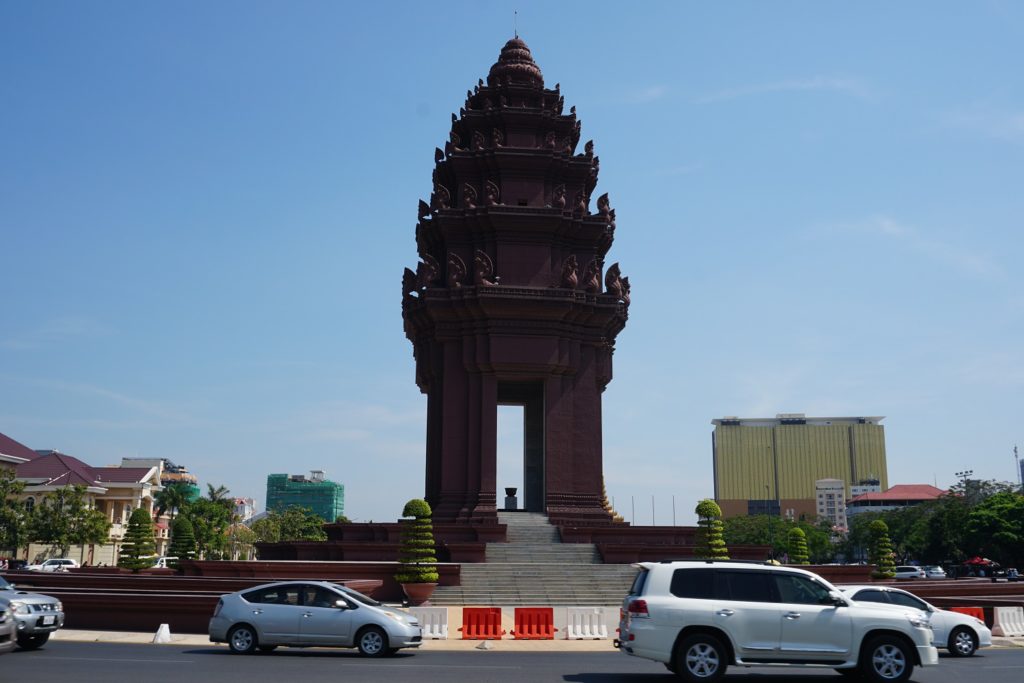 Description of Phnom Penh
On the Cambodian side of the border, we had to wait for our driver for a few minutes. Several local women came up to me and proposed exchanging money. We all know this common scam, where locals at the border take a big commission on the exchange rate during the transaction. I declined but just out of curiosity, I asked them how much riel (the local currency) I could get with one US dollar. And surprisingly, the rate was really good! For a moment, I hesitated to exchange my money, but then I told myself "It's probably too good to be true, there's something fishy going on. So weird… Let's go to Phnom Penh and get to the bottom of it"
I'm glad I followed my instinct. Indeed, the rate was really good. But there's one thing I didn't know. In Cambodia, everything has to be paid in US dollars. Yes, they have their own currency, but they almost never use it! If I had taken riel at the border, it would have been a pain in the ass to get rid of them afterwards (Hey! Reminds me of the manats in Turkmenistan…).
You can pay in riels but it's not convenient at all for them so they make you pay more and they take a commission. Usually, riels are used to complete a payment in US dollars, since there are only US dollars bills and no US dollars coins circulating in the country. For instance, if I have to pay 4.50$ for a dish at the restaurant, I'll give 4$ and the equivalent of 50 cents in riels. That means two currencies are circulating in the country.
Before talking about about what to do in 3 days in Phnom Penh, let me describe the city! It's the capital of Cambodia. Phnom Penh was called the pearl of Asia from the 1920s to the 1970s, because it was considered one of the most beautiful cities of Indochina. As I said, all the prices are given in US dollars. I guess you understood, that means Cambodia is more expensive than its neighbors Laos and Vietnam. Although Phnom Penh is the capital, there's less traffic than in Ho Chi Minh. Phnom Penh looks less hectic, it's better for me. But again, locals constantly call me out from their tuktuks, all the damn time! Even more than in Thailand!
Walking around in the street, quite often you can spot monks. They're not as numerous as in Myanmar, but still, they're present. Next to the independence monument, there's a park, and at the end of the day, many locals "exercise' there. When I say exercise, I mean they're walking. Dozens of locals, adults, but also children and teenagers walk around the park, wearing their jogging suits. Quite funny to see. And in the evening, you can spot rats outside.
Regarding food, it's more or less the same as the neighboring countries. Many typical Asian dishes, but at the same time you can feel the French influence. Cambodia was also part of Indochina, this former French colony. By the way, here's where to eat Khmer food in Phnom Penh. Like Luang Prabang in Laos, when you go to a bar or a restaurant, if you order anything called "happy-something", it's a subliminal message telling you there's drug in it. Get a happy pizza to eat a pizza with weed in it, same for happy tea, happy mojito…
Things to do in Phnom Penh
The Royal Palace
I kept hearing about a place I had to see in Phnom Penh "cause it's breathtaking", the Royal Palace. I went there and I'm not gonna lie, the palace is wonderful. However, I felt like the palace wasn't worth the 10 dollars I paid to get there. First off, the palace is crowded! Once you're in there, there's actually the royal palace and several temples around it. We cannot get in the royal palace, you cannot take pictures of several temples and many areas are not accessible…
Several times, Chinese tourists (and Cambodian teens) asked to get a picture with me… Wanna take pictures of the palace from the outside, in the street? Impossible, big walls prevent from doing it. Be careful, the palace is open from 8am to 10:30am, and then from 2 to 5pm. It's closed from 10:30am to 2pm.
The Genocide museum and the killing fields
Two other places are unmissable in Phnom Penh : Tuol Sleng Genocide Museum and Choeung Ek. For those who don't know, Cambodia was completed isolated from the rest of the world from 1975 to early 1979. Pol Pot, leader of the Khmer Rouge group, sentenced 3 millions Cambodians (out of 8!) to death during that era. The Tuol Sleng Genocide museum was actually the prison were Cambodians were waiting to be killed. It was called Security Prison 21 (S-21). Choeung Ek, a bit further, is the place where the Khmer Rouge regime was executing their victims. Very interesting, but a bit shocking. For all the info, read my article about the Tuol Sleng Genocide Museum and Choeung Ek (the killing fields).
Other things to do in Phnom Penh
There's also the National Museum of Cambodia but I didn't go (it's $10 to get in), next to the National Museum there's a traditional dance show from 7pm to 8pm ($15 to watch it), Wat Phnom which is one of the oldest Buddhist pagodas in Phnom Penh ($1 to get in), and of course you can go to the market, admire the Independence Monument…
Activities in Phnom Penh
You can go on a Mekong river sunset cruise. Click here for more info. You can also visit Phnom Penh with a small group. Click here for more info.
A lot of travelers going to Cambodia don't even stop by Phnom Penh because they feel like there's nothing to do there. I recommend you to spend a few days there, at least to see the Tuol Sleng Genocide Museum and Choeung Ek.
How to get to Phnom Penh
From Ho Chi Minh, I paid 250000 dong (a bit less than 10 euros) the van ride to Phnom Penh. We left Ho Chi Minh at 9am, and I was at my hostel at 3:30pm in Phnom Penh. Otherwise, you can also get to Phnom Penh by plane. Click here to check the latest flight prices.
Money in Cambodia
You got it, bring US dollars! Their local currency is not very useful…
How to get around in Phnom Penh
You can visit Phnom Penh by foot. Sometimes you'll have to take a tuktuk (for instance to see the killing fields).
Where to stay in Phnom Penh
If you're traveling on a budget, the Sla Boutique Hostel is a good hostel. Click here to book your stay. If you're looking for a mid-range hotel, you're gonna like the Penh House & Jungle Addition. Click here to book your stay. If you're looking for a luxury hotel, I suggest you to stay at the Palace Gate Hotel. Click here to book your stay. Otherwise click here to check what are the hotels available in Phnom Penh.
Phnom Penh travel tips