Some links are affiliate links, which means if you make a purchase through these links, I earn a commission, at no extra cost to you.
There are so many places, cities and villages to visit in Myanmar. Hpa An is one of those places you have to see in the country. Like the Inle Lake, I didn't know much about this area before getting there. Hpa An is a city with almost half a million inhabitants, located in the south of Myanmar. The reason why travelers go there? Once again, it's an opportunity to admire beautiful landscapes. Let's find out all the things to do in Hpa An!
Description of Hpa An
You need to know something. When you go to Myanmar, after a few days, you feel like there are pagodas all over the place, and you also feel like you keep watching the same temples over and over again (I had the same feeling in Japan but also in Uzbekistan with all the mosques and mausoleums). For some people, it may get tedious after visiting some cities in the country, especially since Hpa An is usually not the first destination of people traveling in Myanmar.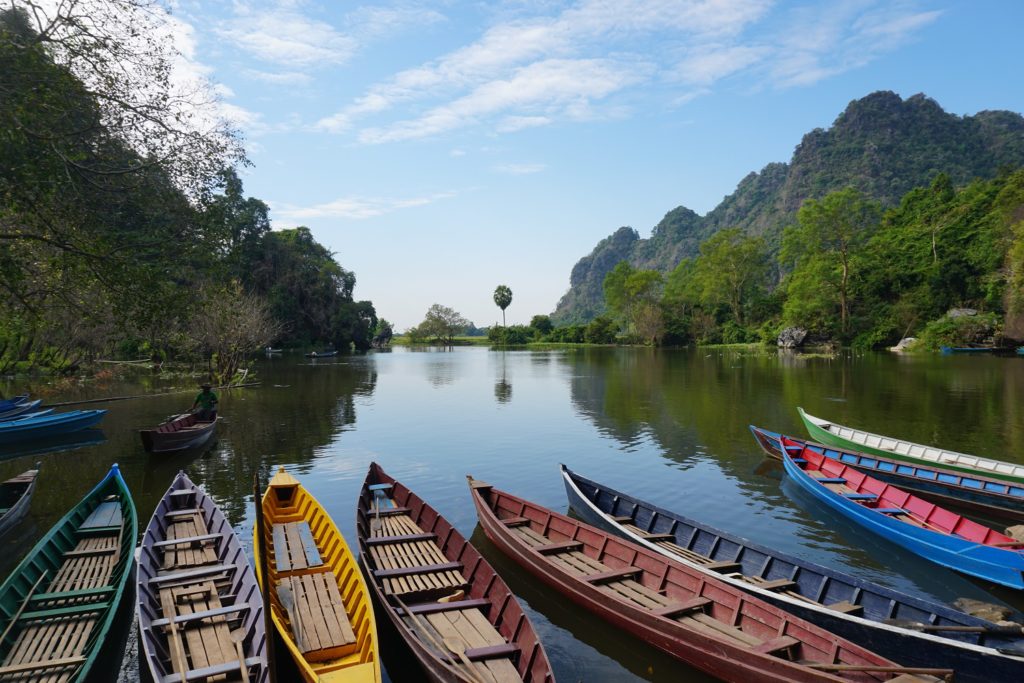 Anyway, I heard a lot of nice things about Hpa An, so I decided to see by myself what the city looked like. The main tourist attractions to see are actually located a few kilometers away from Hpa An, therefore it's not possible to get there by foot. Thus, hotels suggest getting a tuktuk for a full day with a local, who will take you to all the different places to see. That's what I did, and that's what most people do when visiting Hpa An! I hopped on a tuktuk for the day with two Dutch people and three French girls. Here are the things to do in Hpa An!
What to do in Hpa An
Ya The Byan Cave
Basically we spent the day visiting various pagodas and caves, and we also admired the landscapes of the region. We started our trip going to a cave, Ya The Byan Cave. A cave with quite a few stairs to climb to reach the entrance. Inside the cave we can see many Buddhas and in the back, there's a footbridge overlooking the landscape outside.
Kaw Goon Cave
We left the place and we went to visit another one, Kaw Goon Cave, also called Cave of the Ten Thousand Buddhas. We hap to pay 3000 kyats (less than 2 euros) to get in. As you might suspect, there are Buddhas all over the place, and it looks more like a rock shelter than a true cave. Indeed, walls are covered with beautiful engraving and Buddhas carved directly on the rock. Quite nice to see.
Kyauk Kalap monastery
After that we went to Kyauk Kalap monastery, which is on top of a rock! Like Mount Popa around Bagan! There's something stunning about this place, the base of the rock is narrower than the top! The rock is in the middle of a lake, and once again, it's a nice place to see.
The Lumbini garden
Apparently there's an unmissable place in Hpa An, the Lumbini Garden. It's a garden with exactly 1121 Buddhas statues one behind the other. We passed by the garden and stopped at the entrance but no one in the group (except me) wanted to get in. Yeah, the entrance is not free, it's 4000 kyats (2.50€). I didn't want to be that guy slowing down the whole group, so we didn't get in. Behind the garden there's a mountain called Mount Zwekabin, and it's possible to climb it. Our guide told us it takes about two hours to get on top.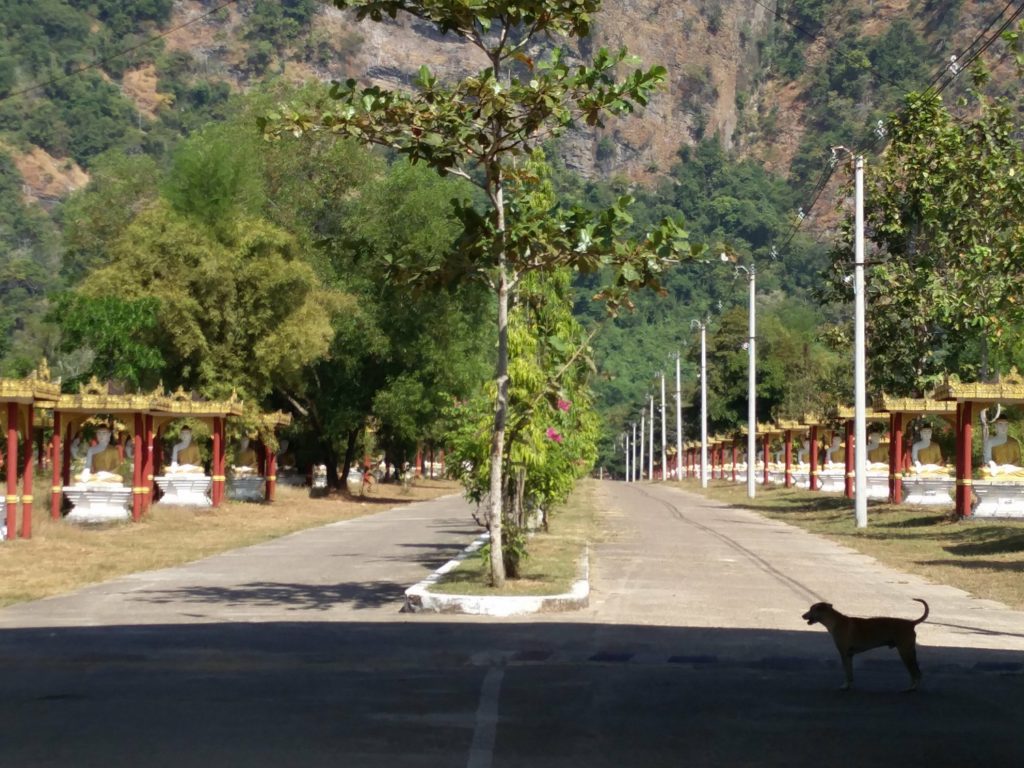 Sadan Cavve
After lunch, we didn't stop our trip, and we went to one of the most visited places in Hpa An, Sadan Cave. The entrance fee is 1000 kyats (0.60€). A quite dark cave, where you have to walk barefoot. The floor is sometimes slippery and it's impossible not to walk on all the bat poop. Just look up and you'll notice the bats took over Sadan Cave. In this cave, there are several big Buddhas, other golden Buddhas a lot smaller on the walls. This cave is gigantic, with a lot of bats sleeping above our heads. They take mud on the floor and stick it on the "ceiling". They want to avoid having slippery paws, so that they can sleep with their head down.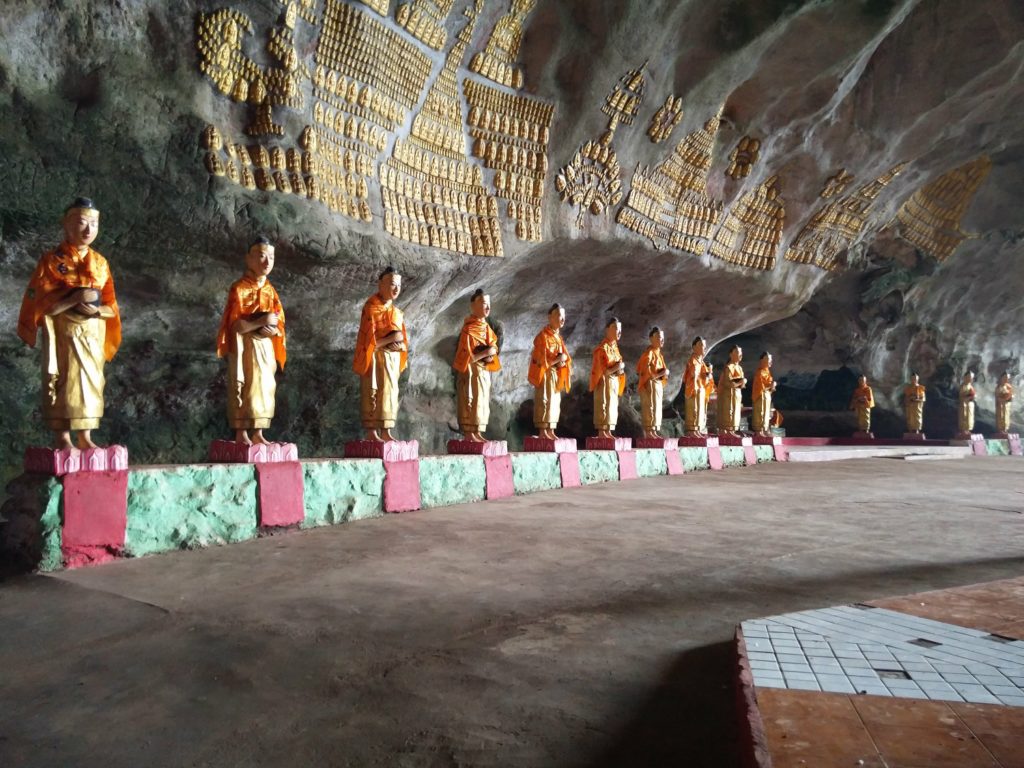 Our guide then told us we could go back to the entrance to leave the place, or keep going to leave the cave a little bit further, and take a canoe. Obviously we decided to take the canoe, and after sailing a river, we went through another part of the cave from our small ship, and we passed by rice fields. Peaceful and relaxing moment.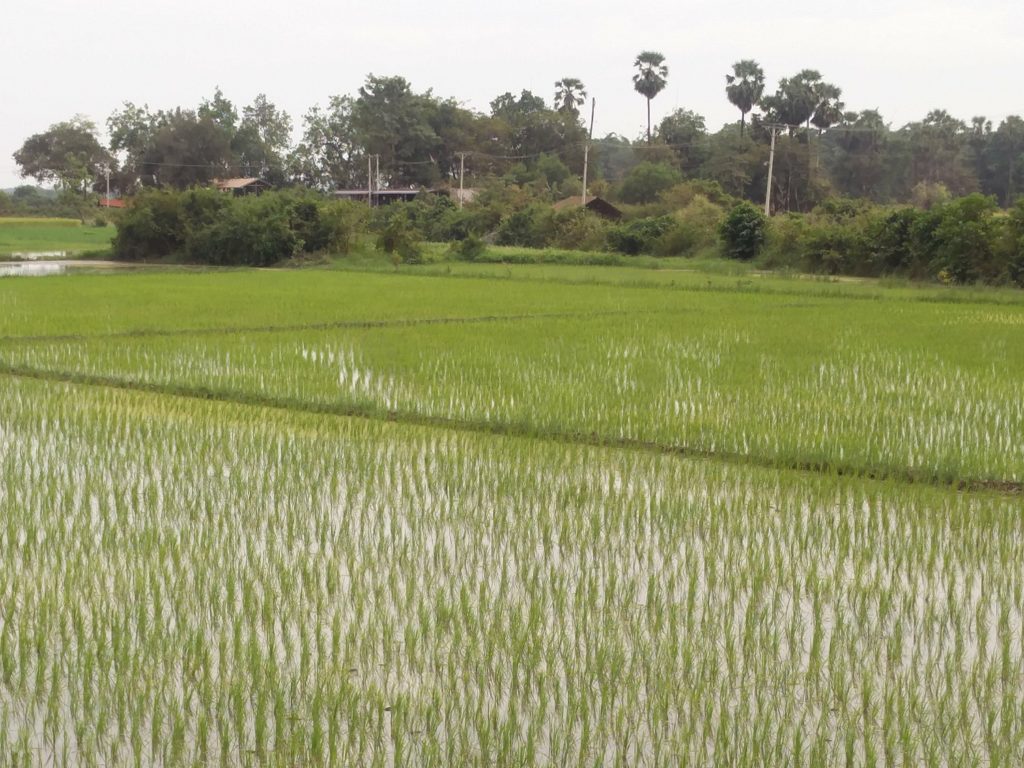 Kawt Ka Taung temple
We ended our day with the visit of Kawt Ka Taung temple. Once again, we saw hundreds of statues but this time it was Buddhist monks statues, one behind the other. Inside the temple, nothing really new : Buddhas, statues and a prayer room. There's a swimming pool not too far with young locals swimming, and I had a walk in the surroundings by myself, once again enjoyable moment.
It's already time to go home. Visiting Hpa An reminded me of the day I spent exploring Inle Lake, in that during a whole day, a local was taking us from one place to another one (and I'm not used to it, I like my freedom way too much, do what I wanna do, go where I wanna go, etc…). But in Hpa An, we still had a lot more liberty, and no forced sale, I really liked it! It's a place to see, but be careful with the overdose of temples!
How to get to Hpa An
I came from Inle Lake to go to Hpa An. I paid 25000 kyats (15.50€) my bus ticket, and it was a 14-hour ride. Don't worry if you don't find this bus ticket on the internet. In those countries, the information mostly circulates verbally. But the bus line Inle Lake-Hpa An (and Hpa An-Inle Lake) does exist, I took it! Ask your hotel, they'll give you all the information. Otherwise you can also get there from Yangon. It's a 8-hour ride by bus.
How much is the tuktuk ride for the day
We paid a total of 30000 kyats. Knowing we were six people, we paid 5000 each (a bit more than 3 euros).
How long is the tuktuk ride for the day
We started our trip at 8:45am, and we were back at the hostel around 5pm.
How to get around in Hpa An
If you're in the city center, you can get around by foot. Otherwise, I suggest you to rent a scooter. It's 10000 kyats (6.50€) per day.
Where to stay in Hpa An
Options are limited in Hpa An. If you're traveling on a budget, the Lil Hpa An is a good hostel. Click here to book your stay. For a mid-range hotel, the Thanlwin Guesthouse is also a good one. Click here to book your stay. If you prefer top of the range places, there's the Keinnara Hpa An. Click here to book your stay. Otherwise click here to check what are the hotels available in Hpa An.
Hpa An travel tips
Traveling soon? Check out my travel resources page! This list of travel accessories can also be useful!
Wanna go to Myanmar? Check the visa policy here. Most Western countries need a visa. Easy, you can apply online here. You'll have to pay 50 US dollars. If you decide to apply online, you must get in the country by plane (most likely anyway). Click here to check the latest flight prices to go to Myanmar.
Do not go to Myanmar without a travel insurance! Here's why you should buy travel insurance!
Want a tailor-made trip to Myanmar? Get a free quote here!
Always use a VPN when traveling. I use ExpressVPN and I love it! Here's why use a VPN when traveling.
After visiting the Sadan Cave, sailing the lake on the canoe wasn't free. We paid 1500 kyats per peson (almost one euro).
After Hpa An, I went to Chiang Mai in Thailand. Your hotel will book a seat in a van for you, and the van will pick you up in front of your hotel. By the way, it's also possible to go to Bangkok by van from Hpa An. Anyway, we left at 8.15am, and we arrived at the border at 12:30pm, in a city called Myawaddy. I paid 10000 kyats (6.25€) for this first ride. Crossing the border was very fast. You fill a form, they take a picture of you, you show your Burmese e-visa, and they stamp your passport! You cross a bridge by foot in five minutes (do not listen to the taxi drivers telling you the walk will be long! Another travel scam!). On the Thailand side, it's the same : form, picture, and then stamp! Then you take a "taxi" to Mae Sot for 20 baht (0.50€), not more! I met travelers who paid 500 baht (12.50€) for this ride!!! At Mae Sot, take a tuktuk to go to the bus station. That ride costs 100 baht (2.50€). From there, you'll take a van to go to a city called Tak. I paid 78 baht (2 euros) for this ride. And finally, from Tak, a last bus to go to Chiang Mai. I paid 215 baht (a bit more than 5 euros) for the last ride! That was quite an adventure!