Some links are affiliate links, which means if you make a purchase through these links, I earn a commission, at no extra cost to you.
Luang Prabang, Vang Vieng, Pakse, Thakhek… Only Asian-sounding city names! And then Vientiane, a city name sounding way more Western! How come? Very simple, Laos was part of Indochina, this former French colony. At the time Vientiane was called Viang Chan, but the Frenchies found it difficult to pronounce the name… So they "Frenchified" Viang Chan, and it became Vientiane. After the independence of the country, they kept the name Vientiane. Let's see what to do in Vientiane!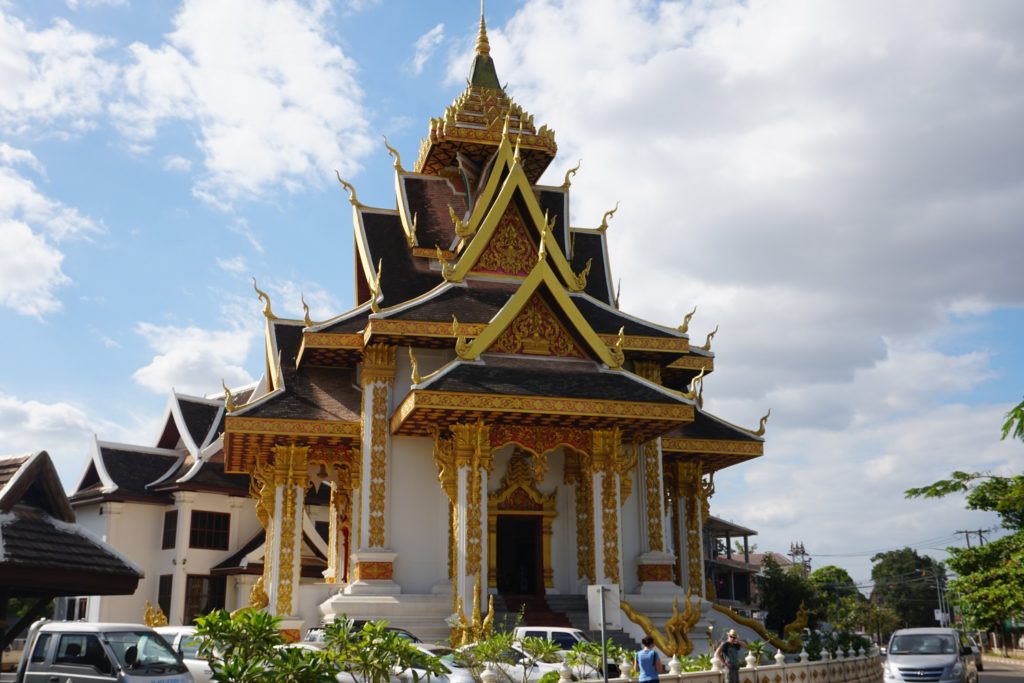 Description of Vientiane
Here I am in the capital of Laos, Vientiane. Those kind of cities where I often heard the same thing before getting there "Just spend one day there, it's useless to stay longer, there's nothing to do in the capital of Laos". People already told me the same thing about many places I visited before (I'm especially thinking about Bangkok), however there were things to do. But this time, let's admit it, Vientiane is not a must see in Laos. I spent a few days there but indeed, a whole day is enough, since there are not many things to do in Vientiane…
In Luang Prabang, visiting the temples and the Kuang Si Falls kept me busy. In Vang Vieng, it was the tubing and the parties. But Vientiane is calm. Very calm. You don't even feel like it's a capital. The city is known for not having many cars and indeed, the traffic is moderate. From what I heard, a few years ago, there were almost no cars but things change, more and more locals buy one now.
The French influence is still very present in Vientiane. You'll see bakeries all over the place, and the baguettes are very good. Signs are in Lao and in French. And you'll see many French restaurants (a bit expensive) : le banneton, la cave des châteaux… You also see many terraces, especially around Fa Ngum quay. I insist on the terraces because this is something we don't see often in Southeast Asia.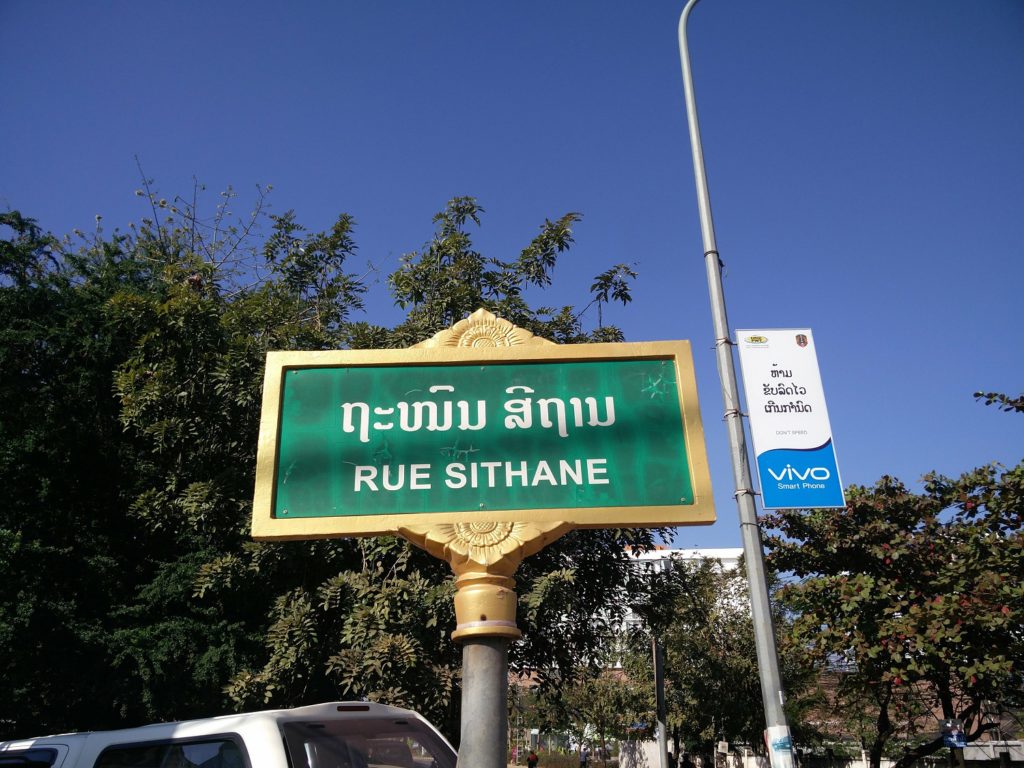 Having a walk in the street, people started greeting me again. Kids, adults… Everyone! They all greeted me friendly, it felt good! And tuktuk drivers are less vicious than the ones in Thailand. It happened several times, when I asked the price for a ride, the tuktuk drivers were checking their cheat sheet with the price of all the tourist spots, depending on the number of passengers "Hmmm… You wanna go there… Let me check… Oh that'll be xxx kips!"
Visiting Vientiane, I realized that there are many ladyboys. You expect to see them in Thailand, a bit less in Laos but they're also there, present! And quite numerous. Even daytime, you can spot a lot of them outside. And needless to say, you see them again in the evening in the bars, the clubs, etc…
What to do in Vientiane
The Pha That Luang
If you wanna visit Vientiane during your stay in Laos, I recommend you to visit the Pha That Luang and its huge golden stupa. It's a sacred Buddhist monument in Laos, and it's wonderful. The Pha That Luang supposedly houses a small part of Buddha's sternum, dating back to the 3rd century BC. It's 10000 kips (one euro) to get in.
Patuxai
Another monument you can see is Patuxai, also called the arc de triomphe. Yeah, the original one is back home in Paris, and you'll find copycats in various cities in the world : in Bucharest, Romania, in Chisinau, Moldova… and in Vientiane, Laos! It's not a tribute to France in this case, but quite the opposite. The Patuxai is a monument built in memory of the Laotian soldiers who fought against France for the independence of the country. If you pay 3000 kips (0.30€), you can get on top of the Patuxai. There are seven floors, and different souvenir shops at each floor.
The COPE Center
An interesting visit to do : the COPE center. During the Vietnam war, the USA dropped two million tons of explosives on Laos (they didn't want Vietnam to get supplies from Laos). To this day, many bombs in the countryside didn't explode and today, 50 years later, some locals are still victims of those bombs. A child playing, a farmer plowing his soil, the heat caused by a saucepan on the floor… And the bomb explodes.
You need to know that the bombs don't explode when you walk on them, you "have" to trigger the explosion. Anyway, the COPE is a center helping Laotian people with physical disabilities, following the explosion of a bomb : treatments, rehabilitation programs, mine-clearing of the territory… A must see! Entry is free but donations are recommended.
The Buddha park
A little bit further, go to the Buddha Park. This park was built in 1958 by a monk who studied Hinduism and Buddhism. So we have a mix of those two religious styles in the park, and the result might look a bit strange. The park is not very big, and it won't take much time to visit. Entrance fee is 15000 kips (1.50€). You can visit this park and other tourist attractions in Vientiane with a guide if you want to. Click here for more info.
Temples in Vientiane
Otherwise you can visit temples (for a change) : Vat Sisaket, the oldest temple in Vientiane, and its 10000 Buddhas. Entrance fee is 10000 kips (one euro). And opposite Vat Sisaket, you'll see Vat Phra Keo, and it's also 10000 kips to get in. In both cases, it's forbidden to take pictures inside the temples.
Vientiane is a nice little town but honestly, you can skip it if you go to Laos… In fact, check out my post listing the best places to visit in Laos!
How to get to Vientiane
I paid 40000 kips my 4-hours ride from Vang Vieng by van. You can also get to Vientiane from Luang Prabang by van, and even from the south of the country. If you come abroad, click here to check the latest flight prices.
Best time to go to Vientiane
Ideally from November to March. It's the dry season and it's not too hot. The rest of the year it's too hot or it's the monsoon.
How to get around in Vientiane
You can get around by foot in Vientiane. Otherwise there are tuktuks, don't forget to negotiate the price!
Where to stay in Vientiane
If you're traveling on a budget, the Barn1920s Hostel is a good one. Click here to book your stay. If you're looking for a mid-range hotel, you're gonna like the Bloom Boutique Hotel, modern and comfy. Click here to book your stay. If you prefer luxury hotels, you can stay at the Crowne Plaza. Click here to book your stay. Otherwise click here to check what are the hotels available in Vientiane.
Finally, if you prefer to stay in an apartment, click here to check the apartments available on Airbnb.
Vientiane travel tips
Traveling soon? Check out my travel resources page! This list of travel accessories can also be useful!
Wanna go to Laos? Check the visa policy here. Most countries can get a visa on arrival either at the airport of if you come overland. You'll have to pay between 30 and 40 dollars US, depending on your citizenship. Add one extra dollar if you cross the border during the weekend. Bring an ID photo.
Do not go to Laos without a travel insurance! Many backpackers have motorbike accidents, especially in the south of the country! Here's why buy travel insurance!
Want a tailor-made trip to Laos? Get a free quote here!
Here's an useful two-weeks in Laos itinerary!
The Buddha Park is located 25 kilometers (15 miles) away from Vientiane. My hostel asked us if we wanted to do the round trip (we were 5), and we said yes. Big mistake, we paid 70000 kips (7 euros) each. You can find a lot cheaper by tuktuk. Or find the bus 14 in the city, it goes there.
Always use a VPN when traveling. I use ExpressVPN and I love it! Here's why use a VPN when traveling.
Laos is a cheap travel destination!