Some links are affiliate links, which means if you make a purchase through these links, I earn a commission, at no extra cost to you.
Damn, it's been a while! I almost forgot how it felt! In Mandalay, a lot of people greeted me in the street and smiled at me! I'm a star, like in Uzbekistan! I was thinking about the things to do in Mandalay but as soon as I arrived, I noticed many locals were staring at me all surprised in the streets, and it felt weird -especially the first few hours- since I wasn't used to be stared at anymore. All right we're not at the same level as Central Asia, but still! Several times, people wanted to get a picture with me. I didn't really understand, I was in Yangon just a few days before and nobody seemed to care there… And Mandalay is not a small village but a big city with almost one million inhabitants!
There was still a moron who put his camera on my face and took a picture of me like an animal! I learned to spot this quite fast and avoid the angle of view so that the offender gets a crappy picture. But since it didn't happen for a long time, I lost my automatic reflexes… So I did the same, I put my phone in front of his face and took a picture of him, then I watched my pic with a satisfied look! He understood 😀
Description of Mandalay
Before talking about the things to do in Mandalay, let me describe the city real quick! Mandalay is the second largest city of Myanmar, and it's considered the cultural capital of the country. Indeed, not far from the city are located former royal capitals : Ava, Amarapura, Sagaing… And Mandalay is a city full of history with many hundreds-years-old temples.
The first thing that surprised me in Mandalay : the restaurants! Yeah restaurants! I mean… Those who are working there. In many restaurants, you'll see children doing the service, taking orders, cleaning out the room, bringing your dishes… I'm not talking about teenagers, several times some kids, barely six years old, served me my food! In a restaurant, I saw a little girl, four years old, clearing tables, cleaning up plates and glasses…
I mostly ate in local restaurants (not the touristy ones) so I was watching the other (local) customers and of course I was the only one who seemed to be shocked by this… performance!? It must be cultural. I've often seen owners of restaurants asking their children to help out in developing countries, but it's always been teenagers, 12-13 years old at least. Anyway, I was trying to imagine this kind of scenario in Paris, where an eight-years old kid would be busy, walking frenetically around the tables, and would come to you asking "How do you want your steak? Medium? Well done?". Hard to picture this…
Anyway, it's time to visit Mandalay! Wow the traffic is chaotic here compared to Yangon! I've seen worse but here there are many crossroads with no red lights. So you have to be extremely careful crossing the street. Oh and there are many motorbikes and scooters. That makes me think… I haven't seen a single motorbike in Yangon! That's why I feel like they're all over the place here. After doing my little research, I found out motorbikes are forbidden in Yangon…
What to do in Mandalay
The Mandalay Palace
As I said earlier, Mandalay is considered the cultural capital of Myanmar. There are not only the former royal capitals around Mandalay, but also many places to visit in the city. First off the Mandalay Palace in the heart of the city. This palace was built between 1857 and 1859, and is in the center of some kind of citadel. The Mandalay Palace was the royal residence of the last two kings of the country until 1885, before the British took over the Palace during the colonial era. Unfortunately the palace was severely destroyed during World War II, and was partly rebuilt in the 1990s. A must see!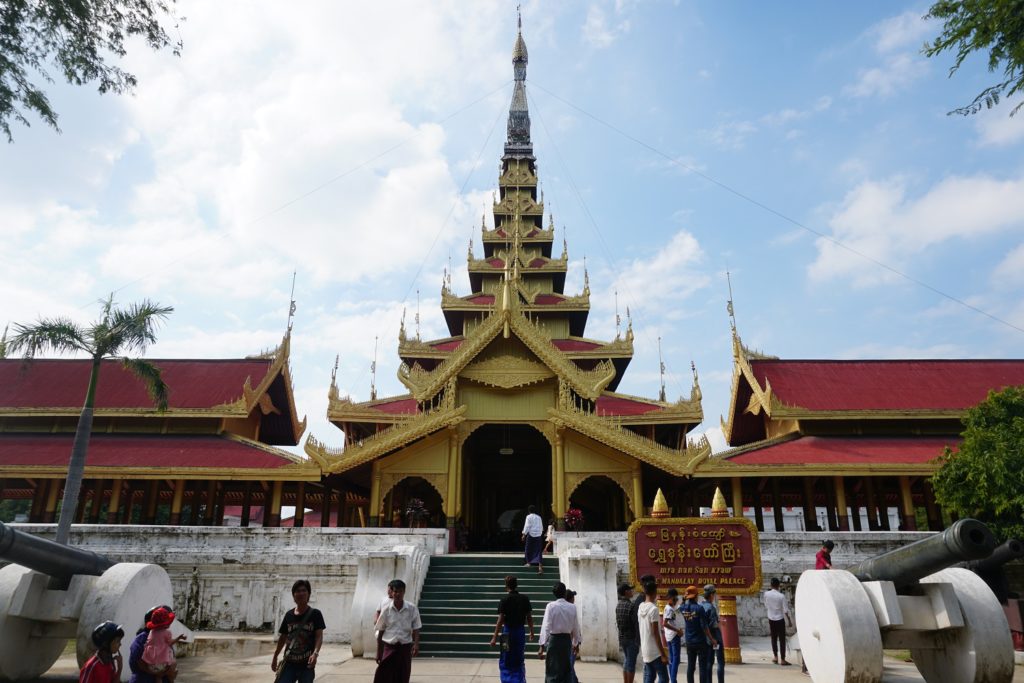 For your information, you need your passport to get in. The staff keeps it, and they give it back to you once you leave. When you get in the enclosure of the palace, you need to walk a little bit before reaching the palace. Some Burmese guys will ask you if you wanna take a taxi scooter to get there, because you know, it's sooo far from here… Be smart, and just walk, it won't take more than 10 minutes! Next to the palace, there's also a small museum with local works of art. When you leave the palace, have a walk on the 66th street, very enjoyable along the small river. Many locals go jogging there.
The Mahamuni Temple
Another unmissable place in Mandalay is the Mahamuni Buddha Temple. Like the golden rock, it's one of the most important Buddhist pilgrimage sites of the country. Therefore you'll see many locals there, and monks of course, commune with themselves. There's a representation of Buddha in this temple called Mahamuni image. Unfortunately, the temple was partly under construction when I was there, and some parts of the temple were inaccessible. Therefore I didn't get the chance to see Mahamuni image. But Mahamuni Buddha Temple is definitely a must see, it's one of the most important Buddhist sites of Myanmar.
Just to let you know, you have to pay 1000 kyats or one US dollar to take pictures in the temple. Right after getting in the temple, don't be fooled by the locals, nicely telling you they'll keep your shoes for you in a plastic bag. Don't listen to them, just take off your shoes and get in the temple! If you give them your shoes, you'll have to pay something once you get out.
The U Bein Bridge
There's another place attracting many tourists (including me), it's the U Bein Bridge. This bridge is located 15 kilometers (10 miles) south of Mandalay, and there's a good reason everybody goes there. The view there is wonderful for the sunrise or the sunset. I went there for the sunset, I wasn't motivated at all to get up early for the sunrise! The bridge, made of teakwood, was built in 1851. It's 1.2 kilometer long (0.75 miles), and it's the longest teakwood bridge in the world. I said it, the bridge is popular, don't expect a peaceful place.
To get to the U Bein bridge, you can either rent a scooter for the day, take a scooter taxi for the round trip from Mandalay (that's what I did for 8000 kyats, -5 euros-), or take a regular taxi (15000 kyats for the round trip, a little bit less than 10 euros).
Mandalay Hill
Many many popular spots in Mandalay. I can't forget Mandalay Hill. People all over the place, even more than U Bein Bridge! Mandalay Hill is located in the north of the city. You can either go up there by foot or by taxi. Once you're up there, you'll see several monasteries and a pagoda with a view of the city. I didn't stay there for a long time, it was way too crowded. Just to give you an idea of how popular the place is, they put seats at the best spots reserved for VIPs (but please don't ask me, I have no fucking idea how to be a VIP…).
Other things to do in Mandalay
There are also several pagodas to see in town : Kuthodaw pagoda containing the world's largest book. Don't waste your time looking for it, all the pages are spread all over the pagoda, in hundreds of various stupas. Just next to it, you'll find Sandamuni pagoda, go check it! Careful! Kuthodaw and Sandamuni pagodas look alike, but those are two distinct pagodas! There's also Atumashi Kyaung not too far (it's almost empty in there!), and Kyauk Taw Gyi Phaya, a beautiful pagoda. And if you have time, check the King Galon gold leaf workshop, where they show you how they make gold leaves.
Activities in Mandalay
If you want to, you can visit Mandalay with a local guide. Click here for more info. You can also go visit the former royal capitals. Click here for more info. And you can go on a small cruise for a few hours. Click here for more info.
Mandalay is a city you have to stop by if you go to Myanmar. Many people say going to Mandalay is not really worth it, but I have to disagree. I really liked my stay there, and I suggest you to go if you have the opportunity. Ideally three days, so you can take your time to visit Mandalay.
How to get to Mandalay
I paid 16500 kyats (10 euros) the bus ride from Yangon to Mandalay. It was an 8-hours ride. The price goes from 11000 to 37000 kyats (from 7 to 23 euros), depending on the departure time, if you take a normal or VIP bus… From Bagan, it's possible to get to Mandalay by boat but only during the dry season. FYI, there's an airport in Mandalay. Click here to check the latest flight prices. If you're already in Myanmar, you can get to Mandalay by train.
How to get around in Mandalay
Mandalay is a big and vast city, you won't be able to walk to visit Mandalay. I rent a bicycle to get around. I paid 3000 kyats (2 euros) per day. You can also rent a scooter for 10000 kyats (6.25€) per day. You can also take a tuktuk, or rent a car with a driver.
Where to stay in Mandalay
If you're traveling on a budget, the downtown @ mandalay is a good hostel. Click here to book your stay. If you're looking for a mid-range hotel, the hotel Aurora will satisfy you. Click here to book your stay. If you're into top-of-the-range hotels, I suggest you stay at the Hilton Mandalay. Click here to book your stay. Otherwise click here to check what are the hotels available in Mandalay.
Finally, if you prefer to stay in an apartment, click here to check the apartments available on Airbnb.
Mandalay travel tips
Traveling soon? Check out my travel resources page! This list of travel accessories can also be useful!
Wanna go to Myanmar? Check the visa policy of Myanmar here. Most Western countries need a visa. Easy, you can apply online here. You'll have to pay 50 US dollars. If you decide to apply online, you must get in the country by plane (most likely anyway).
Do not go to Myanmar without a travel insurance! Here's why buy a travel insurance!
Want a tailor-made trip to Myanmar? Get a free quote here!
I didn't give the price of the different places I visited because it's better to get a "Mandalay pass" for 10000 kyats (6.25€). With this pass, you can get in various tourist sites : Mandalay Palace, Mandalay Hill, Atumashi Kyaung, Kythodaw Pagoda, Sandamuni Pagoda and Kyauk Taw Gyi Phaya. The pass is valid for five days, so you don't need to rush to see everything in one day.
Always use a VPN when traveling. I use ExpressVPN and I love it. Here's why use a VPN when traveling.