Some links are affiliate links, which means if you make a purchase through these links, I earn a commission, at no extra cost to you.
Bangkok! I don't even need to introduce Bangkok to you! It's the capital of Thailand and… what a capital! ALL the travelers/backpackers/tourists I met in Southeast Asia, either in Laos, Vietnam, Cambodia or elsewhere… stopped by Bangkok. Sometimes just for a day, sometimes for a few days but everyone stopped by this city! Bangkok is the place where I started my holidays in Thailand back in 2012, and at the time, I met a lot of people backpacking Thailand, just stopping by this megalopolis for a few days. This time, I'm planning to spend 3 days in Bangkok!
Description of Bangkok
And this time, I am the backpacker, and I'm gonna rediscover this big city. When I went there a few years ago, many people around me told me the exact same thing, a few days before leaving Paris "You'll see by yourself, Bangkok sucks! Don't waste your time, so please don't stay there! One day is enough, then just head to the south to chill in the islands!" I believe what I see. Therefore, despite all opposition, I decided to stay several days in Bangkok, before heading elsewhere in the country. To form my own opinion. And I remember I didn't think it was as bad as what people had told me! Solo travelers go there but also couples, friends, and families! Traveling with your offspring? Here are things to do in Bangkok with kids!
Yeah Bangkok is a big city (logical, it's the capital!), yeah it's crowded and there are many cars, yeah it's polluted and not very clean (like Tehran or New Delhi), but I thought Bangkok had its little thing : the street food, the temples, the locals quite nice, a specific vibe… There's even an abandoned airplane graveyard hidden in the city! Maybe I was pleasantly surprised after all the bad things I heard, I don't know… Whatever it is, I wasn't unhappy to go back (otherwise I wouldn't even go!), and it was time to visit Bangkok again, but this time from a new angle : the one of an experienced backpacker!
Still, I was a bit skeptical. This time, I wasn't on holidays, I was traveling. I'm more experienced when it comes to travels. And I still meet maaany travelers telling me they're just staying one day in Bangkok because "it's crap, and we don't like big cities. We prefer the beach and paradise islands". I may change my mind with all the experience acquired now, and maybe I won't like it anymore… I decided to stay 3 days in Bangkok.
Actually it was ok. Bangkok is not a perfect city, but it's definitely worth a look around. There are beautiful temples spread all over the city, you eat well, life is cheap, like almost everywhere in Southeast Asia, and it's possible to party and meet people if you want to. Bangkok is the first stop for long-term travelers but also for those going on vacation just in Thailand. They usually follow this 2-week Thailand itinerary.
Things to do in Bangkok
Khao San Road
Oh, while we're at it, let's talk about it, parties! For those who've never been to Bangkok, you need to know there's one place where all the party animals go : Khao San Road! A long street with bars next to one another, alcohol galore in this street, clubs, very loud music, fast foods ready to greet drunk people at the end of the night, those who wanna soak up alcohol with a burger. There's also drugs, and of course Thai hookers… Honestly, I didn't manage to stay there for a long time, the music is extremely loud! I still don't know how I did before to stay 'til very late there…
I think the best thing to do is to get away from Khao San Road, and see what I can visit elsewhere in the city. To get around, you can take the tuktuk, like India or Sri Lanka, walk of course or take the subway! But be prepared, you can bargain over EVERYTHING there, and at first, you don't always have the reflex to do it.
A tuktuk driver gives a price? Do not hop on without a reaction, there's always room for negotiation! Just do it out of principle! You'll quickly realize that everything is negotiable! There's also Grab, their Uber in Southeast Asia, or the taxis (take a taxi with a meter only! Avoid the travel scams!). If you're brave, an alternative option is to rent a car for the duration of your trip.
As I said, there are temples spread all over the city, the options are endless (a bit like Myanmar!). The most visited temples are Wat Pho and Wat Arun, especially because they're both located close to the Grand Palace (Royal Palace). Contrary to what you may think, the royal family doesn't live in the Grand Palace, and it's not possible to get in the buildings. Still, the Grand Palace is one of the most "visited" places in Bangkok.
It's impressive to see this architecture from your own eyes. However, visiting the Grand Palace is the first thing you should do in the morning, when it's not too crowded. In the afternoon, it's just horrible! Big groups of Chinese tourists invade the place, and it gets really hard to move! So… Just go early! It's 500 baht (12.50€) to get in.
Wat Pho
Wat Pho is just next to the Grand Palace. It's one of the largest and one of the oldest temples in Bangkok. This temple is especially known for its famous reclining Buddha, 46 meters (141 ft.) long and 15 meters (50ft.) high. So big that it's difficult to take a good picture of it! It's 100 baht (2.50€) to get in.
Wat Arun
Not far, across the river, there's also Wat Arun, another temple. This time, you'll find stairs and it's possible to get on top to have a view of the city. It's a very beautiful temple, and I really recommend you to go see it. It's 50 baht (1.25€) to get in. Wanna know more? Here's a complete Wat Arun guide.
Wat Saket
I told you, there are many temples in Bangkok. Another one I visited is Wat Saket, also called the Golden Mount. This temple is located in the heights of the city. To reach the temple, you'll have to face 344 stairs. No problem, going up is very fasy and easy. It's gonna take 10 minutes maximum. Once again, once you're on top, you have a view of the city. It's 20 baht (0.25€) to get in.
Boat ride on the Chao Phraya river
All right all right, there are not just temples in Bangkok! You can also take a tour on a boat, and ride the Chao Phraya river. You can get in and get off the boat a bit everywhere in the city, next to the river. I took the boat next to Wat Arun, and I got off a bit further. The boat ride is enjoyable, and only costs 50 baht (1.25€). You can also go on a dinner cruise. Click here for more info.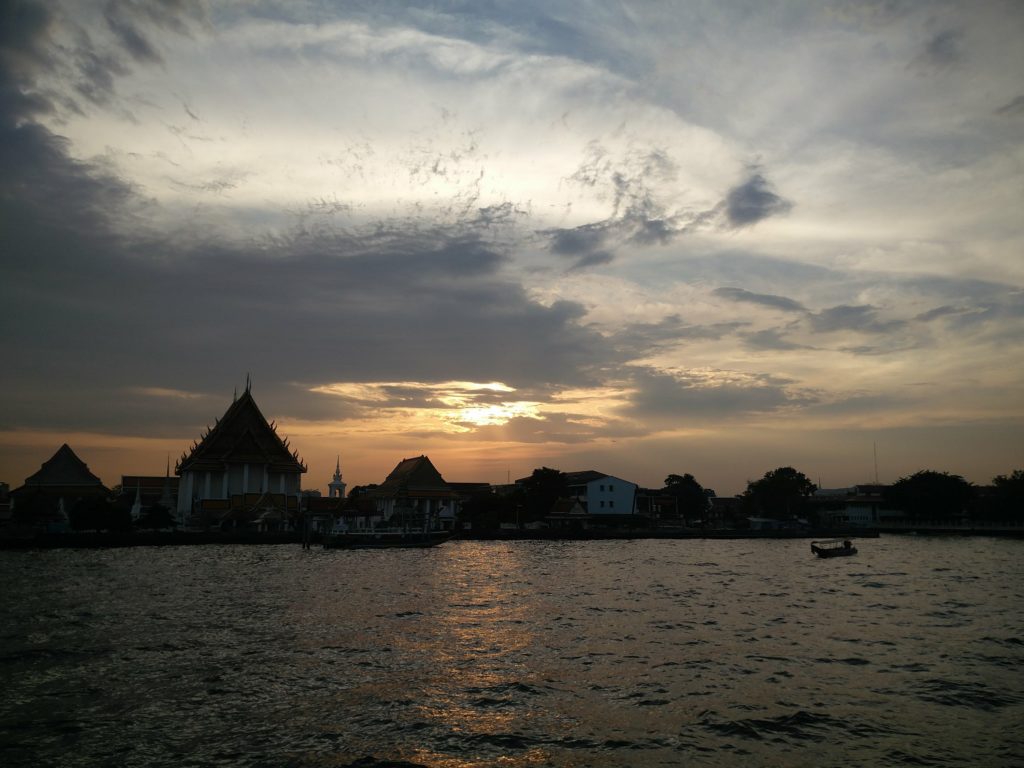 Taling Chan floating market
You can also check out a floating market. Those are the markets where the locals sell you stuf (usually food) from their canoe, on the water. I went to the Taling Chan floating market, but there's also the Khlong Lat Mayom floating market, apparently less touristy. You'll see many locals at the floating markets, the food is good there, and needless to say, it's cheap! Click here to book a tour of these two floating markets.
You can also check out this post listing the best night markets in Bangkok!
Lumpini Park
If the weather is nice, you can also chill in Lumpini Park. In this big capital, where there's a lot of noise and traffic, a little bit of calm doesn't hurt. You can see locals playing sports, relaxing, cycling… Enjoyable moment!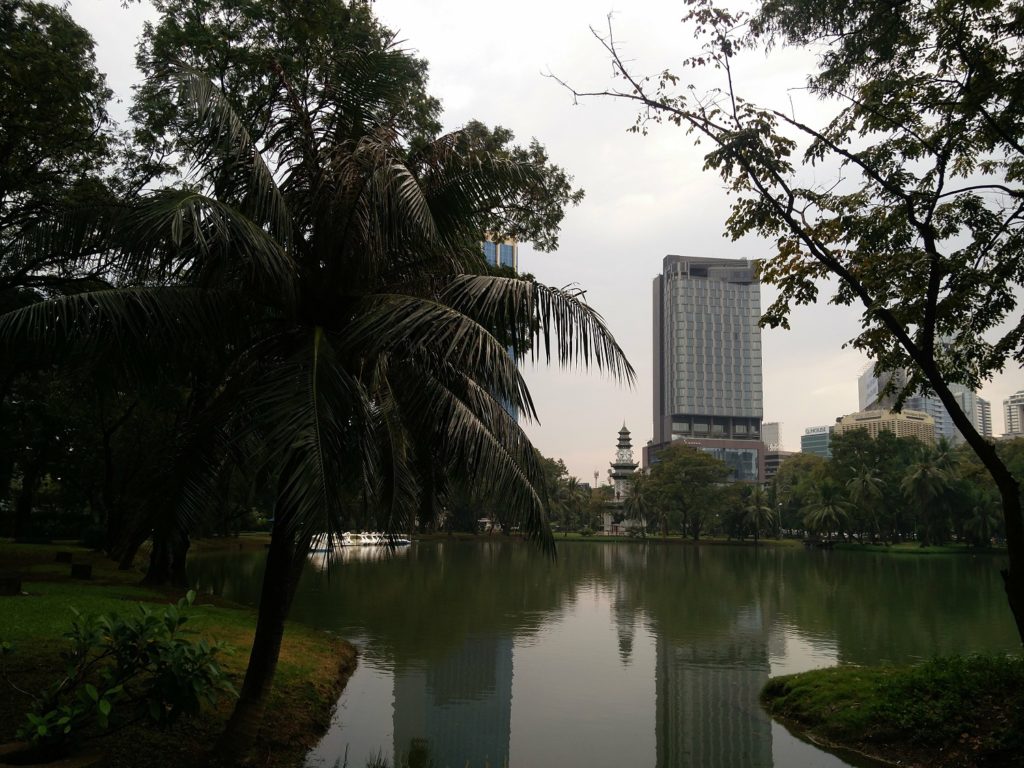 Other temples in Bangkok
Unlike what people who don't like Bangkok say, there are many things to do there! There are not only all the places listed above, but also many other temples : Wat Benchama, Wat Traimit, Wat Kalayanamit and other ones… Oh, you can also have a walk in Chinatown, where it's possible to eat good food for almost nothing. In fact, there are so many options when it comes to food in Thailand. For instance, who would have thought there are numerous vegetarian food options in Thailand!?
Watch a Muay Thai fight
I did it in 2012 but not this time : those who are interested can watch a Muay Thai fight. It's impressive to see! The locals bet money on their protégé, and they get excited during the fight! Go to Rajadamnern thai boxing stadium, the best place to watch a Muay Thai fight!
Jim Thompson's house
Finally, you can visit Jim Thompson's house. Jim Thompson was an American spy who mysteriously disappeared in March 1967. You have to leave your bag at the lockers, and it's forbidden to take pictures inside. It's 150 baht (3.75€) to get in. Or alternatively, get a tour of Jim Thompson tour and Suan Pakkad Palace with included tickets and a licensed English-speaking guide.
Shopping in Bangkok
If you wanna go shopping, you need to go to a mall! They're numerous in Bangkok! The most famous is MBK, but there's also Paragon, Terminal 21, Central World… In Little India, there's Emporium, a mall selling many Indian products : mostly decoration and fabric, but there are also Indian restaurants.
Activities in Bangkok
You can go to the Damnoen Saduak floating market with a local guide. Click here for more info. You can also go visit the Ayutthaya temples outside of Bangkok with a guide. Click here for more info. Finally, you can admire Bangkok from the top of a skyscraper. Click here for more info.
As you may have noticed, there's a lot to do in Bangkok. Even if you're not into "big cities", I suggest you to stay 3 days in Bangkok. The temples are wonderful, it's possible to eat good food, and it's possible to have fun and party if you're not into visits! If you have more time, here's a 4-day Bangkok itinerary. You probably won't visit Bangkok only in the country, so check out my post listing the best places to visit in Thailand!
How to get to Bangkok
If you're coming from abroad, it's better to get to Bangkok by flight. Click here to check the latest flight prices. If you're already in Thailand, you can get to Bangkok by bus or by train.
When to go to Bangkok
Ideally from November to March. From April to June, it's way too hot. Then it's the monsoon til October.
How to get around in Bangkok
Bangkok is a huge city, you cannot visit Bangkok by foot. You can get around by subway, very useful! There are also taxis, make sure the meter is on before getting in! Otherwise always negotiate the price! Same for the motorcycle taxis, very common in Southeast Asia. Otherwise download Grab, the Uber of Asia. Finally there are tuktuks. Again, always negotiate! There are also buses, but I didn't use them.
Where to stay in Bangkok
First off, here's a complete guide to find out where to stay in Bangkok. You have so many options in Bangkok, it's hard to choose! The city is so big! If you're looking for a hostel, the Siam Plug In Hostel is great. Click here to book your stay. For a mid-range hotel, the Bangkok Saran Poshtel is modern and cosy. Click here to book your stay. If you prefer top of the range hotels, I suggest you to stay at the Eastin Grand Hotel. Click here to book your stay. Otherwise, click here to check all the options you have in Bangkok. Finally, here are the 15 cheapest and best hostels in Bangkok.
If you prefer to stay in an apartment, click here to check the apartments available on Airbnb.
Bangkok travel tips
Traveling soon? Check out my travel resources page! This list of travel accessories can also be useful!
Wanna go to Thailand? Check the visa policy here. Most Western countries can stay up to 30 days without a visa.
Do not leave home without a travel insurance! Thefts and accidents are frequent in Thailand! Here's why buy travel insurance!
Likewise, if you go to Thailand, you'll have to provide proof of onward travel!
Want a tailor-made trip to Thailand? Get a free quote here!
Here's a detailed post with cost, itineraties and tips about backpacking in Southeast Asia.
There are many pickpockets in Thailand, think about getting a money belt
Wanna go in the islands in the south of Thailand? Here's a complete guide about Thailand Island hopping!
I said it, everything is negotiable. But you need to know that near tourist attractions (especially Wat Pho), bargaining with the taxi drivers is almost impossible because they know they'll find a sucker who'll pay their initial price. Walk for a few minutes a bit further, and you'll be able to bargain again!
I talked about Khao San Road to party, but there's also Rambuttri. A bit less noisy.
A few years ago, when I was taking a tuktuk, the driver was systematically stopping at a tailor-made suit shop. They wanted me to buy. It didn't happen this time.
Regarding the Grand Palace, if you go there by taxi, tell the driver you want to go to "Grand Palace" and not "Royal Palace". Otherwise, the driver will not understand! It happened to me…
Always use a VPN when traveling. I use ExpressVPN and I love it! Here's why use a VPN when traveling.
If you wanna go to Chiang Mai from Bangkok, there's a night bus everyday making the trip. The bus ticket costs 600 baht (15 euros), and it's a 10-hours ride.