Some links are affiliate links, which means if you make a purchase through these links, I earn a commission, at no extra cost to you.
For a short time, I hesitated. Should I visit Manila? Indeed, ALL the travelers I met agreed : it's useless, there's nothing to do there, there are no places to visit in Manila, etc… Even the travelers coming from Europe to visit the Philippines, usually take a flight to Manila, and right after another one from Manila to Palawan or Cebu for instance, without actually staying in the Filipino capital. Oh and I also heard many people saying Manila is a dangerous city. Many people who've been there, don't plan to go back to Manila. However, I already said it several times in the past, I'm curious by nature. That means even though I took into account people's recommendations, I decided to visit the capital of the Philippines. So… what is it like to visit Manila?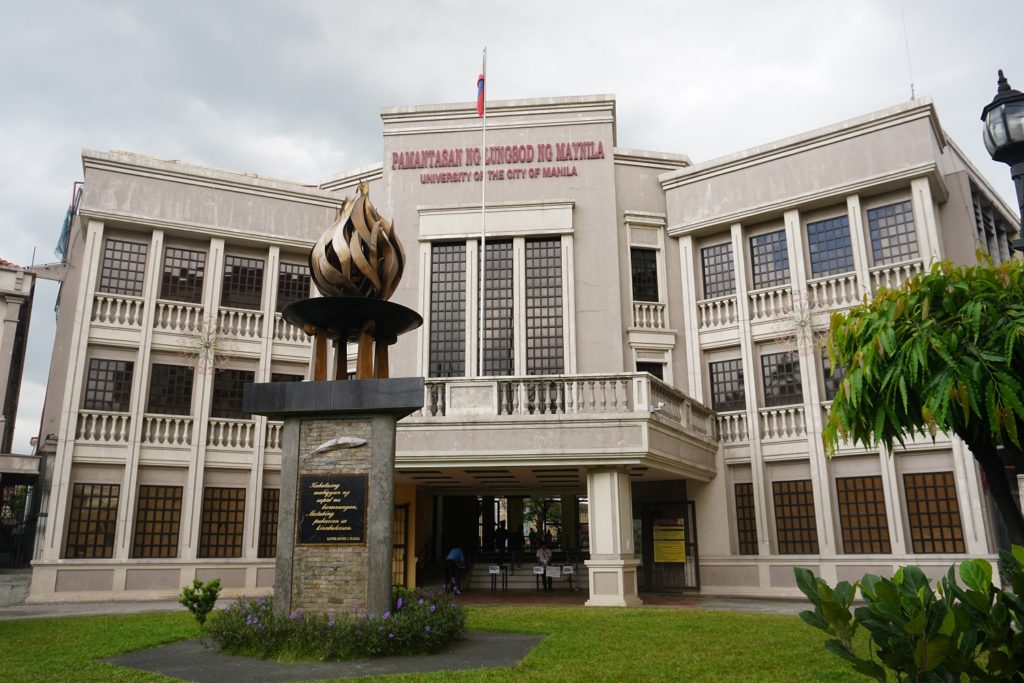 Description of Manila
Before listing the places to visit in Manila, let me describe the city quickly! Manila is a capital, so the city is full of people all over the place, there's a lot of traffic and noise, and you can feel the air pollution. There are street vendors everywhere and in some areas, you'll see many stray cats. Because of all the cars and the scooters, like Tehran, you have to impose yourself to cross the street, otherwise you'll never cross it! Oh and the 7-Eleven. I saw a lot of them in Southeast Asia in general but they're even more present in Manila! Just walk in the street and you'll see by yourself! Every five minutes, you'll see another one!
Poverty in Manila
There are a few things not that nice you're going to see if you visit Manila. First off, the poverty. A lot of children wander in the street, and a few kids, barely 3-years old, came up to me asking for money. There are also a lot of homeless people… One day, I was at the mall and there was a power cut! In the mall! No lights at all, no more music in the background, we were hundreds of people in the dark! Never happened to me before. I think it lasted 10 minutes maximum.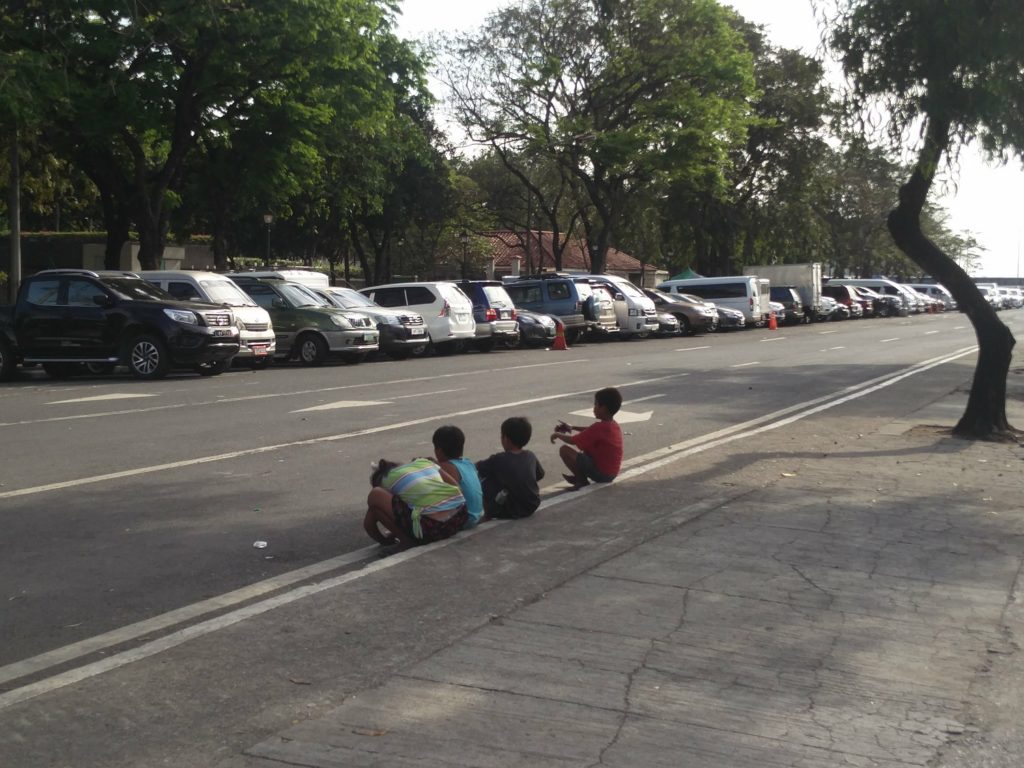 Prostitution in Manila
In Malate, one of Manila's discrict, there are many bars, clubs, karaoke bars… and whorehouses! At night, several times some locals came up to me with a magazine in their hands "Wanna fuck tonight?" Their magazines were full of pictures of Filipinas almost naked, with a price tag next to each one of them… Prostitution is a real plague in Manila, and some kids are also victim of sex tourism. I saw more than once old Westerners accompanied by young Filipinas, barely 20-years old…
Cleanliness in Manila
There's another thing I didn't really like about Manila. The city is dirty. Filthy. Gross. There's garbage all over the place in Manila. I know it's not always for poor or developing countries, but this time it was worse than all the other capitals in Southeast Asia I visited before.
What's one of the consequences of all this? There are cockroaches everywhere! They're not just hidden discreetly behind a piece of furniture or in a crack in a wall. No no, there's peacefully having a walk in the street, you can spot them walking on walls outside. Sometimes you'll see them already dead, squashed on the sidewalk. In Paris we have the pigeons, in Ho Chi Minh they have the rats, in Manila the cockroaches take over the place!
I went out of a 7-Eleven, and I almost walked on a cockroach, already squashed. I went to the laundromat to pick up my laundry, and I could see in the backroom cockroaches enjoying their all-you-can-eat buffet (breadcrumbs). I went in a grocery which just opened a few minutes before and it was mayhem as soon as I opened the door! Tens of cockroaches fleeing in all directions except one… already squashed and dead! Keep in mind I'm not talking about Western cockroaches but the tropical ones, some of them are as big as your hand…
Fortunately, there are not just bad things in Manila. The locals I talked to were really nice and friendly. Some of them greeted me in the street, and we started having pleasant conversations. A few teenagers wanted to get a picture with me, always with respect and in a friendly way.
Manila, former Spanish colony
As I was talking with the locals, I realized their language is a mix between English, Spanish and Filipino. By the way they use a lot of Spanish words : zapatos (shoes), veintiseis (twenty-six)… Their currency is the peso and their last names sound Spanish : Garcia, Fernandez, Rodriguez, Sanchez, Gonzalez, Cruz… Indeed, the country was a Spanish colony from 1521 to 1898.
Then the country was occupied by the United States until 1942, then by Japan! The Philippines finally became independent in 1945. Anyway, you can really feel the Spanish influence, even though English is one of the two official languages of the country with Filipino. The only real American influence you can see, is basketball, very popular in the Philippines. There are basketball fields everywhere!
Is Manila safe
As I said earlier, most travelers just pass by Manila, they prefer to go elsewhere in the country. It probably explains why I almost didn't bump into a single tourist in the city (apart from the Intramuros area, and of course and around my hostel). Moreover, Manila is known for being dangerous. Is it the case?
I didn't think it was dangerous, but with my experience as a solo traveler, I learned to show some common sense, even without realizing it. I don't drink heavily, I don't hang out in sensitive areas alone at night, I always watch my surroundings, I keep an eye on my belongings, etc… Just take those precautions, you'll be fine and you'll avoid tricky situations.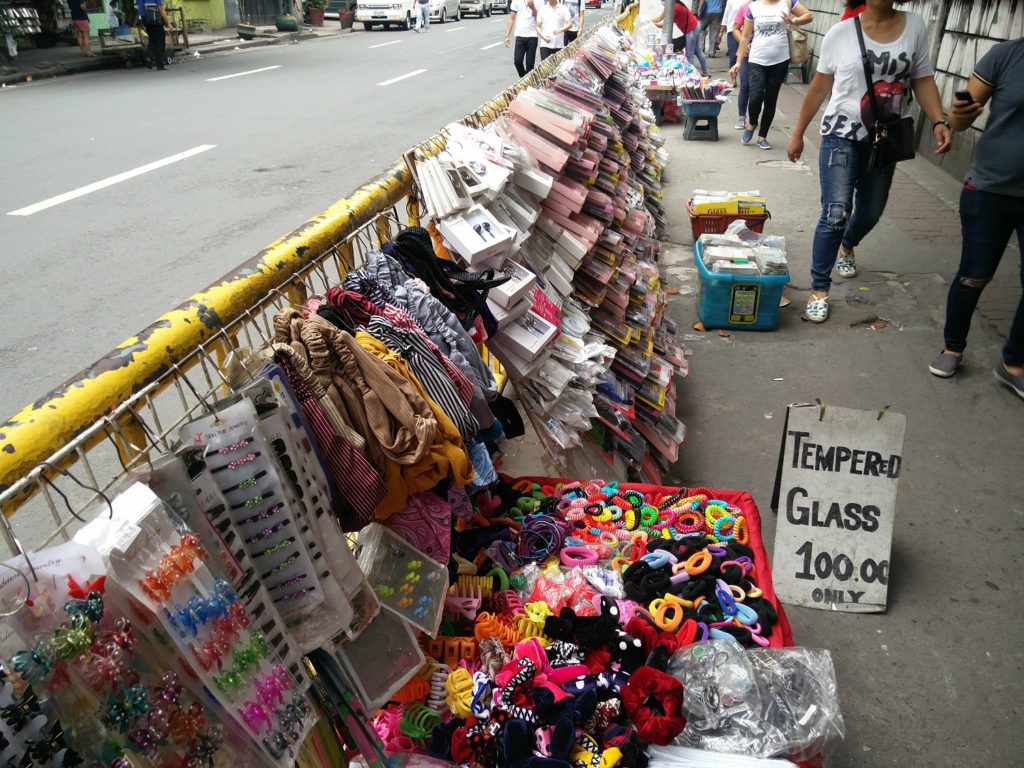 Things to do in Manila
Intramuros
All the travelers kept saying there's nothing to do in Manila. I don't agree. First thing first, you can go visit Intramuros, the old city center of Manila and the oldest district of the city. Intramuros was built in the 16th century, when the country was a Spanish colony. Intramuros was partially destroyed during World War II, but was restored during the 1950s. Intramuros is completely surrounded by a defensive wall to protect the city from foreign invasions.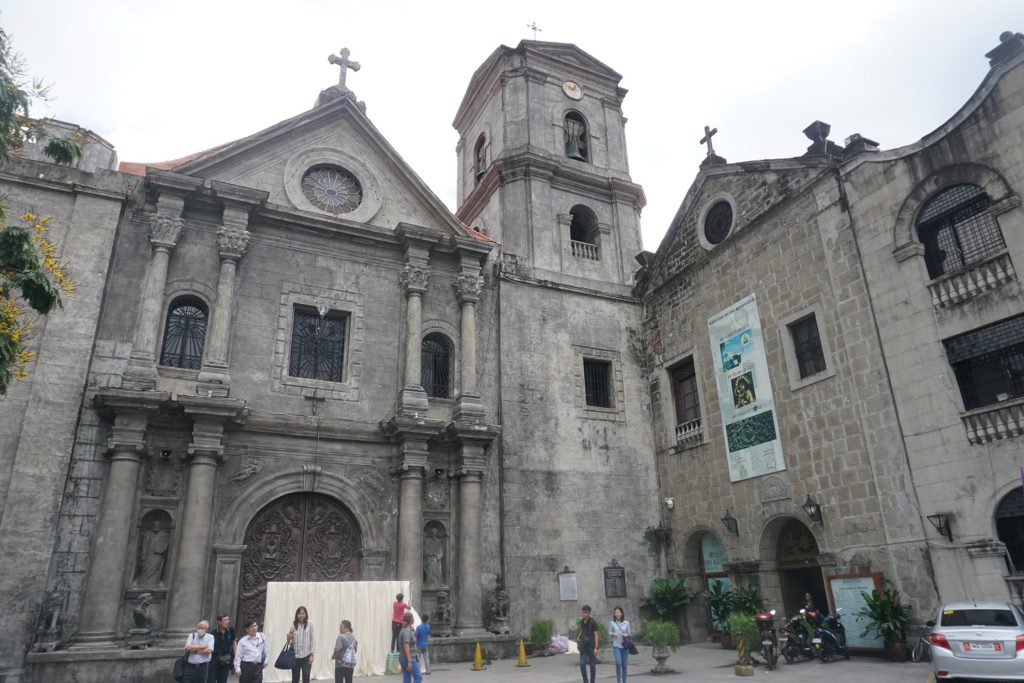 As I said, Intramuros is the only area where I saw tourists in Manila, and as I was walking in the streets, I could clearly feel the Western influence. By the way, Intramuros is the only quiet area of Manila. There's the university of Manila in Intramuros, so you'll see many students in the surroundings. In Intramuros, you can admire San Agustin Church and its beautiful ceiling (there's a museum in the church, it's 200 pesos -2.30€- to get in, but it's free to get in San Agustin Church). You can also admire Manila cathedral (a couple was getting married when I went there), and don't miss fort Santiago and its beautiful gardens. It's 75 pesos (1.25€) to get in the fort.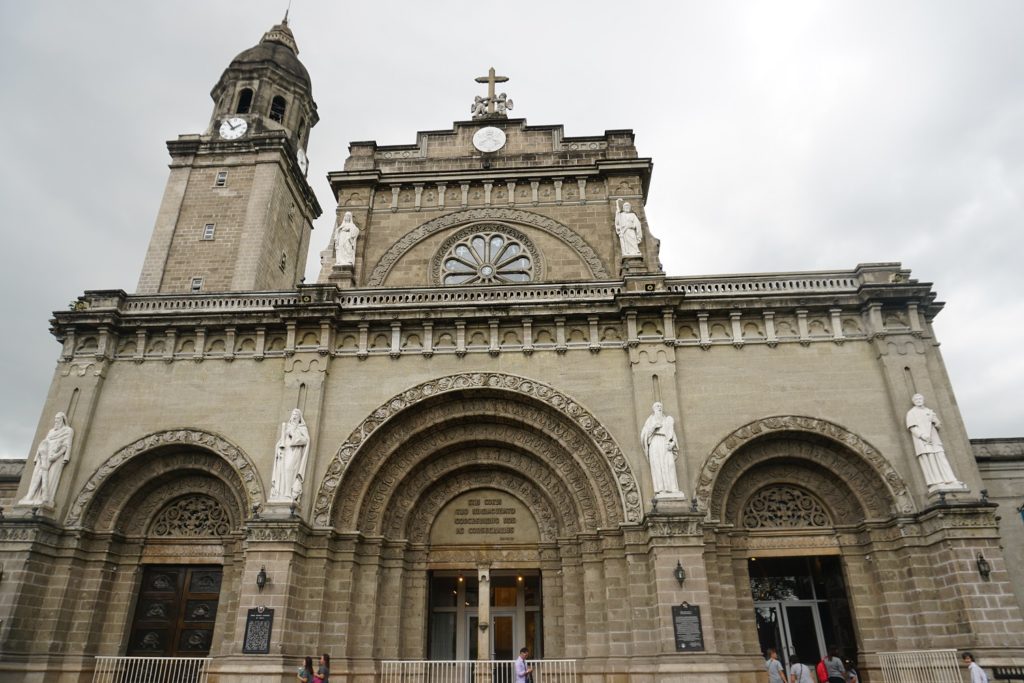 Rizal Park
Not far from Intramuros, you can relax at Rizal Park. It's a huge park! You'll see many families, young moms, strollers, locals having a picnic, kids flying a kite, teenagers playing basketball… The atmosphere is relaxed and inside the park, there's also a Chinese garden and a Japanese one.
Paco Park and cemetery
I also spent some time in Paco Park and cemetery. It's another park were teens go relax after a day at school. This park also serves as a cemetery. Jose Rizal rests in this park. He's a national hero who fought for the independence of the country, when the Philippines was a Spanish colony. He was executed in 1896. This park isn't big, but you should go. In Manila, there's also Arroceros Park, not unmissable but have a look if you have some time.
Manila Bay
You can also have a walk on Manila Bay, also called Manila Baywalk. Quite enjoyable daytime but be careful, it can be dodgy at night. Otherwise you can spend some time at Manila Ocean Park, an aquatic theme park (I didn't go), and you can visit the National Museum (didn't go either).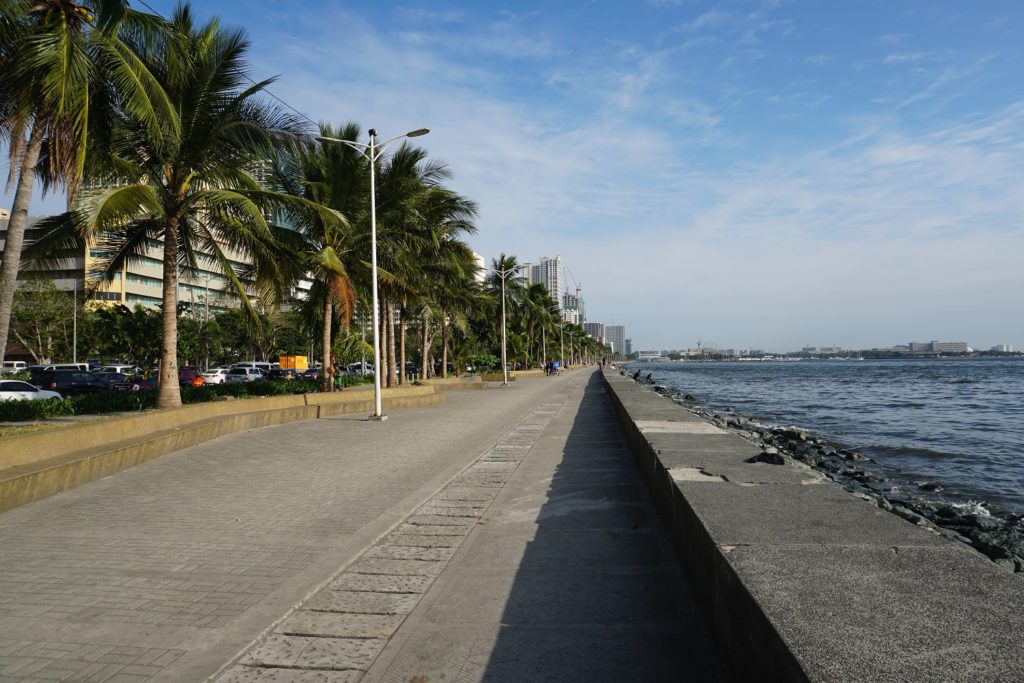 Activities in Manila
You can check the places to visit in Manila with a local guide. Click here for more info. You can also spend a day in Tagaytay to admire the Taal volcano. Click here for more info. You can spend a full day to Corregidor war memorial, a major battleground during World War II. Click here for more info. You can admire the wonderful Pagsanjan Falls. Click here for more info. Finally, you can go to Subic Bay, a former US naval facility. Click here for more info.
Honestly, I can understand why all those people say you shouldn't stay in Manila. The city isn't clean, it's polluted, and the prostitution is very present. But there are a few spots to see. Two days are enough, but you can stay three days. If you decide to go on vacation in the Philippines, I gotta admit Manila is not an indispensable stop-off. That doesn't mean you shouldn't go to the Philippines! Don't believe me? Check this post listing the most beautiful places in the Philippines. You can also check out this website.
How to get to Manila
You'll have to get there by plane. Click here to check the latest flight prices. From the airport, I took a taxi to go to the city center. There are two types of taxis. The yellow ones are the official ones, and the white ones are not illegal, but cheaper. It's 300 pesos (5 euros) if you take a yellow taxi, and 180 pesos (3 euros) if you take a white taxi. At the airport, you'll most likely take a yellow taxi. Don't forget to ask the driver to turn the meter on!
How to get around in Manila
I visited the city by foot. Believe me, it's doable. But you can get around by taxi, by subway, by tricycle or by jeepney (cf. 2nd photo of the article). It's a bit a mess to take public transportation in Manila, it's so unpredictable. If needed, there's Grab, the Uber of Southeast Asia.
Best time to visit Manila
What's the best time to visit Manila? From December to April. It's not too hot, and it's not raining!
Where to stay in Manila
If you're traveling on a budget, there's the Humble Hut Hostel in Malate, a district with backpackers but also bars, casinos, etc… And the staff is nice. Click here to book your stay. If you prefer to stay in a mid-range hotel, there's the Studio 89. Click here to book your stay. If you prefer luxury hotels, I suggest you to stay at the Okada Familia. Click here to book your stay. Otherwise click here to check what are the hotels available in Manila.
Finally, if you prefer to stay in an apartment, click here to check the apartments available on Airbnb.
Manila travel tips
Traveling soon? Check out my travel resources page! This list of travel accessories can also be useful!
Wanna go to the Philippines? Here are Philippines travel tips! Also, check the visa policy here. Most Western citizens can stay up to 30 days visa-free. Be careful when you go through immigration, sometimes they want to see your onward ticket and in some cases they even ask your hotel reservation. Don't be denied entry to the country!
Don't go to the Philippines without a travel insurance! Here's why you should buy travel insurance!
Want a tailor-made trip to the Philippines? Get a free quote here!
Here's a complete Philippines backpacking guide!
How to get to Palawan? Or I'd rather say, how to go to El Nido, a charming town in Palawan, from Manila? At the hostel, I heard several backpackers ask "How can I get to El Nido?" There are direct flights Manila-El Nido but they're expensive and there aren't flights everyday. Take a flight Manila-Puerto Princesa, and from Puerto Princesa, take a van to go to El Nido.
I paid 40 pesos (0.70€) a local SIM card with 300MB, and I paid 50 pesos (0.85€) one extra GB.
Thinking about doing day trips? From Manila, you can visit Taal volcano.
The Philippines is a cheap travel destination.
Always use a VPN when traveling. I use ExpressVPN and I love it. Here's why use a VPN when traveling.