Some links are affiliate links, which means if you make a purchase through these links, I earn a commission, at no extra cost to you.
The atmosphere is relaxed here. I would even say the vibe is cool here. I feel like I'm gonna like it. We are very far from the tensed atmosphere of Dhaka in Bangladesh. Now I'm in Yangon, the capital of Myanmar. Or I'd rather say… the former capital of Myanmar. Since 2005, it's Naypyidaw. But honestly, walking around in Yangon, you really feel like you're in a capital city, and it's time to check the things to do in Yangon!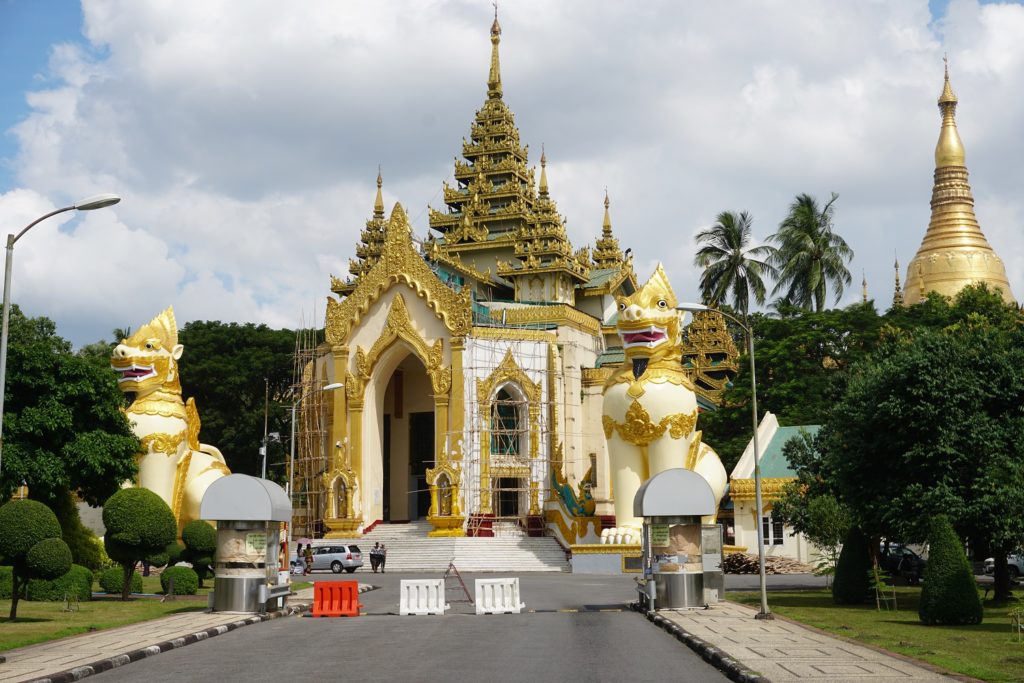 Description of Yangon
Before talking about the things to do in Yangon, lemme describe Yangon, since it's so different from our Western cultures. I left South Asia and its inhabitants, who mostly have a "Hindu physique". In Yangon, and in Myanmar in general, we're getting closer to the Asian physique we all know : slanting eyes, complexion more or less fair… I insist because it really struck me, but Yangon seems to be a very relaxed city! People don't stare at me like a circus freak anymore, and it feels good! Therefore, I can walk around, watch Yangon, and take pictures peacefully. I noticed one thing : almost everyone (men, women, children) have some kind of yellow paint on their face.
Thanaka
What is that? Thanaka! They have it all over their face : cheeks, chin, forehead, nose… But also neck, ears to bring luck, arms, hands and even legs. They put this thanaka thing on their skin to protect themselves from the sun because thanaka serves as a sunscreen, it's also an antiperspirant, and thanaka is apparently good for the skin. No less!
Betel
I also noticed men were constantly chewing something. Gum? Nope, betel. Betel is some kind of tobacco they chew, then they drink water and spit out the whole thing. Betel is very strong and addictive, therefore they chew it all day long. Talk with Burmese guys, you'll see they all have red or black teeth because of betel. I met a French couple who decided to test out betel. The girl chewed it for like 30 seconds, the guy two minutes maximum. It's very strong, and they told me it makes you dribble. This explains why Burmese guys are always spitting on the floor… Test it out if you want to (I didn't), but it's very bad for your teeth, your lungs…
Longyi
Another distinctive characteristic of Burmese guys : their look. I mean… To cover their legs. They're all wearing skirts! But not your regular skirt, the ones we know. Traditional Burmese skirts, we call them longyi. I think I saw more men wearing longyi than wearing pants or shorts. Nothing really shocking, we're just not used to it. I tried one later on the road, quite nice to wear… Otherwise it's more classic for the top, shirts most of the time. Some locals are tattooed, I didn't see one single person with a tattoo in Bangladesh.
Traffic in Yangon
In spite of the relaxed state of mind of the locals here, let's not forget Yangon is a big city. This is definitely not the craziness of New Delhi, but we can hear horn blasts all the time. I quickly understood why. Since it was a British colony, the steering wheel of the cars are on the right-hand side. However, they also drive on the right side (just like us!). An aberration which dates back to 1974, when military leader Ne Win was running the country with an iron hand. Anyway, you can imagine the mess : to overtake a car, they don't see the other cars coming in front of them, on the entrance ramp on the highay, they have to break their neck to see if there are any cars. Hence the horn blasts. It's not aggressive, but mostly to warn the other drivers of their presence.
The monks
So I'm walking around in Yangon, eyes wide open in front of all this newness : thanaka, betel, longyi… All those new things very visible. Stray dogs, too, all over the city but this is nothing new to me, I'm used to them now. But it's not over. When you arrive in Yangon, there's something that is just impossible not to see : the monks. They are EVERYWHERE! I heard there are approximately 600000 monks in the country, more than 1% of the country population. Apparently they have a certain political weight in the country, and they're respected by the population. You cannot miss them!
Here I am, in the midst of all this! Monks, longyis and cars… Despite the constant noise of the horns, there are no accidents. The roads there are in really good condition compared to Nepal for example. The locals are civilized compared to the ones in Bangladesh to cross the street : they patiently wait for the green light for the pedestrians. And my popularity goes back up. A lot of Burmese girls greeted me in the street and were discreetly smiling at me under their umbrella, that they have to protect themselves from the heat (although they also have thanaka!).
Chinlone
Quite often in the street, I saw young guys playing with a ball. At first I thought they were playing soccer, but actually no. The ball is smaller. They play chinlone, the most popular sport in the country. Basically, you have a ball and you play chinlone with your feet and also your head, sometimes with a volleyball net. The point of the game is to keep the ball from hitting the ground. Quite acrobatic and impressive to see, you need to be in a good physical condition. All those who were playing were quite athletic.
I started to see tourists again. I didn't see a single one in Dhaka! Therefore, I felt like there were a lot of them in Yangon, but many travelers, who were mostly coming from Thailand, told me "Come on! There are few tourists here! Go to Thailand and you'll see by yourself, there are plenty of tourists over there, but definitely not here!" They were probably right…
What to do in Yangon
The Schwedagon Pagoda
Well, anyway, what to do in Yangon? If there's one place you must see in Yangon, it's the Schwedagon Pagoda. Admittedly touristy, it's the most popular tourist attraction in the city. But WON-DER-FUL! You absolutely need to go there! It's one of the best Southeast Asian temples! It's actually a sacred Buddhist place gathering one main pagoda, other smaller pagodas, columns, huge bells and funerary monuments. Many monks go there, you can see locals coming to pray, paying homage to Buddha, or pouring water on small statues to make amends for their bad deeds. You'll have to pay 10000 kyats (6.25€) to get in, and you need to take off your shoes before getting in there. You also need to cover your legs (no shorts!), and no cleavage for the ladies otherwise they won't let you in.
Sule Pagoda
Another pagoda located in the heart of Yangon, Sule Pagoda. It's 3000 kyats (1.85€) to get in, and I suggest you to go there before going to the Schwedagon Pagoda, otherwise you might be disappointed. Although the Sule Pagoda is beautiful, it's a lot smaller than Schwedagon, and it's visited quite fast. You'll recognize the architecture of Burmese pagodas.
The Kheng Hock Keong
Not too far from my hostel, I saw a nice temple : the Kheng Hock Keong temple. The temple is quite small, and you just need a few minutes to visit it, but this temple is a bit different from the other temples we can see in Yangon. Let's say it looks more like a Chinese temple, than a Burmese temple. Check it out if you're around, it's in Chinatown.
Kandawgyi lake
You can also have a walk around Kandawgyi lake to relax and enjoy the greenery. There's a bridge crossing over the lake. I walked on that bridge, and I invite you to do the same if you're not fearful. The bridge is in very bad condition, it creaks under your feet and you can spot small holes here and there. Several times, I thought I was going to fall in the water!
The Bogyoke Aung Sann market
Like most countries in Asia, there are many markets. The most popular in Yangon is the Bogyoke Aung Sann market, open from 10am to 5pm. Just like all the Asian markets, they're selling everything : clothes, toys, souvenirs… But in this market, they mostly sell jewelry from Myanmar. I don't know shit about this but I was told there are some really interesting things there.
Other things to do in Yangon
You can also have a walk in Chinatown, spend a nice evening on 19th street, bustling street in the evening with many bars and restaurants and I didn't list them but there are also many Hindu temples, mosques and also churches in Yangon you can visit.
Activities in Yangon
You can also visit Yangon with a local guide. Click here to spend a full day with a local guide. Click here to go on a tour in the evening. Click here to visit Yangon by night with a local. Click here for a half-day city tour. Finally, click here if you wanna find out more about Burmese traditions and culture.
Yangon is a good introduction if you want to visit Myanmar. You can simply relax walking around in the streets of the city, visit the main tourist attractions and of course watch all the particularities of the country I'm talking about in the article. A must see!
How to get to Yangon
Yangon will probably be your first stop in Myanmar. Click here to check the latest flight prices. I paid 8000 kyats (5 euros) the taxi ride from the airport to my hostel. If you're already in Myanmar, you can get to Yangon by bus or by train.
Check the visa policy of Myanmar here. Most Western countries need a visa. Easy, you can apply online here. You'll have to pay 50 US dollars. If you decide to apply online, you must get in the country by plane (most likely anyway).
How to get around in Yangon
I walked because I love walking. Still, Yangon is a big city. There are buses if you wanna go further. Oh and there are taxis too! Don't hesitate to take one, they're so cheap!
Where to stay in Yangon
If you're traveling on a budget, the Backpacker Hostel is for you! Click here to book your stay. If you're looking for a mid-range hotel, you're gonna enjoy your stay at the Hotel G Yangon. Click here to book your stay. If you're into luxury hotels, then go to the Wyndham Grand Yangon. Click here to book your stay. Otherwise click here to check the hotels available in Yangon. Accommodation is expensive here compared to the neighboring countries (everything is relative!).
Finally, if you prefer to stay in an apartment, click here to check the apartments available on Airbnb.
Yangon travel tips