Some links are affiliate links, which means if you make a purchase through these links, I earn a commission, at no extra cost to you.
Preparing my visit to Seoul wasn't very easy. Indeed, few backpackers go there (it's logical since the cost of living is quite high there!). That means I couldn't ask the fellow travelers I met on the road what to do and what to see there (like I used to do all the time in Southeast Asia). To visit Seoul, before getting there, I decided to turn to the internet then but once again, there's few information about the Korean capital. It really surprised me since Seoul is one of the most visited cities in the world! I ended up wondering if it was worth it to go there. Fortunately, I went there and everything went really fine. Moreover, I had a French friend who lives there with me, and he showed me all the beautiful places to visit in Seoul! By the way, here's a South Korea itinerary if you're planning to visit the country!
New technologies
Before talking about the places to visit in Seoul, let's describe the city real quick! We're not in Southeast Asia, and you can feel it quickly when you get there. The prices are the same as in Western countries, and you can clearly see South Korea is a developed country. Actually it's the Mecca of cutting-edge technology. In South Korea, you'll find all the latest electronic devices. On average, the Koreans change their smartphones every six months! Yes I said on average, that means some of them change it more frequently!!! It's insane! My two-years-old smartphone is a relic of the past for them! Like in Hong Kong, they're glued to their smartphones, all the damn time!
Plastic surgery in South Korea
South Korea holds another record : this is where you'll find the greatest number of people having plastic surgery. Estimations say between 70 and 90% of women in South Korea have plastic surgery! That means in the street, you have to find the women with natural beauty. They get a nose job, they westernize their eyes, ask for a surgery for their lips… Regarding men, it's less common to have plastic surgery, but still, they're numerous compared to us! We have to assume that plastic surgery is cultural in South Korea! If you're curious, go to Sinsa, a neighborhood in Seoul. This is where all the practice for plastic surgery are!
Koreans rather discreet
During my visit to Seoul, I noticed the Koreans are very courteous (compared to us Parisians), and also quiet reserved by nature. In fact yeah they're courteous except in the subway, where people push and elbow one another to get a seat! But otherwise they're nice. I have to admit it's quite complicated to communicate with them. They don't speak English well although the Korean society is Americanized (it's probably the most Westernized country in Asia). Moreover, you're less inclined to talk to people who wear an anti pollution mask (they're numerous wearing those in the street).
Korean food
Have you ever been to a Korean restaurant? Where they bring you meat, there's a mini barbecue in the middle of the table and you have to cook your meat yourself? It's exactly how it goes in Korea! You order meat, vegetables, they bring it to you and it's your go! The staff helps you out if they notice you're having a hard time cooking your food (basically they help you out if you're not Korean!). If you're not into barbecue, there are obviously other options. The most popular dish is called bibimbap : a bowl of white rice, beef, vegetables and raw or fried egg. Everything is separated and you have to stir the dish together thoroughly before eating.
Things to do in Seoul
Gyeongbokgung Palace
Why so few people go to Seoul? There's nothing to do there? Fortunately it's not the case. Although it's a big capital, there are beautiful places to see in Seoul. The most popular tourist attraction in Seoul is Gyeongbokgung Palace. It was built in 1394, and it means "radiant happiness palace". Since the 14th century, the palace was destroyed twice by Japan, and they rebuilt it twice (it's actually still under reconstruction). The palace's enclosure is huge, and even though the palace is popular and crowded, there are a few quieter areas. The palace is quite colored and has a Japanese architecture, which is logical given that Japanese occupied there several times during the last few centuries.
Some people love the palace, others are disappointed. I liked it. Partly because I wore a hanbok. What's that!? It's a traditional Korean outfit. You can get one in one of the several shops just next to the palace. They keep your clothes for several hours, you wear the hanbok and with it, you can get in the palace for free (otherwise it's 3000 won, or 2.50 euros). You'll notice most visitors also wear a hanbok! A black guy with a hanbok in Seoul, I was a star! Everyone wanted to get a picture with me! That's what I call traveling while black! One last thing regarding the Gyeongbokgung Palace, it's possible to attend the changing of the guards. I didn't see it but from what I heard, it's impressive. Try to get some information about the schedule because it's often changing. It's usually at 10am and 1pm, but sometimes it's at 10am and 2pm.
Bukchon
Not far from Gyeongbokgung Palace, take some time to have a walk at Bukchon. Be prepared, the slopes are steep! What's so special about Bukchon? First off, it's a quiet area, and it feels good in this big city. But most importantly, you'll find hanoks there! Those are traditional Korean houses. From the outside, they're beautiful, and they look robust! Unfortunately, we cannot see what it's like inside. Indeed, there are really people living in those houses and with all the tourists passing by, I understand why the locals barricade themselves in their houses (by the way, I heard living in Bukchon is extremely expensive. Back in the day, the aristocracy and the nobility used to live there). Anyway, take some time to have a walk in the narrow streets of Bukchon, admire the hanoks, visit the small museums, go to a tea house…
The palaces of Seoul
I talked earlier about Gyeongbokgung Palace. It's one of the five grand palaces of Seoul built during the reign of the Joseon dynasty, around the 14th and 15th century. The four other ones are Changdeokgung, Changgyeonggung, Deoksugung and Gyeonghuigung palaces. You can visit all of them! I visited Deoksugung Palace. It's 1000 won (less than one euro) to get in unless you wear a hanbok. If you wear one, it's free. It's also a beautiful palace, but a bit smaller than the other ones. There's also a changing of the guards at 11am, 2pm and 3:30pm everyday except on Mondays.
I also visited Changgyeonggung Palace, it's also 1000 won (less than one euro) to get in. A beautiful palace with a lot less people, it's nice! Just next to it, you'll find Changdeokgung Palace. It's 3000 won to get in (2.50€). There's also a secret garden in this palace, Huwon garden. It's 5000 won (4 euros) to get in the garden. I didn't go to Gyeonghuigung palace.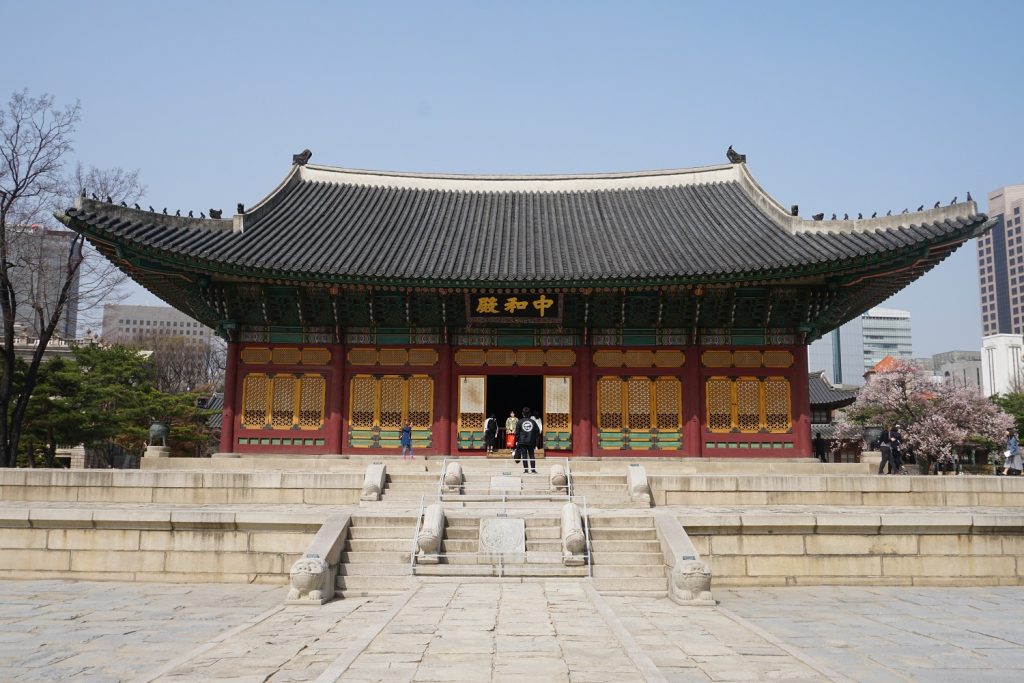 Ihwa Mural Village
Apart from the palaces, there are several areas of Seoul to see. Have a look around Ihwa Mural Village. Another district in the heights of the city, and you're gonna love it if you're into street art! There are mural paintings almost everywhere in this area of Seoul, but also art galleries, and it's honestly done very well! The area is colored, not too bustling and you'll also find trebdy cafés in this small village. A lot of teenagers and young adults hang out there.
In Ihwa Mural Village, you'll see signs telling you where to find the most interesting paintings, that's cool! Like in Bukchon, there are locals who really live there, so don't be too noisy. Because of noise pollution, the residents wiped off some paintings. Apparently the visitors were getting excited in front of some paintings and were making a lot of noise…
Go to a jimjilbang
If you have the opportunity, try out a jimjilbang! What's that!? It's a Korean public bathhouse furnished with saunas, jacuzzis, hammam, hot tubs, massage tables… A place to relax! Men and women are separated and everybody's naked! The common parts are mixed and we're dressed (we all wear the same "uniform"), but otherwise in the bathing areas (where men and women are separated), we're all naked! Honestly it's even possible to live on the spot, there's a room with TVs, several restaurants if you're hungry, activities for the kids… I saw guys holding hands, women as well. It's just friendship. It reminded me of the public baths of the Pamir Highway in Tajikistan… I went to the jimjilbang at the Starfield mall, which is a bit top of the range. It's 22000 won (17 euros) to get in, 16000 won (12 euros) if you get there after 6pm. In Seoul, you can easily find cheaper ones, about 7000 won (5.50€).
It's not that I'm watching but it's impossible not to notice : the locals don't shave at all their pubic hair. It's impossible not to notice because a black tuft on a very pale skin, even not watching, you see it! It's quite imposing and it goes all over the place… Anyway, from what I was told, those who shave their pubic hair are the pervs, the porn actors, the pedophiles… It's cultural! It seems like it's the same in Japan.
Ikseon Dong
Otherwise, visit the different districts of Seoul. Ikseon Dong is a small area with a lot of narrow streets. Not a single car runs there, and a lot of hip young Koreans hang out there. There are also plenty of small bars and restaurants, tea houses, cafés… It's very lively there! The locals meet up there after work to have a drink.
Itaewon
You can also check Itaewon, an area where live most of the expats in Seoul. One of the few areas where you'll hear people speaking English, German or Italian.
Hongdae
Don't miss Hongdae by night, a student area, full of life and illuminated. Once again, you'll find bars, restaurants, clubs, etc… An area to see, just for the vibe, and listen to K-pop music! For a complete guide about Hongdae, check here the things to do in Hongdae.
Myeongdong
Wanna go shopping? Go to Myeongdong, you'll find what you're looking for, for sure! There are shops all over the place there, and many restaurants! Here's what to eat in Myeongdong!
Insadong
Insadong is the cultural area of Seoul, you'll find shops selling antiques there, art galleries, shops selling old relics, and also the oldest traditional tea house of Seoul!
Gangnam
Finally, Gangnam, popularized by Gangnam style, is a posh district of Seoul. You'll find fashion boutiques there, shops selling the latest devices but also numerous nightclubs, more posh/chic/classy than anywhere else in Seoul.
Lotte World Tower
You can also see the Lotte World Tower, which is 555 meters (1821 ft.) high. It's the tallest building in Asia. Click here to buy a ticket to get in Lotte World, a them park and aquarium just next to the Lotte World Tower.
N Seoul Tower
There's also the N Seoul Tower that I saw from afar. You have to take a cable car to get there. It's 8500 won (6.50€) the two-way trip, then you have to pay to get on top of the tower. I didn't do it because I was told that it wasn't necessary. Several locals told me the view is not that great! Click here to buy your ticket if you really want to get on top of the tower!
Activities in Seoul
There are so many things to do in Seoul. This list can help you out :
I think that's it! As you can see, Seoul is not a city with nothing to do. I liked the week I spent there, especially thanks to a good friend who showed me Seoul in every nook and cranny. I suggest you to spend at least four days there, to have enough time to visit the city. If you spend some time in the country, here are places to visit in South Korea outside Seoul.
How to get to Seoul
You'll have to get there by plane. Click here to check the latest flight prices.
How to get around in Seoul
The easiest way to get around in Seoul? The subway!
Where to stay in Seoul
First off, here's where to stay in Seoul. If you're traveling on a budget, I suggest you to stay at the Yakorea Hostel. Click here to book your stay. If you want to stay in a mid-range hotel, the Heima Guesthouse is a great one. Click here to book your stay. If you're into luxury hotels, there's the Four Seasons for you. Click here to book your stay. Otherwise click here to check what are the hotels available in Seoul.
Seoul travel tips