Some links are affiliate links, which means if you make a purchase through these links, I earn a commission, at no extra cost to you.
South Korea is a very interesting country to visit. Indeed, the culture and the traditions are very different from our Western standards, and you leave the country enriched from your visit. What may seem obvious for us might not be that evident for them, and what may seem impolite for us might be completely normal for Koreans. To avoid any involuntary diplomatic incident and look like a disrespectful asshole, it's better to be informed before going to South Korea. The things to know before you go to South Korea? A lot of things related to the respect of the elderly, the table etiquette at the restaurant, the omnipresence of plastic surgery… Traveling to South Korea for the first time? Here are South Korea travel tips!
Plastic surgery in South Korea
I already talked about it in my article about my visit to Seoul. 70 to 90% of Korean girls had plastic surgery. That means almost all of them! You need to find the girls who are naturally beautiful. Several times, I saw girls with dressings on their faces : quite evidently, the surgery had been recent. What do they have? The most popular surgery is the westernization of their eyes. They want their eyes to look bigger, apparently they don't like their slanting eyes. After that, they get a nose job, it has to do a nice curve. Then the jaw, cause they want their face to be "V-shaped". That means sometimes, the surgeons have to remove a few bones in their jaws.
There are also some kind of rings under their eyes, yeah like shadows under their eyes. For us, having shadows under our eyes means being tired and not looking good. Apparently it's cute over there. Other popular surgeries include skin whitening, the lips, etc… In Europe, women do tanning sessions. In Korea, they want to get the fairest complexion possible! They don't care about their butt or their boobs (unlike beauty standards in Latin America), they really want to have a beautiful face (according to their standards). It's common for Korean parents to give their children who just passed their high school diploma a plastic surgery. Go to Sinsa in Seoul to see all the billboards promoting plastic surgery.
What about Korean guys? They're less fond of plastic surgery than women, but they're also numerous having plastic surgery, especially K-pop singers (K-pop is the local pop). There's some kind of cult of beauty, the locals need to match a certain model to succeed in life (socially and professionally). It's sad to say this, but I went to a club a Saturday night, and the girls were all clones (I didn't say they all look alike! 😀 ). After the whole #metoo movement began to spread on social media, another movement was born in South Korea, called escape the corset. This movement denounces this constant pressure on Korean women, who have to match unrealistic beauty standards. This movement is slowly on the rise in the country.
Korean girls
Gentlemen, you wanna settle down with a Korean girl? Good luck, from what I heard, it's very complicated (but not impossible). Making out with a foreigner why not, but settling down with said foreigner… they're not really into it (especially due to social pressure and the opinion of others). If you go party in Hongdae or Itaewon one night, yeah it's possible to see Korean girls who come to hook up with a Westerner, but nothing more. You'll notice that in South Korea (and other Asian countries), people don't ask for star sign (as it happens sometimes in Western countries). They'd rather ask your blood type to know a bit more about your personality. "You're type A? Rather asocial… Oh and you're type O? Open-minded, friendly… We're gonna get along"
Restaurants in South Korea
In Korea, you'll find those famous restaurants with a barbecue in the middle of the table, where you cook your food. It comes from Korea, therefore it's clearly better than our Western replicas. The first time I went to a Korean restaurant, I was immediately surprised. They have some kind of stools, and you have to put your jacket in the stool : to avoid your jacket to smell like grease when you leave. After ordering and getting your food, you want to call the waiter again? Don't wave at the staff to call someone. There's a button provided on all the tables. Push the button and in less than 10 seconds (I tried several times!), someone will show up for you! It's crazy!
What's the table etiquette when you're eating? Never pick up your chopsticks before the elderly eating at the table, don't use them to dig around looking for something specific in your food, and above all do not position your chopsticks like a stake, vertically (it reminds them of joss sticks put in sand bowls during funerals). When you finish eating put the chopsticks back to their original place on the table.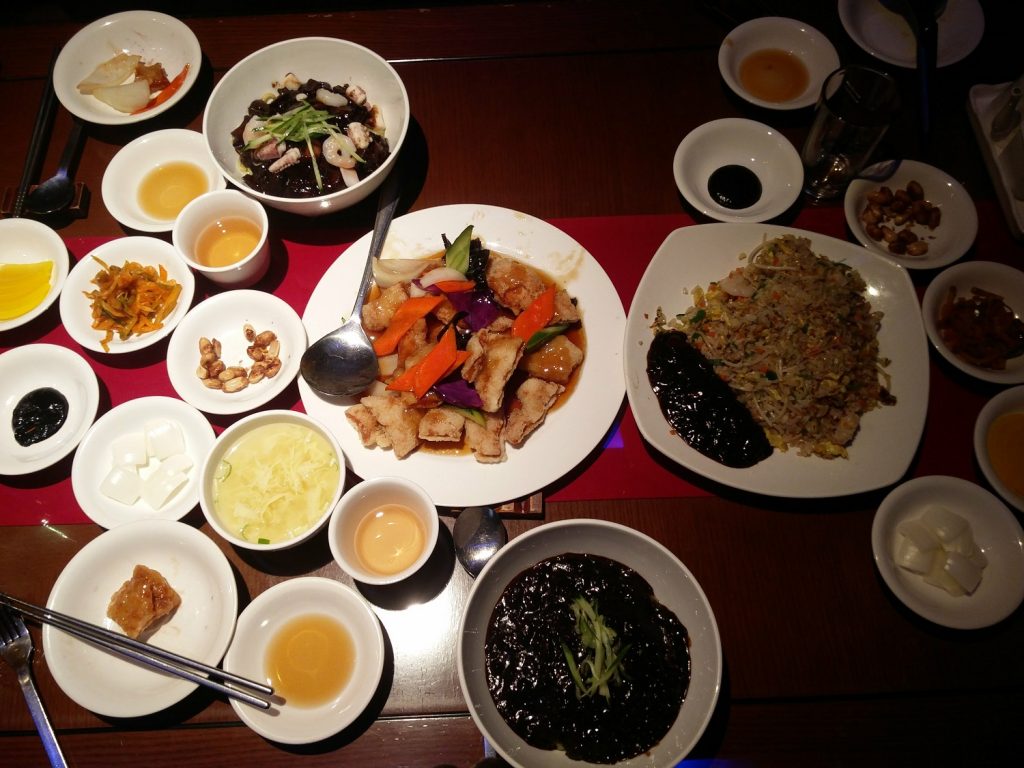 Always let the oldest person at the table eat first. Don't pick up your bowl to eat (it's normal in Vietnam or in China, but not here). It's generally impolite, but it's even more at the restaurant : don't blow your nose while sitting at the table! It's better to constantly sniff (it's the same in Japan). Once the meal is over, Koreans sometimes have a plum juice, an after-dinner liqueur. Oh and by the way, you don't need to tip, that's not part of their culture.
Food in South Korea
Regarding food per se, as I said you'll often find barbecues on the table. Otherwise they often have soups, or the famous bibimbap. It's a bowl of rice mixed with beef, vegetables and a raw or fried egg. Some elderly people eat dog. It dates back to the World War II era, when there was nothing to eat. Nowadays, almost no one eat dog anymore, it's a pet. Moreover, it's frowned upon to eat dog now, unlike Vietnam where it's still common to eat dog. From what they say, eating dog gives stamina…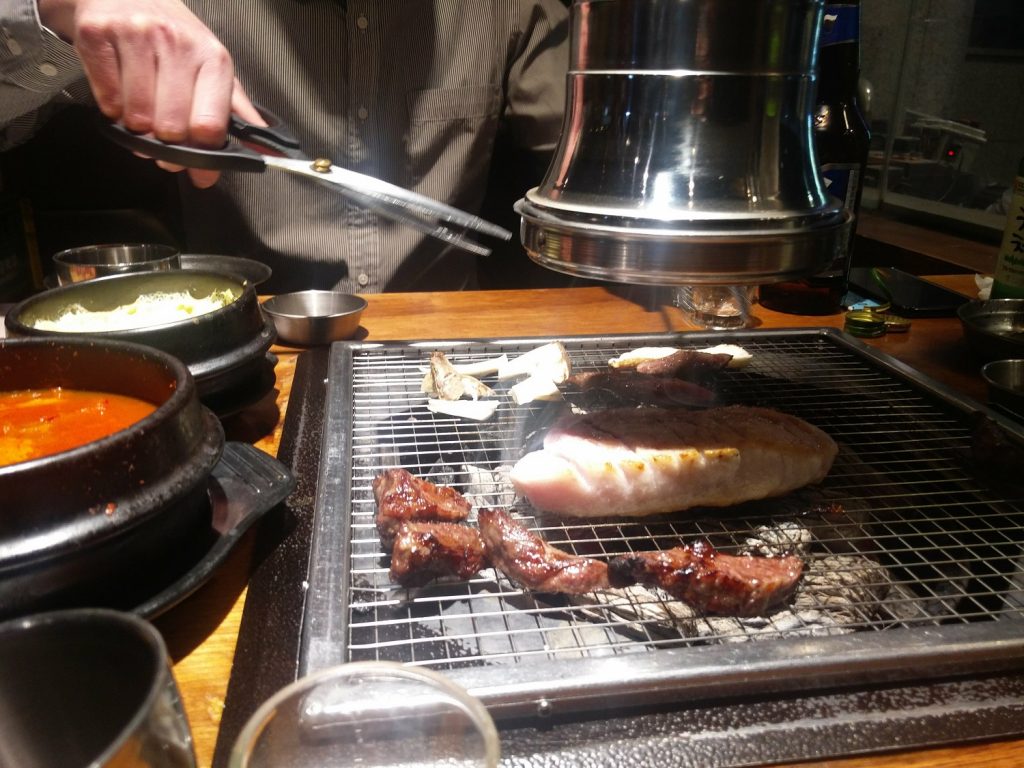 Soju
Soju is the reference alcohol in South Korea, the signature's liquor of the country! Every single person drinks soju, and they sell soju everywhere! You can enjoy it neat, in a cocktail, mixed with juice, with yogurt or with beer. In the convenient stores, soju is as cheap as a bottle of water!!! After a long day of work, Koreans meet up at the bar and invite their new coworkers, the foreigners… You definitely have to go if they invite you. It's frowned upon to decline an invitation. Since the Koreans are naturally reserved, they make you drink because they want to see your real personality, they want you to talk, to know how you think…
You can find soju everywhere : at the convenient store, at the bar, at the restaurant enjoying a barbecue… Once again, do not refuse a drink from an elderly person. Refusing would be seen as disrespecting the person and refusing their friendship. If you're the one serving soju, always serve the oldest person at the table first, then serve the other ones and finally you last. Pour soju with your two hands, especially if you're serving more important people than you (elderly person, your boss…). Once you have your soju shot in hand, if there's an elderly person at the table, when you're toasting someone, always put your glass below and turn your head to drink your shot (almost hide underneath the table!), it's a form of respect.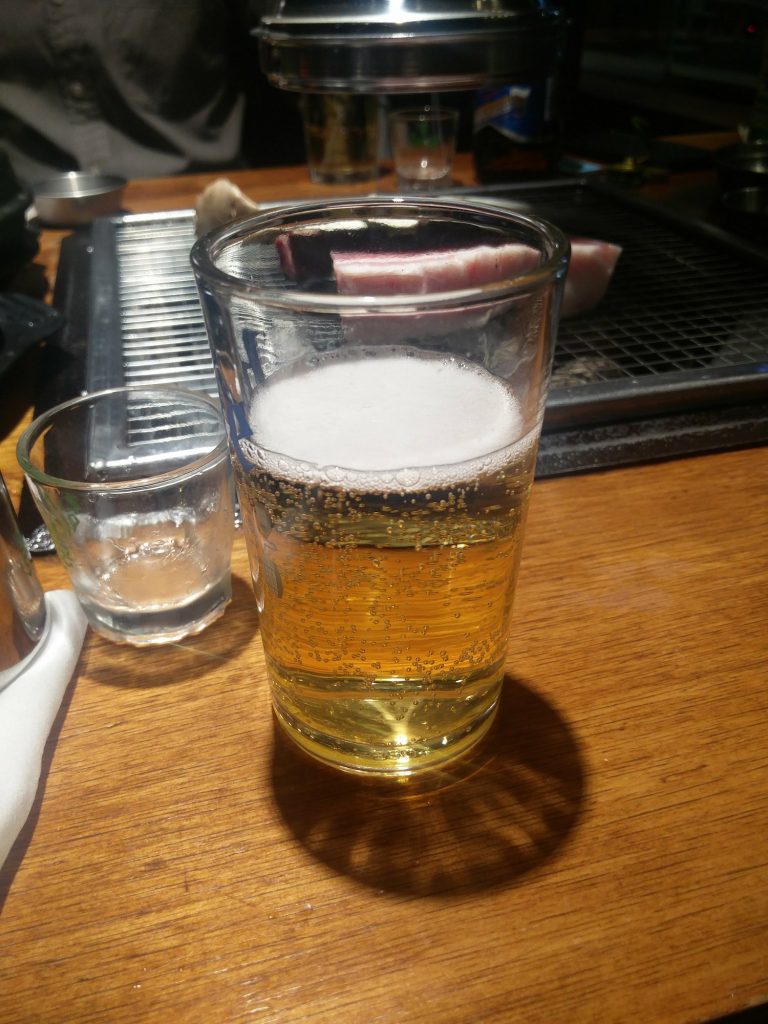 If you wanna get shitfaced, I suggest you to get a somaek, it's soju combined with maekju (beer). Hangover the day after for sure, I tried out! 😀 For those who are curious, you can try makgeolli, it's Korean rice wine. You'll notice the Koreans love to drink (I had already noticed in Luang Prabang, Laos!). They love to drink so much that it created jobs. There are drivers getting paid to take your car and bring you back home (driving your car!) if you're too drunk! And it's doing well! 1. Cause Koreans drink a lot. 2. Cause there's a zero tolerance policy regarding drunk driving in South Korea! Oh and by the way, motorbikes are forbidden on the highway, because the government feels like it's too dangerous! But motorbikes are allowed in the city! The Koreans all use a car then!
Bars in South Korea
When you travel, you start to realize the unconscious reflexes you have back home. In Korea, but also in Japan, a lot of bars, restaurants and other stores are high up. That means for instance on the 3rd, the 5th or the 8th floor. When you know where you wanna go, that doesn't cause any problems. But when you don't have a specific plan and you just wanna have a drink, it's a bit more complicated! In Western countries, we're influenced by what we see when we pass by an establishment "Are there people in there? Does it look good? Clean? Not too expensive? etc…"
When you end up in an area where all the bars are on the second floor, it's impossible to gauge from the street. You have to make a choice and go up to see. At first, I didn't really know how to behave. I was going up to see, and in front of the bar, the manager more or less "pushes" you inside. After a few times, I learned to leave quickly if I didn't really like the place… Anyway, looking up from the street is something you have to learn there. At first, friends were giving me the address of a bar or a restaurant, and when I was getting there, there was nothing. After some time I got it "Oh I gotta go to the 5th floor…" You just have to get the habit.
Confucianism in South Korea
Confucianism rules the world… oops I meant it rules South Korea, and the social interactions there! You don't know what confucianism is? Basically, the organization of the society is rather vertical : the woman has to listen to the order of her husband, the young people have to respect and obey the elder without asking any questions, you have to respect your parents and ancestors, etc… A 2500-years-old philosophy. Applying this philosophy to our modern society means doing all the things I talked about earlier regarding respecting the elderly people at the bar and the restaurant, but also offering your bus seat to the old guy who's standing, speaking to elders politely, waiting for your boss to eat first before savoring your dinner…
If a Korean asks your age, it's just to "situate" you in the social pyramid, don't get it wrong! Speaking about age, the Koreans have two ages. The Western age (like us!) and the Korean age. What's the Korean age? The day you're born, you're already one-year-old. On January 1st of the following year, you're two, and so on… Basically, if you're born on December 30th, you're one. Two days later, on January 1st, you're already two!
Korean alphabet
The Korean alphabet is hangul! Watching it, it looks really complex! I know the Chinese alphabet is very hard to learn, and we often tend to think the same regarding the Korean alphabet. But apparently no. Hangul is actually easy to read because it's very phonetic. Once you know which sign corresponds to which sound, it gets simple. And hangul is easy to learn. Once you know how to read it, you can recognize dishes names at the restaurant and signs with district names in the street.
In the various palaces in Seoul, you'll find the Chinese alphabet because it was the one they used several centuries ago, before Sejong the Great promulgated the Hangul in the 15th century. Admittedly the Korean alphabet is easy to read, and not too hard to write. But that doesn't mean it's easy to understand! You can easily read a sentence, not knowing what it means! You'll notice the Koreans listen to the people they're speaking to 'til they finish talking, never interrupting the person. It's because the verb is at the end of the sentence. If you're into Korea, here are 15 books about Korea.
New technologies in South Korea
I already said it, South Korea is the Mecca of new technologies. It's normal, there's a high demand! On average, the Koreans change their smartphones every six months!!! This is insane! 99% of Koreans have an iPhone or a Samsung. They can't believe it when you've had your phone for more than a year, or when your phone is not a Samsung or an iPhone "Why do you have a LG?", they often asked my friend. Surprising when you know LG is a Korean brand… Otherwise they have their own very popular apps in the country. For instance, they mostly communicate with their friends via Kakaotalk (and not Whatsapp). To get a vehicle for hire, they use Kakaotaxi (and not Uber). They use Naver to do their research on the internet (not Google).
Covered shoulders
You'll notice Korean girls never have their shoulders uncovered. I don't know if it's frowned upon or if it's cultural, but even under 40°C/104°F, you won't see a single Korean girl wearing a spaghetti strap shirt. Back and shoulders are always covered. They don't wear a top showing their cleavage either (sorry guys, it's not possible to ogle!). However, they have absolutely no problem wearing mini skirts, high heels, etc… Anyway, ladies, if you go there, cover the top, show off your legs if you want to, not the other way around!
Sport in South Korea
Americans were there not that long ago and you can feel it. Baseball is by far the most popular sport in South Korea. But there's also basketball (of course…), golf, archery, taekwondo, soccer… If you go to Seoul, head to Sports Monster where you'll be able to play all those sports but also ride a zip line, play on giant slides, do obstacle races, play darts, play arcade games and challenge your friends…
Superstition in South Korea
Some old superstitions are still present in South Korea. For instance, you'll never find a fan in a hotel room, because it will suck the oxygen out of the room. Some Koreans never whistle at night because it attracts evil spirits. Others don't wash their hair on the Lunar New Year for fear or rinsing away their good luck. Another thing you'll probably notice, is the absence of the number 4. In a lot of buildings, there's no 4th floor. 4 is a jinx number reminding the locals of death, that's why you won't see it (if I'm correct, "4" and "death" have the same phonetic sound). On a side note, the Chinese smartphone brand One Plus released their One Plus 3, and then directly their One Plus 5 for that same reason. There's no One Plus 4.
Social activities in South Korea
Since the Koreans often live with parents until marriage, and given that confucianism is king here (you respect your parents no matter what), a lot of Koreans meet up outside for almost all their interactions. Wanna play Monopoly or any board game with a friend? There are board game cafés, where you can play board games with your friends They sell snacks and non-alcoholic drinks on the spot! Wanna play online? There are PC bangs (rooms to play). Wanna play video games? Go karaoke? Watch a DVD? There are places with rooms provided just for that! Koreans also love hiking. If needed, here are the best hiking trails in South Korea!
Relationship with Japan
Avoid talking about Japan with Koreans, you might create an awkward vibe/situation. It's not a secret, Japanese and Koreans don't really like each other. Not that long ago (from 1910 to 1945), tens of thousands of Korean guys were forced to fight for the Imperial Japanese Army, and tens of thousands of Korean women were sexual slaves of Japanese men. Some elderly people were there during that era, however those who hate Japan are mostly from the younger generation. I was lucky enough to broach the subject openly with a few Korean guys. Basically they say Japanese people are ugly, they all have horrible teeth, they also say the Japanese girls have a weird gait, a "backwards duck" gait, etc… The resentment is still strong.
Being black in South Korea
I had no problems there as a black person. But again, I wasn't living there, I was just traveling. Most importantly, I was with a friend of mine who lives there. Yeah they wanted to get pictures with me, yeah sometimes people were staring at me, but nothing more. But I heard about black guys being victim of ridiculous prejudices "Are you raising a lion back home?". Otherwise there's discrimination towards foreigners in general, black or not black. Some restaurants, bars or clubs for instance, are forbidden for all foreigners. That's the way it is! If you wanna know more about being black in South Korea, you can watch the video below. A black guy who lived in South Korea talks about his experience there (it's in French with English subtitles).
That's it! I think you have a lot of information regarding Korean culture and traditions now. You can go there and have a great stay now! A big thank you to David! I wouldn't have had all those information about Korea without him! I hope this article has been useful. If you have any questions, feel free to comment! Finally if you plan to go there, here's where to stay in Seoul.