Some links are affiliate links, which means if you make a purchase through these links, I earn a commission, at no extra cost to you.
I wanted to tell you guys that visiting Tokyo is impressive, but to be fairly honest, it's an euphemism. You're literally landing on another planet when you arrive in Japan, and people usually start their stay in Tokyo, the capital of Japan! Visiting Tokyo might seem destabilizing : you find yourself in a 14-millions inhabitants megalopolis, their language is completely different from ours, the alphabet is not the same, the culture is also very different. You end up in a city where old temples and new buildings blend, where old traditions and new technologies merge. You need a period of adaptation. Still, Tokyo is a beautiful city, very lively. Here's a guide to Tokyo's main districts. I'm also gonna list what to expect, and the places to visit in Tokyo.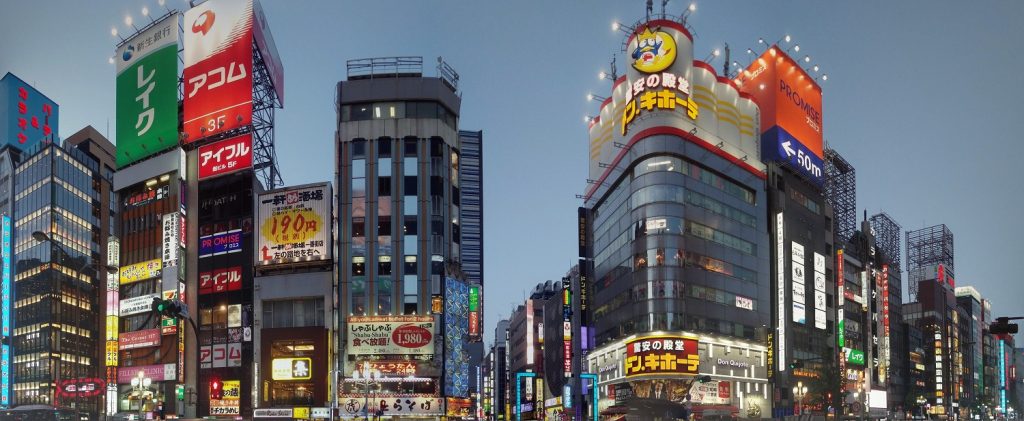 Description of Tokyo
First off, the crowd. There are people everywhere in Tokyo, this is insane! It's hard to unearth quiet areas in the capital of Japan. Lemme tell you, one day I had to take the subway at 5:30am, and it was already packed!!! At 5:30am! Crazy! It's the same in the street, all day everyday! Daytime, nighttime, whenever! Tokyo is a very lively city! In addition to the crowd, you'll constantly have your eyes wide open, cause there are shops selling all kind of quirky stuff everywhere in the city! Walking around in Tokyo, is like being a big kid rediscovering the world!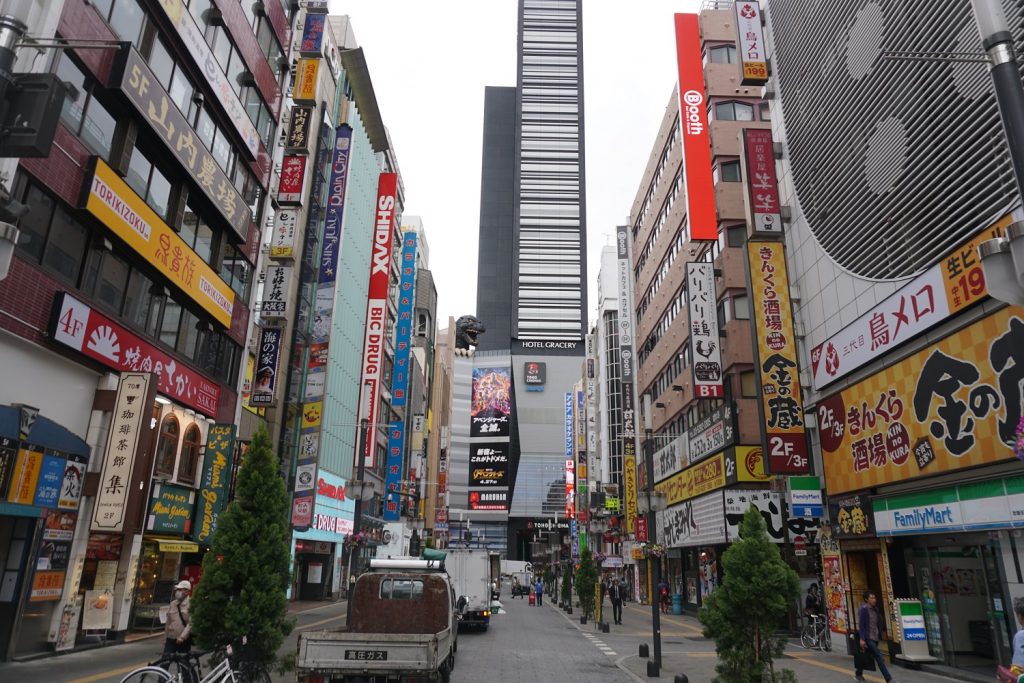 Although Tokyo is crowded, all the hustle and bustle and all those lights attracting you every single shop in the street, you'll notice Japanese are extremely courteous and quiet, rather discreet. They're quietly waiting in line before getting in the subway or the shinkansen, their high-speed train. Even though there are people everywhere, calm reigns over the city. The Japanese don't really make waves. It's funny, I noticed that even the kids are very well-behaved. They don't scream, they don't cry either.
The city is so big… And so different from our Western standards! Visiting Tokyo takes time! There are so many things to do and so many things to see! It's pretty simple, we're talking about a city 7 times bigger than Paris! There are traditional areas and others more modern, a lot of lively areas but also a few quiet ones, areas to go out and party, others to enjoy delicious food or play video games online… Let's see what to do in Tokyo and the specific features for each district!
Shibuya
Shibuya crossing
You've probably already seen the famous Shibuya intersection, also called "Shibuya crossing", which is located in the neighborhood of the same name. It's the biggest and the most frequented crossing in the world. Everytime the traffic light is red, about 1000 people cross the street! If you wanna see how it looks like, head to the Starbucks on the square, and go on the second floor. You won't be the only one to have this idea, so you'll probably have to wait to get a good spot. By the way, given its localization, the Starbucks Shibuya is the most lucrative, with the biggest yearly turnover in the world! At Shibuya crossing, there's a statue of a dog called Hachiko. This dog waited for his owner everyday at Shibuya for ten years, from 1925 to 1935, till his death! Where was his owner? His owner was a professor at the university, and he suddenly died from a heart attack while he was giving a lecture.
Manga kissa
Shibuya is a very lively area, where you'll find numerous restaurants, cafés, arcade games, karaoke, clubs and manga kissa. Those are manga-cafés, where you can read mangas (Japanese comics), have tea in the tea room, and you can even sleep on spot if you want to! By the way, in Shibuya, you'll find a store entirely dedicated to the manga One Piece, on the 7th floor of the Shibuya Marui building. In Shibuya, you'll see in the street giant screens, you'll hear music, you'll see plenty of big stores… Perfect if you wanna go shopping and mingle with the Japanese crowd! Don't miss Shibuya 109, the Mecca of fashion in Shibuya. You'll discover the style, sometimes eccentric, of the Japanese!
Mandarake
What else in Shibuya? If you're into mangas, go to Mandarake! It's the Mecca of mangas! There are many halls with many shelving units full of mangas, goodies, video games and a huge part dedicated to hentai (porn mangas). There were often many people there…
Dotonbori Kamakura
Dotonbori Kamakura is one of the most popular restaurants in Tokyo to enjoy a ramen (dish made of wheat noodles served in a meat or fish-based broth). You pay for your dish in a vending machine just outside the restaurant and you get a ticket. Give it to the cooks and they'll cook your food in front of you.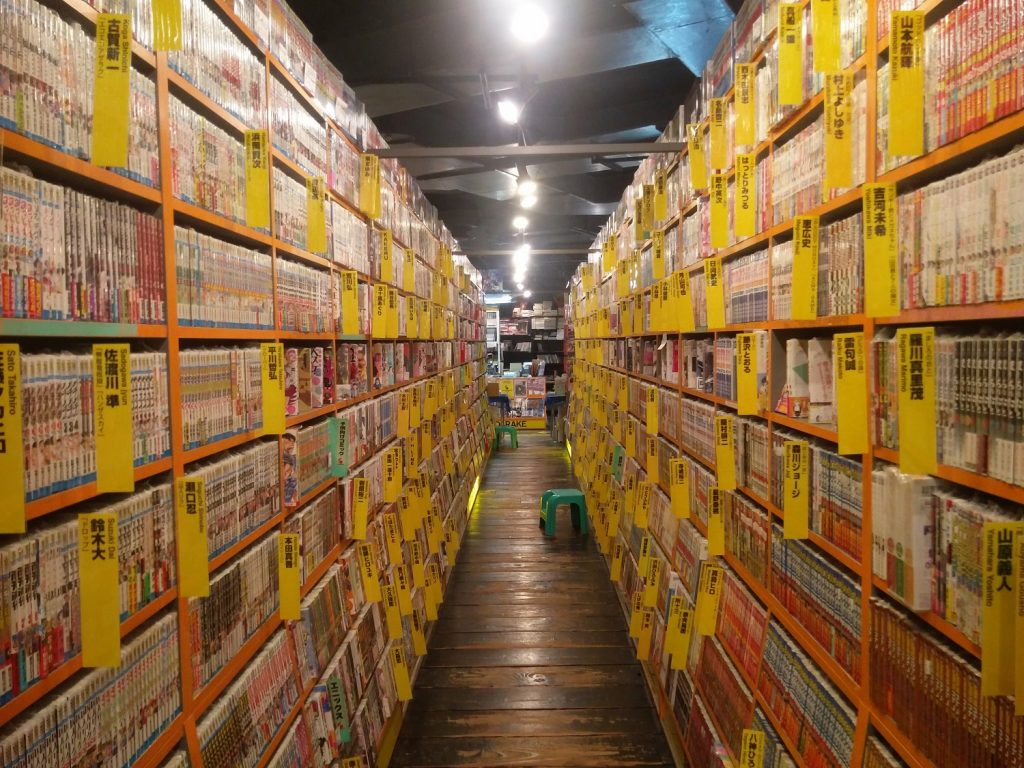 Meiji Jingu
Harajuku is an area located inside Shibuya. You'll find Meiji Jingu there. It's a shrine dedicated to the deified spirits of emperor Meiji and his wife, respectively dead in 1912 and 1914. A lot of weddings are celebrated there. This shrine is located in a wonderful park also called Meiji Jingu. A peaceful place. In Harajuku, take some time to have a walk in Takeshita Street. It's packed but there are a lot of nice stores. Once again you'll see cosplayers (Japanese dressed like manga characters) and Japanese wearing quirky outfits… There's also Omotesando avenue, the Champs Elysées of Tokyo, and its luxury boutiques…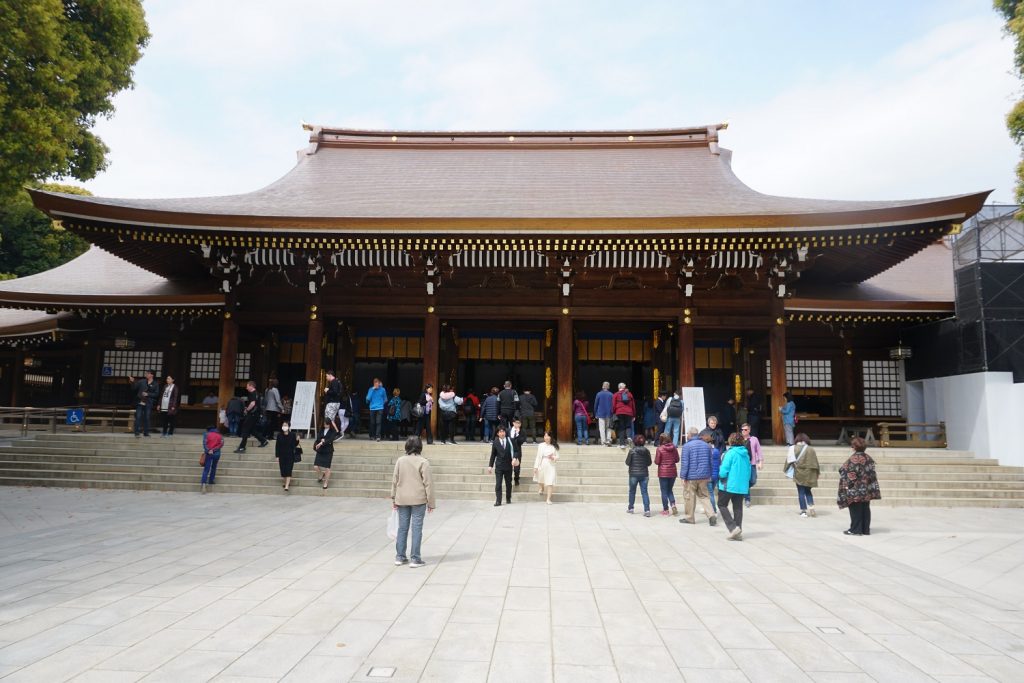 Shinjuku
Tokyo Metropolitan Building
Shinjuku is one of the most famous and one of the most lively areas of Tokyo. It's the financial heart and soul of the country, and you'll find there the famous skyline of Tokyo, numerous buildings next to one another! It's impressive to watch! You'll probably get to Shinjuku by subway, at the Shinjuku train station. For your information, it's the biggest train station in the world! Millions of people pass by this train station everyday! In Shinjuku, you can first go to Tokyo Metropolitan Building! It's free to get on top of this 202-meters (662 ft.) skyscraper -make the most of it knowing the cost of living there!-. You'll enjoy a panoramic view from the 46th floor of the building!
Shinjuku Gyoen Park
Take some time to relax in Shinjuku Gyoen Park, one of the biggest parks in Tokyo. It's wonderful and very quiet, I strongly suggest you to have a walk there. It's actually the only quiet place in Shinjuku. It's 200 yens (1.60€) to get in. In fact, Shinjuku is divided into three parts : Kabukicho, Okubo et Takadanobaba.
Kabukicho
Kabukicho is known for being the disreputable area of Tokyo (everything is relative, it's not that bad and not dangerous compared to our Western standards). Nighttime, in Shinjuku, you'll see hostess bars, sex shops, game rooms… Kabukicho is the yakuzas' territory, tha place to go for love hotels, and fishy bars… In Kabukicho, a guy asked me if I wanted hot girls… at 11 in the morning! He had a weird appearance and he did look like a perv in his trench coat!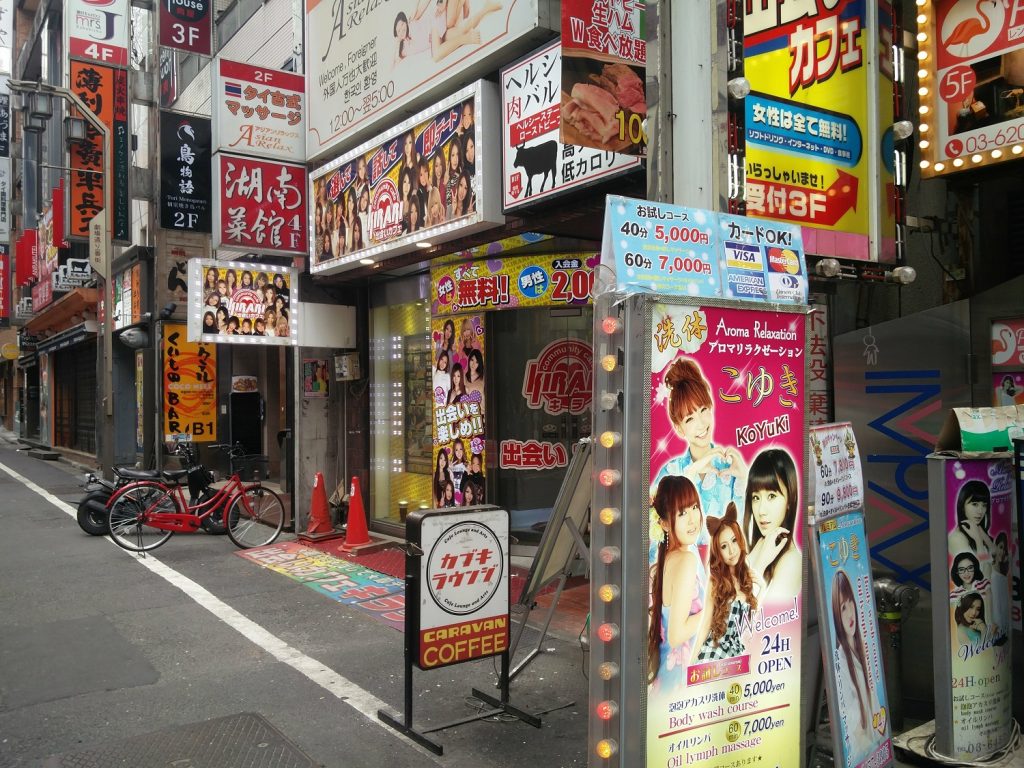 Golden Gai
Out of curiosity, go see Golden Gai! It's an area full of narrow streets with dozens of tiny bars next to one another. When I say tiny bars, I mean bars which can have 7-8 guests maximum! From the outside, you can see the whole bar! Some of those bars have an entrance fee, others don't. It's possible to have a drink and eat on spot. Actually… Not sure it's possible!
On the front door of many of those tiny bars, you'll see written "Members only". In fact, those bars usually don't accept foreigners so instead of writing "Forbidden to foreigners", they write "Members only". That's also the reason why some of those bars make it clear that they do accept tourists. Anyway, just go out of curiosity! You can also visit Shinjuku Nichome, the gay area of Tokyo. Wanna know more? Here's a gay Tokyo travel guide.
Ramen Zundou
In Shinjuku, Ramen Zundou is an excellent restaurant to enjoy a good ramen. The staff is nice and works as a team. One of them annouces the next order, all the other ones repeat your order in unison, and they prepare your ramen! You enjoy your food around the kitchen, right in front of the cooks.
Ueno
Ueno is a rather nice area of Tokyo, there's a good vibe and a lot of cool bars. Ueno is mostly known for its wonderful shrine, Ueno Tosho-Gu, established in 1627. This shrine is located in the big Ueno park, beautiful but crowded! Because in the Ueno park, there's the shrine but also a zoo (I didn't go…) and the Tokyo National Museum.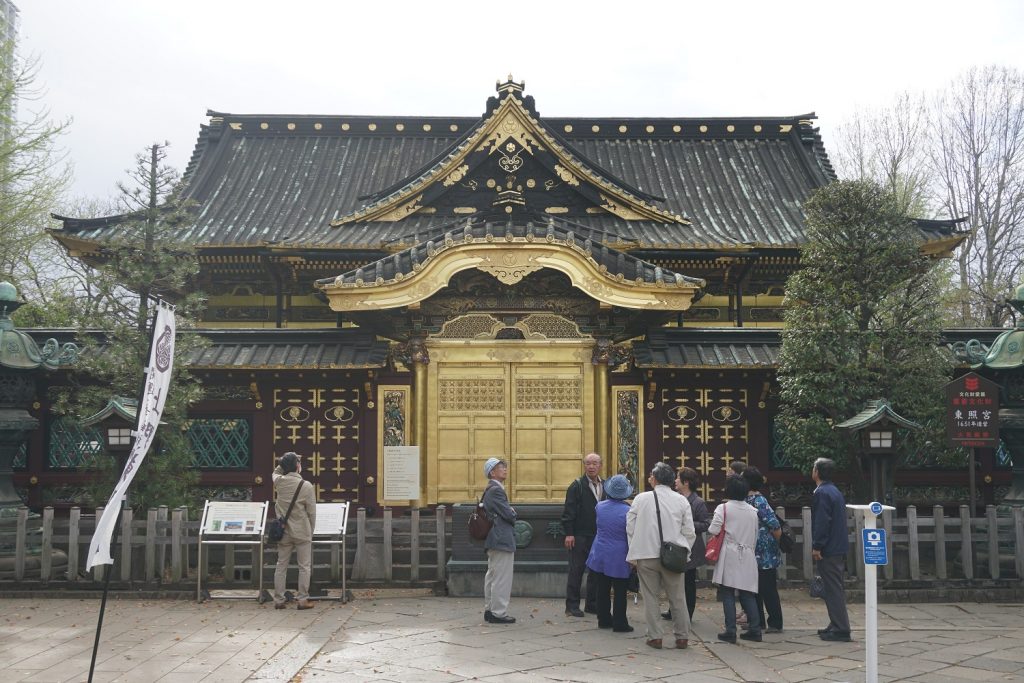 Akihabara
Arcade games
Akihabara is an area located south of Ueno. This is the place to be for all the geeks, fans of video games and arcade games! It's crazy, they're all over the place in Akihabara Six-floor buildings with hundreds of arcade games, stores selling video games (they even sell 1990s video games!), maid cafés, school girl cafés, and other theme-cafés… You'll also find dozens of stores selling mangas, figurines, and derivated products… There are many weird things to do in Tokyo, especially in Akihabara.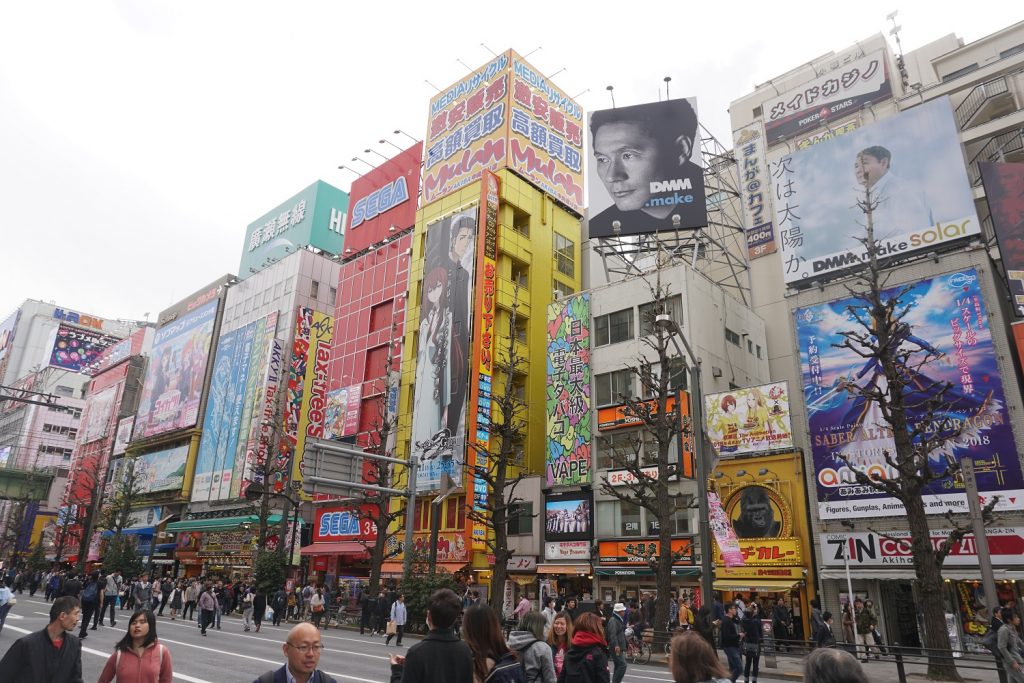 Seedy stores
The Sega Game Center is probably the most impressive! Hundreds, if not thousands of Japanese are playing in this 7-floor building! It's possible to compete against them while they're playing! Most of the otaku can be found in Akihabara. An oktaku is someone with obsessive interests, usually playing video games, watching cartoons, reading mangas, drawing… Indoor activities!
In Akihabara, it's also possible to stumble upon a few seedy stores… Yeah there's the biggest sex shop in Japan there, a 5-floor building. The two last floors are for men only, women cannot get there! But there are also other sex shops where you'll quickly realize Japanese people have twisted fantasies… Let's face it, the Japanese are sexually frustrated.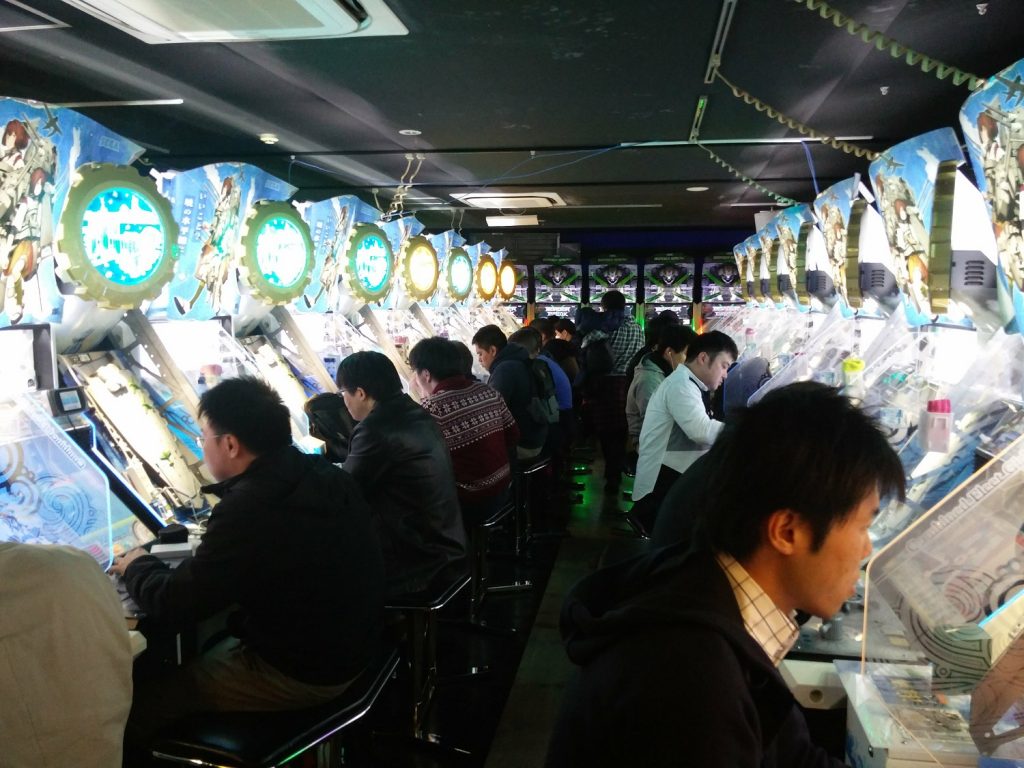 Asakusa
Senso-Ji temple
Asakusa is a more traditional area, located northeast of Tokyo, and mostly known for the Senso-Ji temple which is located there. It's a Buddhist temple dedicated to the goddess Kannon, and it's Tokyo's oldest temple, it was founded in 645! It's free to visit the temple, and it's one of the most popular places in Tokyo, it's always crowded there! You get to the temple via the Kaminarimon, the thunder gate!
Tokyo Skytree
In Asakusa, it's possible to see (from afar) the Tokyo Skytree, a broadcasting tower which 634 meters (2080 ft.) high. It's possible to get on top to enjoy an impressive view! It's very famous in the country! Check out this article listing several famous Japan landmarks!
Asahi tower
Don't miss the Asahi tower and its golden poop!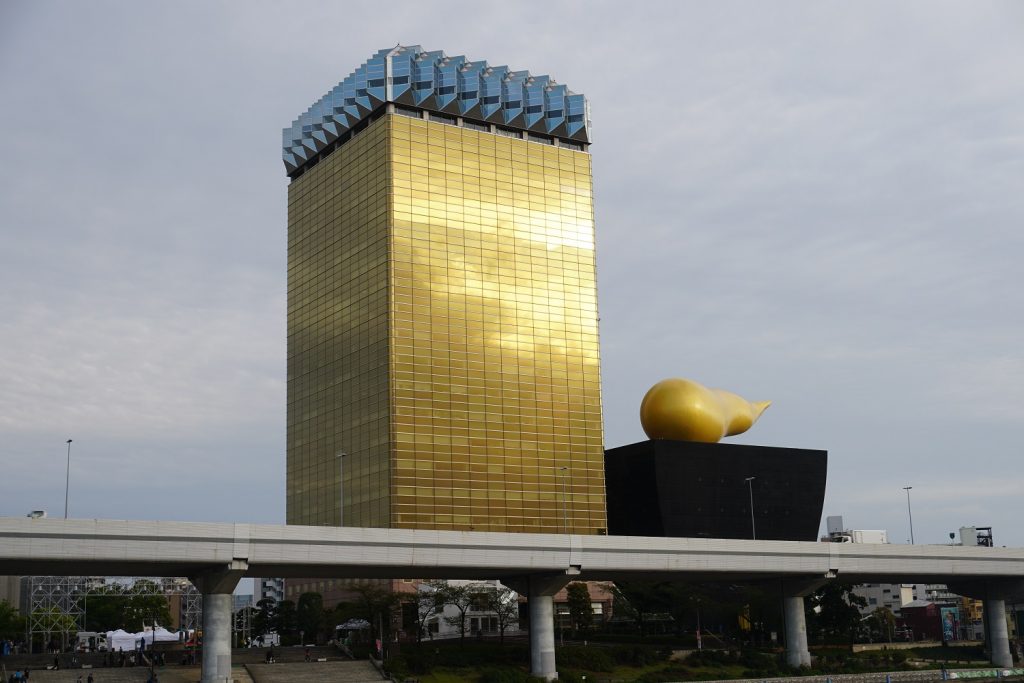 Yanaka
One of the very few quiet areas of Tokyo. It's also one of the few areas which survived to the terrible earthquake of 1923 and the bombings during World War II. So that means Yanaka kept an old town vibe, rather quiet. A temple and a cemetery are not far from each other in Yanaka (TennoJi temple and Jomyoin). In Yanaka, there are machiya, small shops just below houses. Yanaka has a distinctive characteristic, you'll see many stray cats in the streets, and people love to take pictures of them!
The imperial palace (Kyoko)
The imperial palace is the main residence of the emperor of Japan. Unfortunately it's not possible to visit it, but it's possible to have a walk in the gardens surrounding it. Actually, regarding the imperial palace, it's possible to book on the internet for a guided tour in group but during those visits, it's impossible to walk freely, nor visit inside the palace. You're permanently with a guide and you have to stay with him.
The visits take place in the morning only from 9:30am to 11:30am, and the guided tours are in Japanese only… So I contented myself with a nice walk in the gardens of the palace. A small part of the palace is open only two days per year : on December 23rd (for the emperor's birthday) and on January 2nd (for the New Year).
Other districts in Tokyo
Tokyo is huge, there are even more areas you can explore but those were the main ones. There's also Ryogoku, the area of the sumos. Perfect if you want to watch sumo wrestling in Tokyo. There's Roppongi, perfect place to go party, karaoke… Many foreigners teaching English in Tokyo (especially Americans) live there. There's Ginza, the chic area of Tokyo, and one of the best districts to go shopping in Tokyo.
Ikebukuro is an area where a lot of young girls hang out. There are several stores selling mangas, cosplay, you'll find neko kissa (cat cafés)… Don't miss Tsujiki, the biggest fish market in the world! Tsujiki is also one of the most famous specialty food streets in Tokyo! There's the Hamarikyu gardens (300 yens or 2.50€ to get in), Odaiba the artificial island with several malls, restaurants… I told you, there are things to do in Tokyo! Here's a 5-day Tokyo itinerary!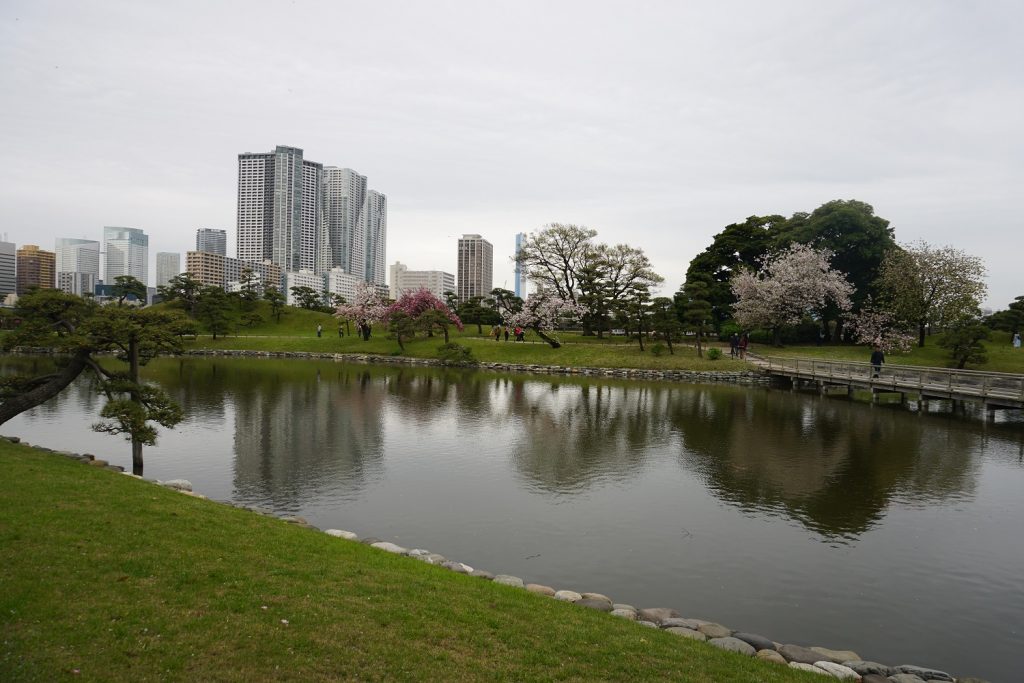 Activities in Tokyo
You can visit Tokyo with a local guide. Click here for more info. You can also visit the samurai museum. Click here for more info. You can go to Tokyo Disneyland. Click here for more info. Finally, you can enjoy a private Japanese cooking class. Click here for more info.
I honestly liked my stay in Tokyo! We're constantly amazed by the scenery, and there are so many things to do and see! I strongly recommend you to go there. More info just below.
How to get to Tokyo
You'll have to get there by plane. Click here to check the latest flight prices.
How many days to visit Tokyo
Honestly, I think 5 days is the bare minimum. I stayed a full week in Tokyo and I felt like it wasn't enough.
How to get around in Tokyo
The best way to get around is to use the subway. Buy a single ticket, or a one-day pass, or a prepaid pass (take a SUICA or PASMO card). For your information, the Yamamote line -which is passing by the main Tokyo areas- is free with a Japan Rail Pass (the pass allowing you to take the shinkansen to get around in the country). Click here to buy it.
How to get to Mount Fji
Go to the Shinkuju train station, take the shinkansen and get off at Odawara. From there, take the bus until Hakone. At the Shinkuju train station, there's a stand for those who wanna go to Mount Fuji. Get the unlimited pass, it's 4000 yens (33 euros). Everything will be included : buses, cable cars, mini trains… in the area. I went there but I didn't have the chance to see Mount Fuji because of the mist… Here's everything you need to know to climb Mt. Fuji! You can also get there with a local guide. Click here for more info.
Where to stay in Tokyo
First off, here's a complete guide to find out where to stay in Tokyo. If you're traveling on a budget, there's the Hotel Owl, a capsule hotel. Click here to book your stay. If you're looking for a mid-range hotel, there's the Resol Poshtel Tokyo. Click here to book your stay. If you're into luxury hotels, I suggest the Imperial Hotel Tokyo. Click here to book your stay. There are so many options in Tokyo! You can click here to check what are the hotels available in Tokyo.
Tokyo travel tips