Some links are affiliate links, which means if you make a purchase through these links, I earn a commission, at no extra cost to you.
Song Kul, a mesmerizing lake located in Kyrgyzstan. With Issyk Kul and Ak Suu Transverse Trek, it's one of the major tourist attractions in Kyrgyzstan. And this is completely understandable, those two lakes are splendid. Watching them, you really feel like YOU are in the scenery of a postcard. And the best way to enjoy those two lakes, is to horse ride around them. I didn't go to Issyk Kul, however I made the most of my time horse riding around Song Kul. You should definitely add this activity to your black travelers bucket list! Let's talk about the horse trekking in Kyrgyzstan culture first…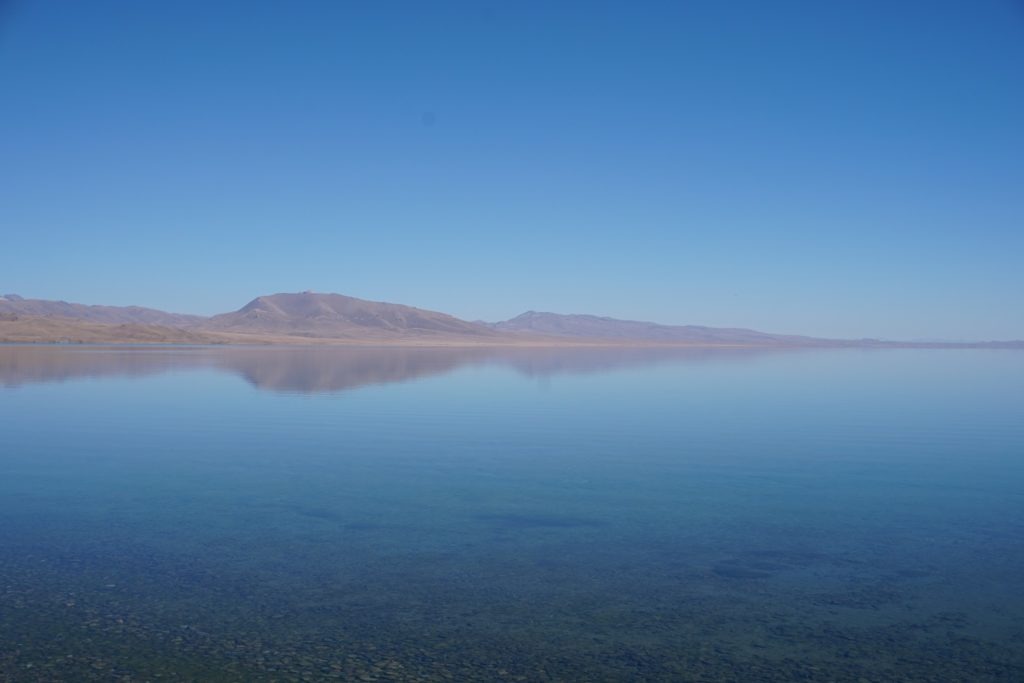 Horse riding is part of their culture
Why horse riding to enjoy my time around the lake? And not by foot or by car? Some tourists decide to walk around the lake, but from a cultural point of view, Kyrgyz are used to take their horse to go somewhere. Don't forget those people were nomads. To this day, in some villages and remote areas of the country, many locals choose to get around by horse, and not by car. You can see little kids, barely six years old, controlling very big horses! It's in their blood!
Since Kyrgyz people were nomadic, there was no place they could really call home, they were always living in a different area. The legacy of this way of living is the yurt. A yurt can be assembled and dismantled very quickly, and is easily transportable. Since they were always getting around by horse, they started creating and practicing sports… By horse!
Buzkachi
The most popular is the buzkachi. What is it about? Two teams of ten horseriders come face to face. Riding their horse, they have to get the ball and put it in opposing team's basket. A little bit like soccer. But I forgot to clarify something. The ball I'm talking about, is a headless dead goat carcass. This sport attracts thousands of spectators, especially during the world nomad games, taking place every two years. Let's see what buzkachi looks like…
Horse riding in Kyrgyzstan : what is it like
But let's enjoy Song Kul. This lake attracts many tourists, especially from May to September, therefore the locals set up a logisitical organization in order to be able to greet all those vacationers, coming mostly from France and Germany. Some guides, young Kyrgyz in their early 20's who speak English, take care of the groups and escort them for this three days ride around Song Kul.
First day horse riding
First thing first, the guides explain how to control a horse, which is definitely not that easy, knowing those horses weigh hundreds of kilograms (a few thousands pounds). Anyway, we learn how to make it turn left, how to make it turn right, how to stop it, how to make it go, trop around, gallop… It comes after a little practice.
All right, time to go now! Horses are like humans, each one has its own character! Some horses are more docile than other ones. You won't have to take care of this, but if they eat too much, they get lazy and won't move. If they don't eat enough, they'll stop every 15 seconds to graze. They can drink water in some rivers but not all of them (the guide knows!). Otherwise, they get the runs, have stomach ache, and won't move. Yeah, horse riding is a real science!
I opted for a 3 days/2 nights stay around Song Kul, and after the first day horse riding, we realize this is not exactly a walk in the park. Yes, you stay seated on the horse, but it's still a physical effort to control this big animal! You need to have strength in your arms, your thighs and your abs. A good way to stay active… Don't forget to stay hydrated!
We finally arrived to our first camp. Horses can now rest after this long day, and we discovered our home for the night. Yes you have it, that's a yurt. We're greeted by a group of Kyrgyz, who are nomads. All right, let's put our stuff in the yurt and wow… Here it is! That lake! Song Kul! A-maaaz-ing! Yes we're watching a postcard now!
You need to know something. The whole ride around Song Kul is at high altitude. The altitude changes, depending on the camp you're going to stay, but we were at an altitude of 3400 meters (11000 ft). There is less oxygen, and you can quickly feel it. Some people have headaches, are seized by dizziness… Be mentally prepared, and don't forget to subscribe to a travel insurance before traveling! Oh and of course, at high altitude, there's not going to be a heatwave… Daytime is ok, but from nightfall, it's fucking cold, even inside the yurt! Bring some clothes to cover up!
Something else you need to know, horse riding around Song Kul is nice. Locals in the camps are going to feed you, and they're very kind and welcoming. They don't speak English but they make sure you're having a good time. Even though the food is good, your stomach might not be ready for this. Yep, travelers' diarrhea is almost invincible around Song Kul! Many, many people have digestive problems during the ride, and I wasn't spared…
Second day horse riding
The second day, we got back on the horses to go to another camp, located a little bit further but still next to the lake. Horses, well-rested and fed, obeyed and stayed docile. I wasn't always at ease but you have to trust them. Sometimes we were literally on the edge of the abyss, and we felt like the horse was going to fall, but actually no. Every now and then, we stopped to take pictures, or just to talk for a few minutes with other groups we passed by.
Second camp, another group of nomads, once again very nice. This time, we decided to play : skipping rope (I won!), tug of war, soccer, volleyball… Actually we didn't play for a long time, above 3000 meters we get out of breath really fast, unlike the locals who are used to high altitude. And then we decided to have a walk around Song Kul, we could watch it all day!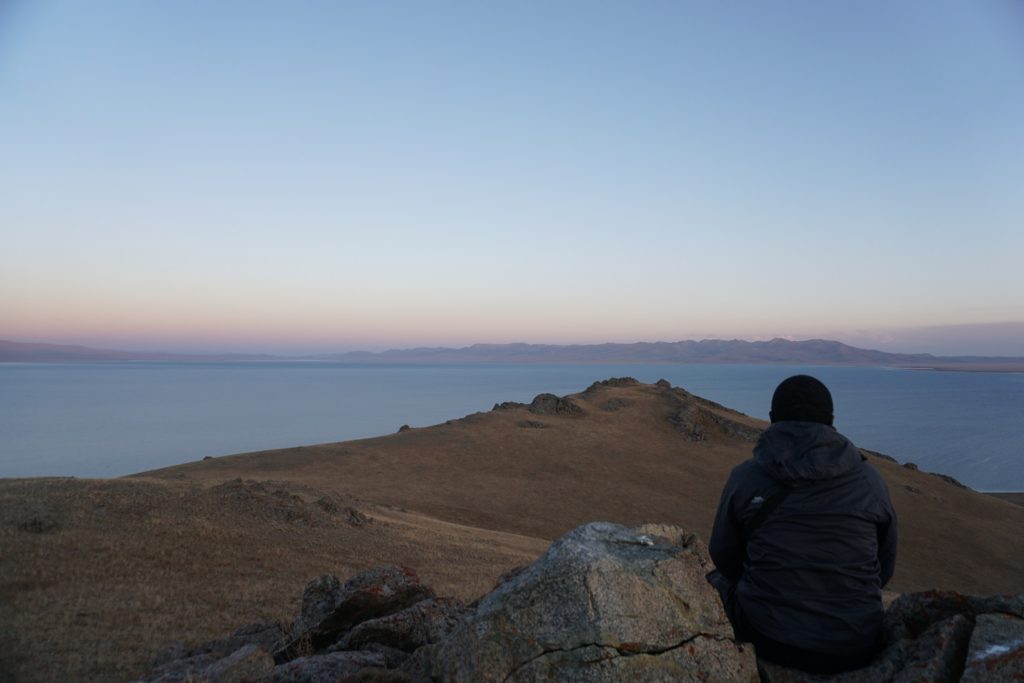 Third day horse riding
The last day, we had to go back to square one. Back on the horses, and we hit the road again. We said goodbye to our hosts and we left them early in the morning. Late morning, we were back to the village where we first started, before heading to Bishkek, the capital. Another great experience… You're probably gonna spend some time in the country, so check out this Kyrgyzstan itinerary!
How to get to Song Kul
To horse ride around Song Kul, you need to go either to Kotchkor or Kyzart. Kotchkor is 4 hours away from Bishkek by marshrutka (mini van), Kyzart 5 hours away. You'll find them at the Western bus station in Bishkek.
Most tourists start their trip from Kotchkor, a small city. This is where you'll find all the travel agencies organizing the rides around Song Kul. Kotchkor is also more expensive… From Kyzart, a small village, it's cheaper, but also further and less easy to get to.
I recommend going to Kyzart. From Bishkek, the ticket costs 300 soms (3.75€). At the bus station, ask for the marshrutka going to Chaek and tell the driver you need to get off at Kyzart!!! He'll drop you by the side of the road, but you'll immediately see signs showing where is the only guesthouse of the village. Just go there and book, it will be a lot cheaper than booking via an agency.
Costs of horse riding in Kyrgyzstan
This is when your negotiation skills will be handy. I heard about backpackers paying 8000 soms (100€) for 3 days/2 nights from Kotchkor, sometimes more… 8000 soms just for the horse ride… We were three and we negotiated 20000 soms total (6666 soms each, or 80€). Not only we had the horse ride, but also the dinner for our first day in the village, one night in the guesthouse, and the breakfast the day after. All included in our 20000 soms. Oh and we also negotiated the lunch for our last day after the horse ride, before going back to Bishkek 😀 Still, Kyrgyzstan is a cheap place to visit.
Yes going to Kyzart is cheaper, but it's still a small village… With its occasional power cuts… You need to know this! But people there are kind, say "Hi!" in the street, kids wave at you, ask for pictures…
When to go horse trekking in Kyrgyzstan
Best time to go there is from May to September. Otherwise it's too cold!
Horse riding in Kyrgyzstan tips
First thing first, you need to go to Kyrgyzstan. Check the visa policy here! Most western countries can go to Kyrgyzstan visa-free for stays up to 60 days!
Traveling soon? Check out my travel resources page! This list of travel accessories can also be useful!
Do not go to Kyrgyzstan without a travel insurance! You never know what could happen, some people feel faint because of the altitude. Here's why buy travel insurance.
Our first day, we spent 6 hours on our horses (with a break). The second day three hours from the first camp to the second one in the morning. Then a 3 hours horse ride around Song Kul in the afternoon. The third day 3 hours to go back to the village.
I already said it but bring some warm clothes to cover up! It's cooold from nightfall, even inside the yurt!
Avoid physical efforts (running…), you'll get out of breath quickly.
You probably won't avoid traveler's diarrhea!
You can also horseride around Issyk Kul. This lake is bigger, and you'll need a whole week this time. From what I heard, you don't sleep in different yurts, but this time in different guesthouses.
Want a tailor-made trip to Kyrgyzstan? Get a free quote here!
Always use a VPN when traveling. I use ExpressVPN and I love it. Here's why use a VPN when traveling.
If you want to go to Osh, the starting point of the Pamir highway in Tajikistan, the best thing to do is to go back to Bishkek, and from there go to Osh. From Kotchkok/Kyzart, it will take 15-16 hours (impractiable and bumpy roads). From Bishkek which is further, it will take 12-13 hours. The ticket costs 1200 soms (15 euros). You can also take a 40-minutes flight Bishkek-Osh for around 30 euros.
Why did I write all this…? Just contact the guys just below 😀