Some links are affiliate links, which means if you make a purchase through these links, I earn a commission, at no extra cost to you.
Bratislava, the capital of Slovakia, is only about 60 kilometers away (40 miles) from Vienna. Yeah, Vienna is on the east part of Austria, and Bratislava on the west part of Slovakia. Therefore, we have two European capital cities about one hour away from each other, and people only spend one day in Bratislava. I met some people in Vienna who leave early in the morning from there, go to Bratislava to spend the day, and then go back to Vienna in the evening. "Because everybody keep saying there's nothing to do there, it's probably best to spend a whole day in Bratislava, and not stay to sleep". That's what I heard the most. So… what can you do in one day in Bratislava?
Description of Bratislava
Yeah, even though the city is charming and the Slovak people are friendly, you quickly see it all. I made a comment about it to a Slovak girl (being tactful), and she didn't like it. "I hate to hear that, there's a lot of things to do and to discover. People, culture, food, and us Slovak girls!" Yeah… Until then, I had always done a lot of different things in the cities I visited, but Bratislava is rather limited from a strictly touristic point of view.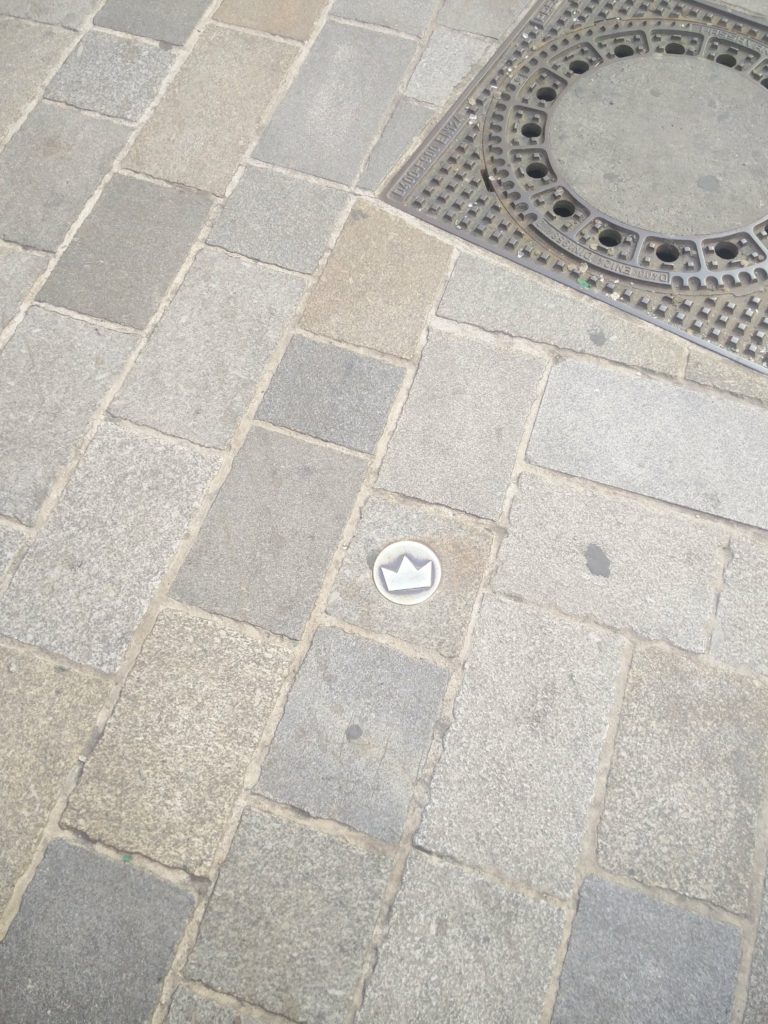 And I can't forget to mention a movie didn't help at all, Hostel. For those who haven't seen the movie, it's a horror film where three students go to Slovakia because they heard that girls were easy to hook up with there. And finally, once they arrive in Slovakia, one of them disappears, then another one, and I won't tell the whole story! Anyway, even though the movie wasn't shot in Slovakia, in the movie they clearly say it takes place in Slovakia. And after the movie was released, tourism in the country plummeted by 75%. Ouch…
Things to do in Bratislava in one day
The Bratislava castle
All right all right.. Let's stop with pessimism, and let's see the bright side of things. People are really friendly, indeed Slovak girls are beautiful, cost of living is reaaaaaally low (1.50 euro for a beer, 3.50 euros for a cocktail!), and yeah, there are places to see. The most popular touristic place is still the Bratislava castle. A lot of legends have been said about this castle and although it was partially destroyed and abandoned for about 150 years, this castle is allegedly 1000 years old. The castle is in the heights of the city, and it's possible to visit it for 8 euros. The castle is surrounded by beautiful gardens, and a lot of people take a walk there. Oh and by the way, Slovakia is the country with the most castles per capita.
St. Martin's cathedral
Not far from the castle is St. Martin's cathedral. Didn't find anything special, but I heard later that this cathedral is 600 years old. During this time, the cathedral has never been destroyed or damaged. Apparently it's a great pride of the country, and it's a national cultural monument.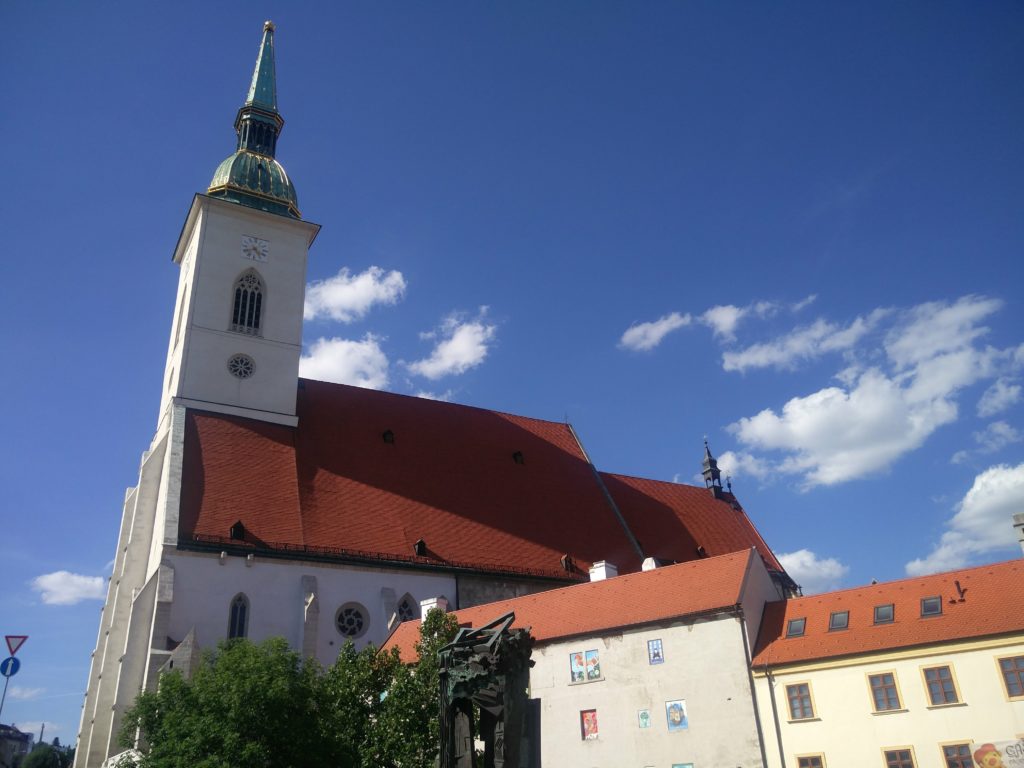 The UFO tower
St. Martin's cathedral is located next to a bridge, Most SNP. At the end of the bridge is the UFO tower. You can get on top of it but I couldn't do it since it was closed during my whole stay in Bratislava. But you can do it for 7 euros. On top of the tower, there's a classy restaurant and when you use their restrooms you have a 360 degrees view of Bratislava.
The blue church
Bratislava is also proud of the church of St. Elizabeth, mostly called the blue church, because yeah, as you might imagine, it's a blue one! And that's the only blue church in the whole country. Inside the church is not completely blue though…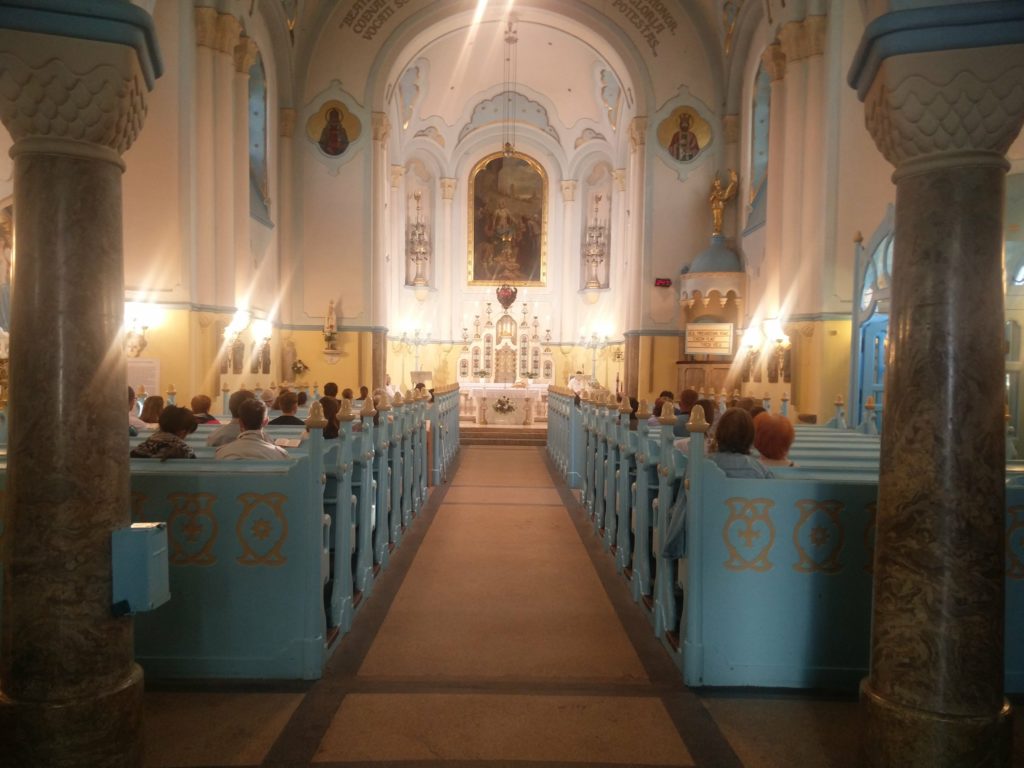 Bratislava, it's also the main square (hlvane), which exists since the 13th century, Michael's gate, the statue of man at work, the old slovak national theatre… I think that spending just one day in Bratislava is not enough. Cause even though there's not much, then you'll have to rush to see all those things and travelling is more about taking your time, enjoying the moment, rest and relax, not stress more!
Two to three days in this city, it's perfect! Before leaving, you should definitely buy one of these souvenirs from Slovakia! If you have some time, you can go on a Bratislava tour by bus. Click here for more info. What about the food? It's not great, but not bad either. If you're vegan, check out this vegan Bratislava guide.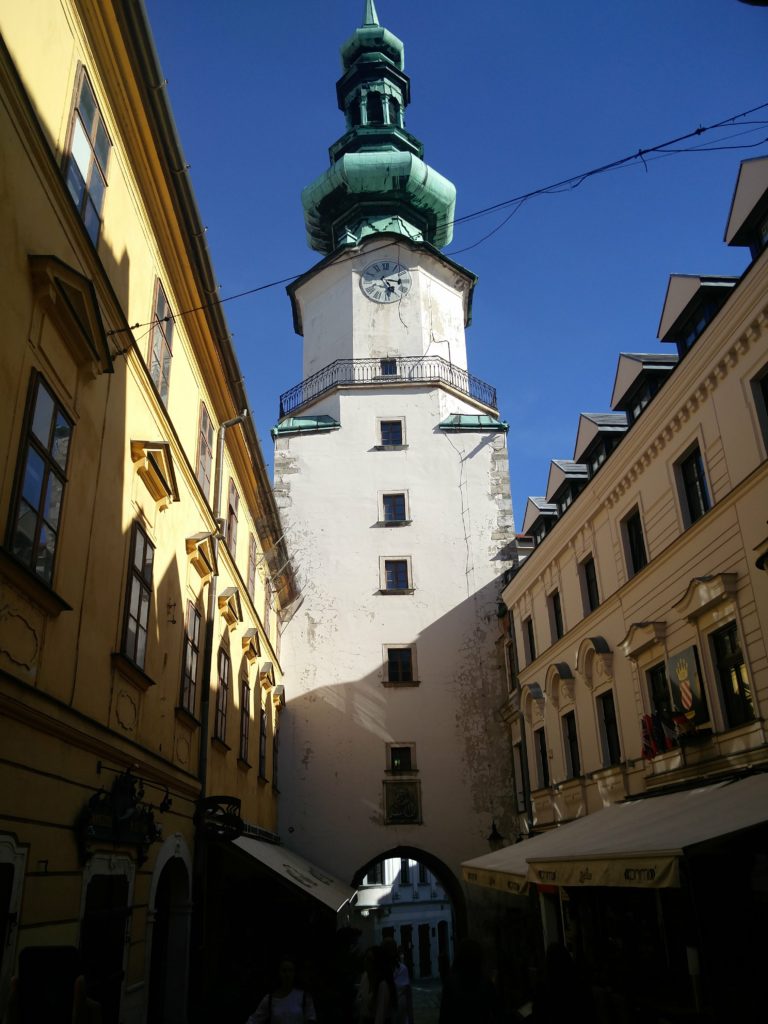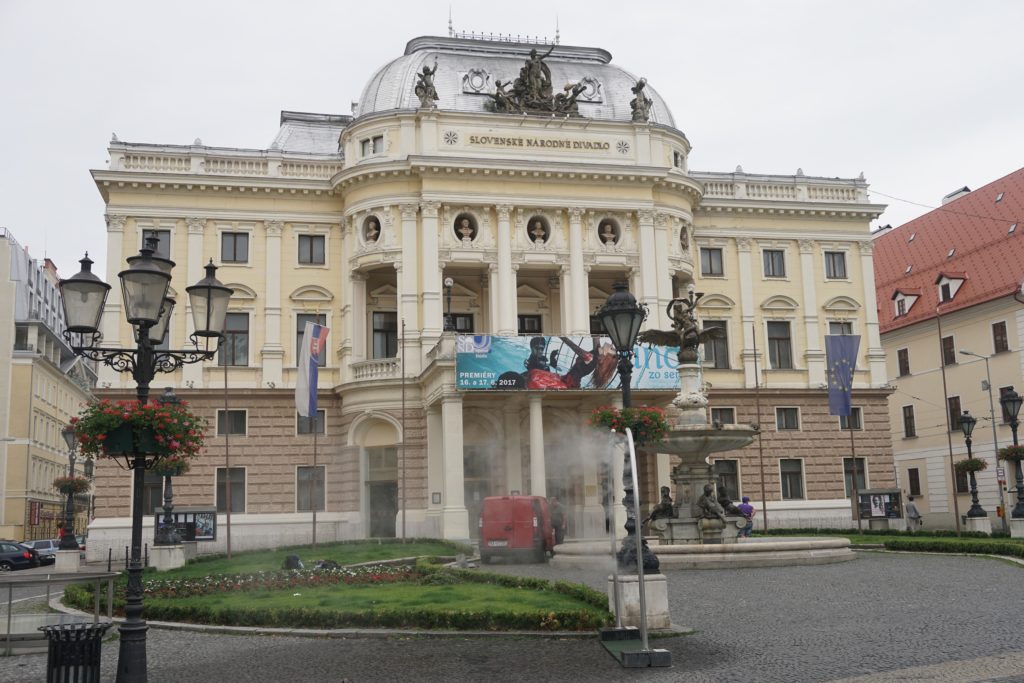 How to get to Bratislava
If you're in Vienna, you can get to Bratislava by train. It's a one-hour ride. Even from Prague or Budapest, getting to Bratislava by train or by bus is simple. Otherwise click here to check the latest flight prices.
How to get around in Bratislava
Bratislava is a small capital, it's possible to visit everything by foot.
Where to stay in Bratislava
If you stay more than one day in Bratislava, you have some options! If you're traveling on a budget, the Patio Hostel is a good one. Click here to book your stay. For a mid-range hotel, the Danubia Gate is well-located, very clean and the staff is really nice. Click here to book your stay. If you're looking for a luxury hotel, the Roset Boutique Hotel is made for you. Click here to book your stay. Otherwise click here to check the hotels available in Bratislava.
Finally, if you prefer to stay in an apartment, click here to check the apartments available on Airbnb.
Bratislava travel tips
Traveling soon? Check out my travel resources page! This list of travel accessories can also be useful!
Do not leave home without a travel insurance! Here's why buy travel insurance!
Want a tailor made trip to Slovakia? Get a free quote here!
Always use a VPN when traveling. I use ExpressVPN and I love it. Here's why use a VPN when traveling.
Easter tradition : they don't go egg hunting. Men go to see their girl friends and knock on their door. If they don't open quickly, a year of misfortune is waiting for them. Once they open the door, the guy spray the girl with a bucket (or a bottle) of water. The guy also brought a little whip made of wicker and whips the girl's butt. After that, the girl offers the guy cakes or eggs (for children), and a shot of local alcohol (for adults). Shot after shot, the atmosphere gets uninhibited and it ends up in a general good mood… "Popular" girls are visited dozens of times that day and get sprayed all day long. Less popular girls spend the day home by themselves, because nobody knock on their door…
Bratislava's nickname is "partyslava", according to a Slovak girl I talked to. However, on a thursday night after midnight, almost everything was closed… I also heard BRAtislava, because Slovak girls supposedly have big breasts. Didn't notice…
Zero tolerance for alcohol while driving. Too many alcohol abuse in the past.