Some links are affiliate links, which means if you make a purchase through these links, I earn a commission, at no extra cost to you.
I'm not gonna lie. I went to India with apprehension. In fact, I had a big apprehension before my visit to Delhi, the first city I visited in India. I heard so many conflicting things about this country, and I read a lot of contradictory information. I had already paid my flight and my visa, therefore I couldn't make a U-turn anymore. My first contact with the Indians was at the Dushanbe airport, in Tajikistan. There were almost only Indians in the plane, and we were ready to go to New Delhi. Once we were all seated and before taking off, I noticed one little thing. About half of the people in the plane (I'm not lying!) were taking selfies. Not just the youth, but also men and women in their fifties. The ones who were not taking selfies were making video calls, clearly showing the person they were talking to that they were in a plane, ready to go…
Description of Delhi
Before talking about the things to do in Delhi, let me describe the city! Once I arrived in Delhi, several things struck me. Even though you often hear this or that about this city or that country, it's always different when you actually face the reality, and when you see that reality from your own eyes. First thing first, the cows, quietly walking around outside. Yeah, in case you didn't know, cattles are considered sacred in India, symbolically this animal gives its milk to everyone. So they don't eat them, but they eat a lot of other things. Anyway, if a group of cows decide to cross a boulevard, all the cars are going to stop to let them pass. And you probably know cows are not the fastest animals in the world…
If it's not the cows, then you'll see stray dogs all over the place, literally invading the streets of New Delhi. Dogs are not sacred, but you can see them everywhere. Sprawled on the floor, sometimes dead, and people don't even care. Indian dogs are clearly not like our dogs. They're scared of humans, quite evidently they're mistreated, a lot of them are injured or with one eye missing. You can see in their look that they're unhappy, and many of them run away, head down, when you try to approach them.
Dogs are not the only ones sprawled on the floor. Men, women, and children too! Extreme poverty in India is not a myth, but the harsh reality. Families sleeping in the street, on a cardboard or on the floor, is very common. Three or four years old kids who asked me for money, it also happened several times. It's a bit embarrassing… Sometimes you see a dog on the floor, and a man next to it. Sometimes having a nap on the floor under the sun, sometimes quite simply dead. I was the only one shocked! Locals say "Whatever", cops just don't give a fuck! This is also something I heard, but rich people live just next to the poor ones. It was true. Apparently it's even more visible in Mumbai. Anyway, observing some beggars waiting for the closing time of restaurants, in order to get leftovers, is definitely something unpleasant to see.
Cows, dogs, poverty… I almost forgot the crowd outside, the bustle in the streets and of course the incessant horn blasts (motorbikes with horn blasts of a big truck, imagine the commotion!). A constant background noise. And the driving is crazy here, like in Iran. No rules, no limits. Quite often there's a reminder for the drivers "Don't drink and drive". Like in Shiraz, you have to be very careful when you cross the street, and keep in mind they drive on the left side of the road, India being a former British colony. Oh, and the absence of sidewalks in some areas of New Delhi. Therefore you have to walk on the edge of the road (for the two-way streets, stay on the right side to see the cars coming!). Don't take any risks, and do not go to India without a travel insurance!!!
What about the Indians? Many different "complexions". Another thing I already knew, they keep staring at you, like a real insistent look. I'm not the superstar I used to be in Central Asia anymore, just another man in the street again. However, they had their eyes glued to me as soon as they saw me. And they kept watching. Not that admiring look people had in Central Asia. Some kids say "Namaste" (hello) when they see me, others ask for pictures. Mostly children and teenagers. Their confusing look made me laugh when we were talking. Indeed, after traveling in Central Asia, I got into the habit of saying "Da" ("yes" in Russian) when I was having conversations…
Something else I noticed after a few days : the lack of women. I mean… There are women, but the gender ratio is completely unbalanced. Way too many men for the few women I saw in the street. They're here, they're just not visible. When I spotted women, they were systematically walking in big groups, like a herd. They stay in group to avoid sexual harassment from Indian guys, something still very common in the country and in New Delhi. The sad part is, because of this, New Delhi is the first destination where I literally had no interactions at all with a local girl. Everywhere I go, I always find a way to talk to the locals, and it always works! In New Delhi, I had interesting conversations with men. But no conversations at all with women (hello/thank you/good bye to a waitress/storekeeper/vendor doesn't count, I'm talking about a real exchange of ideas!).
All right, let's test out their subway then and see how it goes… It's definitely not in the New Delhi subway that I'll be able to interact with an Indian girl. Like in Tehran, women have a wagon just for them in the subway, and needless to say, they all stay there. When the subway arrives at a station, they all run and jostle one another to have a seat inside. Anyway they don't know how to stand in line in general… I also noticed India is a very "connected" country. Internet in India is very fast compared to Central Asia, and even in the subway, there are outlets next to some seats, to charge your phone/tablet/laptop. Plugs always taken of course…
Therefore I cannot say much about Indian girls in New Delhi, but I can talk about Indian guys. Quite discreet but friendly and speaking a proper English. Five or six of them told me I had a good aura, good energy. I appreciate 🙂 An Indian guy touched my arm, my head, and then started telling me things about my past, my present, and even my future! Everything he said waas correct! Impressive! Oh and I was really taken with the sikhs, all very friendly and apparently known for being open-minded, bon vivant, funny… That's true, I can tell 🙂 All the sikhs I talked to were very nice. You can recognize them quite easily, those are the Indians with a turban over their head and a big beard. I saw many sikhs later on the road in an area called Little India in Bangkok, Thailand.
The heat was killing me… However I didn't see any Indians wearing shorts (and it's not forbidden to wear them in this country). Walking around in the streets of New Delhi, I saw several guys holding hands. Being a conservative country, I quickly understood I wasn't passing by gay couples, but friends. It's just amicable, simple friendship. We also see groups of men playing cards outside. We have to find a way to kill the time…
From school, boys and girls are separated. Yes, school is not coeducational, boys have a male teacher, and girls a female teacher (they want to make sure a pupil will not fall in love with his/her teacher!). I can't tell when exactly men and women really start to interact, but one thing for sure, this has an impact on their lives for decades, if not forever.
Let me explain you : I was with a French couple and we were all going to a small shop selling smartphones. The French girl needed a new phone, the one she had wasn't working anymore, so I went to the shop with them. "Hey! How can I help you?" And she said "I need a new phone, not too bad, but not too expensive blablabla…" I stayed in the background but I could clearly see and hear what was going on. The salesman presented a few smartphones, and as I was listening to his speech, I noticed he was only talking to the guy, not speaking to the girl, actually not even looking at her at all. After a few minutes, the guy said "Huh… I'm not the one who needs a new phone, my girlfriend wants to buy, not me…" And the salesman "All right", and he kept talking to the guy only! Bragging about the front cameras of his phones, and the perfect selfies we can take with them… Wow! I probably would have been mad if I were this girl!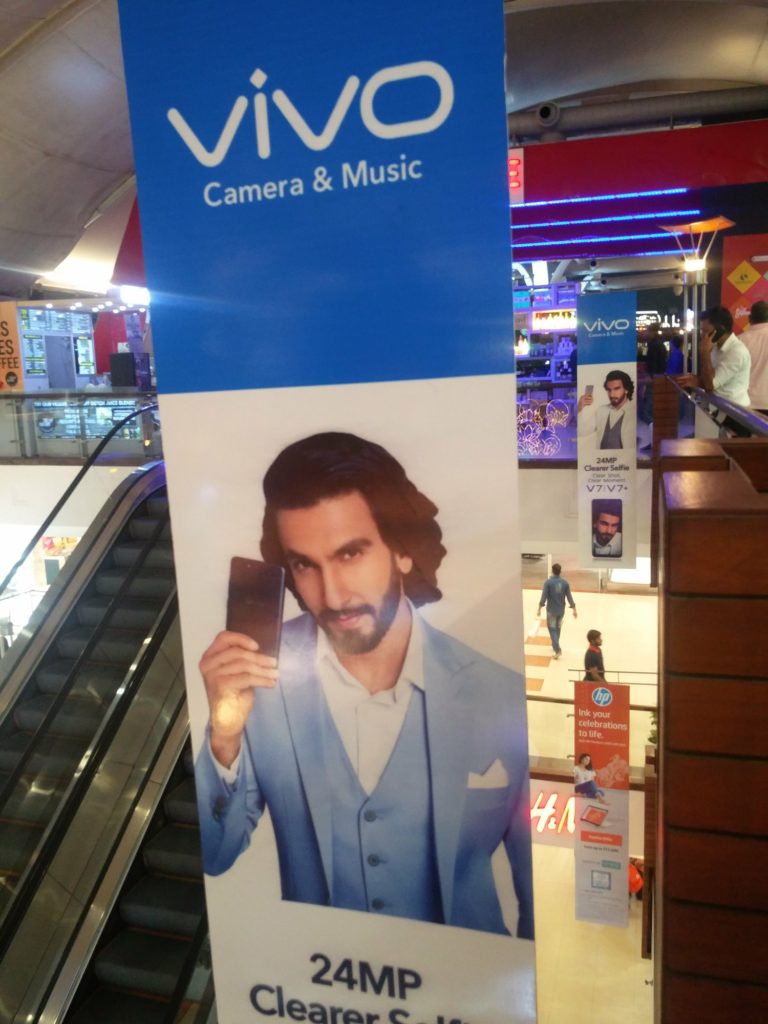 Things to do in Delhi
Qutb Minar
New Delhi being a big city, there are a few things to visit for us tourists. Qutub Minar, a UNESCO world heritage site, is the highest minaret in India, and the third highest minaret in the world. It reminded me of Uzbekistan… Anyway this minaret is 72 meters tall (239.5 feet), and its construction started around 1192. Very popular minaret among locals, I saw many Indians there. The entrance fee is 500 rupees (6.50€) for tourists. I didn't mean to do it, but I used the way out to get in there. Therefore I didn't pay!
Akshardham temple
Akshardham temple is a must see in New Delhi. I enjoyed more visiting this temple than the Angkor temples! In fact, I could have written a whole article about the Akshardham temple… If only they were allowing people to take pictures! What a pity! We have to give all our stuff to a guy from the staff, who puts everything in the lockers room. Camera, cellphone… Everything! Too bad, even though it's crowded, this temple is exceptionally beautiful! Officially open in 2005, it was built in honor of Swaminarayan, one of the founders of Swaminarayan Hinduism. This temple is actually a big complex with gardens, three different exhibitions about India, Swaminarayan, and there's also a fountain. I heard that in the evening, there's a very beautiful water show to watch! If you can make it in the evening, just go! In this temple, I noticed for the first time that Indians systematically touch the wall before getting in a temple, and hold their hands in front of the statues. Entrance is free.
The Lotus temple
The Lotus temple, a temple built 30 years ago, is known for its flowerlike shape. It's one of the main temples of Baha'i Faith, one of the (numerous) religions in India. You need to take off your shoes to get in, and it's forbidden to take pictures inside. There's not much inside anyway. Essentially a big room where hundreds of believers can gather. It's still possible to enjoy the gardens surrounding the temple. Entrance is free, and the lotus temple being popular, it's almost always crowded.
Safdarjung's tomb
Safdarjung's tomb, built in 1754, is also a place you have to go. Not just for the tomb itself, but also because it's one of the very few quiet places in New Delhi, No noise pollution of the city, no horn blasts… Safdarjung was the governor of what is a part of Uttar Pradesh in India today. Beautiful gardens surround the mausoleum, and Indian couples go there to chill… It's 15 rupees (0.20€) for Indians to get there, 200 rupees (2.50€) for tourists.
Humayun's tomb
Humayun's tomb, the tomb of the Mughal emperor Humayun, who lived during the 16th century. He's not the only one resting here, 150 members of his family are also there. Once again, this mausoleum is surrounded by beautiful gardens. Humayun's tomb is also a UNESCO world heritage site. 30 rupees (0.40€) for Indians to get in, 500 rupees (6.50€) for the tourists. By the way, a class of 100 Indian kids cheered me while I was passing by them! 😀
Haus Khas village
You can also stop by Hauz Khas village. First you'll pass by a street with many bars, clubs, trendy cafés, expensive shops… The golden youth, the Indian hipsters… They all go there! Young couples as well. Interesting to see. After the bars, a complex with a mosque, a tomb, an Islamic seminary and a few pavilions. When you get in front of the complex, a local will "tell" you the story of this complex for like 30 seconds, and then ask for a tip! Tell him to fuck off!
Gurudwara Bangla Sahib
I wanted to go to Gurudwara Bangla Sahib but they didn't let me in… Because you need to cover your head to get in. A gurudwara is a place of worship for Sikhs, those Indians I was talking about earlier with a turban over their head. Anyone can get in (if you cover your head), and from what I know, there's free food inside. Entrance is free.
The Red Fort
I also wanted to go to Jama Masjid, one of the largest mosques in India, but I went there on a Friday and it was closed for tourists for several hours. Since I didn't want to wait, even less pay 300 rupees (4 euros) to be able to take pictures, I didn't stay. Oh and I almost forgot the Red Fort, I passed by this fort but many tourists told me it wasn't worth the 500 rupees (6.50€) to get in, although it's beautiful from the outside.
I heard several times "India, either you love it or you hate it". I can't say I loved it, but I didn't hate it either. New Delhi is far from being a perfect city, but I didn't have a bad time there. However, I met a lot of travelers (mostly French) who hated the city, even leaving there shocked! I told you before, poverty in India is not a myth. The France embassy in India is one of the very few to have a psychological support unit… Yep, India shocks people, and some travelers don't get over it. The Indians I met there are probably the reason I didn't hate the city, far from the bad image and the prejudices I had about Indians before going to India. I stayed at a hostel managed by a group of young Indians, all cool, and I hung out with them (bars, bowling, restaurants…) I had a better stay in New Delhi thanks to those guys. Apart from that, it was also interesting to observe the Indian culture from my own eyes. Wanna experience Delhi from another perspective? Read this Old Delhi tourist places guide.
How to get to Delhi
You'll probably get to Delhi by plane. Click here to check the latest flight prices. Check the visa policy of India here. Most Western countries can apply for a visa online here, if you plan to stay less than two months in the country. For the e-visa, you'll have to pay 50 US dollars. Otherwise you'll have to go to an Indian embassy if you wanna stay more than two months.
If you're already in India, you can also get to Delhi by train.
How to get around in Delhi
The easiest way to get around in Delhi is by subway. It serves the whole city. Otherwise there are tuktuks, always bargain the prices. Oh and you can rent a car with a driver for the day. Click here for more info.
Where to stay in Delhi
If you're traveling on a budget, you can stay at the Moustache Hostel Delhi, a good one. Click here to book your stay. Looking for a mid-range hotel? The Bloomrooms will satisfy you. Click here to book your stay. If you're into luxury hotels, then you should stay at the Leela Palace. Click here to book your stay. Otherwise click here to check what are the hotels available in Delhi.
Finally, if you prefer to stay in an apartment, click here to check the apartments available on Airbnb.
New Delhi travel tips
Traveling soon? Check out my travel resources page! This list of travel accessories can also be useful!
India is far from being the safest country in the world. Do not go there without a travel insurance!!! Here's why buy travel insurance!
Want a tailor-made trip to India? Get a free quote here!
Planning a trip in North India? Here are 4 one-month itineraries for North India!
When you leave the New Delhi airport, avoid the taxis, they just want to rip you off! Take the subway! Indians are really deceitful! On the international arrivals part of the airport, it's impossible to know where to take the subway. When you leave the arrivals, turn right and walk for a few minutes. You'll get to the domestic arrivals. And over there, you'll see signs everywhere telling you where to go to take the subway.
Take the express line. From the airport, you'll get to the city center in 20 minutes!
The price of the subway ticket varies, depending on your destination. It goes from 10 to 60 rupees (0.15€ to 0.80€).
Around Gurdwara Bangla Sahib, several Indians will try to lure you to a travel agency nearby with no scruples. Do not go there!!! I went there despite myself, but I have no problems saying no. If you end up there, you need to know they'll do anything to sell you something! They were three, all trying to sell me a tour for like 45 minutes, but I was stronger and didn't spend a single penny!
There's Uber in New Delhi, and it's very cheap! I spent 30 minutes in the taxi, and I paid like 2 euros… By the way, India is a cheap place to travel on a budget!
Very important in India! For your online security, don't forget to use a VPN! I use ExpressVPN, fast and efficient! Here's why use a VPN when traveling.