Some links are affiliate links, which means if you make a purchase through these links, I earn a commission, at no extra cost to you.
I didn't plan to go to Jaipur. The thing is, after visiting New Delhi, and also Agra and its Taj Mahal, two cities of the golden triangle in India, I was like "All right, let's complete the circle and visit the third city of this golden triangle, Jaipur". And Jaipur is only 240 kilometers (150 miles) away from Agra, a tiny distance on an Indian scale. Even though I heard mixed opinions about this city, I decided to go visit Jaipur. Actually Jaipur is the capital of Rajasthan, an Indian state visited by many tourists. And yeah in any place with many tourists, you'll find unscrupulous Indian guys, trying to do anything to rip off their visitors, especially those a bit too naive…
Description of Jaipur
Yes, Jaipur is the city where I felt like I was being harassed by the Indians the most! They kept using various stratagems and trickeries in order to get money from you! Of course, it was already like this in New Delhi, and in Agra as well (with all the tourists there thanks to the Taj Mahal, it's easier to find suckers!). But in Jaipur, it was too much! Maybe the two cities previously visited worn me out, but in Jaipur it was non stop! From the moment I got off the bus from Agra, where all the tuktuk drivers were too insistent, until the moment I left the city!
Two examples. That young guy who came to me "I don't get it… You, all the tourists here, why don't you want to talk to us, the nice Indians?" I was like "Seriously!?". But he's young, I'm gonna explain him that we're constanstly assailed by all kind of sellers, and then we get bitter, and we don't wanna talk anymore, etc… I start my little explanation but actually he doesn't care, he's not listening to me. Everytime I start a sentence he says "Wait… The horn blasts… Because of the cars… I can't here you!" There was indeed a lot of traffic in the area, but still, we could easily hear each other! "Come here… This way… So we can talk". I quickly understood. He was trying to lure me in his shop nearby to sell me his shitty trinkets. I stopped abruptly "We talk here", I said in a firm tone. And I answered his question. All of sudden he was hearing everything I was telling him… (You should have seen his face when I said "We talk here", very surprised to meet a tourist who understood his little scheme!)
Anyway, there was also this tuktuk driver, not happy. Since I'm good at bargaining, I ended up paying a very low price from the Amber fort, to the city of Jaipur. But Indians there are deceitful… It was a 15 kilometers ride but the driver stopped like one kilometer before reaching my destination. "I'm in a hurry, I have something to do and I didn't think the ride would take that long! But you saw it by yourself, it was hard to move on with all the traffic… Anyway, my buddy's just here, get in his tuktuk and he'll take you where you want to go. Needless to say, he's doing this for free!" You fucking think I believe you!? For free??? I told him "We're close now, I'm gonna walk". I paid, and I left. (Yeah usually tourists don't wanna walk one kilometer, so they get in the second tuktuk and end up paying twice! Or they refuse to pay the price bargained with the first driver since he didn't reach the final destination! They don't know me!).
And other schemes, permanently, during my whole stay there! Can't forget this Indian guy who tried to get my credit card number… At the end of the day, you're completely tired mentally, you always have to pay attention to the various scams in the capital of Rajasthan. But let's try to focus on my visit to Jaipur. It's a relatively new city on an Indian scale. It was built during the 18th century, and the old city is surrounded by a big wall.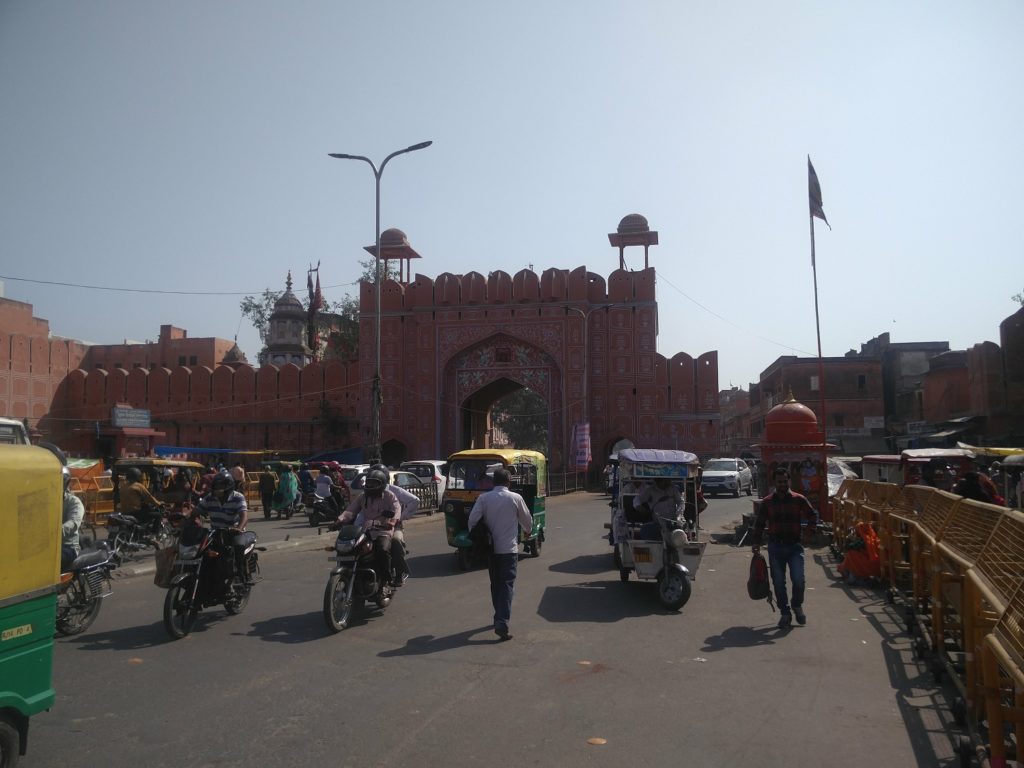 Jaipur is also called the pink city. Indeed, the city was painted pink in 1876 to welcome Edward VII, who was about to visit the city. They decided to paint it pink because pink is known as the color of hospitality in India. And today, inhabitants and storekeepers have to keep their facade pink (that's the law!). In fact… Officially it has to be pink. But if you walk around, you'll see that it goes from pink to red, sometimes orange, or even grey…
Something surprised me during my first moments in Jaipur. People riding a motorbike almost all have a helmet. Wow, I don't remember seeing one single person with a helmet in Delhi, nor in Agra. The driving is still insane, so I try to take the subway as much as possible. Funny, at every station, a guy is getting paid to get your ticket at the ticket machine. Seated on his chair, he asks you where you want to go, takes your money, puts it in the ticket machine, and gives you your ticket! I know we have to combat unemployment but come on! I can do it myself! Like New Delhi, the price varies depending on your destination. But unlike Delhi, there's no wagon for women only. Anyway the subway is not the same… There are only two subway lines, and it comes every 15 minutes…
I didn't miss this but in Jaipur, people ask for pictures again. It happened a few times in Delhi, but not as often as here. Like in Central Asia, there are very few black people. In fact, I only saw one black guy in Jaipur! Everytime they ask to get a picture with me, I take advantage of the situation and start a conversation. I noticed there were many vegetarian restaurants in the city, and when I told them I wanted to eat meat, they said "There are very few options here if you're looking for a restaurant serving meat, sorry". Vegetarian friends, you know where to go 🙂
Things to do in Jaipur
The Hawa Mahal
What are the spots to visit in Jaipur? The iconic place of Jaipur is the Hawa Mahal, literally "Palace of Winds". Less impressive for real than on photo, this is one of the most popular tourist attractions of the city. This palace was built in 1799 in red and pink coloured sand stoned, it has almost 1000 small windows, and its facade is 15 meters (50 feet) tall. At the time, in this palace women of the harem could see what was going on outside, and not be seen. I didn't get in, many people told me the palace was more impressive from outside than inside. But the entrance is cheap (from what I remember 50 rupees, or 0.65€). Oh by the way, some Indians will try to lure you on the terrace in front of the palace "for the incredible view". If you follow them, they'll try to sell you their trinkets, their souvenirs…
The Amber fort
The other unmissable spot in Jaipur, the Amber fort, which is a UNESCO world heritage site. Actually not exactly in Jaipur, but 15 kilometers (10 miles) away. The Amber fort was built on a hill in 1592, and it was the residence of the Rajput maharajas and their families. The fort, constructed of red sandstone and marble, is laid out on four levels. You'll need some time to visit it, and being a popular spot, you won't be alone… You'll also notice that there are elephants there, carrying some tourists from the the bottom of the fort all the way down, to the entrance in the heights of the hills. Use your legs to go all the way up, you'll stay active without even noticing. Elephants there are mistreated, so do not ride them! If you're into forts, here are the best forts of Rajasthan. And here's more info if you plan to make a trip to Amer fort.
The Jal Mahal
On the way to the fort, ask your tuktuk driver to stop and admire the Jal mahal, also called the Water palace. Obviously it's not possible to visit it since it's in the middle of the water, but it's nice for the pictures!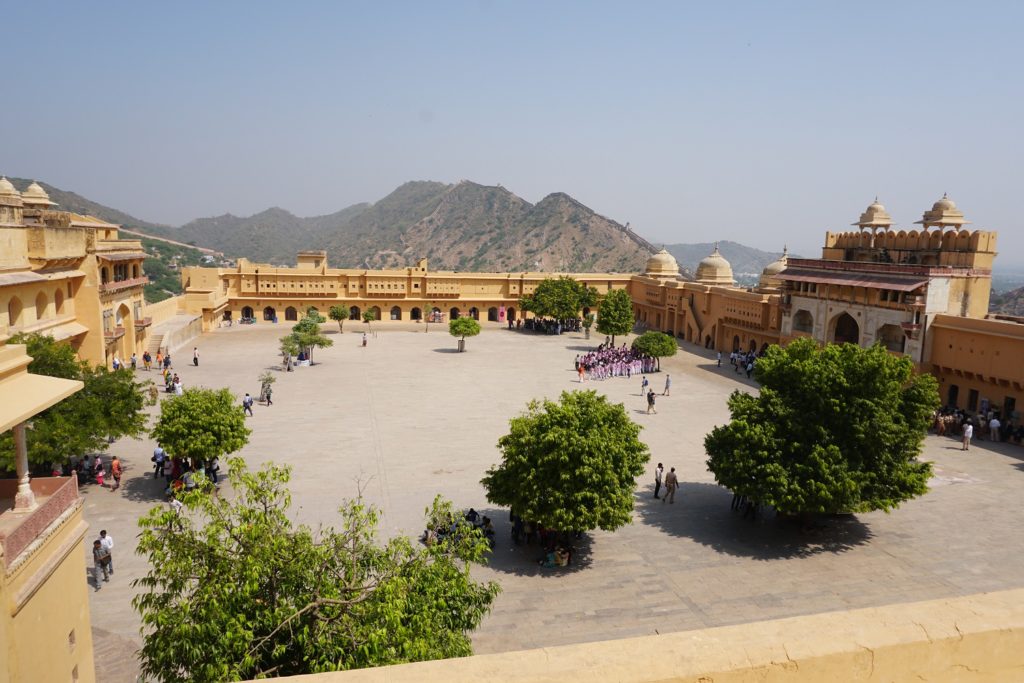 The City Palace
There's also the City Palace, in the heart of the city. It's actually a complex of various palaces, courtyards and gardens, and it's the seat of the maharaja of Jaipur. The city palace was built between 1729 and 1732, and also attracts many visitors. It's 500 rupees (6.50€) to get in for the tourists, 130 (1.70€) for the locals.
The Jantar Mantar
Next to the city palace, there's the Jantar Mantar, also a UNESCO world heritage site. Jantar Mantar is actually an astronomical observatory. It was built during the 18th century by the maharaja Jai Singh II, who was passionate about astronomy. In this observatory, there are 19 different tools making it possible to situate exactly where the planets are. I have to admit the visit would have probably been more interesting with an audioguide, but no time for regrets!
Other things to do in Jaipur
There are also unmissable places in Jaipur that I didn't visit. 10 kilometers (6 miles) away from Jaipur, there's the monkey temple (I didn't go, I don't like being surrounded by dozens of monkeys prowling around you freely, and you have to look after your stuff!), the Albert hall museum (didn't hear good things about it), the Jaigarh fort not far from the Amber fort, the Nahargarh fort… Hey you're reading a blog, not a travel guide, so I picked a few places to visit and the other ones… Fuck it!
In fact, as I said in the first paragraph, I didn't plan to go to Jaipur. And I think the best thing to do was just not to go. I didn't really like my stay there, the Indians and their trickeries, the traffic and the crowd again… Plus there was some kind racism. Those little things didn't motivate me to visit all the different spots in the city. We're not always winning when we're traveling! But I wanted to see the third city of the Indian golden triangle. I saw it, but I don't know if I'll go back there one day…
How to get to Jaipur
From Agra, I paid 800 rupees (10.50€) in a deluxe bus, for a 5 hours and 30 minutes ride. Admittedly deluxe, but a little child threw up in the bus, and his mom didn't even clean the vomit that spread all over the bus (and you don't have the smell…). Most people who are in Delhi or Agra go to Jaipur by train. I don't have the prices but it's not expensive. Otherwise there's an airport in Jaipur. Click here to check the latest flight prices.
How to get around in Jaipur
There's the subway in Jaipur, I used it a lot! Otherwise there are tuktuks (always negotiate the prices), the buses (didn't use them) and the taxis. There's also Uber here, and the tuktuk drivers are not happy at all, it's harder to rip off tourists with their inflated prices! Many tuktuk will propose having a city tour, passing by the main tourist attractions. If you tell them "Take me to that place only, I don't wanna visit the city", they'll respond in an irritated tone "If you just want to go to one place, use Uber!!!" FYI it's possible to go on a day tour in Jaipur and visit the main tourist attractions. Click here for more info.
Where to stay in Jaipur
If you're traveling on a budget, the Jaipur Jantar Hostel is a good one. Click here to book your stay. If you're looking for a mid-range hotel, the Dera Rawatsar has a great staff, and there's a swimming pool! Click here to book your stay. If you're into luxury hotels, then the Samode Haveli will satisfy you. Click here to book your stay. Otherwise click here to check the hotels available in Jaipur.
Finally, if you prefer to stay in an apartment, click here to check the apartments available on Airbnb.
Jaipur travel tips
Traveling soon? Check out my travel resources page! This list of travel accessories can also be useful!
Check the visa policy of India here. Most Western countries can apply for a visa online here, if you plan to stay less than two months in the country. For the e-visa, you'll have to pay 50 US dollars. Otherwise you'll have to go to an India embassy if you wanna stay more than two months.
India is far from being the safest country in the world, do not go there without a travel insurance! Here's why buy travel insurance!
Want a tailor-made trip to India? Get a free quote here!
I didn't write the price per tourist attraction because in Jaipur, you can get a city pass for 1000 rupees (13.50€). With this pass, you can get in many places like the Amber fort, the Albert hall museum, the Jantar Mantar, the Hawa Mahal, the Nahargarh fort… The city palace is not included in the pass. They sell the city pass at each ticket booth where it's valid.
Traveling in Rajasthan? Then try a camel safari in Jaisalmer!
Very important in India! For your online security, don't forget to use a VPN! I use ExpressVPN, fast and very efficient! Here's why use a VPN when traveling.
India is one of the cheapest places to travel!