Some links are affiliate links, which means if you make a purchase through these links, I earn a commission, at no extra cost to you.
Are the Japanese sexually frustrated? I think so. I know a lot of Japanophile won't agree with me. They'll say that I cannot understand this culture so different from ours anyway. They'll say it's easy to think the Japanese are sexually frustrated after spending only three weeks in the country. They'll say that by staying several years in the country, I would have understood that no, the Japanese are not sexually frustrated, they're just different, with their codes and their culture explaining the way they are. That doesn't prevent me from coming to my own conclusions after three weeks spent in Japan : to me, although the Japanese sex culture is different from ours, the sexual frustration of the Japanese cannot be ignored, it's almost palpable in the air.
Why do I say this? Those who follow the blog (and those who know me personally) know that I'm curious by nature, I like to stay in the background and just watch people, but I also love asking questions to the locals in general. Sometimes I try to understand things escaping us, Westerners with our Western vision and our Western mentality. But in Japan, on numerous occasions, I couldn't help but raise my eyebrows or ask myself questions. Let's start with what I saw, then let's find some leads which might explain their behavior and the sexual frustration of the Japanese. In a nutshell, we wanna know what is the Japanese sexuality culture, and why is Japanese culture so sexualized?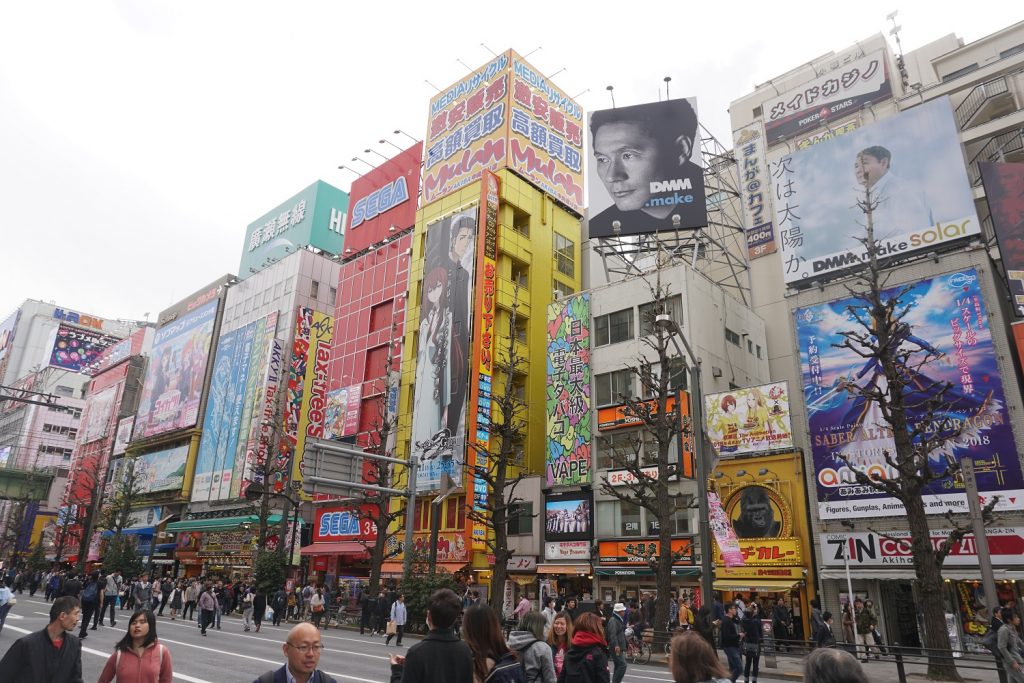 Are the Japanese perverts
I had been in Japan for less than 24 hours, and I was comfortably ensconced in my seat, in the shinkansen (Japanese high-speed train) from Kagoshima to Tokyo. A bit further, a Japanese woman was dozing, her head leaning against the window. An empty seat separated her from a Japanese guy wearing a suit. I wasn't paying attention to them, until I heard the noise of a smartphone taking a picture.
Hundreds of people tried to take pictures of me sneakily when traveling (that's what it's like, traveling while black!), and when I hear this noise, I assume someone just took a picture of me… But this time I was wrong. The Japanese guy wearing a suit was taking a picture of the Japanese woman sleeping next to him, especially her legs (she was wearing a skirt…). As soon as he realized I noticed his shady goings-on, he took his belongings in a few seconds and left! Yeah I know, there are pervs everywhere, but it's not over…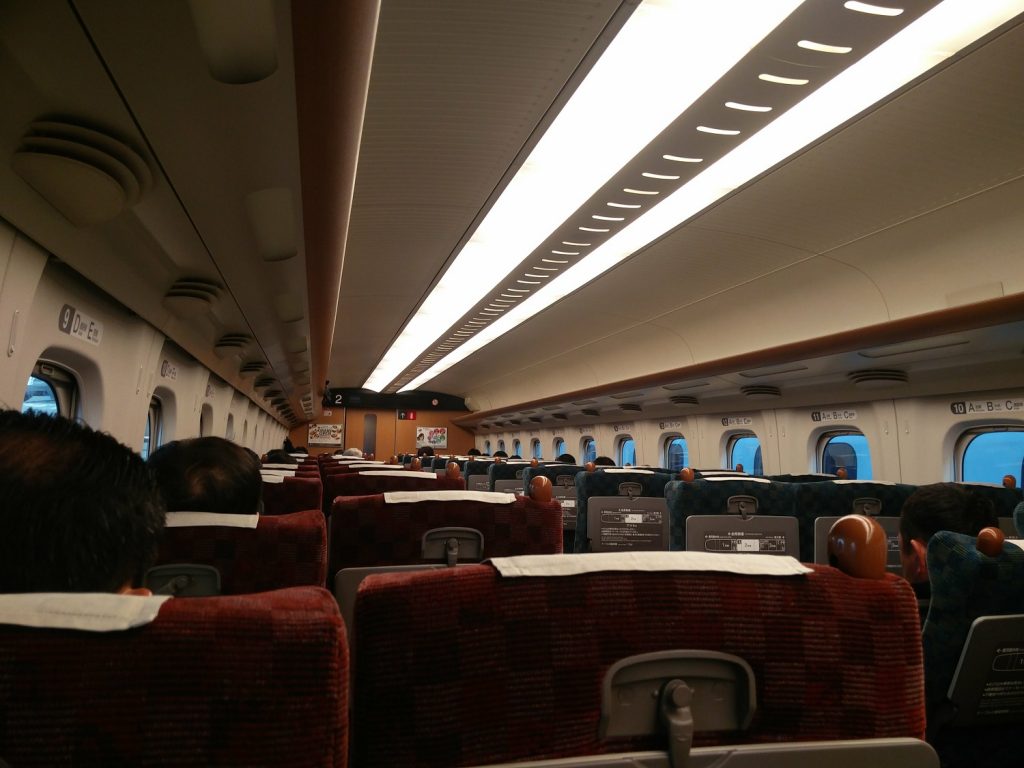 Omnipresence of porn in Japan
The night before, I was in the common area of the hostel where I stayed for one night only, in Kagoshima. I was one of the very few clients there. I had a great conversation with the owner, a friendly 55-years-old Japanese woman. Around midnight, she got tired, so she went to sleep "Please don't forget to turn off the lights and the TV before going to bed, thank you!" I was working on the blog, and I wasn't paying attention to the TV… until I felt like it was time to sleep! I decided to watch quickly what was on TV… Flipping through the channels, there was almost porn only!
Seriously they were not broadcasting an umpteenth rerun of an old TV show, but porn on numerous channels. My curiosity was piqued and pushed me to watch for a few minutes. The "scenario" -if we can say there's a scenario in porn…- was more or less always the same : the actor rapes the actress, who often looks veeeeery young. Surprising, there was also porn anime. Once again, on several channels, I saw more or less the same thing : an octopus was making several girls come at the same time with its tentacles. Weird fantasy… I also had to mention the adult game shows like this one…
Japanese Game Show

Japanese game show where men have to sing karaoke while getting a hand job, and need to make it to the end of the song to win.

Publiée par Liberty or Death sur Mardi 12 décembre 2017
It wasn't over yet. In Tokyo, I saw a guy jerking off outside, in a discreet street, watching a video on his smartphone he put on the ground… in broad daylight, at 3pm! In Tokyo again, in Kabukicho, known for being the disreputable area of Tokyo, a weird guy asked me if I wanted hot girls to have sex with… at 11am! Yeah it happens in Paris (where I live), but rarely in the morning, and never miming a penetration with their fingers!
That was a lot of little things adding up in just a few days in Japan! Again, it wasn't over. One evening, I was having a walk in Akihabara, Tokyo. An area filled with arcade games, stores selling video games, mangas, figurines… I ended up in one of those stores, watching mangas but also video games from the 1990s. I almost didn't notice the discreet, obscure stairs. I decided to go upstairs to see what was up there. And what did I see?
Porn, once again porn, more and more porn! It wasn't of of those stores selling mangas but a seven-floor building selling porn. The first floor was the only "normal" one, but from the 2nd to the 7th floor, it was just porn! Of course, you could find DVDs, but also hentai (porn mangas), love dolls in silicone, virtual reality headsets… I also stumbled upon this, and for a few minutes, I was like "What the hell is this!?"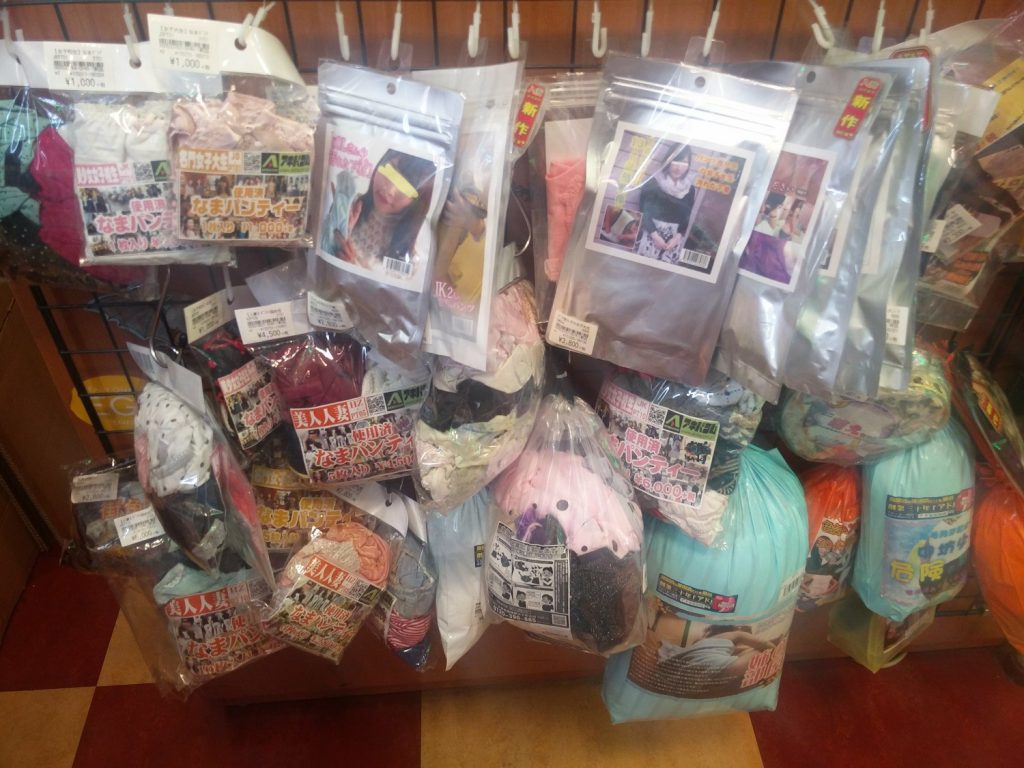 Dirty panties fantasy
Got it? Those are dirty panties. Yeah panties already worn by Japanese women, and now for sale in this building. I have to tell you, taking pictures was strictly forbidden, I took a risk for you guys 😀 I took a closer look, and I realized those panties were not only worn by Japanese women before. The women in question got wet in their panties/produced vaginal lubrication, before their panties were offered for sale. I found out later that dirty panties is a fantasy in several parts of the world, but extremely popular in Japan! Around me, three different customers were about to buy dirty panties.
Since I was apparently in sex paradise in Tokyo, I made the most of it and I visited the whole building! This is when I realized the Japanese have really twisted fantasies sometimes… Again, in several hentai, I saw octopuses sweeping off their feet five or six girls at the same time. All over the building, they sell dirty panties (prices varied a lot, I think it depends on who wore it, how long the girl wore it, if she got wet…).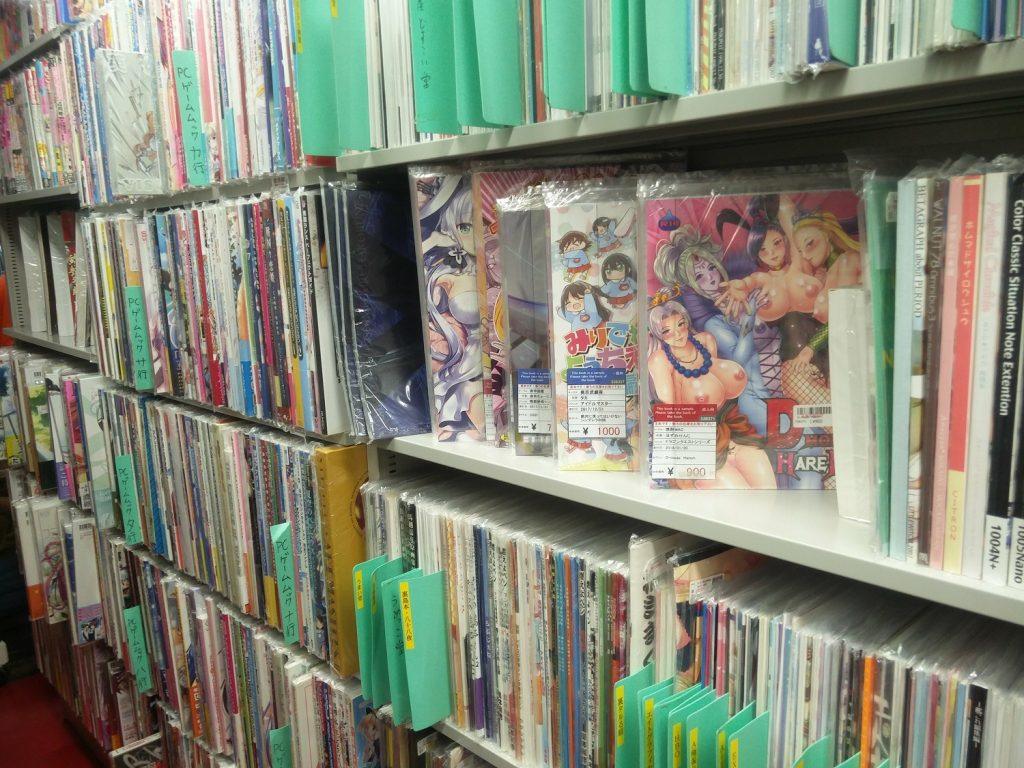 High-schooler fantasy
Something was more shocking to me. They were selling numerous playing cards. On the cards, instead of the usual spades, diamonds, jack… you see Japanese girls who look like teenagers around 15, in lascivious positions… I said 15 but sometimes I wondered if they were not 12 or 13 only, they looked like kids! It reminded me of the porn movies I had watched a few days earlier at the hostel, where the actresses all looked extremely young. It's probably a fantasy, to have sex with an innocent and virgin high-schooler, and punish her in bed. Indeed, in the movies, the actor was always raping the actress…
All those things, I saw them during the first few days of my stay in Japan. You can only imagine my surprise! I knew the Japanese had a different relationship with sex, but it always feels different when you see all those things with your own eyes. Obviously, after all those observations, the first question that comes to mind is… why??? Why do they broadcast porn on numerous channels at night? What's this thing with the octopuses? Why does it seem like they have a thing for very young Japanese girls? And what about this rape fantasy?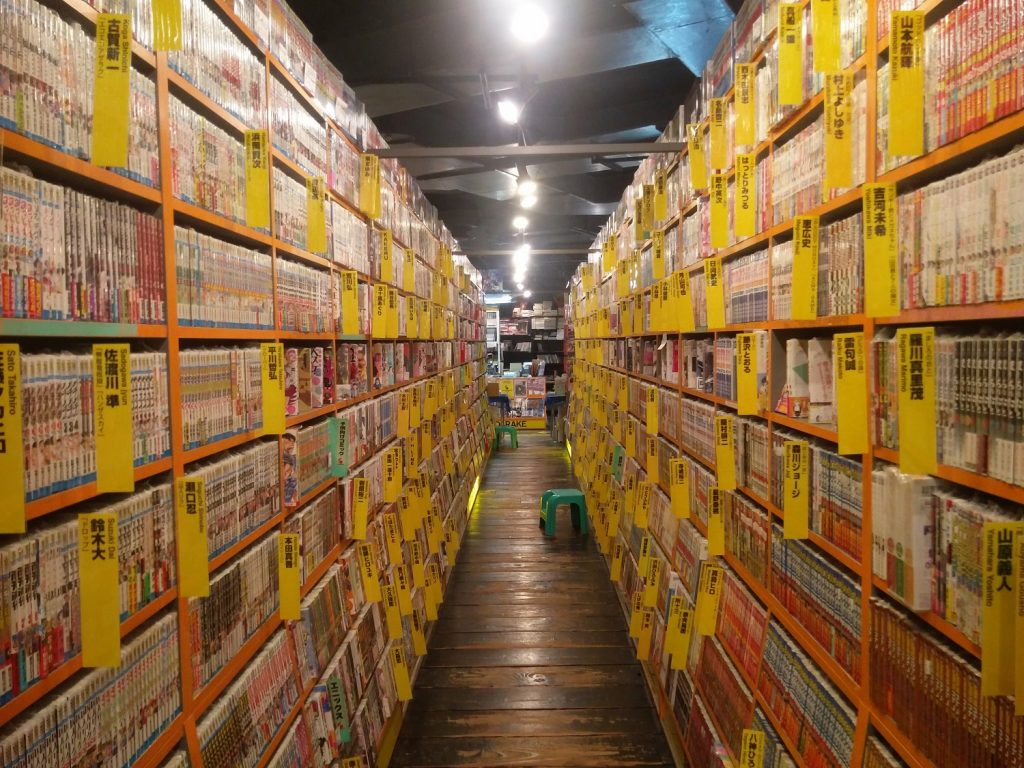 Nonexistent interactions between men and women
My understanding is, from an early age, boys and girls don't really grow up together. Yeah, schools are mixed, but boys and girls don't really mingle. Moreover, in some schools, flings are forbidden! With young Japanese focused on their studies, always trying to get the best grades possible in order to get into a good university, the interactions between boys and girls are almost nonexistent from school. Even in the afternoon, during extracurricular activities, boys and girls choose different activities, so they don't really mingle. It's the same during the weekend, where boys meet up together, and girls do the same.
It lasts until they enter university where finally, boys and girls start to rub shoulders with each other. The problem is, until then, boys and girls have had very few interactions. The Japanese boys don't really know to handle it, although it's possible to have a clue thanks to the numerous didactic video games about men and women relationship. In front of them, they see beautiful women, more and more modern and independent, not submissive at all like they used to be, at a time when things were simpler cause marriages were arranged anyway.
They don't know how to approach those girls, and if by any chance they pick up one, they'll have to support themselves and their girlfriend, financially, especially if they're getting married and have babies (very often in Japan, women leave their job after their first child, but men keep working). Anyway, the Japanese men are tired just thinking about their future duties, and they prefer to give up the idea of a couple's life.
Regarding women, they also start to rub shoulders with men when they get into university. A few brave Japanese guys court them, and surprisingly, short-term, casual flings happen at the uni. Women then join the professional world and start working. Once again, short-term flings happen (like anywhere else!). However, a lot of Japanese women have absolutely no desire to get in a serious relationship. Why? Quite simply, getting married and having kids means the end of their hard-won careers. It's pretty much impossible for a Japanese woman to combine a career and family.
The Japanese work a lot and don't have time to raise their kids. Moreover day-care centers or private nurseries are extremely expensive. 70% of Japanese women leave their jobs after their first child in order to raise their offspring. It's pretty much impossible to raise your child and at the same time work 12 hours a day… everyday! Numerous Japanese women love their job and don't wanna give it up for a family life. For all those reasons, more and more Japanese women decide to stay away from a married life, and decide to not have kids.
Therefore, on one side we have Japanese men who don't want to take responsibility for the social and financial pressure of a family life. On the other side we have Japanese women who refuse to give up their careers for a family life. The rosy vision of a happy couple, two kids and a dog doesn't tempt the Japanese people. However -and it's normal-, sexual needs are still present. What to do then…?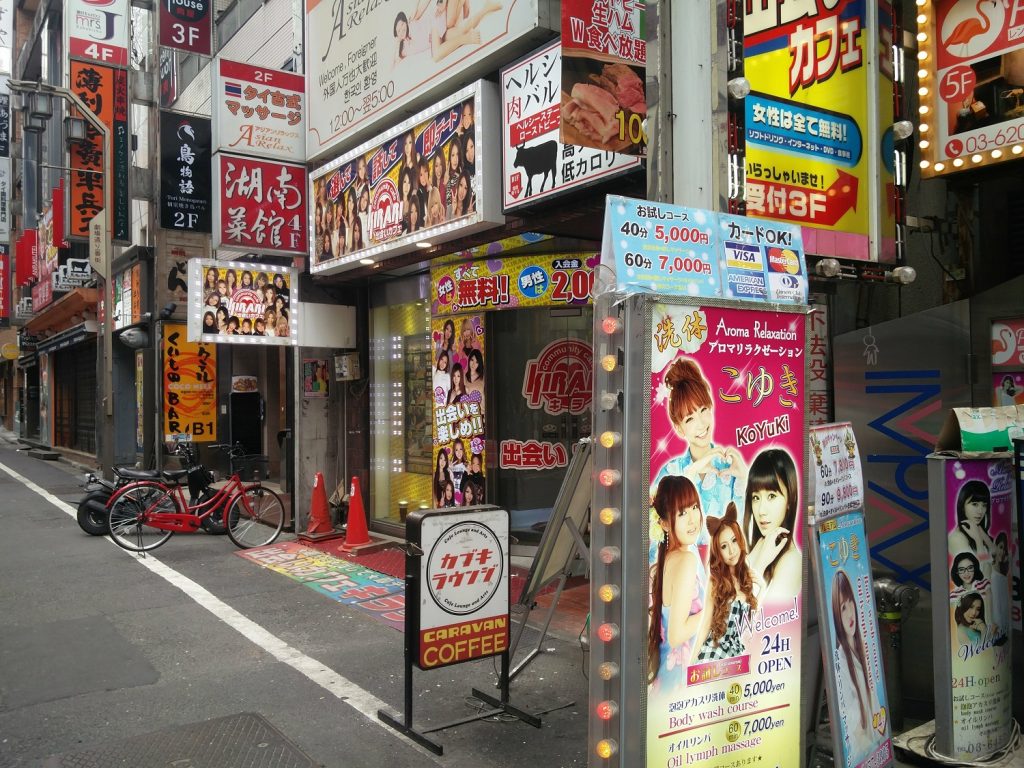 No desire to be in a relationship in Japan
To me, the sexual frustration of the Japanese comes from this. There's no desire to have a long-term partner, no interaction between men and women, but of course sexual needs are still here (it's human and normal!). Like in some countries of Middle East or South Asia where men and women don't interact, a growing frustration arises among locals. Just like those countries in Middle East, this frustration sometimes creates weird behaviors and fantasies.
Which countries watch the most porn? Almost all of them are conservative countries (Pakistan, Egypt, Iran, Morocco, India, Saudi Arabia, Turkey, Iraq, Japan…). Japan is the world's largest producer of porn, although it's one of the countries in the world where people have sex the least often! The Japanese sex life is… almost dead! The porn industry is the second biggest one in Japan after the car industry. It generates 220 billion yens (1.8 billion euros) per year! The Japanese have absolutely nothing against short-term flings. In fact those casual affairs are numerous in Japan, especially between coworkers. Do Japanese women like sex? I guess so, like almost all of us. Yes, Japanese women and sex are two compatible terms. But getting in a long-term relationship and make babies? No thanks!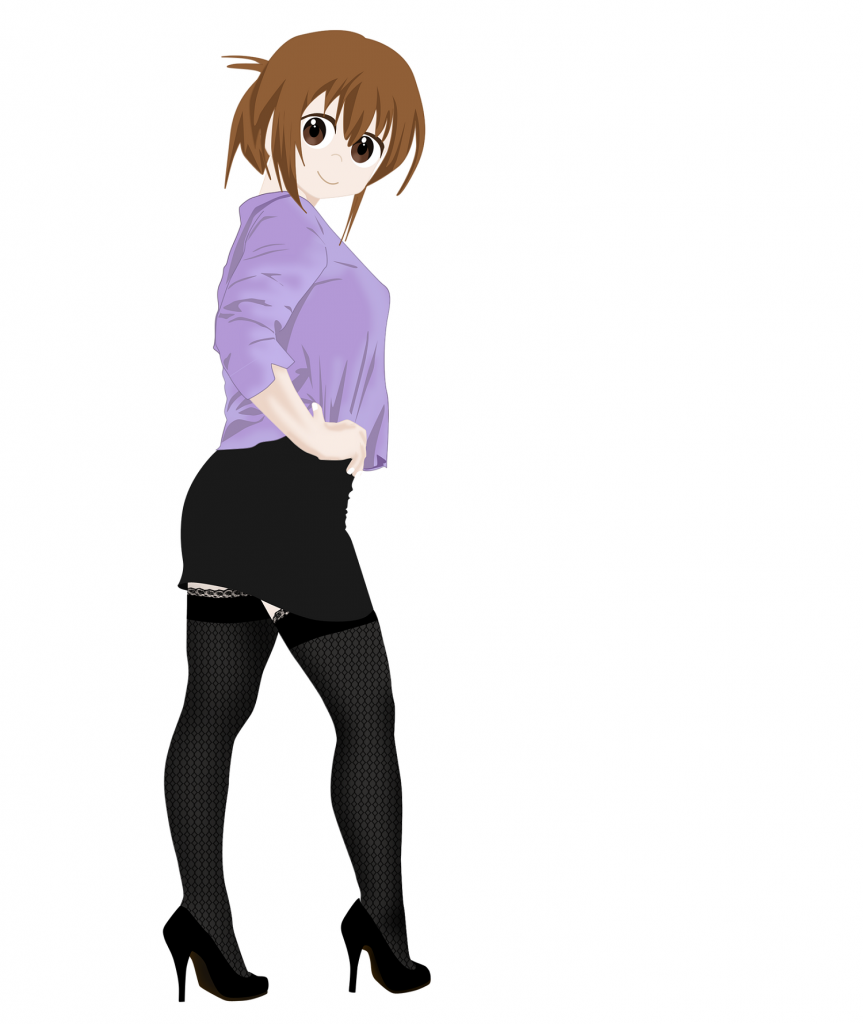 Celibacy syndrome in Japan
In Japan, we talk about sekkusu shinai shokogun, or "celibacy syndrome". Because of all the reasons I talked about earlier, 1/3 of the Japanese under 30 never had a date with someone. 45% of Japanese girls between 16 and 24, and 1/4 of Japanese boys of the same age are not interested in sex. 42% of men and 44% of women between 18 and 34 are virgins. Add to that all the geeks disconnected from the outside world, and you have three million Japanese people over 35 who still live with their parents.
They're not interested in having sex, or just flirting with someone? "Mendukosai" they say, which means "Too troublesome" or "I can't be bothered". There's this new trend among young men who are not interested in sex. They're called soshoku danshi, which means "herbivore males". Those guys are not interested in sex at all, they take care of themselves, they have no ambition and they stay close to their mothers. Those guys can't be bothered either, they don't care about having a girlfriend. However, although they're not interested in having sex with Japanese women, they're more willing to try something with a foreign girl, since it's supposedly easier.
Decreasing population in Japan
This absence of sexual intercourse between men and women creates a sexual frustration I could clearly feel when I was there. Although they're very nice, the Japanese don't look happy. That's what I noticed as I was walking in the street, taking the subway, in various stores… I was watching them and I felt like it was a shame. The absence of hanky-panky poses another problem. Nowadays in Japan, there are more pets than children in early infancy! It's crazy!
Japan's birth rate is one of the lowest in the world (1.37 birth per woman) since they don't mate! The Japan population has been shrinking since 2006! At this pace, Japan is going to lose one third of its population by 2060! Some people talk about an extinction of the Japanese population! In Osaka, I went to a restaurant to eat alone, and then to a bar to have a drink by myself one evening. There were about 12 customers, all Japanese, all over 40. Not one of them had kids, not even the two couples who were drinking at the bar!
For those in a relationship, life is no bed of roses either. The man goes to work and earns money for the household, the woman looks after the kids… The kids, although they bring happiness in a couple, also mean the end of sexual relations in a couple life. Once a child is born, the mother becomes like a relative, not a sexual partner anymore. One more frustration, which pushes men and women to look elsewhere. The love hotels and hostess bars are full of married men on the weekend. The Japanese guys are numerous to go looking for hookers, which is a good thing for the Japanese mafia, they make a shitload of money.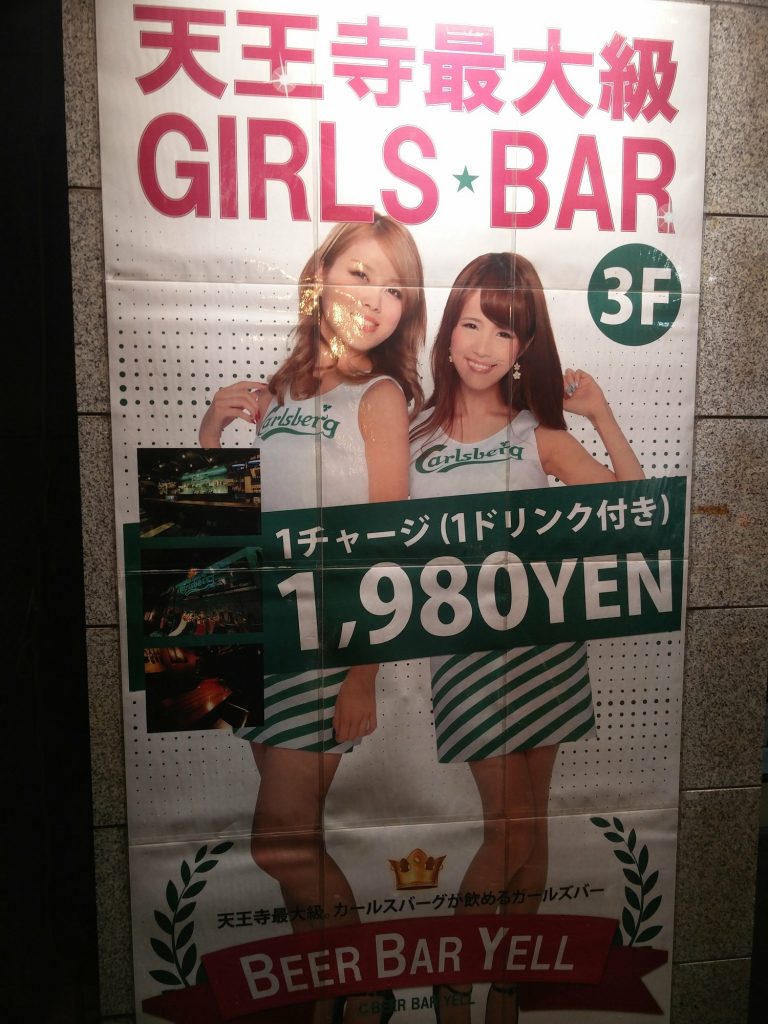 Otherwise, they go see escort girls, they read hentai, they relieve themselves in realistic inflatable dolls… There are also agencies where you can rent a girlfriend, sex toys are easy to find, virtual reality headsets as well… I can't forget all those maid cafés, where the waitresses are dressed like high-schoolers… And of course, in a country with many gizmos at the leading edge of the technology, it's possible to watch porn with a head-mounted display.
I just wanted to say Japan is a wonderful country, and people are lovely, but after visiting many places in the world, I quickly understood the Japanese are not completely happy, some of them even look sad. I finally understood it was partly because of this sexual frustration. At the end of my stay in Japan, a tchikan (guys groping or molesting girls in the subway) got caught while groping a girl in the subway. He apologized and said he was tired of not having a girlfriend…
Have you ever been to Japan? Have you noticed their different relationship with sex over there? Let me know in the comments!