Some links are affiliate links, which means if you make a purchase through these links, I earn a commission, at no extra cost to you.
Marrakech is the cultural and touristic capital of Morocco, but it's also the commercial hub of the country since its foundation. Marrakech, also called the red city or the pearl of the south, attracts about two million tourists every year (mostly from France and Spain).
It's actually pretty simple, when travelers go to Morocco, they usually go to Marrakech. Most of the time it's the first step of a Morocco itinerary. Marakkech is a colorful city, charming and also exotic, although it's just a few hours away from Europe. Marrakech is an interesting city, and here's a guide if you plan to go there.
History of Marrakech
Marrakech was founded in 1071, under the Almoravid dynasty. Quickly, Marrakech became a trading center for the Maghreb and sub-Saharan African. Numerous mosques and madrasas (Islamic schools) were built during that time, turning Marrakech into an important religious hub. Throughout the centuries, several dynasties reigned over the country, and Marrakech went through numerous periods of decline and height of popularity. For about 50 years, Marrakech attracts many rich people from Western countries.
Description of Marrakech
Marrakech, a city with almost one million inhabitants, is divided into two parts. There's the medina, the old city which is surrounded by ramparts. The medina is located in the heart of Marrakech, and this is where you'll find the main tourist attractions. Since the medina is not big, it's easy to get around by foot. This is also where you'll see the famous souks.
Of course you can leave the medina. You'll be in the new city then, and you'll be able to explore its different districts (Gueliz to go shopping, Hivernage and its luxury hotels…). In Marakech, each district has its mosque, its bakery, its madrasa and its hammam.
In the new city, you'll quickly realize that the driving is a bit wild. The drivers are stressed and honk as soon as the light turns green. Like in Iran, they brush past you when riding their scooters or bicycles, which is irritating. You have to be very careful when crossing the street, they drive haphazardly. Don't forget to buy travel insurance, you never know!
In the medina, it's impossible to not get lost, and it's not a bad thing! You're wandering in narrow streets covered with sheets of metal to protect passersby from the rain and the sun, and you're meandering around the various souks. Take some time to watch what they sell : carpets, souvenirs, spices, fruits, vegetables…
The vendors try to attract you "Chouf (look)". Every now and then, a scooter or a cart needs to make its way and everyone steps aside "Belek belek belek (be careful)" say the locals. In the evening, the kids play, the teens have a walk, men chat outside, we can spot numerous stray cats… Marrakech is always bustling, however you can ensure your holiday to Morocco is sustainable there!
Things to do in Marrakech
Jemaa El-Fna square
It's impossible to go to Marrakech, and not go see Jemma El-Fna square (the deceased ones square). It's the main square of Marrakech, the symbol of the city. Jemaa El-Fna square is located in the heart of the medina, and you'll find there many traveling salesmen selling fruits, vegetables, juices, local food… There are also snake charmers, fire breathers… You have to see it, especially early in the evening!
The best thing to do is to go to one of the numerous rooftops around the square to see it from above (although it's crystal clear you'll pay tourist prices in those rooftops). Watch out for the pickpockets and the scams there, I talk about it at the end of the article!
Koutoubia mosque
Another symbol of Marrakech is the Koutoubia mosque. With its 77 meters (253 ft.) high minaret tower, it's also an excellent landmark. Raise your head and look for the mosque to get your bearings. The Koutoubia mosque was built in the 12th century, and it can receive up to 20000 believers.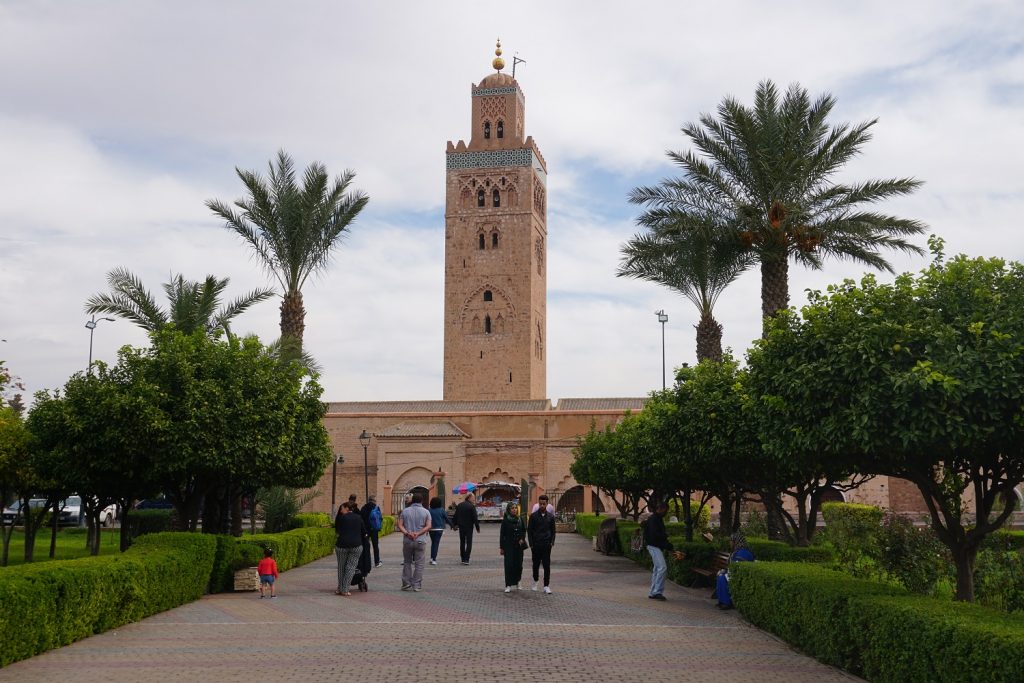 Although it's very beautiful from the outside, unfortunately it's impossible to get in if you're not a Muslim… To admire the mosque, you can go to the Lalla Hasna park which is just next to the mosque. It's a very beautiful park with orange trees, fountains and a nice view of the mosque.
The jardin Majorelle
Located in the new city, the jardin Majorelle (Majorelle garden) belonged to the painter Jacques Majorelle. It was built in 1929. The garden was purchased by Yves Saint Laurent in 1980. He used to live next to the garden, and it's now open to the public. When Yves Saint Laurent passed away in 2008, his ashes were scattered in the garden (that was his last will). Although the garden is very popular and crowded, it's wonderful! It stretches over one hectare and hosts more than 300 plant species! I really recommend to go! You'll find art galleries, a café, a bookstore, shops selling art and souvenirs…
However, if possible, try to get there at opening time (8am), otherwise you might wait for a long time to get in (sometimes more than one hour). It's 70 dirhams to get in (6.50€). In the garden, it's possible to visit the Berber museum for 30 dirhams (2.80€), and you can also visit the Yves Saint Laurent museum for 100 dirhams (9.40€). Finally, there are combined tickets with access to the garden and both museums for 180 dirhams (17 euros). Here's a complete guide if you want to visit the jardin Majorelle.
Bahia palace
The Bahia palace (beautiful palace) is the biggest palace in Morocco! It was built in 1880 for the grand vizier Ahmed Ben Moussa, to host all his wives and partners. It's actually an abode made of an ensemble of houses. The architecture fans are going to love it, the palace is so beautiful! We walk through interior courtyards, gardens, various rooms… It's better to go there in the afternoon, it's too crowded in the morning with the buses full of tourists coming! It's 70 dirhams (6.50€) to get in for the tourists, 10 dirhams (0.95€) for the locals.
El Badii palace
The El Badii palace is not an unmissable but you can still go if you have some time. It's actually a palace fell into ruins a long time ago, and you wandering in the palace. I mean… what remains of this huge former palace, that is to say big walls here and there. It's possible to access the second floor, a good way to see the huge courtyard from above. It's 70 dirhams (6.50€) to get in for the tourists, 10 dirhams (0.95€) for the locals.
Saadian tombs
It's an opportunity to see the tombs of the sultan Ahmed al-Mansur, his soldiers, and his servants. The tombs date back to the 16th century but were only discovered in 1917 by French archaeologists! Therefore they're very well preserved! To see the tombs, you have to wait in line in a garden, and sometimes the wait is long! Once you're in front of the tombs, you cannot admire them for too long, cause the crowd is waiting behind you! It's 70 dirhams (6.50€) to get in for the tourists, 10 dirhams (0.95€) for the locals.
Trip to the desert
If you have some time, meaning if you stay at least one week in Marrakech, you can go on a 3-day desert trip. You should definitely add this activity to your black travelers bucket list. They pick you up at your hotel, you spend 3 days with a guide, and you spend two nights far from Marrakech in the desert : one night in the hotel and the second night in a desert camp.
You ride across dunes on a camel, and you spend a relaxing time far away from everything. You have to do it! Click here to book your desert safari! You can also check out this list of the best desert tours from Marrakech.
Food tour
When you think about the Moroccan food, you usually think about couscous and tagine. Indeed, that's what they usually serve when you go to the restaurant there. But the Moroccan food is varied, and there's a lot more than that. If you're curious and a food lover like me, go to a food tour. For about three hours, a guide will show you the various Moroccan culinary specialties. Click here for more info.
Other things to do in Marrakech
There are other things to see and do in Marrakech. The Menara gardens are beautiful but they're not unmissable. It's a big garden with olive trees. A lot of old people beg there… There's the madrasa Ben Youssef which is apparently an unmissable. But it was closed during my stay in Marrakech… In the medina, there's also the secret garden, quite small, again not an unmissable. There are also the Agdal gardens, open on Fridays and Sundays only. You can also visit the photography museum, go to the hammam… Marrakesh can also be part of a Morocco road trip!
Activities in Marrakech
You can go on a day trip to the Atlas mountains. Click here for more info. You can also go admire the wonderful Ouzoud waterfalls. Click here for more info. Finally, you can go on a desert quad and dromedary tour. Click here for more info.
I enjoyed my stay in Marrakech but I don't understand those who don't like the city… You need to be prepared to the incessant hustle and bustle, the constant requests and the locals trying to scam you. If you're prepared, everything will go smoothly! I suggest to stay at least four days in Marrakech! If you plan to spend some time in the country, here are the best things to do in Morocco!
Scams in Marrakech
Marrakech is not a dangerous city but keep an eye open. There are the locals who help you (to find your hotel, to find your way, etc…), then they're gonna ask for some money. They sell you a local sim card "Valid one month" and you find out it's not working two days later. I won't even get into all the taxi drivers calling you and charging inflated prices (you always need to haggle!).
At Jemaa El-Fna square, there are con artists too. Fortune-tellers, monkey trainers who want you to pose with the animal to get some money, snake charmers who also want some money… There are those guys playing instruments to divert your attention… while their accomplices pick your pockets! There are also the ones standing next to you and start playing music… to ask for some money a few moments later!
In Marrakech, one of the most common scams consists in telling you the road is closed "It's closed over here, let me show you the way". Please don't listen to them, don't follow them and keep walking. They want to lure you somewhere else and try to get some money from you.
Is Marrakech safe
I think so, I had no problems there. I asked the same question to solo female travelers (one of them is blonde with blue eyes and a very light skin). They didn't have any problem. The men were staring at them, some of them were greeting the girls but that's it.However, some people didn't have a pleasant experience there. Check this article about a Morocco safety experience.
You just need to use your common sense : dress like the locals (shoulders, knees and breast covered), don't look lost and keep an eye on your belongings. To avoid any unwanted interaction, wear sunglasses and/or put your headphones with no music and everything will be fine!
Where to find alcohol in Marrakech
The easiest way to find alcohol is in the hotels' restaurants (around Hivernage). They know the customers want to drink, so they have what their guests need to quench their thirst. A few bars and restaurants sell alcohol at the medina, but it's very expensive! Around Gueliz, it's also possible to find alcohol. Oh and they sell alcohol at the Carrefour supermarket! Generally speaking, alcohol is expensive in Morocco.
How to get to Marrakech
You'll probably have to get there by plane. Click here to check the latest flight prices.
Best time to visit Marrakech
The best time to go is between October and April. The weather is really nice. From May to September, it's way too hot! Be careful, the weather is nice daytime, but the temperatures drop from nightfall!
How to get around in Marrakech
In the medina, you can go everywhere by foot. The old city is not big and this is where you'll find the main tourist attractions. Outside the medina, you can take the bus. They go all over the city and a single ticket costs 4 dinars (0.30€). Otherwise you can take the taxi but don't forget to haggle before getting in!
Where to stay in Marrakech
Since you're in Marrakech, a good way to enjoy your stay is to test out a riad, a traditional housing refitted for the travelers. There are good riads like the Riad Porte Royal, the Riad Shukran or the Riad Dar Nimbus. If you're traveling on a budget, there are also very good hostels, I'm thinking about the Kasbah Red Castle Hostel. Finally, if you're into luxury hotels, there's the Movenpick Hotel Mansour or the Four Seasons Resort. Otherwise click here to check what are the hotels available in Marrakech.
Marrakech travel tips