Some links are affiliate links, which means if you make a purchase through these links, I earn a commission, at no extra cost to you.
After visiting Kuta and Ubud in Bali, but also the Gili islands, I realized I only visited popular places in Indonesia among tourists. I wanted to have some peace and quiet, and I decided to go to the east part of Indonesia, on Flores island. I won't write about my whole trip on Flores island (but I give some info at the end of the article), I'm gonna focus on the main attraction of the island, Kelimutu National Park. It's one of the best hidden gems in Indonesia!
Flores island
When I arrived on Flores island, I quickly realized this place is more authentic, rawer than Bali, Lombok, etc… There are almost no tourists there, and in the eyes of the locals, it seems like I'm an alien! They keep staring at me (although they also have dark complexion!). Oh and everything is a lot cheaper here. In fact, Indonesia is a cheap travel destination! But enough talking, I need to go to Moni, the small village from which you can go to Kelimutu national park.
I left Ende to go to Moni by van, a 90-minutes ride. I quickly understood why the locals nickname this road the spaghetti road, or sometimes the snake road. The road goes up, and down, up again, and down one more time. And there are many tight bends… Be prepared, a local threw up during the ride and the driver told me it's common here! Moreover, several locals spotted me in the van and from their cars, they were asking the driver to stop, just to ask if I need a private car to go to Moni, "just for 100k rupees (6 euros)". "No, thanks guys. I'm already in the van and I paid to get a seat, I'm not gonna leave it now just to make you happy…"
Moni
We finally made it to Moni! First thing first, I need to find a place to sleep. There's no shortage of choice in this tiny village, there are guesthouses all over the place, next to one another! The locals in Moni live thanks to Kelimutu national park! Once I found my accommodation (info at the end!), I went to the only bar of the village, where I met travelers who also intend to see Kelimutu National Park the day after for the sunrise. As we were talking, we realized we were all staying in different guesthouses, but they were all like five minutes away by foot from one another.
It was nighttime now and we kept talking but we were quickly interrupted by a power cut. With no lights, we had no other choice than to go back home, with the help of our smartphones' lights (it was full dark!). It wasn't possible to use the internet either, since there's no internet access at all in the village. We had no other choice than to go to sleep. It wasn't a bad thing, the day after I had to leave the village at 5am to go to Kelimutu national park!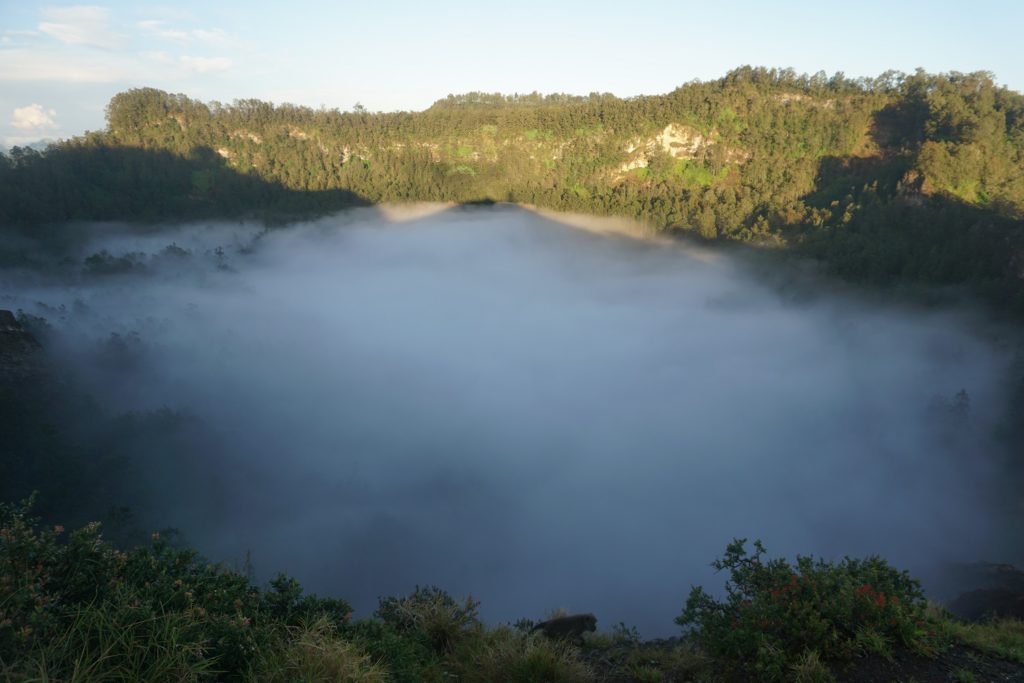 Climbing Mount Kelimutu
The day after before the sunrise, a local picked me up in front of the guesthouse, to ride all the way to the entrance of Mount Kelimutu. For your information, the government wanted to prohibit the access to Mount Kelimutu for security reasons, it's actually a volcano and an eruption can happen anytime. But the local population didn't agree, they make money thanks to tourism! Finally, the government accepted to keep Kelimutu open to tourists as long as a local brings them at the entrance of Kelimutu. So here I am, in front of my guesthouse, and a local on his scooter picked me up to bring me to the volcano!
After a 30-minutes ride, we made it to the entrance, and the local told me he'd be waiting for me. All right, let's start climbing Mount Kelimutu, but it's actually really fast : 15 minutes at the very most! The problem is… I arrived there too late, after the sunrise! So that means the pictures don't really reflect the beauty of this place. What a shame! Knowing I was just staying one night in Moni, I already knew I was fucked!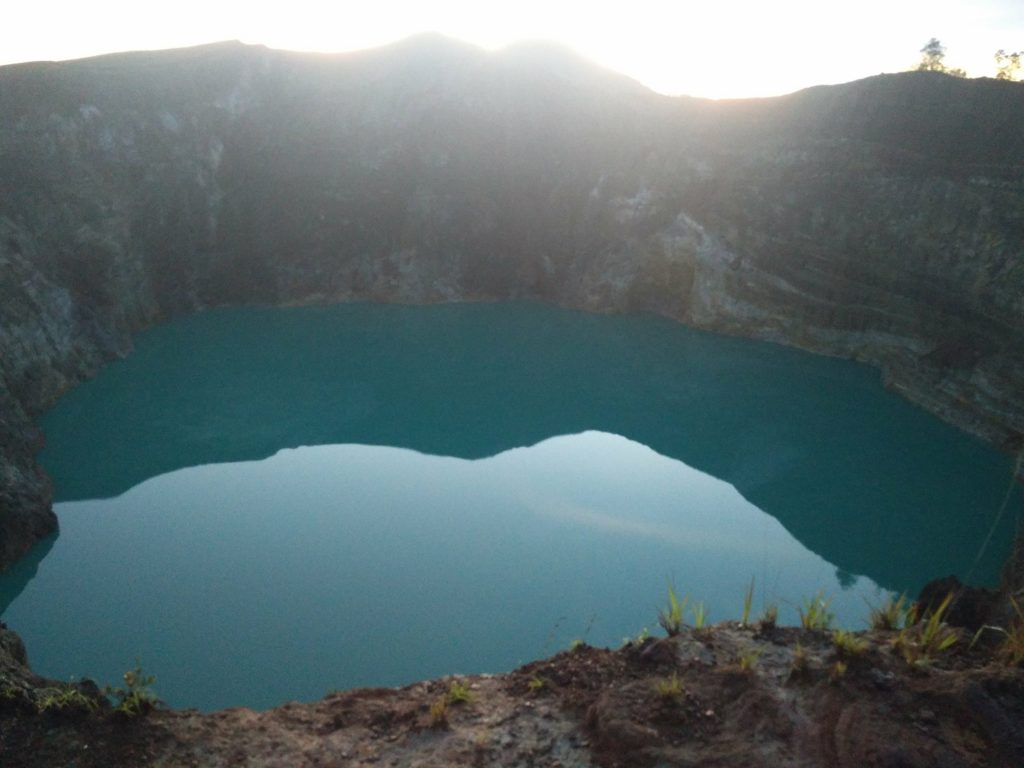 One volcano, three lakes
Why does Kelimutu national park attract so many people? In fact, once you're on top of Mount Kelimutu, you can admire three different lakes, and their color changes over time. Some people say lake colors change depending on the chemical composition of the water but in fact, the color changes are quite unpredictable! The Kelimutu volcano is also of big interest to geologists!
As I said, there are three lakes. The lake Tiwu Ata Mbupu is the lake of old people. The lake Tiwu Nuwa Muri Koo Fai is the lake of young men and maidens. Finally, the lake Tiwu Ata Polo is the bewitched lake. Indeed, the locals think the three lakes are housing spirits.
I enjoyed my time there, and I realized we were not alone : there were numerous monkeys wandering around. There were also locals selling clothes (it's cold up there!) and some snacks. I went back down, and my guide rode back to Moni. Since I had some time, I decided to see the only attraction of the village, a waterfall opposite the rainbow café! Then I ate my breakfast, and I left Moni… Mount Kelimutu, you have to see it at sunrise but also during the sunset when the weather is nice. Otherwise, you might be disappointed… You're probably gonna spend some time in the country, so here are the best places to visit in Indonesia!
How to get to Flores island
You'll have to take a flight. Click here to check the latest flight prices. To go to Kelimutu national park, you'll have to land in Ende or Maumere. If you're at the Ende airport, do not go straight to Moni from there, they're gonna charge you very inflated prices, around 400k (25€) to bring you to Moni… Just go to the city, stay one or two nights there, and from Ende go to Moni!
How to get to Kelimutu national park
To see Mount Kelimutu, you first need to go to Moni, the closest village. Most travelers go there from Maumere. It's a 3-hours ride by van and you have to pay 50k rupees (3 euros). I went to Moni from Ende. I paid 20k rupees (I negotiated, they wanted 50k!), and it was a 90-minutes ride.
I had to go to the bus station to get in the van. Just ask your hotel, they'll find someone who's gonna bring you there for 10k rupees (less than one euro). FYI, the van only leaves when it's full! That means you may leave five minutes after getting there, but you can also wait there for more than one hour!
Where to stay in Moni
First off, do not book in advance your accommodation in Moni, just bring your ass over there and a pick a guesthouse on the spot! It's gonna be way less expensive and you can introduce competition between them to get the best price. I quickly understood when I saw how small the village was on Google Maps, and how numerous the guesthouses were over there, next to one another.
I stayed at Sylvester's and I paid 150k rupees (less than 10 euros, I negotiated!), breakfast included. The manager was really nice and funny. Otherwise you can stay at Estevania Lodge, the Geckos or even Watugana Bungalow (all of them are a bit more expensive). Click here if you want to book a place to stay online.
How much is the ride from Moni to Kelimutu national park
I paid 100k rupees (6 euros) my local guide on scooter, from the guesthouse to Kelimutu national park. He's gonna ride to Kelimutu national park, and then brings you back to the village. Just ask at the guesthouse, they'll organize everything for you. Otherwise you can go to Kelimutu national park with the guide, and go back to the village by foot!
Kelimutu national park tickets
To get in Kelimutu national park, you have to pay 150k rupees + 5k for the scooter, so 155k (10 euros).
What to wear for Kelimutu national park
Bring warm clothes, it's cold up there in the early morning! Also, bring some snacks, some water, and a headlamp!
Flores island, what is it like
Flores Island is located on the east part of Indonesia. Very few travelers make the trip all the way there, it's a good opportunity to completely immerse yourself in the local culture. The local population reminded me of the Caribbean. They're very nice and often asked me in the street if I needed help, if I was lost… To many people, Flores island is one of the most beautiful Indonesian islands to visit!
Since there are no tourists (and no black people!), they kept staring at me in the street! They thought I was coming from Africa, actually from Nigeria, and they were asking "Where are you really from?" They were often greeting me in the street (in Ende just like in Moni), some of them were honking at me… And a few locals wanted to get a picture with me! Flores is really different from the rest of the country! However, there are temporary power cuts.
Things to do in Flores island
In Flores, people usually go to Labuan Bajo! It's the largest city of the island, and there's a wonderful park not far, Komodo national park (where you can see Komodo dragons). If you can make it, just go! Here's a Komodo islands travel guide!
Flores island food
Regarding food, there are not many options… Usually they serve rice and there's a buffet where you can pick between chicken, beef, fish, etc…
Flores Island travel tips