Planning to visit Indonesia? It's an excellent idea but you need to know you have to plan accordingly! Indonesia is the biggest country in Southeast Asia, the fourth most populous country in the world but above all it's the largest archipelago in the world. With more than 17,000 islands (6,000 inhabited) and 167 active volcanoes, there are many places to visit in Indonesia. This country offers a diversity of landscapes and numerous things to do: beach, jungle, diving, hiking, volcanoes… What to do in Indonesia? Here's a list of the best Indonesia tourist spots, then I'll share Indonesia travel tips!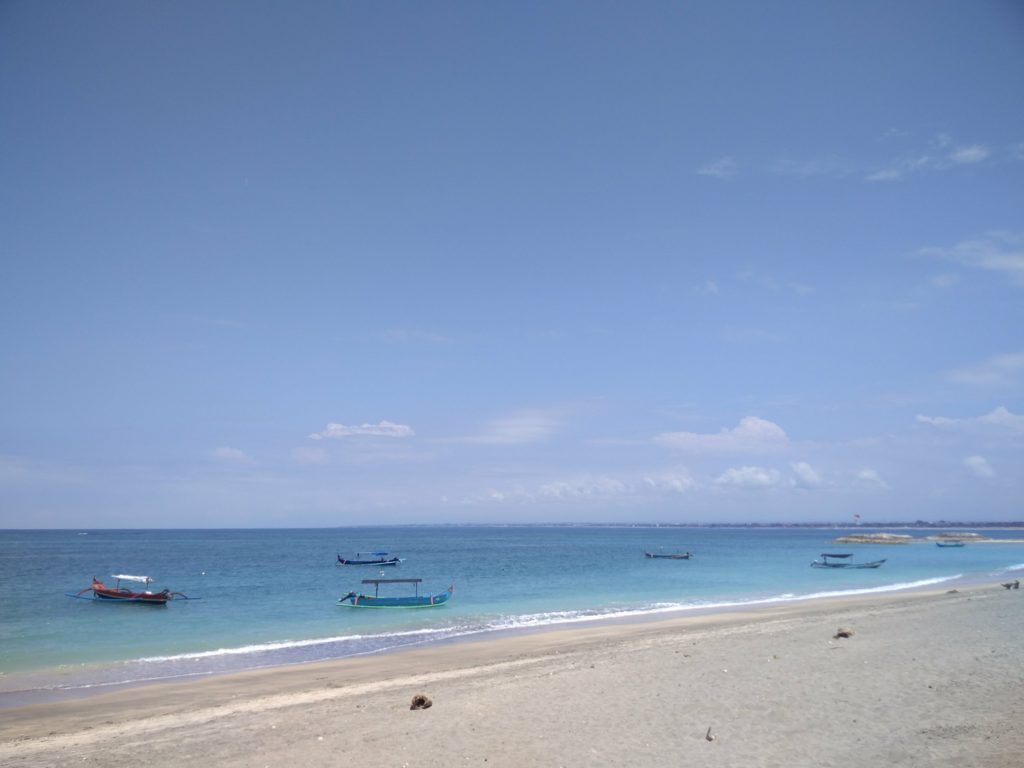 Indonesia tourist places
Komodo National Park
Located in Nusa Tenggara, this park is mostly known for its reptile, the Komodo dragon. The dragons roam freely and local guides allow you to spot them. The park spreads across three main islands: Komodo, Rinca and Padar. Thre are other rare species such as birds, monkeys, buffaloes, snakes, etc. The park also protects rare submarine species.
Komodo island is also known for its pink-sand beaches. In the park, you ca, go hiking, diving, snorkeling, canoeing, or go visit remote villages on the islands. You can only get to the park by boat from Labuan Bajo. Komodo National Park is one of the top Indonesia tourist attractions. Click here to find your accommodation. Click here to visit the park with a small group.
Raja Ampat islands
Raja Ampat are located in West Papua province. There are four main islands and hundreds of smaller ones. It's the place to be to go diving. Here's a guide to go diving in Raja Ampat! There are more than 530 species of coral, 700 species of mollusk and 1,300 types of fish. On the islands, you can also watch wonderful birds. Raja Ampat means "Four Kings" and since it's a remote place, few people go there. It truly feels like heaven on earth. Click here to find your accommodation.
Lombok
Lombok is a great alternative to Bali. It's an island with fewer tourists but great surfing hotspots, beautiful beaches, and impressive waterfalls such as Tiu Kelep or Sendang Gile. In Lombok, you can climb Mount Rinjani with a guide, go to the markets in Mataram or relax in the Gili islands. I'd suggest basing yourself in South Lombok and go on day trips all over the islands. Click here to find your accommodation. Click here to find the best activities.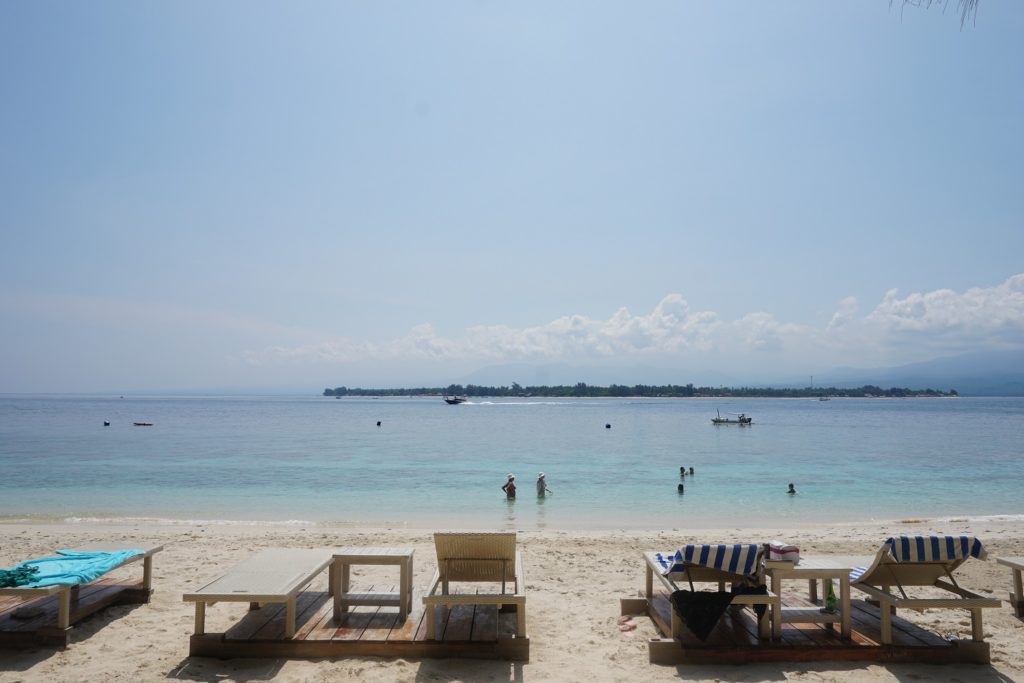 Bali
Bali is the most popular island of the country, and it's called "the island of Gods". Beaches, rice fields, temples, surfers, meditation, yoga, digital nomads, etc. Welcome to Bali! Unlike the rest of the country, Bali is predominantly Hindu. The vibe is relaxed, and many people go there to laze. You can party in Kuta, admire the rice fields and temples in Ubud, or go to less crowded places such as Nusa Dua, Sanur, Bukit or Kintamani. Here's where to stay in Bali. Click here to find the best activities.
Borobudur
Borobodur is the biggest Buddhist sanctuary in the world. Built in the 8th century, you have to see it for its beauty and its charm. Its architecture is complex, and it features layers with highly detailed carved reliefs. You have to get there early in the morning to admire a wonderful sunrise. Click here to find your accommodation.
Mount Bromo
Located in East Java, in Bromo Tengger Semeru National Park, mount Bromo is one of the most active volcanoes of Indonesia. Nature lovers have to go there. Climbing mount Bromo is easy and cheap. You'll have to buy a permit from the national park authority, and you'll only be allowed to ascend when the mountain isn't erupting. Once again, get there very early in the morning to admire a beautiful sunrise.
Yogyakarta
Yogyakarta is the most popular city of Java, because it's not far from Borobudur and Prambanan temples. But Yogyakarta is a city known for its art and culture. Go to the Kraton Sultan Palace and admire its beautiful gardens, and the markets selling handicrafts. There are also many museums in Yogyakarta. FYI, Yogyakarta lies in one of the most seismically active parts of Java. There was en earthquake in 2006 and the eruption of Mount Merapi in 2010. Click here to find your accommodation. Click here to find the best accommodation.
Lake Toba
Lake Toba is located in Sumatra. It's the largest lake in Indonesia, and probably the most beautiful. It's the result of a catastrophic eruption. It's surrounded by greenery and beautiful hills. You have to see Samosir, a charming island in the middle of the lake. Over there, you can swim, go canoeing, fishing, or wander in the surrounding area on foot or bike. Click here to find your accommodation.
Flores island
Flores means "flowers" in Portuguese, the Portuguese missionnaries arrived there in the 16th century. Flores is a lot less visited than the other islands in Indonesia, but there things to see. You have to go to Kelimutu National Park and see its lake with changing colors. Flores is an island is a place for adventurers who aren't afraid to get dirty and really immerse themselves in the local life. Visit villages (especially Wae Rebo), go diving or snorkeling and go to Egon volcano! Unlike the rest of the country, Flores is predominantly Catholic. Click here to find your accommodation.
Tana Toraja
Located in South Sulawesi, Tana Toraja means "the Land of the Heavenly Kings". Landscapes there are wonderful: mountains, tropical jungles, traditional houses, etc. You won't miss their massive peaked-roof houses, but Tana Toraja is mostly known for its funeral rites. After a person's death, the body is kept for several years then the funeral ceremony lasts for several years with food and traditional dance. The deceased is buried in a small cave. You have to see it!
Tanjung Puting National Park
Tanjung Puting National Park is the place to be to spot orangutans. Located in Borneo, the park also allows you to see leopards and watch 200 species of birds. Explore the park by foot or on a boat, by yourself or with a guide. Since few tourists go there, it's still untouched. Admire the tropical forest, the rivers and indulge in heavenly fresh air. A great place to relax.
Jakarta
Many travelers say not to waste your time in Jakarta "because it's a big city with nothing to do". Admittedly there are many skyscrapers in Jakarta, but the city offers a good mix of Javanese, Malay, Chinese, Arab, Indian and European culture. Go to the Monas monument, roam around the old town in Kota Tua which is home to Dutch colonial buildings, visit the National museum, Glodok (Chinatown) and the old port of Sunda Kelapa. Go to Jalan Jaksa to have a drink. Click here to find your accommodation. Click here to find the best activities.
These were the best places to visit in Indonesia! You can also check out this backpacking Southeast Asia guide! Now here are a few Indonesia travel tips!
Indonesia travel budget
Accommodation is not expensive in Indonesia. One night in a hostel dorm costs around 100,000 IDR ($7). One night in a budget hotel costs around 200,000 IDR ($14). One night in a mid-range hotel costs around 400,000 IDR ($28). Finally, to stay in a luxury hotel, prices start at 800,000 IDR ($56) per night. Click here to find your accommodation.
Food is not expensive either. Street food costs arouns 20,000 IDR ($1.50). A cheap meal in a local restaurant costs the same. To have a meal in a mid-range restaurant, you'll pay around 75,000 IDR ($5). A beer at the bar costs around 30,000 IDR ($2).
Regarding transportation, there are domestic flights to travel between the islands. Prices vary from 300,000 to 1,000,000 IDR ($21-70). Garuda is the country's main airline, but there's also Air Asia (love it!) and Lion Air but I wouldn't advise traveling with them. They missed the landing strip in Bali and landed in the water. Another time they hit a cow when landing. In Jakarta, there's the bus. Price vary from 3,500 to 9,000 IDR ($0.25-0.60) depending on the distance. There are also taxis, prices start at 7,000 IDR ($0.50). And Grab, the local Uber. Renting a scooter costs around 75,000 IDR ($5) per day. To get around in the country there are buses, with prices from 70,000 to 150,000 IDR ($5-10.50). And trains, especially in Java, with prices around 100,000 IDR ($7). Finally, ferries allow you to travel between islands. A ride costs around 75,000 IDR ($5).
Regarding activities, nothing is expensive. It's around 15,000 IDR ($1) to get in temples, 50,000 IDR ($3.50) to get in popular tourist attractions, same price to go snorkeling, around 100,000 IDR ($7) for a Balinese massage, etc. Enjoy your time there!
Basically, if you're traveling on a budget, you can get by with $35 per day. Otherwise you'll spend about $60+ per day. Indonesia is a cheap place to travel on a budget.
How to get around in Indonesia
In cities, there's the bus, taxis and tuktuks. It's also possible to rent a scooter. To get around in the country, you can take the bus, the train, a ferry or a domestic flight.
Best time to visit Indonesia
There are two seasons in Indonesia. The dry season from April to October and the rainy season from November to March. Between mid-June and mid-September it's the peak season. There are tourists everywhere and everything is more expensive. The best time to visit Indonesia is from April to mid-June or from mid-September to early November. Avoid Nusa Tenggara during the rainy season, there are often floodings.
Visa policy of Indonesia
If you're an European citizen or coming from a Western country, you don't need a visa to visit Indonesia. You can stay up to 30 days. You can find all the details here.
Safety in Indonesia
Indonesia is a safe country. Many people go there solo, even solo female travelers have no problem there. It's one of the best places to solo travel. Still, keep your wits about you, there are pickpockets and bag-snatchers in areas with numerous tourists. Don't flash around your valuables. Avoid drugs, the penalties are extremely tough. Before traveling, don't forget to get travel insurance. It will protect you against illness, injury, theft and cancellations. Before traveling, don't forget to get travel insurance. It will protect you against illness, injury, theft and cancellations. Click here to get one.
Packing list for Indonesia
I'm not gonna list all the things to pack for Indonesia. I don't know how long you're gonna stay there, where you're going in Indonesia, what you're going to do and when you'll visit. Take all the necessary clothes, toiletries, and also:
Here's a full list of travel accessories, which can be useful!
What to eat in Indonesia
The food is Indonesia is cheap, and it's really good! You'll probably have a nasi goreng! It's fried rice with a fried egg, salad, prawn crackers, vegetables and a soy sauce. Sometimes there's chicken too. Mie goreng is more or less the same, but it's the noodle-based version of nasi goreng! Gado gado is a salad made of steamed vegetables like potatoes, eggs, carrots, green beans, spinach and tofu with a peanut sauce. Rendang is a dish made of beef (sometimes chicken) with a coconut milk sauce and spices.
You can now visit Indonesia and enjoy your time there thanks to this Indonesia travel guide!