Some links are affiliate links, which means if you make a purchase through these links, I earn a commission, at no extra cost to you.
Before starting my long term solo trip, I told my friends I wanted to go to Malaysia. Whenever I was saying "Malaysia", all the people I know who had been there already told me the same thing "Oh you're going to Malaysia? Then you have to visit Langkawi!" And when I was asking why, usually people were telling me "Langkawi is a wonderful island in Malaysia! It's nice to relax there, to get a tan, to have a walk along the beach…" Basically doing nothing. All right, let's start our visit to Langkawi!
Description of Langkawi
I gotta admit… I tend to do many different things when I'm visiting a city or a country but this time, after arriving in Langkawi, I realized there's not much to do. And I have to tell you, it does feel good doing nothing, says the guy who's always on the move. I think it didn't happen since Goa in India. Yeah, there are still a few places to see, but just being by the waterside, slowing down the pace… It's relaxing! Langkawi has to be part of your Malaysia itinerary!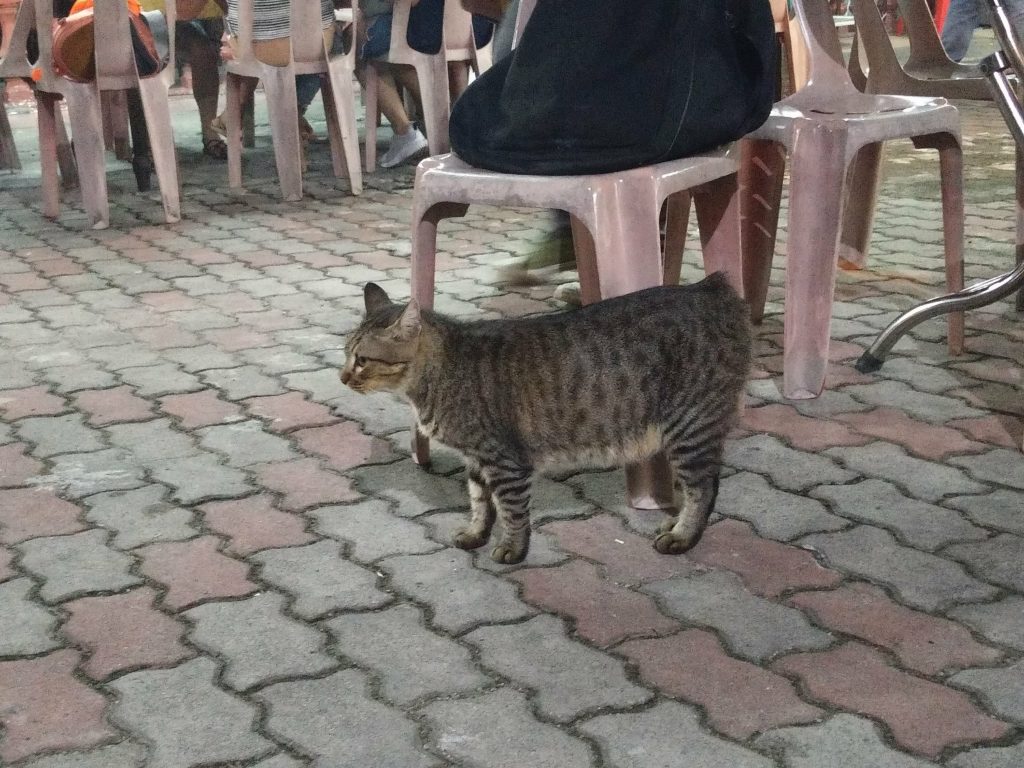 Langkawi (and Malaysia in general) has a higher cost of living than the other countries in Southeast Asia (except Singapore). Admittedly the prices are not the same as in Western countries, but eating, finding accommodation, doing activities, getting around… Everything is more expensive than Laos, Vietnam, Indonesia or the Philippines for instance. Because Malaysia is a more developed country. Alcohol is a lot more expensive in Malaysia because -let's not forget it- it's a Muslim country. There's one exception, Langkawi. Langkawi is in a duty free area, and alcohol is a lot cheaper there than anywhere else in the country.
The most popular and most lively beach in Langkawi is Pantai Cenang, and this is probably where you're going to stay. Along the beach you can see many stands, most of them proposing activities : jet ski, scuba diving, snorkeling… Pantai Cenang is beautiful and not that crowded, it's enjoyable. Pantai Cenang is the place to be to admire stunning sunsets. But be careful, there are jellyfishes. Do not go there without a travel insurance!
Along the beach, there are many bars and restaurants and there are plenty of options : Kalut, Thirstday, Hugging Hippo, Yellow Beach restaurant… A bit expensive and touristy but still nice for the view. If you're traveling on a budget, the best thing to do is to go to the main street to eat, and then have a drink in a bar along the beach. It's a lot cheaper! I'm enjoying this beautiful island called Langkawi and spend some time relaxing and getting tanned (although I'm already tanned ha!). I finally told myself I should do something and visit the island!
Things to do in Langkawi
The Temonyong night market
Every Thursday, there's a big event in Langkawi, the Temonyong night market! Taking place in Pantai Cenang! I went there and I have to say everything is cheap! Food, clothes, souvenirs… Most of the stuff they sell cost less than $1!
A mangrove tour
Apart from enjoying the beach, doing nautical activities, or admiring a sunset, there are a few things to see in Langkawi. First off, you can do a mangrove tour. You're spending a day visiting in a group different areas of Langkawi. You're getting around from one place to another in a small boat, and you can spot the border with Thailand, which is not very far.
Basically we visited a cave called crocodile cave because we saw… crocodiles there! We stopped the boat in the middle of the sea to see zebrafishes. We fed them, and we also fed monkeys. It was funny to feed the monkeys, we were throwing peanuts in the water and the monkeys, from the water's edge, were swimming to get them. But they weren't eating them, they were "storing" them in their mouth and then spit them out to eat them later.
We also saw eagles, we visited a bat cave, a cave full of bats and we spent some time relaxing in Tanjung Rhu Beach. Few people are there since it's at the other end of Pantai Cenang. After that, we went back home. All the hotels ask their guests if they wanna do the mangrove tour, so just talk to the staff. The mangrove tour costs 90 ringgit (18 euros), lunch included. You can also check online if you wanna do a mangrove tour. Click here for more info. You should also check out this post listing the best Langkawi tours.
Langkawi cable car
Another popular activity in Langkawi is the ascent to the heights of the islands via the cable car. The view on top of the cable car is worth the trip and if you pay an extra 5 ringgit (one euro), you'll be able to have a walk on the sky bridge, located 660 meters above sea. There's also a skybar with a 360 degrees view.
The 3D Art Langkawi
There's a middle floor and it reminded me of Disney a bit. It's some kind of big park for families with small shops selling souvenirs but also attractions! The 3D Art Langkawi is a nice museum you have to see, with many kids enraptured. In this museum, you'll see paintings in trompe l'œil. There's also the Skydome showing a 360 degrees movie on the ceiling about space. The Skyrex is a simulator where you're in the middle of dinosaurs. From what I heard it's fun but it was closed when I went there. You can enjoy all those attractions after paying 55 ringgit (11 euros) at the entrance.
The Seven Wells waterfall
Not far from the Langkawi cable car, don't miss the Seven Wells waterfall. You'll have to climb hundreds of stairs to get there. Take a few minutes to admire the waterfall, but above all have a bath in one of the numerous natural pools. It's very nice, but you won't be alone there…
Other things to do in Langkawi
You can also check Eagle Square, a square with a huge sculpture of an eagle ready to fly away. For those who like to stay active, you can get on top of Gunung Raya, a mountain in the middle of the island. People around me talked about Kilim Geoforest Park but I didn't go. I heard it's not essential to go there if you did the mangrove tour.
Activities in Langkawi
You can go on a jet ski tour in Langkawi. Click here for more info. You can also go visit Langkawi with a private guide. Click here for more info. You can go on a sunset cruise with dinner. Click here for more info. Finally, you can go on a fishing trip with a local. Click here for more info.
Langkawi is a beautiful island in Malaysia. I really recommend you to go if you want to spend some time just to relax. You're probably gonna spend some time in the country, so check out this post listing the best places to visit in Malaysia! If you're backpacking Southeast Asia, here are the best beaches in Southeast Asia!
How to get to Langkawi
There's an airport on the island, and the flights from Kuala Lumpur are cheap. Click here to check the latest flight prices to get there! I paid 20 ringgit (4 euros) my 15-minutes ride from the airport to the hostel. From Penang, you can go to Langkawi by ferry. From the border with Thailand, you'll have to take a bus and a ferry to go to Langkawi.
How to get around in Langkawi
If you wanna explore the island, the best thing to do is to rent a scooter. It's 30 ringgit (6 euros) per day. FYI, without a driving license, they won't rent you one (unlike many countries like India). Otherwise you can take taxis or use apps like Grab (Uber in Southeast Asia). Finally, renting a car in Langkawi is also possible. Oh and you can hire a driver for the day.
Best time to go to Langkawi
From December to April is the best time to go to Langkawi.
Where to stay in Langkawi
If you're traveling on a budget, you're gonna like the Soluna Guest House. Click here to book your stay. If you're looking for a mid-range hotel, The Temak Villas is made for you. Click here to book your stay. If you prefer luxury hotels, I suggest you to stay at the Ambong Pool Villas. Click here to book your stay. Otherwise click here to check what are the hotels available in Langkawi.
Finally, if you prefer to stay in an apartment, click here to check the apartments available on Airbnb.
Langkawi travel tips
Traveling soon? Check out my travel resources page! This list of travel accessories can also be useful!
Wanna go to Malaysia? Check the visa policy here. Most people can stay up to 90 days there without a visa.
Do not go to Malaysia without a travel insurance! A guy from the hostel came to us yelling in the common area : a jellyfish bit him. They're present in Langkawi! Here's why you should buy travel insurance!
Want a tailor-made trip to Malaysia? Get a free quote here!
To get to Sky Bridge in the heights of Langkawi, you can take an escalator (called Skyglide) or the stairs. If you wanna use the escalator, you'll have to pay an extra 15 ringgit (3 euros) and there's a long line. Take the stairs!
Also, if you want to, get a local SIM card. I paid 8.50 ringgit (less than two euros) for a SIM card with 1.2GB.
Langkawi means brown eagle in Malay!
Always use a VPN when traveling. I use ExpressVPN and I love it! Here's why use a VPN when traveling!