Some links are affiliate links, which means if you make a purchase through these links, I earn a commission, at no extra cost to you.
George Town is the capital of Penang Island, located northwest of Malaysia. I didn't particularly want to go there but Penang Island is not far from Langkawi, where I spent a few days to relax. After doing my little research, I finally told myself "Yeah… Why not go to the capital of Penang Island, George Town?" I didn't really know what to expect, and most travelers were saying that without being an unmissable, George Town is a city to visit if you have the opportunity and if you have time. I have some time, let's go! And I read George Town has been inscribed as a UNESCO World Heritage Site since 2008. All right, let's see what to do in George Town!
Description of George Town
Truthfully speaking, I liked George Town. And I was quite surprised to find out that George Town is the second largest city of the country (after Kuala Lumpur, the capital!), with 700000 inhabitants! However the city is pretty quiet, there's not too much traffic, and George Town is nice and enjoyable.
How to get around in George Town
To get around, you can take the bus. The ticket price varies depending on the distance of the ride. Usually it's around 2 ringgit (0.40€). Otherwise you can rent a bicycle but I didn't try. You have to download an app (I don't have the name) and scan the QR code on the bicycle to get it. Another option : walking. As I said, I thought the city wasn't tha big. I was able to go almost everywhere by foot, and wander in Little India, the Indian neighborhood of George Town (there are many Indians in Malaysia in general).
What to do in George Town
The clan jetties
One of the first things I saw in George Town : the clan jetties. What the hell is this? In the same area in the city along the sea, there are floating villages where you can see houses on stilts. They date back to the 19th century, when Chinese immigrants settled in the area. There are six clan jetties, and each clan jetty has the name of a Chinese family. The most famous (and the most touristy) is the Chew jetty, owned by the Chew family. The descendants of the first Chew immigrants still live there.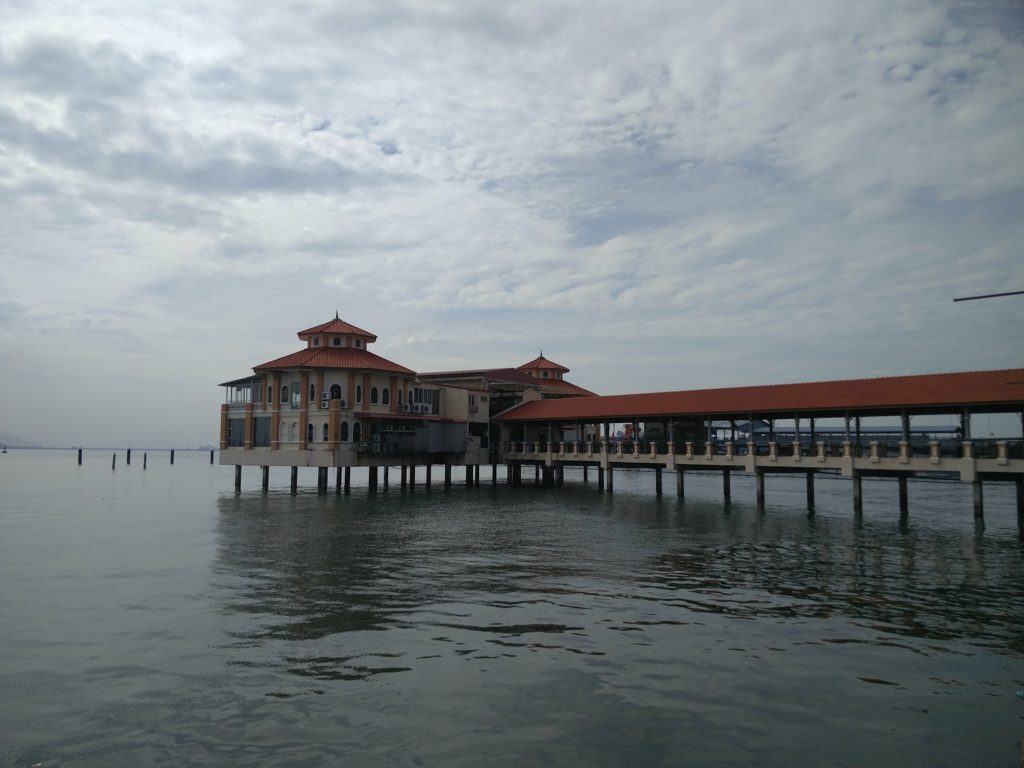 Get some durian
Nowadays, when you get there in the morning, you can observe the daily routine of the members of the family. From late morning, the place gets crowded. On the spot, there are souvenir shops, they're also selling ice creams, clothes… And also durian, that famous foul-smelling fruit. The durian smells so bad that it's forbidden to have one with you in some places (for instance it's not possible to take the bus if you have a durian in your bag). However, it's not that bad!
Admire the street art
One thing you cannot miss in George Town is the street art. In 2012, the city of George Town invited the Lithuanian artist Ernest Zacharevic in town to "decorate" the walls of the city. Everywhere you go in George Town, especially in the city center, you'll see maaany pieces of work of the artist. You can easily spend a full day discovering all the street art in George Town.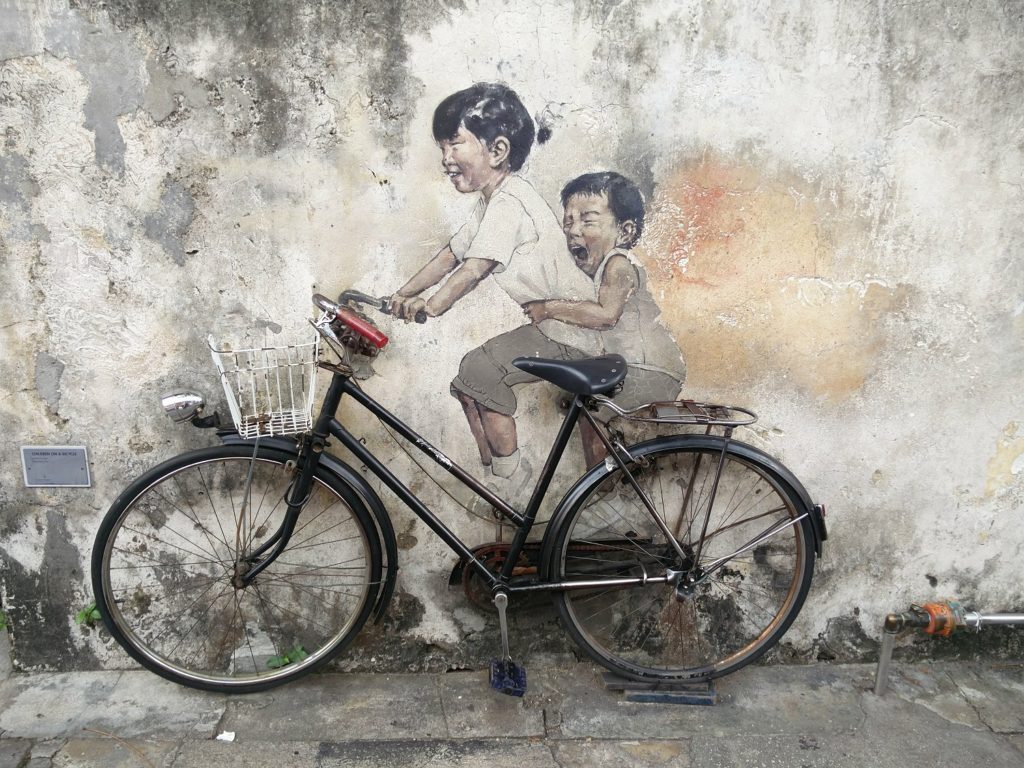 In fact, some travelers go to George Town just for that : to discover and to admire the street art of the city. Some pieces of work are more famous than other ones and in some cases, you have to wait in line to get your picture next to the drawing. You'll notice there is mostly two types of work : the ones in black iron (from 2009) and Zacharevic's drawings.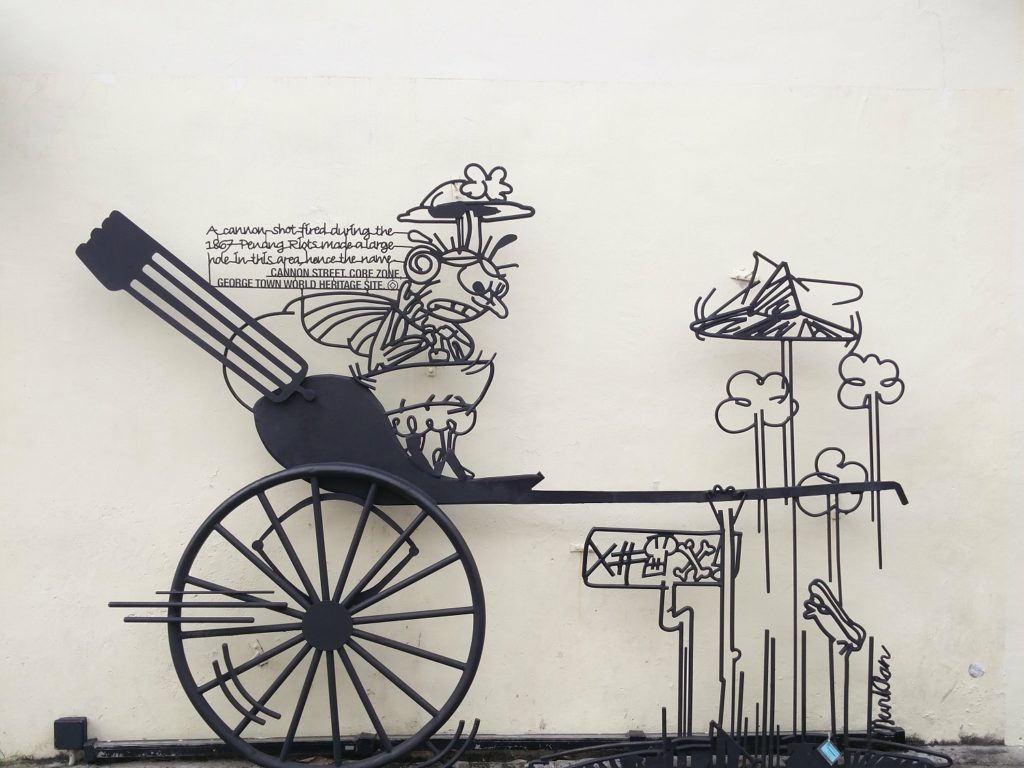 Enjoy the street food
Something else you cannot miss is the street food. From the late afternoon, there are street food stalls all over the place in George Town, and the food is delicious. In Malaysia, there are mainly Malay (it's logical!) but also a large community of Indian and Chinese people. It means you have different street food stalls serving local food but also Indian and Chinese food. You just order, and then sit at a small table on the sidewalk! By the way, George Town is regarded as the gastronomic capital of the country. For your information, you can go on a food tour with a local guide in George Town. Click here for more info. Otherwise, check out this Penang food guide!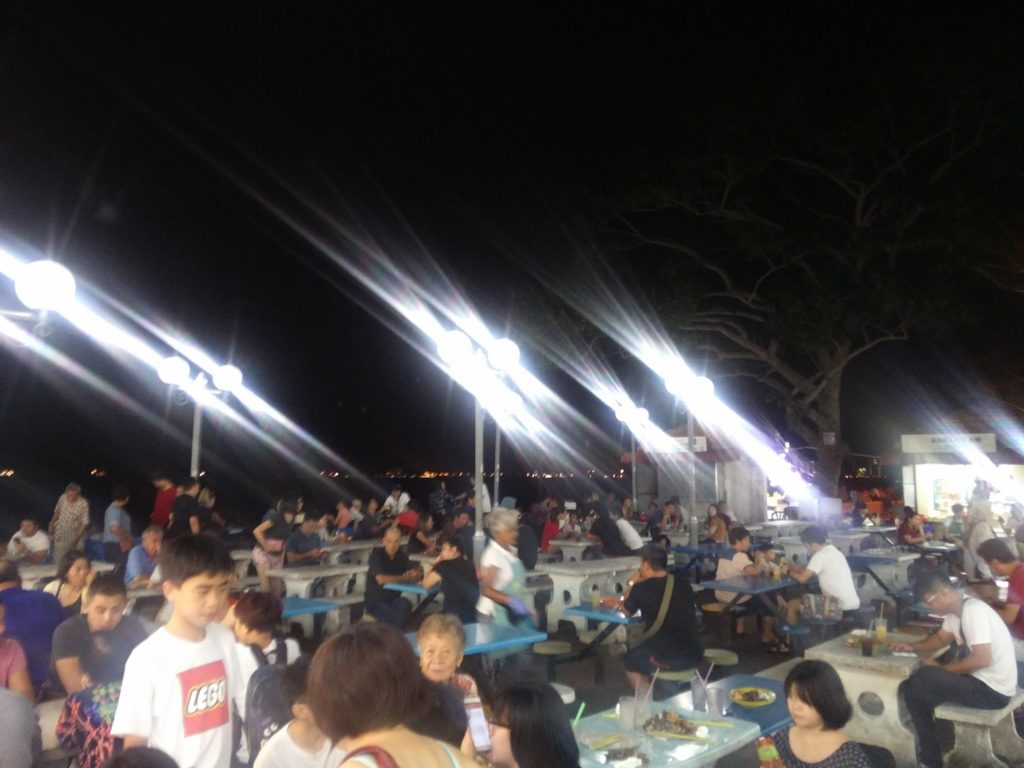 The signature dish of George Town is the Char Kway Teow. It's made from flat rice noodles with soy sauce, chili, prawns, clams, egg, Chinese sausage and lardons (no less!). But you can also try the laksa soup (a spicy soup made of rice noodles and coconut milk), apoms (pancake with coconut) and the famous cendol (crushed ice, rice flour jelly and coconut milk). Didn't really like it…
Penang Hill
If you want to stay active, head to Penang Hill, in the heights of George Town. But get there by foot! To do so, go to the botanical garden and from there you can hike all the way up to Penang Hill. It took about one hour and a half. Penang Hill is some kind of a small village in the heights of the island. Needless to say, you have a view of George Town but also restaurants, cafés, museums : the camera museum, the owl museum (yes it exists!). Too lazy to walk up there? A shuttle can bring you there. The two-way trip is 30 ringgit (6 euros).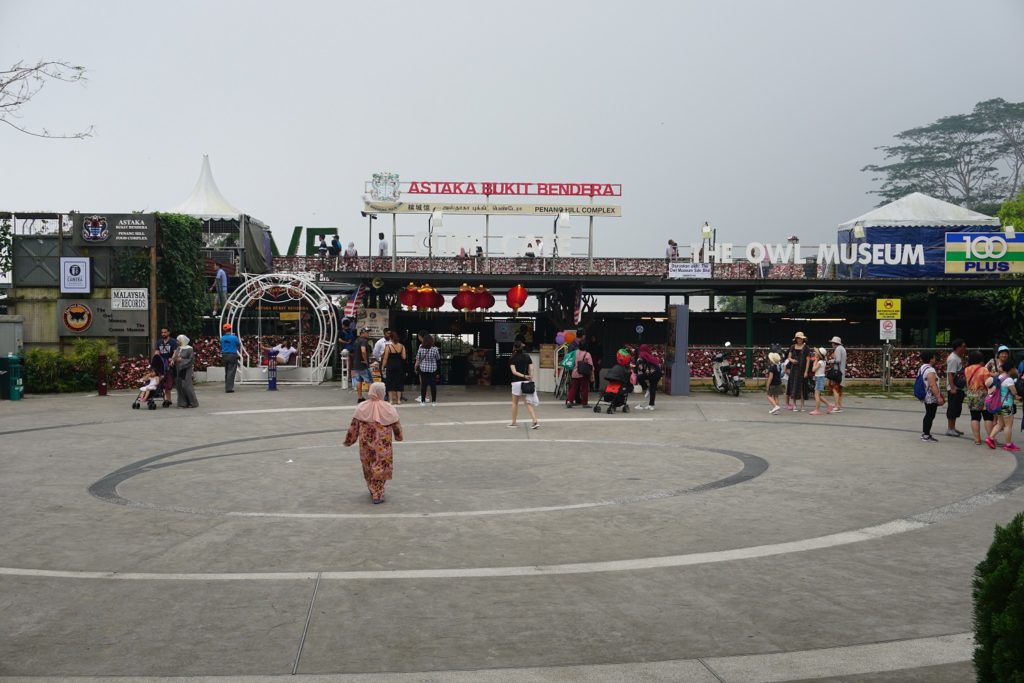 The blue mansion
I heard about a blue mansion (Cheong Fatt Tze) and I decided to go see it. At the entrance, an employee explains it's not possible to get in there by yourself. You can get inside with a guide, and the visits are at a fixed time (11am, 2pm and 5:30pm). I talked a little bit with that guy and he honestly told me that there was nothing special inside the blue mansion, you mostly spend your time listening to the guide. It was noon, and I decided not to go… It's 17 ringgit (3.40€) to get in.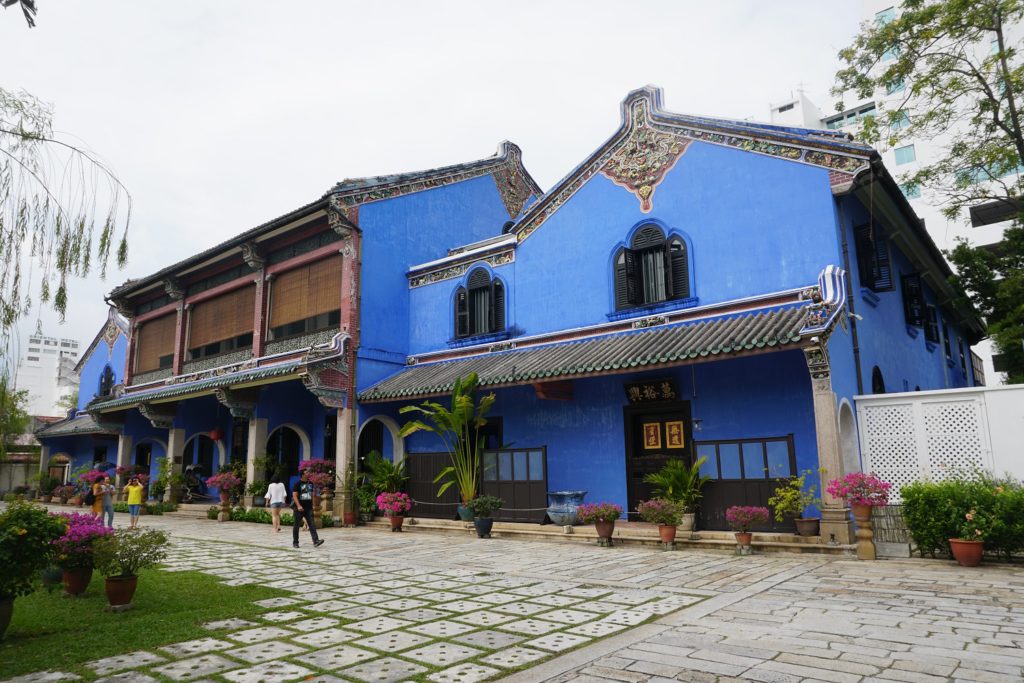 Khoo Kongsi
I visited Khoo Kongsi, located in the heart of the city. The "kongsi" were the houses of various Chinese clans created by the first Chinese immigrants. The main goal was to stick together, to support one another economically and greet the best way possible the new Chinese immigrants. This system faded over the decades but today it's possible to visit those kongsi, the most famous being Khoo Kongsi. It's interesting to see. It's 10 ringgit to get in (two euros).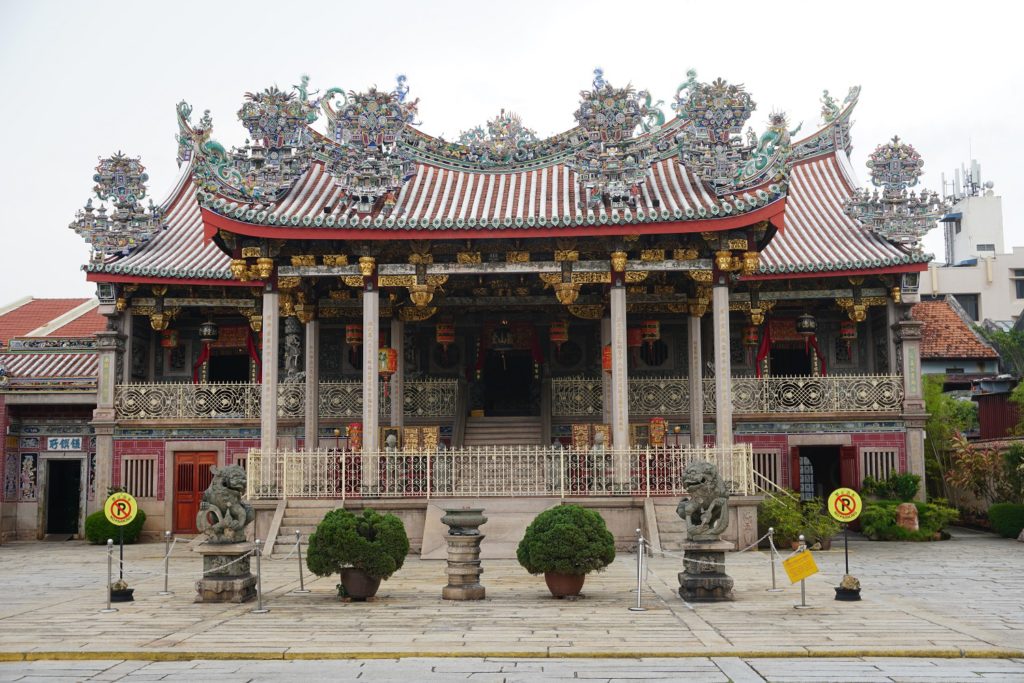 Other things to do in George Town
I also went to Fort Cornwallis, a fort built at the end of the 18th century. It never engaged in combat. Honestly you can skip it, there's nothing special there… It's 20 ringgit (4 euros) to get in. There's also the Peranakan Mansion, a museum dedicated to the legacy of the Peranakan, those descendants of Chinese immigrants who settled in the region. It's 20 ringgit (4 euros) to get in but I didn't go… The Kek Lol Si Temple, the biggest Buddhist temple in Malaysia is a must see (from what people told me) but it was far and I was too lazy to go… You can also visit George Town with a guide. Click here for more info.
I wouldn't say George Town is a must see in Malaysia. But it's a nice city, with its own little charm. And it's interesting to admire the street art, and to savor the various dishes at the street food stalls. You're probably gonna spend some time in the country, so check out this post listing the best places to visit in Malaysia!
How to get to George Town
There's an airport in Penang, click here to check the latest flight prices. From Kuala Lumpur, buses and trains go to George Town on a regular basis. It's a five-hours ride. From Langkawi, a ferry goes to George Town. I don't have the prices but it wasn't expensive, ask the staff at your hotel. It's a two-hour boat ride.
Where to stay in George Town
If you're traveling on a budget, the Weluv Travel guesthouse is a great one. Click here to book your stay. If you're looking for a mid-range place, I suggest the Carnarvon House. Click here to book your stay. If you prefer luxury hotels, there's the Eastern and Oriental Hotel. Click here to book your stay. Otherwise click here to check what are the hotels available in George Town.
Finally, if you prefer to stay in an apartment, click here to check the apartments available on Airbnb.
George Town travel tips