Now you know the real reason why I really wanted to make it to Turkmenistan : Darvaza, also called the gates of hell! I had been thinking for weeks about this place, and I really wanted to see it from my own eyes! And I didn't know if the opportunity would come up, because I was waiting for a response for my Turkmenistan visa… All the travelers I met were telling me I was wasting my time, waiting for a visa I would never get, they were also telling me my application would be rejected…
So you can imagine how happy I was when the guys at the embassy told me they approved my application! I immediately started doing some research! How can I go to Darvaza from Ashgabat? I want everything to go smoothly, what do I have to do exactly? Etc… Since I didn't have much time to spend in Turkmenistan (because of the visa…), I went straight to Darvaza after Ashgabat. I spent a night there, before heading to the border to go to Uzbekistan.

What is this thing, Darvaza, also called the gates of hell?
As I was explaining in my post about Ashgabat, Turkmenistan has a huge gas reserve, and they also have a lot of oil. In 1971, Soviet geologists started exploring the Karakum desert, where Darvaza is, looking for oil. No one really knows what happened next, various versions circulate. The geologists, having found what they were looking for, began to drill immediately. But the ground was fragile, and it created a huge hole, more than 60 meters in diameter and 20 meters deep.
Fortunately there was no victims, but the Soviets geologists realized that there was natural gas, releasing a lot of methane. The solution? Pure and simple, burn the methane. And what was supposed to burn for a few weeks, is still burning today, almost 50 years later… The government of Turkmenistan wants to "turn off" the crater soon, but we don't know when exactly. Which means you have to go now!
Today Darvaza is one of the major tourist attractions in Turkmenistan. In fact, tourists who decide to go to Turkmenistan (I'm one of them!), go there just to see Darvaza. And believe me, it's stunning! When I got there, around 6:30pm, I was almost the only one walking around the crater. Other tourists came later in the evening. At nightfall, we were around 20 people, eyes wide open.
I was just having fun walking around the crater (it takes at least 10 minutes to circumnavigate), and I took a shitload of pictures. Because of the heat and the fumes coming out of the crater, you cannot stay too close for a long time, because you get dehydrated really fast. Don't forget to bring a lot of water!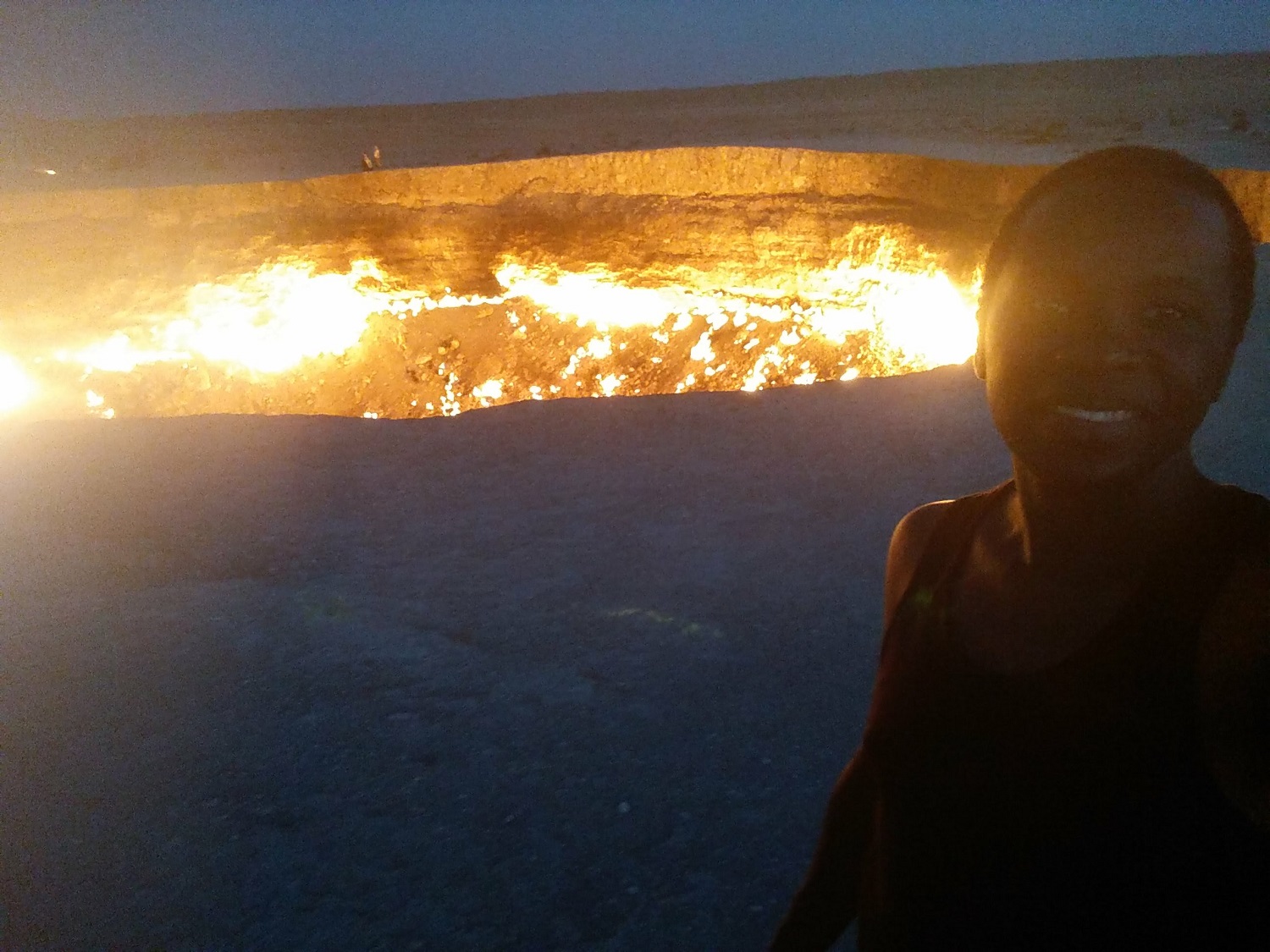 The crater is even more impressive during the night. During nighttime, the darkness is total (we're in the middle of the desert), and the only source of light is this crater, with big flames coming out of it. I was excited like a little kid, taking pictures from different angles, and then it was already time to go to sleep (in a tent), still smiling, thinking about what I just saw. The day after, all the cars left Darvaza, one after the other. It's already time to go, let's head to the border to go to Uzbekistan…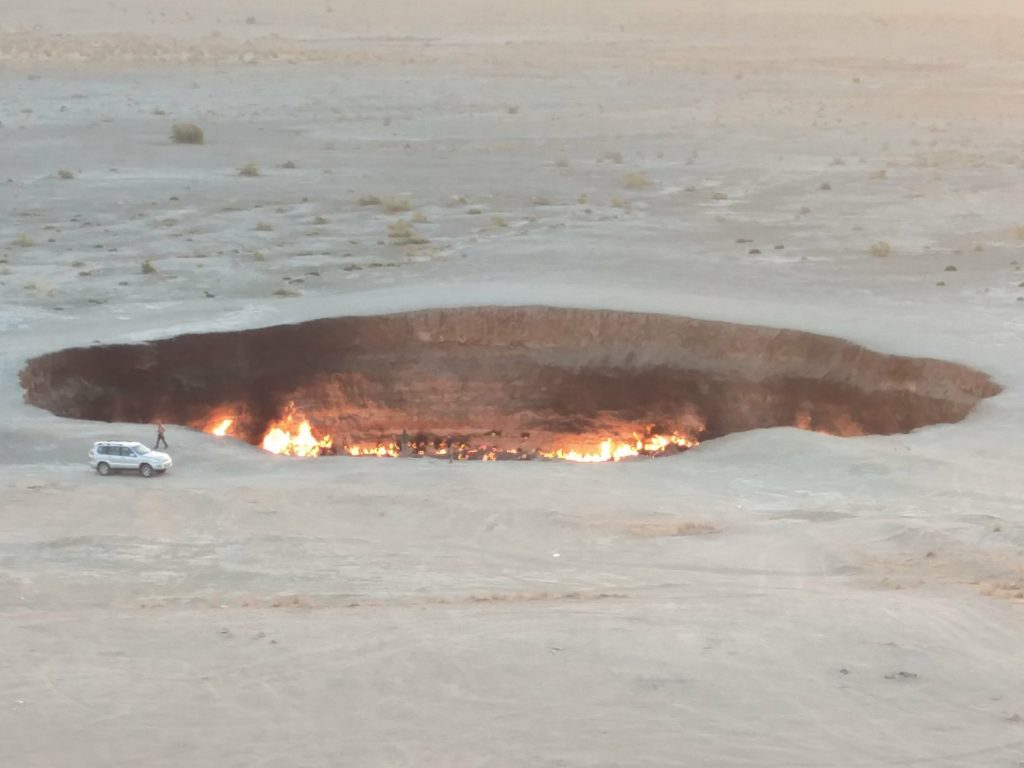 You want to go to Darvaza?
Before going to Darvaza, you need to manage to go to Turkmenistan, and it is definitely not easy. I wrote an article with a lot of travel tips before going to Turkmenistan (visa, money…). Check it out!
Nothing bad happened to me but please, do not go to Turkmenistan without a travel insurance! You never know what could happen…
Many websites are blocked in Turkmenistan. To use the internet freely, you need a VPN. I use ExpressVPN, fast and efficient. I really recommend it! It allowed me to surf the net freely.
If you were able to make it in Turkmenistan with a tourist visa, then you have nothing to do. The tourist agency will take care and arrange everything for you.
If, like most people, you're on a transit visa, then you'll have to find a way to go there. You can ask your hotel if they organize trips to Darvaza. Almost all the hotels will say yes, and they'll call an agency for you. You set a date and time, and a driver will pick you up at the hotel in his SUV, to drive you to Darvaza. The price, what's included… Varies a lot. You have to bargain! In my case, we were three going to Darvaza : a couple from Thailand and me. We paid 120$ each. For this price, a driver picked us up at the hotel in Ashgabat, he drove us to Darvaza (3-hours ride), he had tents and he pitched them for us, and the dinner was included (bread and chicken basically). The day after, the couple and I had to leave the country, so the guy drove us all the way to the border with Uzbekistan, in the north of the country, 3 hours and a half away from Darvaza. All this was negotiated beforehand. I heard about solo travelers paying 300$ for the same thing, others 250$, and I also heard about a couple paying 160$ each… You have to see by yourself! I'm usually independent, but my visa was expiring, and I wanted to leave the country on time. I really wanted to avoid big troubles by overstaying. I paid the price but then I wasn't worried anymore.
For those who really want to do everything on their own, there are a few options. From Ashgabat, you can go to Darvaza by bus. Go to the Ashgabat International bus station, and get a ticket the day before (it's 13.5 manat, which is 3.50 euros). You can either take the 7am bus going to Dasoguz, or the 8am bus going to Konye Urgench. It's a 3 hours ride. Otherwise you can take the train. It will cost you 5 euros maximum. Or you can take a shared taxi (around 20$), but of course the taxi will leave once the car is full…
The main problem when you take the bus or the train : they stop at the Darvaza station, not the gas crater. There's 7 kilometers (4.5 miles) from the station to the crater… By foot? Don't forget you're in the middle of the desert, probably carrying all your stuff… Some drivers there propose having a ride from the station to the crater. 10$ a return ride on the back of a motorcycle, or 50$ by jeep (50$ is the price for the full car, so you can bargain). You should see drivers from late afternoon.
Another problem when you get there by bus or train : leave the place. Buses passing by Darvaza, either going north or south, are often full. Shared taxis as well. There's still the train, or you can hitchhike. Trucks passing by are used to this, and they often take travelers, but they're extremely slow…
If you're still motivated to go to Darvaza, one thing : bring a lot of water! A tent/a sleeping bag if you come by yourself! Something to eat! And toilet paper if needed, you'll notice a lot of people pooped around the crater (we're in the middle of nowhere!)
Some links are affiliate links, which means if you make a purchase, I earn a commission, at no extra cost to you.