Some links are affiliate links, which means if you make a purchase through these links, I earn a commission, at no extra cost to you.
Do you know many people who've already been to East Timor? And to Dili, its capital? I'm not sure… Oh actually you know at least one person now, meee 😀 East Timor is probably the least visited country in Southeast Asia. Indeed, East Timor is located on the extreme eastern part of Southeast Asia, one hour away by flight from Darwin in Australia, and from Papua New Guinea! Moreover, it's a tiny country! This partly explains why few people backpacking Southeast Asia go there. It's sooo far away… and not big!
Timor Island is divided in two parts, West Timor being part of Indonesia and East Timor being an independent country. Why did I go there? I decided to spend some time in Kupang, West Timor (thus in Indonesia). And I realized that Dili, the captal of East Timor, wasn't very far. I'm a curious guy, so why not give it a try? Since few people make it to Dili (or East Timor in general), I'm mainly gonna share some travel tips if you wanna go there! Let's go to Dili, the capital of East Timor! But before that…
A bit of history of East Timor
Historically, East Timor has almost always been a Portuguese colony. The Portuguese arrived as soon as 1596, and they occupied the place for almost 400 years! East Timor only became an independent country in 1975… I mean, that's what they thought! Nine days after their new independence, on December 7th, 1975, Indonesia invaded East Timor and took over the country, with the help of the USA and Australia (all the details here). Following the Indonesian occupation, there were several clashes between Indonesia and East Timor… East Timor finally won its independence for good on May 20th, 2002!
Visa policy of East Timor
Citizens from the Schengen area can enter East Timor without a visa, either if they arrive overland or by air. Citizens from the Schengen area can stay up to 90 days as a tourist. Which means unlike what I read on the internet, if you're a citizen from the Schengen area, you have nothing to do. They don't even ask for an onward ticket.
For all the other nationalities, you need to apply for a visa. If you arrive overland from West Timor, you need to apply online beforehand via this website. They'll send you a visa authorization. Print it and take it with you to the border. They'll ask you to pay a $30 visa fee, and then you'll get your visa, valid for 90 days. If you arrive by air, it's easier. You'll get your visa upon arrival at the airport, you don't need to apply in advance. Just pay the $30 visa fee, and they'll give you a 30 days tourist visa.
Languages spoken in East Timor
Almost 400 years as a Portuguese colony, it left an indelible mark on the country! When I arrived in Dili, it felt strange to hear all the locals speaking Portuguese around me! Don't forget we're still in Southeast Asia. But actually, the official language of East Timor is Tetum. There are a few similarities with Portuguese, but still, it's different (same same… but different!). I met a Portuguese girl who lives in Dili and she understands Tetum just a little bit. Generally, the elderly speak Portuguese and Tetum perfectly, and the younger ones speak Portuguese and they understand Tetum, without necessarily speaking the language.
In fact, although there are two official languages (Portuguese and Tetum), there are 14 languages spoken in the country, and sometimes it can cause several communication problems among locals… Anyway, in my case, I don't speak Portuguese nor Tetum, but thanks to French (and Spanish that I speak!), I understand Portuguese without too much difficulty, and I could understand Tetum more or less. Otherwise, in general, the locals don't speak English very well. Oh and surprisingly, some of them speak French!
Internet in East Timor
I visited a lot of places without internet access, and I didn't know what to expect in East Timor. But when I was looking for accommodation, I could see they were saying "Free WiFi", so I guessed having internet wouldn't be a problem. Oh man… I was so wrong! There's no WiFi in the whole country!!! In fact, in two different places (both in Dili but I forgot where…), there's WiFi but otherwise, nothing, nada! To have internet, you'll have to buy a local SIM card! Buy one in a Timor Telecom shop, either inside the Hotel Timor, or in the Timor Plaza Shopping Complex. You'll pay $6 to get a SIM card with a 3GB data package.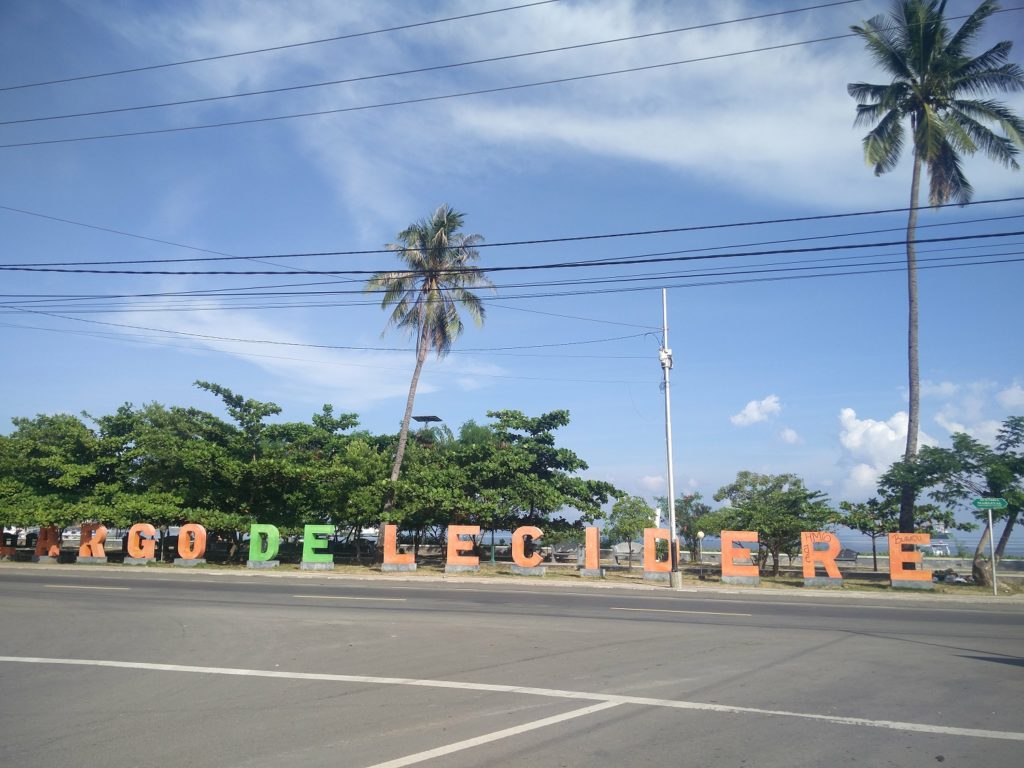 I recommend not to buy a SIM card in the small groceries, they're gonna sell a SIM card with a 1GB data package, but you'll only get 50MB… In fact, when the hotels say "Free WiFi", it actually means "We're gonna give you a SIM card with data", usually around 500MB. If you need more, you're gonna have to pay…
Money in East Timor
It hasn't been a long time since East Timor is an independent country, and East Timor is not a rich country… Therefore they don't have their own currency, they use the US dollar (like Cambodia!). So the prices are probably a bit inflated, they use a strong currency in the country! However, unlike in the US, they don't have the $1 bills (they have $1 coins!). And their cents are called centavos!
Accommodation in East Timor
Those who follow me know I'm a backpacker, and not a luxury traveler. So I stayed at Hostel DaTerra. They were saying they had bed in dorms, but it was better than expected! Actually we were sleeping in 4-bed bungalows. They also have single and double rooms. The staff was very nice, the manager a lovely guy, and we did several things all together (local dinner, an afternoon on the beach…). I recommend staying there! Otherwise there are other hotels and hostels but in Dili (and in East Timor in general), options are limited since there are not many tourists… The Discovery Inn is a good mid-range hotel, and the Novo Turismo Resort is more like a luxury hotel. Otherwise click here to check what are the hotels available in Dili. Finally, if you prefer to stay in an apartment, click here to check the apartments available on Airbnb.
Generally, accommodation is more expensive in East Timor than in the neighboring countries. It's logical, there are less tourists, they need to import everything, their expenses in order to offer electricity 24/7, and of course the fact that most visitors come for business purposes and their companies pay for their rooms! For your information, until recently (like two years ago), there was only one hostel in Dili, Kazamina. It was located in the middle of a market, you had to pay $20 per night, and the reviews were awful! It's over now…
Safety in East Timor
I said it earlier, Indonesians and East Timorese weren't in good terms for a very long time. There were thousands of deaths during the Indonesian occupation. But it's over now. East Timor is a safe country, you can go there safely. I met a solo female traveler, and she told me she felt safe in Dili!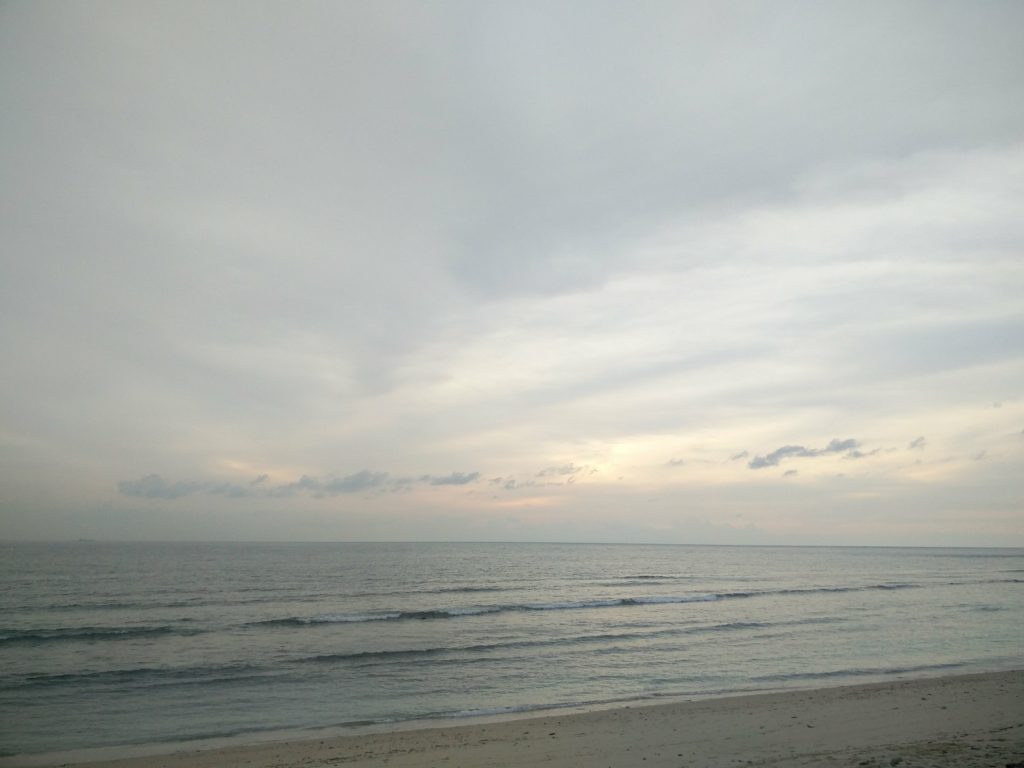 However, after the sun sets, go home! There are still confrontations between gangs! Tourists are not targeted, but you never know! One evening, after midnight, I heard a gunshot! It would be stupid to get shot by a stray bullet! Just for your information, the learning of martial arts is forbidden in East Timor since 2013. Gangs were fighting, tearing off rivals' hands, etc…
Things to do in Dili
Cristo Rei
Before talking about what you can visit in Dili, you need to know there are almost no tourists in Dili. So when two tourists run into each other, they just greet each other (a little bit like the nod when you're black)! The emblematic statue of Dili is Cristo Rei! It will inevitably reminds you of Christ the Redeemer in Rio de Janeiro, Brazil. This statue was built in 1996, when East Timor was under Indonesian occupation, to convince them to abandon their desire for independence.
Cape Fatucama
Cristo Rei is 27 meters (88.6 ft.) high, and is located on top of a hill. You'll have to climb 500 stairs before getting there, but the view is worth the effort! I also suggest you to go to Cape Fatucama, the beach located behind Cristo Rei! There's almost no one! White sand, turquoise water… Go there if you wanna have some peace!
Santa Cruz cemetery
I'm not much into cemeteries, but you can go visit Santa Cruz cemetery. On November 12th, 1991, Indonesian troops massacred locals there, killing at least 250 people… The victims are now resting in this cemetery…
Timorese Resistance Archive and Museum
I'm not much into museums either, but there's one I really wanted to visit, the Timorese Resistance Archive and Museum. It recounts the history of East Timor, and focuses on the period when East Timor was under Indonesian occupation. From what I heard, it's very interesting, but I can't confirm if it's true. The museum was closed during my whole stay in Dili… It's 2 dollars to get in.
Motael Church
If you have time, you can visit Motael Church. This church was built in 1955, when East Timor was under Portuguese occupation, and it's the oldest Catholic church of the country. You can clearly feel the Portuguese influence when you see this church, and when you visit inside.
Tais market
Go buy some local souvenirs at Tais Market! You can buy home-made products made by the locals. The souvenirs are made of Tais, a traditional method of weaving. Take some time to admire what they offer and if you buy something, don't forget to bargain! In the city center, there's also a fruit and vegetable market.
Atauro island
I didn't do it but you can go to Atauro Island! Apparently it's a wonderful place if you wanna go scuba diving. Why didn't I go? From Dili, there's a boat going there only once a week. It's a 3-hours ride, and it costs 5 dollars. Once you get there, you have to wait a full week before going back to Dili. Or you can stay in Atauro Island for three hours, and then go back to Dili the same day. Another option consists in taking a speed boat, they're doing the trip everyday. But a one-way ticket is $35.
If you're a clubber/a party animal and you wanna party, you're gonna be disappointed. Dili is not a party place. Actually, there's no nightlife except on Friday nights. On Fridays, close to the Timor Plaza Shopping Complex, there's a rooftop with live music and alcohol. But apart from this… Nothing!
How to get around in Dili
I read here and there that the easiest way to get around in Dili is by taxi. But to be honest, I almost never took the taxi. If you wanna take a taxi, just stick out your hand on the edge of the road and tell the driver where you wanna go. It's gonna cost 2 or 3 dollars. To me, the easiest way to get around is by foot. If you're in the city center, you can go everywhere by foot! There are sidewalks, and if you walk, you can observe the daily routine of the locals. The only downside is the heat!
However, if you need to go a bit further, take a microlet. They have numbers, and they follow a specific itinerary in the city, just like our buses! For instance, to go to Cristo Rei from the city center, you have to take microlet #10, then #12! One ride is $0.25, and you pay when leaving the microlet. You'll find a map of the microlets routes here. Otherwise be prepared, in the microlets, the drivers blast music on the stereo, and they put stickers and stuffed animals in front of the windshield!
The local population in Dili
Like Kochi in India, Dili reminded me a lot of the Caribbean islands. The locals really look like Caribbeans. They're all very nice, smiling and welcoming, and they won't hesitate to help you if needed. Moreover, they don't try to scam tourists, it does feel good! I noticed there are many people from Papua New Guinea living there. The elderly have their faces marked with by age and problems. It's understandable, knowing what they've been through (Portuguese occupation, then Indonesian occupation).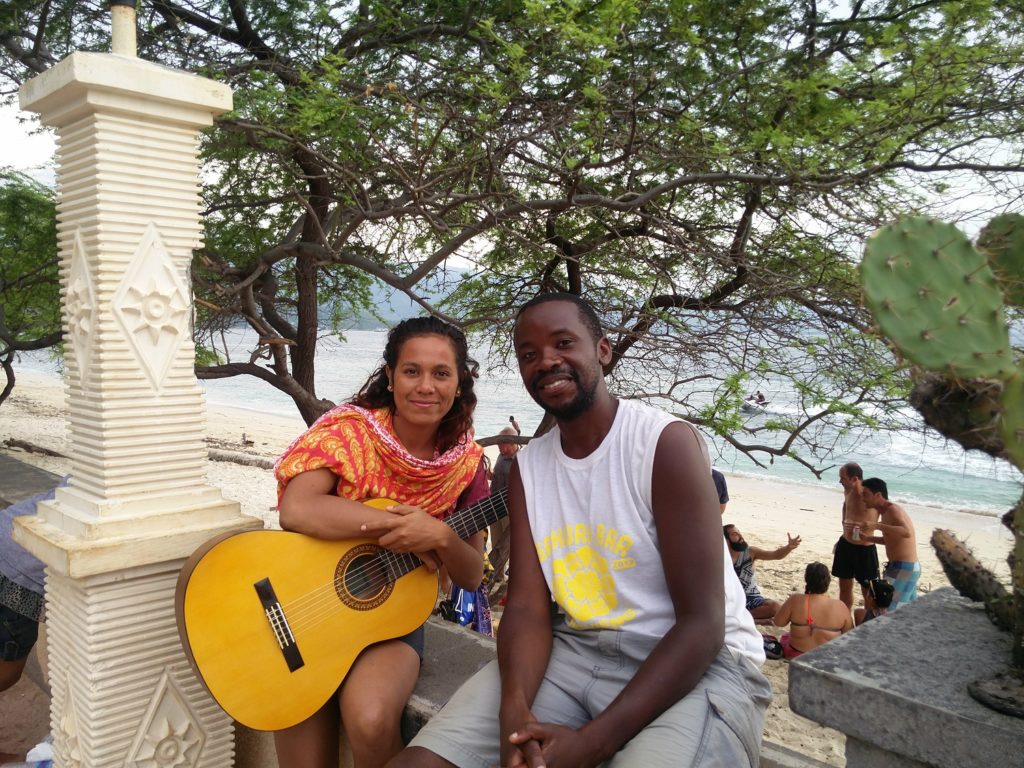 Dili is not a big city and you can visit it quite fast. However… There are four Burger King in East Timor, all of them in Dili! In some areas, the roads are in poor condition, and it's impossible to get around because of the rain. The southwest part of the country becomes inaccessible then. East Timor is not very rich, but essentially lives off its gas and oil reserve. East Timor also produces very good coffee, and the country exports a lot of their coffee production.
How to get to Dili
You wanna go to Dili? The easiest way to get there is by plane from Bali in Indonesia. There are direct flights daily. Click here to check the latest flight prices. Not that long ago, there were flights from Kupang (West Timor) three times a week, but they don't exist anymore. It was even cheaper and it was a one-hour flight. If, like me, you arrive overland from Kupang in Indonesia, there are vans going to Dili everyday at 6am. It's a 12-hours ride, including a one-hour break to cross the border.
So I left Kupang at 6am, and I was at the hostel in Dili a bit before 6pm. I paid 225k rupees (14 euros). I bought my ticket at Paradise Travel. Another agency called Timor Travel does the same ride but I don't have the prices. Ask the staff at your hotel and they'll tell you where the agencies are (in my case, a guy on his scooter brought me to the agency).
Being black in Dili
Nothing to report! Honestly, I had no problems at all. As I said earlier, East Timorese have Caribbean physiques. They were all almost as black as me. I have to admit they were staring at me quite often, but it's mostly because they could clearly see I wasn't a local. I think no more than one local (or two) asked to get a picture with me!
That's it! I hope this guide to Dili was useful! Feel free to comment if you have any questions!