Some links are affiliate links, which means if you make a purchase through these links, I earn a commission, at no extra cost to you.
I've already been to several US cities, but I was often hearing people say "You have to visit Chicago when you go to the US". I even heard "Chicago is one of the very few US cities where I can see myself moving in". I thought about it more and more often, and finally, I had the opportunity to spend 3 days in Chicago. And honestly, the city did justice to its reputation. I'm gonna explain why!
History of Chicago
The name Chicago allegedly comes from the term Checagou, which means wild onion. Native Americans used to live there, then the French settled there cause Chicago belonged to French Louisiana. Then the Americans bought Louisiana. Chicago grew thanks to the numerous immigrants coming from Europe, but the Great Chicago Fire in 1871 destroyed the city and left more than 100,000 residents homeless. Chicago got back on its feet very quickly, and experienced an industrial boom the following years.
Moreover, thousands of people decided to move in Chicago : the immigrants coming from Eastern Europe, the black Americans coming from the racist states in the south… Although there were a race riot in 1919, gang rivalries during the prohibition and an economic and urban crisis in the 1960s, Chicago is now a modern, thriving, innovative and safe city.
Description of Chicago
Today, Chicago is the third most-populous city in the United States after New York and Los Angeles. We call it the windy city. There are several explanations, but most of the time, people say the nickname comes from the strong and freezing wind in Chicago wintertime.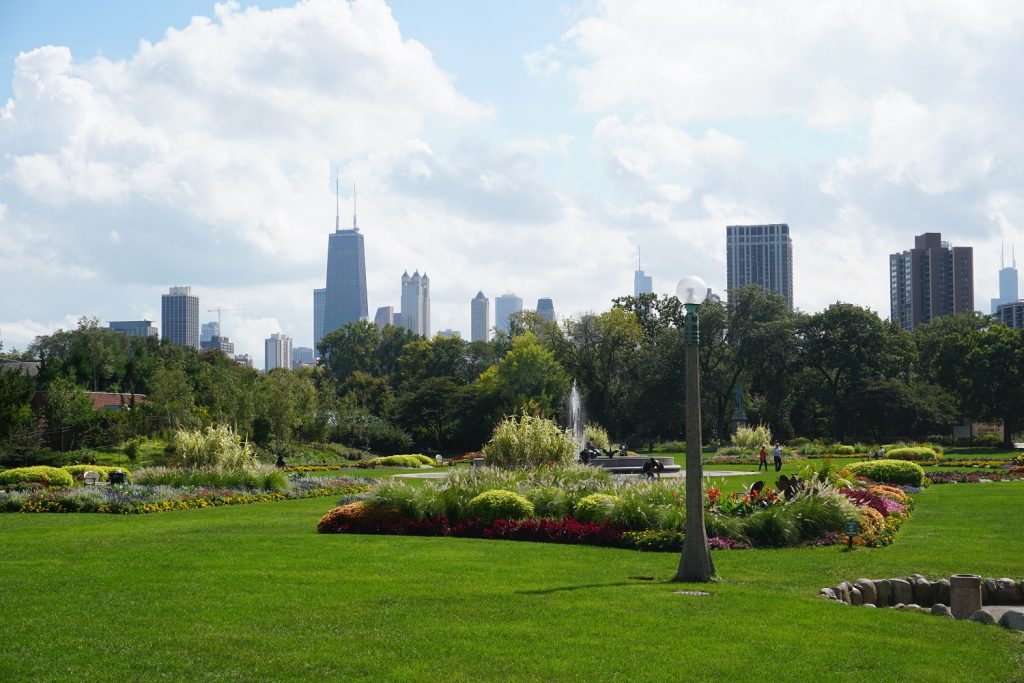 Despite that, the city attracts many people thanks to its cultural diversity. For those into green spaces, there are wonderful parks like the Millenium Park. For those who like to be astounded, there are skyscrapers everywhere, and you can get on top of a few of them. Yep, skyscrapers stand alongside green spaces here! For those into food, Chicago has its own culinary specialties.
For those into art, there are several museums to visit, and the architecture of Chicago is unique. There's also the lake Michigan not far where you can take a sightseeing cruise. It's wonderful, and admiring it, you'll almost forget you're actually in a big city. Anyway, Chicago has its own atmosphere that you can't find anywhere else! Well, Chicago is not perfect either.
Like in many US cities, you can see many homeless people outside… There are huge inequalities between rich and poor people. For those who have a sensitive sense of smell, you'll notice that it smells like weed most of the time in the subway. Anyway, let's see what to do if you plan to visit Chicago in 3 days.
Things to do in Chicago
The Willis Tower (Skydeck Chicago)
One of the most famous attractions of Chicago, the Willis Tower, also called Skydeck Chicago. You get on top of this 442 meters (1450 ft.) skyscraper with its 110 floors, and you enjoy a view of Chicago, the lake Michigan, and even the neighboring states when the weather is nice : Wisconsin, Indiana… That was the tallest building of the US for 40 years, but the One World Trade Center in NYC surpassed it -it opened in 2014 and it's 541 meters (1776 ft.) high-.
A piece of advice : get there early in the morning! Otherwise you're gonna wait a long time to get on top of the tower, and wait again for a very long time to get a picture with the city in the background. When leaving the tower, you can buy a photo of yourself on top of the tower. It's 30 dollars… To get in the Willis Tower, you'll have to pay 24 dollars, but the entrance fee is included in the city pass (more info at the end of the article).
360 Chicago
If you like views from the heights, there's also 360 Chicago, sometimes called John Hancock observation deck. You get to the 94th floor and you can admire Chicago but also the lake Michigan. You're 314 meters (1030 ft.) high. Many people say the 360 Chicago offers the best view of the city. It's also possible to try the Tilt Experience. You're on a platform leaning over the edge of the skyscraper to a 30-degree angle. Don't do it if you have vertigo. Anyway, I did it and it only last like two minutes. Not necessary… It's 22 dollars to get in 360 Chicago, but the entrance fee is included in the city pass (more info at the end of the article). It's 8 dollars if you wanna do the Tilt Experience (7 dollars with the city pass). Click here to buy a skip the line ticket.
Millenium Park
Let's go back to the ground and let's see Millenium Park! It's a wonderful park located in the heart of Chicago. There are sometimes concerts on the spot, and a skating rink during the year-end celebrations. Why does everybody go to Millenium Park? To see the cloud gate, designed by the British artist Anish Kapoor. It's probably the symbol of Chicago, the main attraction of the city, there are many people all day everyday! Because of its shape, people call it the bean instead. It's one of the best places to take pictures in Chicago.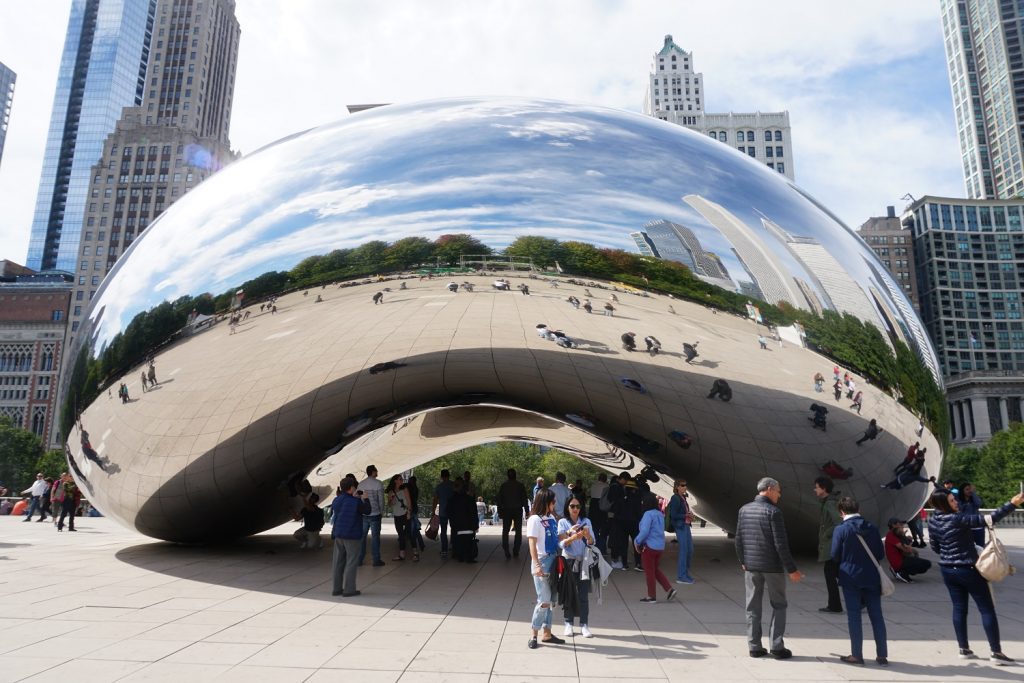 In Millenium Park, don't miss Crown Fountain, a pair of glass brick towers opposite each other. They display faces spitting water. A little bit further, there's also Buckingham Fountain, a wonderful one! For your information, it's possible to go on a segway tour in this area. Click here for more info.
I'm usually not really into museums, but it was free to get in this one thanks to the city pass. So I decided to give it a go… And honestly, I wasn't disappointed. It's the natural history museum of Chicago, and there are many permanent and temporary exhibitions. You can easily spend a whole day there!
When I went there, I enjoyed an exhibition about America during Ice Age, another one about ancient Egypt with its numerous mummies, one about black people from Africa going to America because of slavery, and one about life evolution. I didn't even mention the parts of the museum about China, the meteorites, the Pacific islands… I also enjoyed an exhibition where they reduce your size and you only measure 25 millimeters (one inch). We then stand alongside insects, and they all look gigantic! With no city pass, it's 38 dollars to get in the Field Museum. You can book online here.
This is another museum I visited thanks of my city pass. The art institute of Chicago is the second largest museum of the United States after the Metropolitan Museum of Art in New York. There are more than 300000 works of art : Van Gogh, Picasso but also photographs, miniatures… I cannot say much about it, since I'm not that sensitive to art in general. Go there if you're into it. It's 42 dollars with no city pass. You can book online here.
Lincoln Park Zoo
I was peacefully walking in Lincoln Park, the second largest park of the US, and I accidentally ended up in a zoo, the Lincoln Park zoo. It's free to get in there (I was already in the zoo and didn't even realize it). Needless to say, you'll see many animals (lions, monkeys…) and there are many families there! FYI, the zoo opened in 1868, it's one of the oldest zoos in the USA.
By the way if you are a fan of more active walk, you can try a bike tour around the park and go around not only the zoo, but also Navy Pier, Chicago skyline and more.
Shedd aquarium
If you have some time, you can go visit Shedd aquarium, one of the largest in the United States. The fishes are classified by their area of origin in different aquariums (Central America, Southeast Asia…). There's also a 4D movie broadcast several times a day. It's 40 dollars to get in, but it's included in the city pass.
Navy Pier
Take some time to have a walk on Navy Pier. A nice pier offering a beautiful view of the lake Michigan and the Chicago skyline. On Navy Pier, there are also small shops, guys selling hot dogs, a few restaurants and a movie theater. Very often, people go to Navy Pier to ride its Ferris wheel. It's 18 dollars. If you're traveling with your family, don't miss the Children's museum. It's 15 dollars to get in! Finally, don't hesitate to go on a cruise to admire the architecture of Chicago. Click here for more info.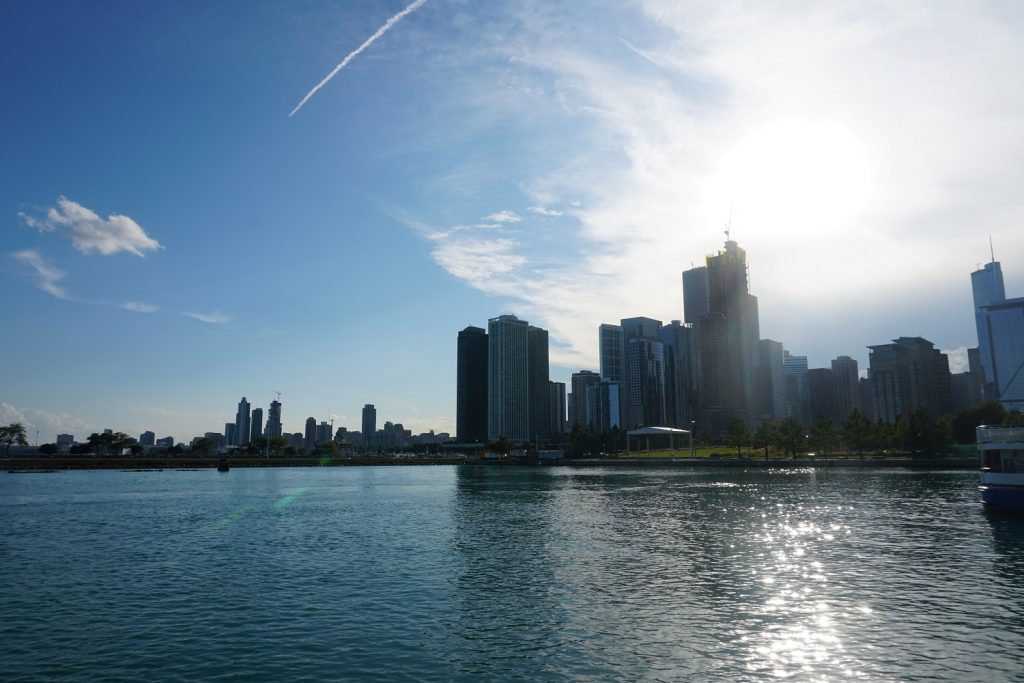 Other activities in Chicago
For your information, there's also the museum of science and industry of Chicago. It's the largest museum dedicated to science in the world. You'll see life-size German submarine, Boeing 727… I didn't go. It's 40 dollars to get in. You can also go to Adler Planetarium, a museum dedicated to astronomy and astrophysics. It's 35 dollars to get in. Finally, it's free to get in the Chicago cultural center. For your information, you can go on a mob and crime tour in Chicago. Click here for more info.
If you wanna go on a shopping spree, you have to go to Magnificent Mile, you'll find what you're looking for! Huge stores, malls, luxury boutiques… Heaven on earth! There's also Merchandise Mart which is multi-function : it's a mall, but also a place selling furniture for kitchen and bathroom and a coworking space! There are also offices, exhibitions, restaurants… A must see! Finally, here's a post explaining where to find the best Chicago street art.
What to eat in Chicago
This is not a scoop, it's difficult to eat well in the US. Moreover, they display the number of calories for each food product you buy. You think twice before buying! Chicago is known for its burgers but I'm not a fan of burgers in general. Chicago's signature dish is the deep dish pizza. A pizza, specialty of a US city!? Yep, it's due to the Italian immigration, who arrived throughout the 20th century. Go to Giordano to try one! It's a pizza with a very thick pizza base! To me, it looks more like a quiche than a pizza! I ate the smallest one, it's full of calories! Wanna find out more? Check out this post explaining where is the best deep dish pizza in Chicago!
If you're into donuts, go to Doughnut Vault, an institution in Chicago! By the way, you can go on a donut tour if you want to! Click here for more info! You need to check out this post listing the best places for breakfast in Chicago! I can't forget to mention the BBQ, delicious in Chi-town! Here are the best BBQ in Chicago!
Chicago is also known for its hot dogs! To enjoy a good one, go to the Wieners Circle, in the north of the city. A rustic place famous all over the country, they even have their Wikipedia page! Why are they so famous? The hot dogs are good but there's another reason… A local told me "Go get a hot dog there and tell me how it went, but be prepared!" I went there and there was nothing to report. The local then explained to me that sometimes, the employees insult the customers, and vice versa!
That's why they're so famous! The insults mostly burst out nighttime on the weekends, when everyone is drunk! It can be fun, but it can also be vicious and aggressive! It didn't happen to me when I had my hot dog there (I was the only customer!).
If you want to, you can go on a biking tour in Chicago. You'll stop several times to taste the local specialties (pizzas, hot dogs, cupcakes and beer). Click here for more info. You can also go on a Chicago history and food tour. Click here for more info.
What did I think of my three days in Chicago? I honestly liked them. As you can see, there are many things to do in Chicago. It's a beautiful city, and the locals are surprisingly nice and smiling. Go there if you have the opportunity! Moreover, Chicago is one of the most beautiful cities in the US!
How to get to Chicago
You'll probably have to get there by plane. Click here to check the latest flight prices. Wanna go to the US? If you're not a US citizen, you need to apply for the ESTA beforehand here. That's the only website you need to use to apply for an ESTA. It's 14 dollars. If you're using another website, you'll inevitably pay more, and you're gonna get fucked. The unofficial website will apply for your ESTA using the official website, and they'll take a commission.
How to get around in Chicago
The city center, called the loop, can be visited by foot. Many tourist attractions are located in the center, but sometimes you'll have to go further… It's best to use the subway. A one-way ticket is $2.50, an unlimited one-day ticket is $10, a 3-day ticket is $20, and a 7-day ticket is $28.
The Chicago Citypass
I talked about it throughout the article, the Chicago Citypass is very useful to visit several museums and save money! You pay 106 dollars, and you can visit 360 Chicago, the Field Museum, Shedd aquarium, Skydeck Chicago and either Adler Planetarium of the Art Institute of Chicago! You just have to go to three of those places to start saving money! Click here to buy it.
Best time to visit Chicago
I hate cold temperatures, and the winters in Chicago are tough! We're talking about -30°C/-22°F on a regular basis. So I suggest going there from May to October. The weather is nice and the city is enjoyable. Feel free to go there in winter, but January is the worst when it comes to low temperatures, now you know! Here's a quick guide if you plan to go to Chicago in spring!
Where to stay in Chicago
First off, here's a full guide listing where to stay in Chicago. If you're traveling on a budget, I suggest you to stay at the HI Chicago Hostel, a nice hostel. Click here to book your stay. If you want to stay in a mid-range hotel, there's the Fieldhouse Jones Chicago, well-located, comfortable and clean. Click here to book your stay. If you're into luxury hotels, then you should stay at the Langham Chicago. Click here to book your stay. Otherwise click here to check what are the hotels available in Chicago.
Chicago travel tips