Some links are affiliate links, which means if you make a purchase through these links, I earn a commission, at no extra cost to you.
New York is probably the most popular city in the United States. People going to the US usually visit New York. Those who've never been in the US first think about the things to do in New York, before potentially going to see other cities. Yes, New York hosts more than 60 million tourists every year! Are you planning to visit New York? Never been there and you're about to visit New York for the first time? Here's a New York for first timers guide!
History of New York
Until the 16th century, Native Americans, the Lenape, used to live here. The French then took possession of the area and they called the city New Angouleme from 1524. The Dutch then moved and called the city New Amsterdam, and finally the British took over the place and called it New York from 1664. New York experienced an economic and demographic boom during the 19th century, especially thanks to the numerous immigrants coming from Europe. From the early 20th century, New York became a city of international stature, and the city radiates all over the world today.
Description of New York
Today, New York is the most populous city in the United States, and one of the most important cities in the world. It's the world capital of finance and stock exchange. We call it the Big Apple. We don't know for sure where this nickname comes from, but it was popularized by the New York tourism board in the 1970s. New York is composed of five boroughs : Manhattan, Brooklyn, Queens, the Bronx and Staten Island. Most of the tourist attractions are in Manhattan, but don't neglect the other boroughs.
I still remember the cultural shock my first time in New York : they're fat, they're driving big cars, their fridges, they use the pound and the miles, TV ads never stop… Welcome to the US! Here's an introductory video of New York.
You need to know something, it's impossible to see everything during your first visit to New York, the city is sooo big! Visiting New York is not exactly a walk in the park. We often say New York is the city that never sleeps, and it's not completely wrong. There are always new things to do in New York! It's an amazing city but so gigantic! Therefore, planning and organizing your stay in New York may turn out to be difficult. You have to make choices and compromises, especially for a first time in New York. Let's see the main things to do for a first visit in New York, then I'll share some tips so that your stay goes off well.
Things to do in New York
The statue of Liberty
Let's start with the emblem of New York City, the statue of Liberty of course! Located on an island south of Manhattan, you can admire the statue of Liberty from Battery Park in Manhattan, or take the ferry and go straight to the island where the statue is. It was designed by Frédéric-Auguste Bartholdi, and it was a present from France to the US, to celebrate the centenary of the independence of the US. The statue of Liberty is 93 meters high (305 ft.), and it still feels magical to see it with your own eyes. It reminded me of Black and White, the Michael Jackson song.
How to get there? From Battery Park in the south of Manhattan, you'll see signs everywhere showing you where to buy tickets. For $18.50, you get the round trip by ferry, access to Liberty Island where the statue is, an audioguide and also the access to Ellis Island, the immigration museum located on an island very close to the statue. The access to the statue of Liberty is included in the New York Pass (more info at the end of the article), otherwise click here to buy your skip-the-line ticket.
If you don't buy your ticket online, get there early, otherwise the wait will be long to get a ticket! The ticket stand opens at 8:30am, the first ferries leave at 9am, the two islands (Liberty Island and Ellis Island) open at 9:30am. From the ferry, you can admire the Manhattan skyline! But honestly, unless you're getting in the statue, you don't need to spend a lot of time there.
Wanna get inside the statue? You'll have to pay your ticket online. It's also $18.50 if you want to access the pedestal (just below the feet of the statue, about 50 meters -164 ft.- high). To get on top of the statue, up to the crown, it's $21.50. You also have to pay online and book way ahead of time (at least 3 months before your stay!), cause the tickets are very limited! If you manage to get tickets, you'll have to face 377 stairs to get on top (there's no elevator!).
One last thing, if you want to see the statue of Liberty close up, take the Staten Island Ferry at the Whitehall Terminal, south of Manhattan. It's free, there are ferries leaving the terminal all day long, and it's a 25 minutes ride. However, as you might imagine, you won't stop at Liberty Island, nor Ellis Island! It's just to admire the statue, this ferry allows you to go to Staten Island before anything else! Then you can go back to Manhattan! Otherwise, you can go on a cruise aboard the Luxury Yacht to see the statue of Liberty. Click here for more info. Here's in detail how to visit the Statue of Liberty!
Ellis Island
If you go to Liberty Island to see the statue of Liberty, you'll have access to Ellis Island with your ferry ticket anyway. There's no reason not to go there! This is where all the immigrants from Europe were arriving (from Germany, Italy, Hungary…), especially the Jews. Indeed, they were facing discrimination in Europe.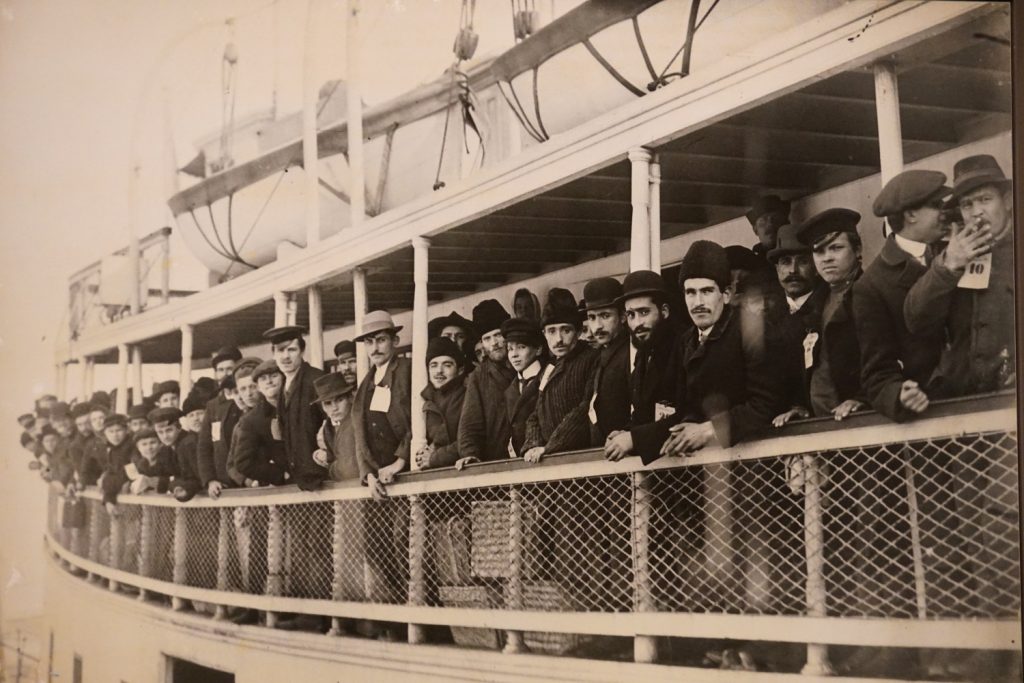 In Ellis Island, you have an immigration museum explaining in detail how the immigration process went from 1892 to 1954. This visit is very interesting, I suggest you not to skip Ellis Island! The access is included in your ferry ticket for the statue of Liberty. It should take 4 to 5 hours to visit the statue of Liberty and Ellis Island. FYI, if you get on board after 2pm in Manhattan, you won't have time to visit both islands. You'll have to make a choice. I wrote an article about my visit to Ellis Island museum.
Central Park
Another unmissable in New York, Central Park, the lungs of New York! It stretches from the 59th to the 110th street! You can get there to go jogging, go cycling, have a picnic, admire its lake, observe the squirrels or just relax! There's a zoo in the park, but also Shakespeare in the park, an open-air theater with performances regularly. Summertime, there are sometimes open-air movie screenings for free! Click here if you want to rent a bicycle to cycle in Central Park! Check out this post explaining in detail all the things to do in Central Park!
Times Square
Be prepared, daytime and nighttime, Times Square is hectic, there are people everywhere, many stores, big screens with ads all over the place… But you can't visit New York and not visit Times Square! You feel like you're in a movie setting : naked cowboy with a guitar, huge M&Ms store but also Toys'R'Us, Swatch, Levi's, gigantic McDonald's… Get there nighttime preferably! Here's how to enjoy New York at night!
Unsurprisingly, the locals avoid getting there. Not because of its old reputation (it was a dangerous area), but because it's a touristy place, a theme park where all the prices are inflated. Times Square is not my favorite place but I have to admit it's a fascinating area, and you have to see Times Square for your first visit in New York. A piece of advice : do not stop in the middle of the sidewalk, someone will bump into you and the locals will get mad.
The 9/11 memorial
We all remember what we were doing and where we were when we heard about the tragedy that sad day, September 11th, 2001… Moreover, in my case, I had the opportunity to see the twin towers with my own eyes in the 1990s… The 9/11 memorial is located where the twin towers were. Those are two pools, opened on September 11th, 2011, ten years after the attacks. Around the pools, the names of the victims of the attacks are inscribed.
There's also an underground museum explaining what happened that day. I strongly recommend visiting the museum but this is not for the faint of the heart. It's very poignant. It's 24 dollars to get in, add an extra 7 dollars for the audioguide (get it!). The access is included with the New York Pass (more info at the end of the article), otherwise click here to buy your ticket. Next to the memorial, you'll see One World Trade Center, a beautiful skyscraper. You can get on top to admire the view! Click here to buy your skip-the-line ticket. I wrote an article about my visit to the 9/11 memorial.
Oculus
Since you're at the 9/11 memorial, take advantage of the opportunity to see Oculus just a few minutes away. It's a futuristic train station designed by the architect Santiago Calatrava Valls. There's also a mall in the building. It's supposed to represent a bird flying away from the hands of a child. A must see for its architecture!
Grand Central Terminal
While we're at it, since we're talking about train stations, don't miss Grand Central Terminal, the biggest train station in New York City! 750000 go there everyday! The train station was often used as decor for movies and TV series. For your information, it's possible to explore Grand Central Terminal with a local guide! Click here for more info!
The museums of New York
There are so many museums in New York! I'm not a big fan of museums in general, I didn't visit any (except the 9/11 museum). If you're into museums, you need to go to the Museum of Modern Art (MOMA) first. You'll see there many collector's pieces and works of art from Van Gogh, Picasso, Warhol… There's another modern and contemporary art to see in New York, the Solomon R. Guggenheim museum.
In the same area, there's the American museum of national history (I think I would have been to this one). Get there if you have kids! And I can't forget the Metropolitan Museum of Art (MET), the largest art museum in the US. It contains over two million works but also Greek and Roman sculptures, exhibitions about Africa and Oceania and a whole Egyptian temple!
On a different note, you can go visit the Intrepid Sea, Air and Space museum. Located on an aircraft carrier, you'll learn about the military and naval history of the US. You'll see airplanes, submarines, simulators… You can also go to Federal Hall, the first city hall of New York. You learn about the history of New York and the USA. Oh and I almost forgot Madame Tussaud, don't need to introduce it. You can access all those museums for free with the New York Pass. Click here to buy it. More info about the pass at the end of the article.
The Empire state building
One of the most famous skyscrapers in the world! It's one of the best observatories in New York City. Located on the 5th avenue, you can get to the 86th floor of the second highest building of the world and admire the wonderful view of Manhattan. Get there nighttime preferably, for the lights with the surrounding buildings.
It's possible to get a ticket allowing you to get there twice the same day (daytime and nighttime). You can access the Empire State Building for free with the New York Pass (more info at the end of the article), otherwise click here to buy your skip-the-line ticket.
Top of the Rock
Another way to see New York from the heights of the city, from the 70th floor of the Rockefeller Center. We're less high than the Empire State Building but according to many people (I'm one of them!), the view is better, and we're on an open-air terrace. We can see the Empire State Building, but also Central Park!
Ideally, get there early in the morning, or not long before the sunset. Empire State Building or Top of the Rock? If you have to pick one, go to Top of the Rock! The access is included with the New York Pass (more info at the end of the article), otherwise click here to buy your ticket.
Brooklyn Bridge
Opened in 1883, this is the bridge connecting Brooklyn and Manhattan. It's 1800 meters (6000 ft.) long. Take some time to stroll along the pedestrian promenade and admire the New York skyline. Unless you get there early, it's always crowded! Now you know! And be careful, there are locals on their bicycles and they're super fast. It's less popular but there's Manhattan Bridge not far. Finally, on the Brooklyn side, you have the Dumbo area, just below the bridge. An ideal place to admire a wonderful sunset.
Coney Island
Did you know? There are beaches in New York! The most popular is Coney Island, south of Brooklyn. A beach where many locals go to relax. You can walk along the beach on the promenade, get a hot dog at Nathan's Famous (they opened in 1916!), or have fun at the Luna Park amusement park. If you plan to spend some time there, here are a few things to do at Coney Island.
High Line
The High Line is a former elevated subway tracks converted into a public park. You get there to have a walk, admire the works of art there, the street art and the architecture of the buildings next to it.
The 5th avenue
This is the most famous avenue in New York! It's often compared to the Champs Elysées in Paris. Indeed, it's a posh avenue with many chic stores. Have a walk from the 33th street all the way to Central Park, to the level of the 59th street! You'll see the Empire State Building, Grand Central Terminal, New York Public Library, the Rockefeller Center, the St. Patrick's cathedral… Let's not forget all the stores : Cartier, Louis Vuiton, Bulgari, Apple Store…
Flatiron Building
It's a building to admire when walking in New York. Its triangular shape reminds of an iron, hence the name of the building. It was built in 1902 and for a long time, it was the highest building in New York.
I told you, there are a lot of things to do in New York. I just listed the main places to visit in New York. Here are more things to do if you have some time.
Other things to do in New York
Go to Broadway, another famous avenue in New York. Of course, it's the ideal place to see a musical, a Broadway show, a play… Either click here to buy your ticket ahead of time, or go to the TKTS Times Square booth to buy tickets at discounted prices! They sell tickets for shows the same evening!
Go to a rooftop! I don't have one in particular to recommend but there are many!
Go see a NBA game at the Madison Square Garden! Or just visit this legendary stadium! Click here for more info.
Go to a jazz club! The Blue Note, Birdland and the Smalls are the most popular!
Go to the Comedy Cellar, the mythical comedy club in Manhattan!
If you wanna go shopping without breaking the bank, go to Century 21 Stores! It's a mall, they sell big-brand clothes at discounted prices!
If you want to indulge yourself, go on a New York helicopter tour. It's a very popular activity! Click here for more info.
Attend a gospel mass in Harlem!
Visit New York with a local guide at night! Click here for more info.
Relax at Bryant Park, there are books made available for you! You can also get in New York Public Library next to the park. It's a beautiful library.
You can also go to the Columbia University campus, it's impressive! And then have a walk at Riverside Park.
Here's an alternative New York City guide listing hidden gems in NYC.
Traveling with teens? Here's a nice 2-day New York City itinerary.
Also, check out these refreshing day trips from NYC.
Otherwise, you can wander in the various neighborhoods in New York.
New York neighborhoods
Wall Street
Wall Street is located in Lower Manhattan. It's the business district of New York. If you go there, don't forget to see Charging Bull, the symbol of the financial sector of New York. Be prepared though, there are always big crowds around it.
Greenwich Village & West Village
This is the bohemian area of New York, you'll see many trendy restaurants and cafés. Historically speaking, it's an intellectual district. Many writers and poets lived there. Today, many actors live in this area, and the neighborhood is used as decor for movies and TV series quite often.
Soho
Soho is a trendy place, and this is where you have to go if you wanna go shopping! Take some time to admire the buildings in Greene Street!
Chinatown
Chinatown is one of the cheapest places in Manhattan. You can have delicious food and not pay much. This is also where the "I love NY" souvenirs are the cheapest. Otherwise, you'll see of course temples, Asian restaurants and many signs in Mandarin. In Canal Street, you'll find many stores selling counterfeits. In Chinatown, there's also Edward Mooney House, the oldest house built in Manhattan. It dates back to 1785!
Little Italy
Little Italy is located just next to Chinatown. It was bigger before but it's losing ground because of Chinatown. People mostly go there to savor a good pizza, eat pastas, have some wine or get an Italian gelato. Click here to go on a Chinatown, Little Italy and Soho guided tour!
Bushwick
Are you into street art? Go to Bushwick, in Brooklyn. There are also many art galleries in this area.
Williamsburg
Also in Brooklyn, there's Williamsburg, the ultimate hipster area with all its stores, its cafés, its tattoo artists, its famous and trendy Bedford Avenue, and the Brooklyn flea market.
The Bronx
Don't miss the New York botanical garden, it's wonderful! You can also go to the Yankee Stadium to watch a baseball game.
Queens
Go to Fushing Meadows, a wonderful park in Queens! There's also Gantry Plaza Park! Finally, some people spend some time visiting Rockaway Beach, a less crowded beach than Coney Island.
Staten Island
Take the Staten Island Ferry to go to Staten Island and admire the statue of Liberty during the ride. Once you're there, you can go to the Staten Island Museum.
What to eat in New York
Regarding the best restaurants in New York, I won't be able to help because as I said in the article, the city is constantly changing. There are restaurants opening and closing all the time. However, you can find here where to eat in New York. Moreover, here's some advice regarding food in NYC :
Don't eat at chain restaurants. You're in New York, make the most of it and eat stuff you can't find anywhere else!
When you go to the restaurant, check on the front window the results of their recent health inspections. They're required to display it. They have a grade like schools with A being the best and F being the worst. Stick to restaurants that got an A, or at worst B. For any restaurant with a lower grade, you're taking a risk and might get sick. Keep in mind street food and food trucks don't have grades.
Check what built New York's reputation : pizzass, bagels, cheesecake and burgers mostly. Yeah I know, it's not easy to eat healthy in the US in general…
Last time I went there, I remember eating delicious pizzas at Juliana's, below the Brooklyn bridge in Brooklyn.
Levain Bakery is known for its very good cookies. There are several of them in Manhattan and one in Williamsburg.
I'm probably not objective because I've been to New York many times and I know people who live there. But I love his city. It's impossible to get bored and I understand why New York is so popular. It's impossible not to go to New York when you go to the US! Moreover, NYC is one of the most beautiful cities in the US!
New York tips
Don't block the whole sidewalk. You're gonna annoy the locals if you stop in the middle of the sidewalk! If you're a group, don't walk using the whole width of the sidewalk, especially in Times Square!
Get up early to take beautiful pictures! New York never sleeps but there are less people outside early in the morning.
For non-US citizens, don't forget to tip, it's very important! How much should you tip? About 15% of the bill!
It's very easy to get your bearings in Manhattan. Apart from Broadway avenue, all the streets are perpendicular. Streets run horizontally and avenues run vertically. The 5th avenue splits the east side from the west side.
Ladies, you need to know sexual harassment is a real thing in New York, just walking down the street. It's very common there… Putting your headphones (with no music) works, or just act like you don't speak English, it works pretty well "I don't speak English, I don't understand"
I'm not gonna lie, NYC is not a very clean city… If you need to use the toilets, go to Starbucks (you can even if you don't buy). But avoid the Starbucks at Penn Station, it's not clean… Get some hydroalcoholic gel. You can come across unpleasant smells in the city, especially when it's raining or when it's hot outside. Oh and inevitably, you'll see rats…
New York is an expensive city, noisy, crowded, hectic… Be prepared!
Some museums are free some days at specific hours. Click here for more info. Needless to say, when it happens, the museums are full!
How to get to New York
You'll probably have to get there by plane. Click here to check the latest flight prices. Wanna go to the US? If you're not a US citizen, you need to apply for the ESTA beforehand here. That's the only website you need to use to apply for an ESTA. It's 14 dollars. If you're using another website, you'll inevitably pay more, and you're gonna get fucked. The unofficial website will apply for your ESTA using the official website, and they'll take a commission.
How to get to New York from the airport
There are three airports in New York : JFK is the largest one, but there's also Laguardia and Newark. From the three airports, you can get to your hotel by taxi. It's a flat rate from JFK : 52 dollars. The rate is calculated by the meter from Laguardia and Newark. I strongly advise against taking the taxi from Newark, you'll pay a lot of money ($75 at least, $100-120 most likely). Knowing the taxi can refuse to take you if you're a group of 4 or more. Moreover, Newark being in New Jersey, you won't enjoy the ride in the famous yellow taxis.
From the three airports, the ride can be very long if you arrive during rush hour… The rate skyrockets then (except from JFK since it's a flat rate), and you'll spend and lot of time stuck in traffic. The subway turns out to be very useful to go to the city from the airport, although it's true its not ideal after a long flight, with your luggage plus the fatigue. From Newark, you'll be in the heart of Manhattan, at Penn Station by train for $12.50 only. From JFK, it's $8 by subway. From LaGuardia, you'll have to take a taxi, there are not many options regarding public transportation.
How to get around in New York
I strongly advise you not to rent a car to get around in New York. You'll waste a lot of time in traffic. Avoid taking the taxi, it's expensive and slow because of traffic. Take the subway, it goes everywhere and it's very useful! A one-way ticket is $2.75, an unlimited one-week ticket is $32, a one-month ticket is $121. Here's how to use the NYC subway!
How many days to spend in New York
If it's your first time in New York, I think one week is the bare minimum. Ten days is great. As you probably noticed, there are so many things to do in New York City! If you have time, here are weekend getaways on the East Coast. You can also check out this post listing beautiful places to visit in New York state.
The New York Pass
If you intend to visit many places in New York don't hesitate and get the New York Pass. I talked about it throughout the article! With the pass, you have access to over 100 attractions in the city! Entrances to the Empire State Building, top of the rock, the 9/11 memorial, Ellis Island and many museums are included with the pass. Click here to buy it, you'll save money!
Best time to visit New York
I've been there in all seasons, and I suggest not to go there wintertime. It's so cold, especially in January. Conversely, summertime is hot, especially in July. You quickly sweat walking in the city. To me, April, May, June, September and October are the best months to visit New York. Here are a few things to do in New York in the summer.
Where to stay in New York
Here's where to stay in New York City. Accommodation is very expensive in New York! If you're traveling on a budget, the HI NYC Hostel is a cool hostel. Click here to book your stay. If you want to stay in a mid-range hotel, the CitizenM New York is a nice hotel and well located. Click here to book your stay. If you prefer luxury hotels, I suggest the Langham New York on the 5th avenue! Click here to book your stay.
New York travel tips