Before reading the article, be aware that I wrote a 200+ pages book about traveling as a black person. Click here for more info.
"No you cannot stay here, the hotel is fully booked" "But I booked a few days ago, many rooms were available!" "Yeah we can see you have a booking but we made a mistake. Actually there's not a single room available. You'll have to go somewhere else". It never happened to me before, check in to my hotel room and being refused access to my room because of a logistical mistake. It happened in Marrakech. I understood later that I was victim of racism in Morocco. Specifically racism towards black people in Morocco.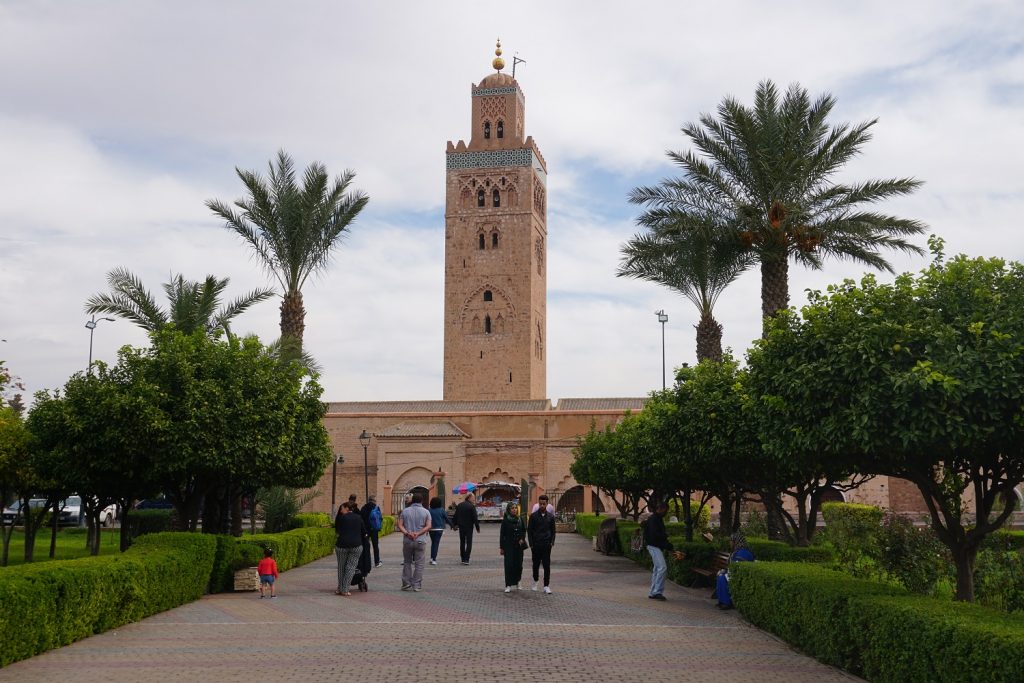 Discrimination at the hotel in Marrakech
Before going further, let me finish quickly my misfortune. It was 8pm, it was dark night, apparently the hotel was fully booked and I had nowhere to sleep. I insisted that they checked because they told me "it's fully booked" as soon as I arrived, not even checking on their booking system.
So I asked several times to get at least WiFi access to check where else to sleep and book a room in another hotel. I booked a hotel room somewhere else. While I was at it, I took advantage of the opportunity to check the rooms available of this hotel, since they refused entry to me! I see many rooms available… Maybe a glitch.
I was wrong. I had just left the hotel and I saw a white couple from the UK about to get in the hotel. Out of politeness, I told them the hotel was fully booked. "Really!? But we booked a room!" "I had a booking too. But go check with them. If needed, I'm going to that hotel, it's not far" "You don't mind waiting for like two minutes? If it's fully booked, we can go to the other hotel together" "Sure, I'm waiting for you here"
You guessed it, they were accepted in the hotel without a hitch. The English woman got out of the hotel to ask me when I booked my room "A few days ago. What about you?" "This morning! But… Why…" "Forget it, I booked a room somewhere else anyway" "Ok now I get it! Follow me!" she said in a determined tone.
Yeah, during our short conversation a white backpacker from Spain arrived and he checked in to his room successfully. We went back to the hotel together and she kicked up a fuss at the reception, yelling at the guys and telling them it was inadmissible, that she didn't think she would witness racism in Morocco, that she wouldn't spend more than one night there, that it was stupid to refuse money from a tourist just because of his skin color, that she was about to complain about them to Booking, that I was about to do likewise, etc…
The guys looked sheepish and didn't know what to say. One of them said he was about to check if one of the rooms became available… "Oh finally there might be a room for me? Drop it, I'm leaving" They didn't deserve my money and if I stayed, I didn't want them to put cyanide in my food 😀
Racism in Morocco, myth or reality?
I don't judge necessary to clarify this, especially for the ones who are used to read this blog. But let me do it anyway. I'm not tarring the 36 millions of Moroccans with the same brush, and I'm not the kind of guy to see evil all around. I'm not telling black people not to go to Morocco. Overall, I had a good time in Morocco. I'm just factually sharing my experiences traveling while black.
Anyway, racism in Morocco, is it a myth or a reality? The Moroccans living in Western countries are victims of racism. Therefore we might be tempted to think Moroccans wouldn't subject other people to what they themselves suffer sometimes. However, racism towards black people is present in Morocco. A racism mostly targeting Sub-Saharan black people. Let me explain myself.
Slave trade history of Moroco
Many people ignore it, but Morocco (North Africa actually) has a long slave trade history. The "Arab" slave trade started in the 8th century and reduced to slavery millions of black Africans. The peak of this slave traffic took place during the reign of sultan Moulay Ismail, from 1672 to 1727. At the time, more than 200,000 blacks were reduced to slavery, humiliated, raped… Especially the Haratines (black people from the Sahara).
Slavery was officially abolished in Tunisia in 1846, then in Algeria (colonized by France) partially in 1848 and finally in Morocco (protectorate of France) in 1922. In fact, slavery remained long after those dates. In Mauritania, just "below" Morocco, slavery was abolished in 1981 only but the practice is still commonplace.
Prejudices about black people in Morocco
Centuries of slavery left traces. Blacks were slaves of rich families with light skin. Whole tribes were using slaves and it stayed in the collective unconscious: black people are associated with lower social status and the Moroccans are the masters, superiors to the blacks. A thought carried on over the decades. On one side we have an elite with fair complexion and more rights. On the other side, we have people with dark complexion dealing with the thankless jobs.
Because of ridiculous prejudices, black people may be subjected to the jibes of Moroccans: moussakh (dirty), aâzzi (nigger), hartani (second-class citizen), aâbd (slave), draoui (black, descendant of slave), qird (monkey). But also Ebola, Mamadou, Covid, kahlouche (nigger). Yep, that's the term aâzzi I heard when they denied me entry at the reception of the hotel.
Blacks from Sub-Saharan Africa are discriminated
Actually it seems that some Moroccans mostly have a problem with black people from Sub-Saharan Africa. Many of them are undocumented and try to reach Europe via Morocco, and get to Spain. Sometimes they stay several months, even years in Morocco before continuing on their way.
Those Sub-Saharan migrants are frowned upon "They're stealing our jobs, they get more social assistance than the locals, etc." They're despised, discriminated against, harassed. Some locals prevent them from reaching Europe (the ones close to the Mediterranean sea are beaten up and sent to cities in the south of Morocco to move them away). Locals insult them and make up gossip ("they host many illegal African immigrants"), degrade their possessions (they burst their car's tire, break their car's window), throw stones at them spit in their face…
The Sub-Saharan workers, who are numerous working in the construction industry, are often exploited, sometimes the women are raped… Renting an apartment is difficult, almost impossible. The media have a share of responsibility, they twist the image of these black people from Sub-Saharan Africa. The coronavirus in Morocco, it's because of them!
The front cover of the magazine above implies black people are responsible for the spread of coronavirus in Morocco…
Racism in Morocco still present
You got it, racism in Morocco remains because of old clichés fixed in Moroccan society. I was just passing through Morocco, I didn't suffer all this. There was the incident at the hotel and the term aâzzi I heard during my stay. That was already too much. But it's a lot worse for black people living there.
I met a Senegalese student in Essaouira. He was living in Rabat and was spending a few days there. "They ridicule us, they make fun of us in the street, taxi drivers refuse to take us. We -black students- suffer a lot, not matter where we come from: Senegal, Mali, Liberia… People think we're dangerous criminals, prostitutes, drug dealers, disease carriers and even cannibals"
He kept going "It's a cruel disappointment for us. We were expecting to be discriminated in Europe maybe, but not in Morocco! They say we're dirty Africans but some of them tend to forget they themselves are Africans. The women are less racists, more tolerant even though some of them are hostile towards us. It's crazy, even the Haratines, who are black Moroccans descendants of slaves, are discriminated against. Moroccans with dark skin are also victim of a form of racism"
Different rights and services for black people in Morocco
Numerous similarities with racism in India, where fair complexion means being beautiful and respected! Where black people are almost invisible absent in the media. Where mixed-race marriage with black people are still frowned upon, it's a social taboo and shameful especially in the south of Morocco.
Still in the south, there are separated cemeteries for black people. Around Chefchaouen, there are entire villages with black inhabitants not written on electoral rolls. They're considered as marginalized groups and deprived of the same rights and services as the other inhabitants. They're fighting to have the same rights as everybody else.
I obviously can't compare myself to them, but sometimes I have to say where I come from to get the same level of service as the other white tourists. There was this restaurant where I felt a radical change of attitude towards me when the waiters found out I was French, and not from Africa. Yeah, the black Westerner travel privilege is a sad reality!
Anti-racist campaigns in Morocco
Things slowly evolve. In August 2013, a Congolese man called Alexis Toussaint was killed by the police. The circumstances surrounding his death remain suspicious. Two weeks later, a Senegalese man, Ismail Faye, died following an argument with a Moroccan guy.
Those two dramas triggered a strong reaction in the country. In 2014, an anti-racism campaign was launched "Je ne m'appelle pas Azzi" (my name is not Azzi), which benefited a large media coverage. The campaign was condemning the racism in the Moroccan society and opened up the debate. That same year, tens of thousands of Sub-Saharan migrants who were living in Morocco for a long time were regularized.
In 2016, another anti-racist campaign was launched simultaneously in Morocco, Algeria, Tunisia and Mauritania: ma oussif, ma 'azzi: baraka wa yezzi (not your serf, nor your negro: stop that's enough). The problem of racism in Morocco benefited a growing visibility in the media and attention among politicians. Things evolve but unsurprisingly, it takes time.
As I said, I don't live in Morocco, I just spent two weeks there. I didn't suffer all these discrimination but I suffered a few micro aggression. Have you been to Morocco? Have you been victim of racism there? Let me know in the comments! If you plan to travel there, here are the best things to do in Morocco!