Some links are affiliate links, which means if you make a purchase through these links, I earn a commission, at no extra cost to you.
We start hearing more and more often about Toronto, this city located in Ontario, Canada. I didn't have particular expectations regarding my 3 days in Toronto, but I had a feeling I'd like it. We regularly see Toronto as one of the world's most livable cities in numerous rankings. Moreover, people I know who visited Toronto before I did almost all told me they liked the city! Toronto is also put on the spotlight and is regularly promoted by Drake. Indeed, he often pays homage to his hometown. It's time to see what to do in Toronto and start my visit to the city.
Description of Toronto
Before listing what to do in 3 days in Toronto, let me describe the city quickly. Toronto is an English-speaking city. It's the largest city of Canada, and the fourth largest city in North America in terms of population after Mexico City, New York and Los Angeles. We call Toronto "The Queen City", or "The Six" cause there are six municipalities in the city : Old Toronto, East York, North York, York, Etobicoke and Scarborough. It's a lively city, and indeed it looks nice to live there.
Toronto is also a cosmopolitan city. Indeed, half of the people living in Toronto weren't born in Canada! That's a real melting pot! The five most spoken languages in Toronto are English (of course), then Cantonese, Mandarin, Punjabi and finally Italian! French isn't even in the top 5, although there are other cities in Canada like Montreal where French is the official language!
A lot of people say Toronto is just a pale copy of big US cities, but located in Canada. By the way, sometimes people call Toronto "The little New York". There are also skyscrapers, a business center and Dundas Square, a place reminding people of Times Square. Toronto is also a city that never sleeps, there's always something to do! A lot of movies supposedly taking place in New York are actually shot in Toronto!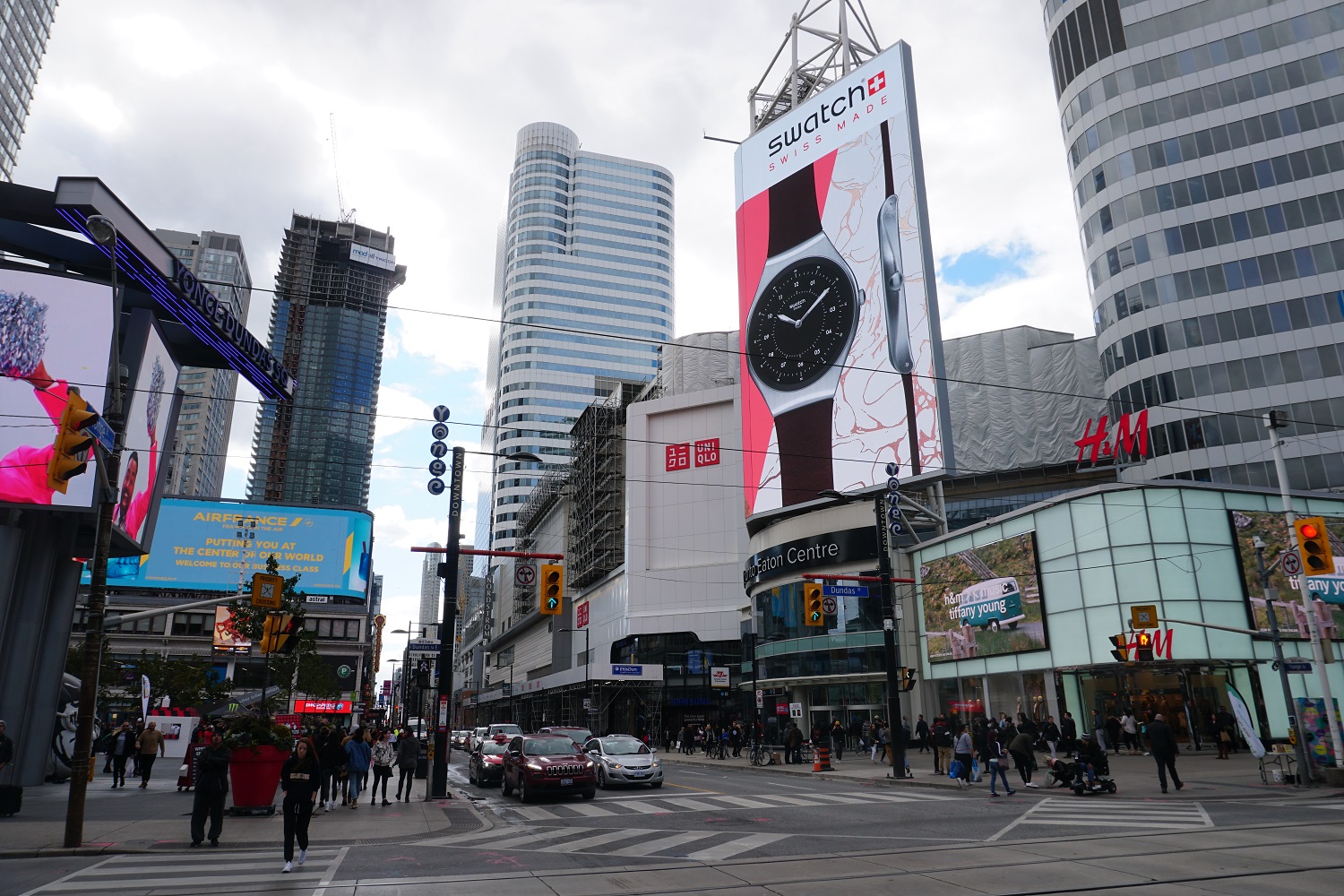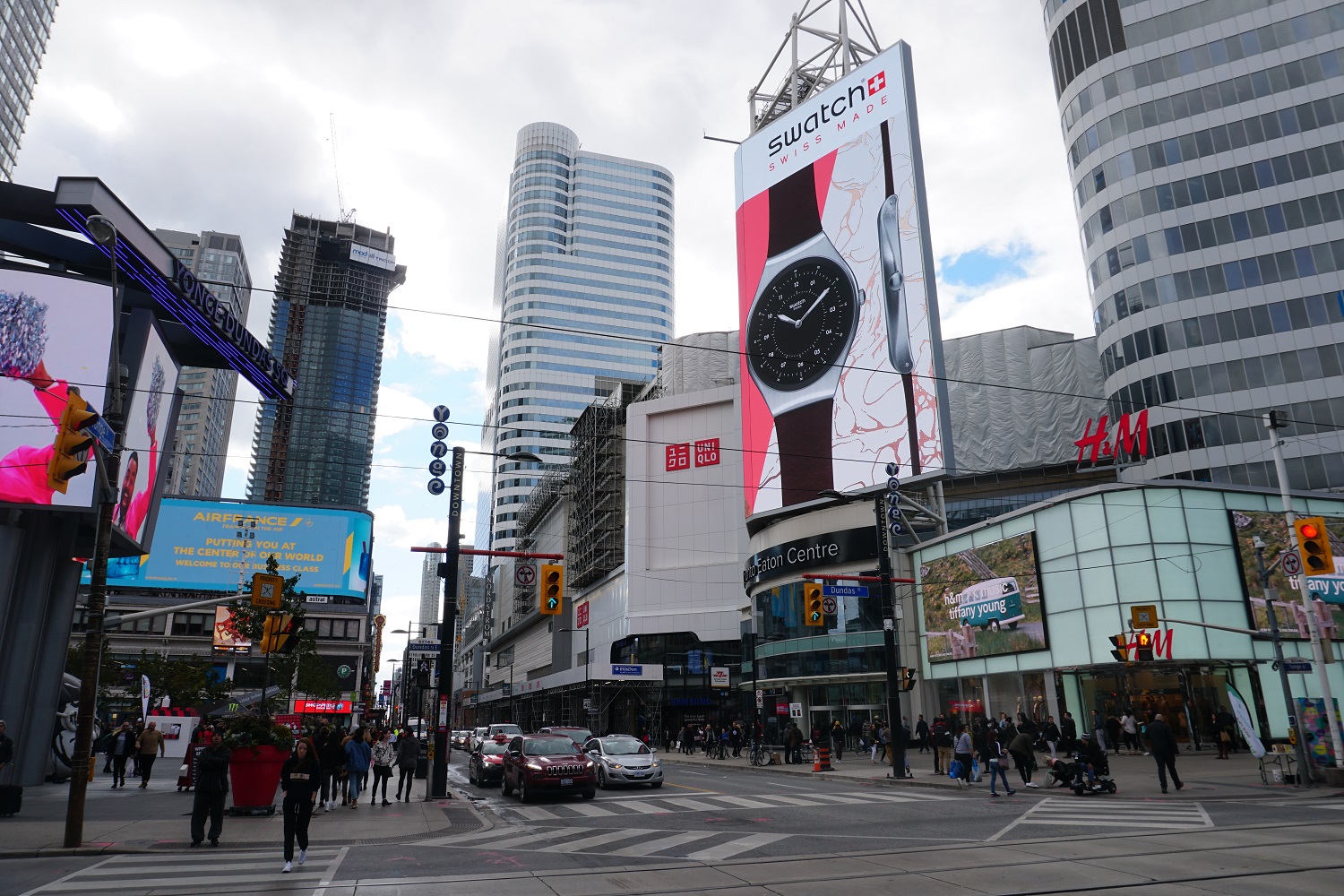 But there's still this little Canadian flavor. Inhabitants of Toronto are big fans of sport, and the most popular one is ice hockey. I heard people pay a ticket on average 300 dollars, to watch an ice hockey match! If you don't have all this money, comfort yourself and go to the Hockey Hall of Fame. It's a museum dedicated to the history of ice hockey!
The city is in full growth. When I was visiting the city, there were construction sites everywhere, they were building new skyscrapers, etc… From what I heard, it's been this way for several years, and it won't stop anytime soon. I also heard construction and real estate are the two biggest industries in Toronto, and not everyone can live there! The average rent for a one-bedroom apartment is 2200 Canadian dollars (1500 euros!).
Things to do in Toronto
The CN Tower
The symbol of the city, one of the reasons why Toronto is famous, the CN Tower of course! It's 553 meters (1815 ft.) high, and it was the world's tallest tower for 34 years, from 1976 to 2010, when it was surpassed by Burj Khalifa in Dubai. Pay 36 dollars (25 euros) and you can go up to the 114h floor. You'll take the elevator to get to the top in less than a minute (58 seconds exactly). From there, you'll have a wonderful view of the city. I suggest going there at the end of your stay. You'll have the opportunity to spot the various places you visited in the city. It's possible to walk on a floor made of glass and see what's going on in the street, below your feet. Some people were too scared to do it…
For your information to go up to the 147th floor, but you'll have to pay an extra 12 dollars (8 euros). The view from there is even better. For the bravest ones, you can try the edge walk. It's gonna be a thrill, but you have to pay 225 dollars (150 euros)! More information here. There's also a restaurant on top of the tower with a 360-degrees view! Anyway, don't forget to go to the top of the CN Tower, and preferably go there early in the morning. Otherwise you'll wait about one hour to get there. Next to the tower, you'll find the aquarium of Canada but I didn't go, it's not my thing… It's 35 dollars (24 euros) to get in. Click here for more information.
The distillery historic district
The distillery district is a historic district in Toronto. You almost feel like you're in London, with its buildings made of red bricks. For a long time, this area belonged to a distillery, but it's now a pedestrian zone. There are numerous small shops, cafés, restaurants, art galleries… It's also possible to taste several beers of the distillery –you can try this beer tasting tour– and enjoy visiting classic Toronto pubs, this tour also includes a visit to the St. Lawrence Market, which I will tell you about below. It's really nice to have a walk there.
St. Lawrence Market
A market dating back to 1803! Perfect place to eat if you're hungry! Indeed, it's not common to see in the area a market with bakeries, a cheese maker, a pork butcher, a fish shop… But also fruits and vegetables, and other local products! It's closed on Sundays and Saturdays, otherwise you have to go! FYI, the National Geographic designated it the best market in the world in 2012!
Kensington Market
It's not a market but a neighborhood, one of the most famous of Toronto. It's like Camden Town in London, but Toronto style. It's actually a hipster, a bit bobo and hippie. You'll find second-hand clothes stores there, but also numerous vegan restaurants, organic food, stores selling products from all over the world… Don't hesitate to go to Graffiti Alley and Rush Lane, two narrow streets. Their walls are covered with graffiti and street art!
Dundas Square
Have you been to New York? If so, Dundas Square will immediately remind you of Times, or to a lesser extent Picadilly Circus in London. You'll see huge billboards there but also Eaton Center, the biggest mall in Toronto. For your information, Dundas Square is next to Yonge Street. That's the longest street in the world, it's 1896 kilometers 1178 miles) long!
Nathan Phillips Square
It's pretty quick to watch and admire Nathan Phillips Square, but it's worth the detour! You'll see the old city hall, really beautiful, but also the new city hall. You'll find on this square "TORONTO" written in big letters, and those letters enlighten in the evening. There also a small garden called Peace Garden, opened in memory of the victims of Hiroshima. From mid-November to mid-March, the lake turns into a skating rink!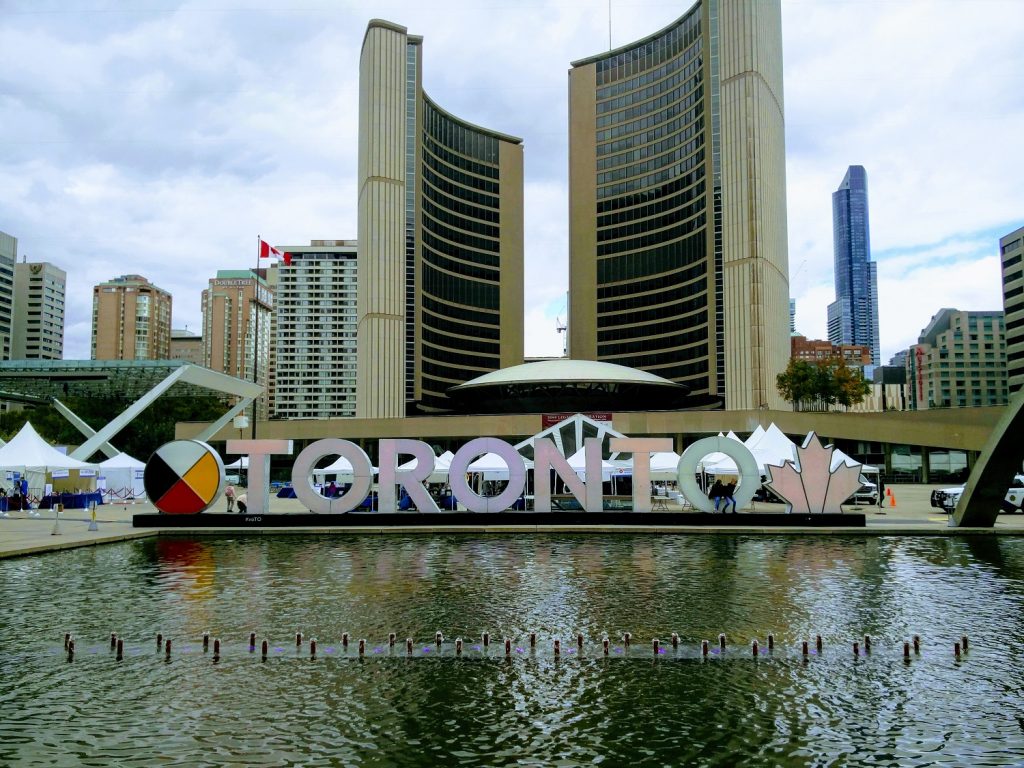 Toronto Islands
Only 10 minutes away from Toronto by ferry, you'll find the Toronto islands! The islands are not always accessible wintertime because the river can be frozen. If not, go to the islands! This is a quiet place, but most importantly, you have a wonderful view of the skyline of Toronto! The weather was really nice when I went there, and it's really relaxing because there are no cars there. You can go kayaking, rent a bicycle, take a SUP-yoga class, go picnic, there are a few beaches if you want to take a dip… You need to go to Queens Quay and take the ferry. It's 8 dollars (5.50€), and you can use your ticket all day. There are three main islands : Center, Ward and Hanlan.
Toronto museums
Those who personally know me already know I'm not much into museums… That doesn't mean I never go but I really need to be like "I have to visit this one!" in order to go. That means I didn't go to any museums in the city but if you're interested, go to the Royal Ontario Museum, the largest museum of Canada. It has six millions items related to natural history and cultures of all over the world, dinosaurs' skeletons… It's 20 dollars (14€) to get in. Click here to buy a skip-the-line ticket.
There's also the art gallery of Ontario exhibiting paintings from Monet, Picasso, Rembrandt… It's 20 dollars to get in. Click here to buy a skip the line ticket. There's also the Casa Loma, a castle in the north of the city. It's 30 dollars (20 euros) to get in. If you have some time, you can have a walk at High Park, or Sugar Beach if the weather is nice.
Niagara Falls
If you have some time, you need to go to the Niagara Falls, two hours away from Toronto by bus! It's really worth the trip and everybody says it's a lot better to watch the Niagara Falls in Canada (rather than in the US). By the way, here's an itinerary for a road trip in Ontario!
Activities in Toronto
You can go on a private tour with a local. Click here for more info. You can also enjoy a guided bicycle tour. Click here for more info. You can even go on a Toronto sightseeing helicopter tour. Click here for more info. You can learn about the story of Canadian beer. Click here for more info. Finally, you can admire Toronto's top sights on a sightseeing cruise. Click here for more info.
I really liked my visit to Toronto. A lively and cosmopolitan city, where there are many things to do. Three days are enough to visit Toronto, add one more day if you want to see the Niagara Falls. If you go to Canada, don't miss Toronto! It's one of the most beautiful cities in Canada! If you're going there in spring, check out my article listing the things to do in spring in Toronto!
How to get to Toronto
You'll probably get there by plane. Click here to check the latest flight prices.
Check the visa policy of Canada here. Most citizens from Western countries can stay up to six months visa-free. Be careful though. Unless you're a US citizen, if you arrive by air, you are required to obtain an ETA beforehand here. If you arrive by land from the US, or if you're a US citizen, you don't need the ETA.
How to get around in Toronto
Take the subway or tramways! You'll notice their subways are very long!!! The subway is far from covering the whole city, however you can go anywhere with the tramways. Buy a presto card and put money on it (5 dollars, 10, 20, 50…). A one-way ride is 3 dollars.
Best time to visit Toronto
I'd say the best times to visit Toronto are late April through May and September through October. The peak season occurs in the summer, the temperatures rise and everything is more expensive. If you don't mind low temperatures, head there in the winter. Otherwise spring and fall are also good times to go to Toronto. If you spend some time in the area in the fall, check out this Ontario fall bucket list.
Where to stay in Toronto
If you're traveling on a budget, there's the Parkdale Hostellerie. Click here to check the photos, reviews and availability. If you're looking for a mid-range place, the Home in Downtown is very-well located. Click here to check the photos, reviews and availability. If you prefer luxury hotels, you're gonna like the Hotel X Toronto. Click here to check the photos, reviews and availability. Otherwise click here to check what are the hotels available in Toronto.
Toronto travel tips