I had been hearing about Montreal for a long time. People kept saying good things about this city. For quite some time, I was telling myself "One day, I'll go visit Montreal". The opportunity finally arrived! After visiting New York, I told myself "Why not also visit Montreal? It's not far…" All right let's go! I decided to spend 2 days in Montreal! Let's see how it is…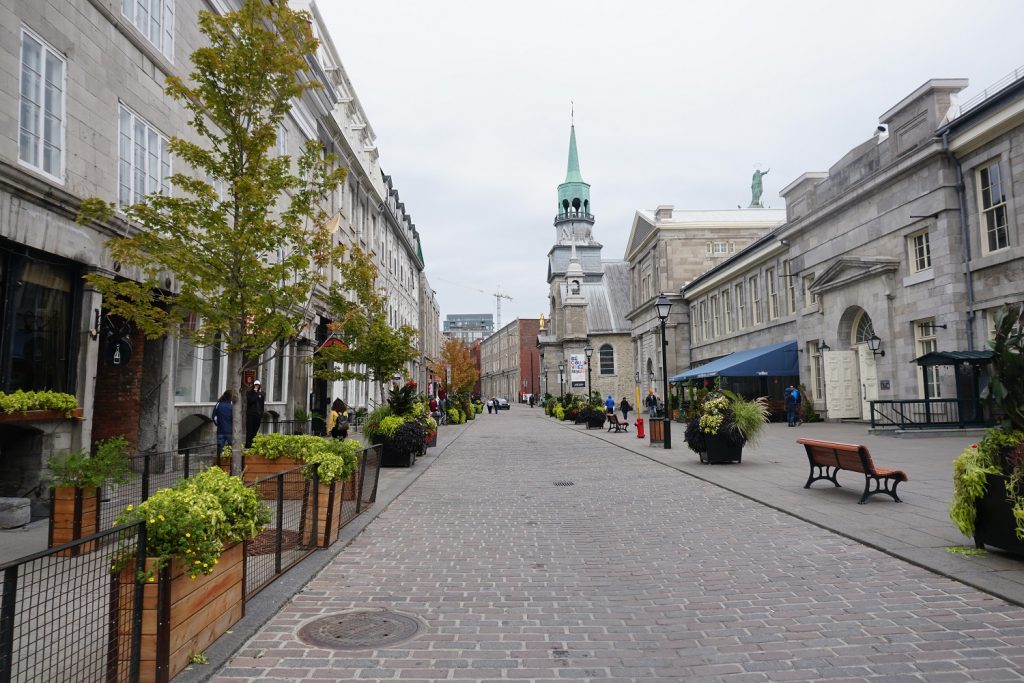 Description of Montreal
Montreal is a popular city attracting millions of tourists every year. It's the cultural capital of the country, you'll find there more than 250 theaters and concert venues, dozens of festivals take place there every year… The name of the city, Montreal, comes from the hill in the city center, the Mount Royal.
This is something I heard and I could confirm while visiting Montreal: it's like a US city, but in Francophone version. Like the US, you'll find large routes, big cars, (Canadian) dollars and the huge buildings. But we're not in the USA, we're in Canada. It's a real mix between a large city in France and a large city in the US.
Montreal is the second most-populous city in Canada after Toronto (Vancouver is the third one). It's the most important city in Quebec. It's also the most populous French speaking city in America (1.7 million inhabitants) and the Canadian city hosting the most French people every year. It felt weird to hear people speaking French around me.
More than 50% of the locals are native French speakers. But most people also speak English. The Montrealers mostly speak French and start a conversation in French. But most of the locals came up to me speaking English, they thought I was from the US.
Anyway, I think you got it, it helps a lot if you speak French. I do speak French, however sometimes I had a hard time understanding Canadian French (I asked the customs officer to repeat several times the questions he was asking me). They use different words and different terms. And they translate everything in French (in France, we use many English words).
In Montreal, people are a lot more relaxed than in Paris, it feels good. People strike up a conversation easily, girls smile in the street… There are spaces in the street with benches where you can just relax called placottoirs publics, really nice! I arrived in Montreal from New York, therefore the city looked tiny to me. Moreover I arrived on a public holiday, the city was empty! I couldn't help but notice there are many homeless people in Montreal… Anyway, let's find out the things to do in Montreal in 2 days!
What to do in Montreal in 2 days
Old Montreal (Vieux Montreal)
Old Montreal is the historical district of the city, close to Saint Lawrence river. Take some time to have a stroll around, and admire the charming little streets. The atmosphere is relaxed and reminds of Europe with its cobbled streets. You'll find many restaurants there and stores. There are also many hotels in this area. Click here to discover Old Montreal on a walking tour!
In Old Montreal, you'll see the famous Place Jacques Cartier and all its bars and restaurants. On the spot, they also sell paintings (like in Montmartre in Paris). There's also the Bonsecours market and its luxury boutiques, Saint Jacques street which is the "Wall Street" of Montreal and the city hall. Finally, the old port and Notre Dame Basilica of Montreal are also in Old Montreal.
The Old Port
The old port is a place where you mostly go to relax. You can walk on the quays and admire the Saint Lawrence river. The clock tower is not far and you can get on top of it. There's also the Montreal science center, the Pointe-à-Caillière museum, an archaeology museum, and a Ferris wheel (grande roue). Click here to buy a ticket and step aboard the Ferris wheel.
Notre Dame Basilica of Montreal
Notre Dame Basilica of Montreal is wonderful, from the inside just like from the outside! It's a masterpiece of Gothic Revival architecture. It's one of the few basilicas where you have to pay to get in, it's 6 Canadian dollars (less than 4 euros), but you can also choose the option with a licensed guide.
The money is used for the basilica maintenance. A 20-minutes guided visit is included with your ticket but if you don't want to do it, you can visit the basilica freely. A little bit further in town, don't miss the Mary Queen of the World cathedral.
Saint Joseph's oratory
A little bit further in town, you'll find Saint Joseph's Oratory, the largest church in Canada. It's often considered the most beautiful church in Montreal. Admire the basilica, its Stations of the Cross and its huge, 39-meter (127 ft.) diameter copper dome. That's the second largest in the world (after St. Peter's in Rome). Climb the stairs to have a nice view of Montreal. It's free to get in.
The plateau Mont Royal
It's an area where many French people live. You'll find there numerous bars, restaurants, stores and of course La Fontaine park. It's a huge park, a beautiful one where you can picnic summertime and go ice skating wintertime. At le Plateau, you'll see numerous colored houses with outdoor stairs. Click here to go on a guided bike tour of Plateau Mont Royal and the old port.
The Jean Talon market
Don't miss the Jean Talon market, west of Montreal, in Little Italy, a cool neighborhood. They sell everything over there but you'll mostly find fruits, vegetables, local food, products from South America, from Eastern Europe… You can eat on the spot. Greengrocers, cheesemakers, fishmongers, creperie, florists… You'll find what you're looking for! The Jean Talon market is open everyday.
The Mount Royal park
The Mount Royal Park is located in the heights of the city, 233 meters (764 ft.) high, opposite the Belvedere Kondiaronk castle. It's a huge park allowing you to have a nice view of Montreal from the heights. On Sundays, there are musicians (the tam-tam) and numerous people dance on their music.
Relax next to the Beaver lake, and take some time to observe the numerous squirrels. For your information, the park was designed by Frederick Law Olmsted, the same guy who designed Central Park in New York.
The botanical garden
A wonderful garden located in the north of Montreal! It's a haven of peace showcasing more than 20,000 plant species! You feel relaxed in the garden and it's so beautiful. Some people say it's one of the most beautiful botanical gardens in the world!
Within the botanical garden, there are several thematic gardens: the Japanese garden, the Chinese garden, the aquatic garden, the rose garden, the garden of lights…. Just next to the garden, there's the insectarium of Montreal, the planetarium, the olympic park and the biodome (closed for several months when I was there). Admission to the garden is $20.50 (13 euros).
Other things to do in Montreal
You can go see the place des arts, a complex with several concert venues and auditoriums. You can also have a walk at the Jean Drapeau park close to Old Montreal. If you want to go shopping, head to rue Sainte Catherine. And if you want to buy a souvenir, here are the best souvenirs from Canada!
You can also wander at the village, the largest gay district in the world. Like in many big Western cities, there's a Chinatown (this one is quite small). Finally, don't miss the underground city. As the name implies it, it's a real underground city with 33 kilometers (20 miles) of tunnels! You'll find stores, restaurants, a gym, a movie theater… Very useful during winter, when it's really cold outside!
Activities in Montreal
What to eat in Montreal
You cannot go to Montreal and not try a poutine. It's a dish that includes french fries and cheese curds topped with a brown gravy. It's not the healthiest dish but since you're in the Canadian province of Quebec, you may as well give it a try! La Banquise is a good place to taste a poutine! Moreover, they serve beers from microbreweries. There's also the Poutineville chain if you want to eat a poutine. FYI, you can go on a historical food tour in Montreal. Click here for more info. You can also eat bagels, burgers, cheesecakes… Here's a guide about a Montreal city tour for foodies!
If you want to buy spirits, you won't find any at the supermarket. You need to go to a SAQ store. Be careful, they close early (around 7pm). A few of them (SAQ express) close at 10pm but they have a smaller selection. At the supermarket, you'll only find wine and beer.
I think it's enjoyable to visit Montreal. However, for some reason, I didn't click with the city. I talked with a local who told me that apparently, Montreal is not really a city to visit, but rather a city where you live. Living there, you can fully enjoy its full potential. She may be right… Moreover, it's one of the most beautiful cities in Canada! If you go there in autumn, here are things to do in Montreal in the fall!
How to get to Montreal
You'll probably get there by plane. Click here to check the latest flight prices.
Check the visa policy of Canada here. Most citizens from Western countries can stay up to six months visa-free. Be careful though. Unless you're a US citizen, if you arrive by air, you are required to obtain an ETA beforehand here. If you arrive by land from the US, or if you're a US citizen, you don't need the ETA.
How to get around in Montreal
Honestly, you can visit most of the city by foot. Otherwise you can rent a bicycle, take the bus, the taxi… And of course the subway! People are really civilized in the subway, they patiently wait one after the other to get in the subway. If you want to explore the region, for the convenience of your trip rent a car for a while.
Where to stay in Montreal
If you're traveling on a budget, I suggest you to stay at the HI Montreal Hostel. Click here to book your stay. If you want to stay in a mid-range hotel, you can stay at the Manoir Sherbrooke. Click here to book your stay. Finally, if you prefer to stay in luxury hotels, you can stay at the Hotel Birks Montreal. Click here to book your stay. Otherwise click here to check the hotels available in Montreal.
Montreal travel tips