Some links are affiliate links, which means if you make a purchase through these links, I earn a commission, at no extra cost to you.
It's impossible to go to Budapest, and not test out at least one thermal bath. Before going to Budapest, I had of course checked what I could do in the city (even though I already knew Budapest), and if there's one thing that makes this city's reputation, it's the thermal baths. They're numerous in Budapest. But the most famous and the most popular stays the Szechenyi baths in Budapest.
Thermal baths are an integral part of the Hungarian culture, inherited from the Romans and then the Ottomans. When you're going to the Szechenyi baths, you realize this is not just a touristy thing, a lot of locals go there too : young, old, friends, couples, families… Everybody goes there! Why? A little bit like your regular bar where you go after work to relax, Hungarian people go to the thermal baths. Supposedly, going there has medicinal properties. Thermal baths can treat rheumatism, can help cure skin problems, and has benefits on people's health in case of respiratory problems or muscular ache.
How to get to the Szechenyi baths
Szechenyi baths are located on the "Pest" side of the city, in the Varosliget park. The baths are not too far from Heroes' Square and from Vajdahunyad castle. If you take the subway, you have to take line number 1 and get off at Széchenyi Furdo station (second to last station). Before going there, make sure you have flip-flops -the floor isn't always clean, and it can get slippery…-, a bathing suit of course, and no open wound, to avoid any infection. Don't forget to buy travel insurance if you didn't do it yet! Here's why you should buy travel insurance!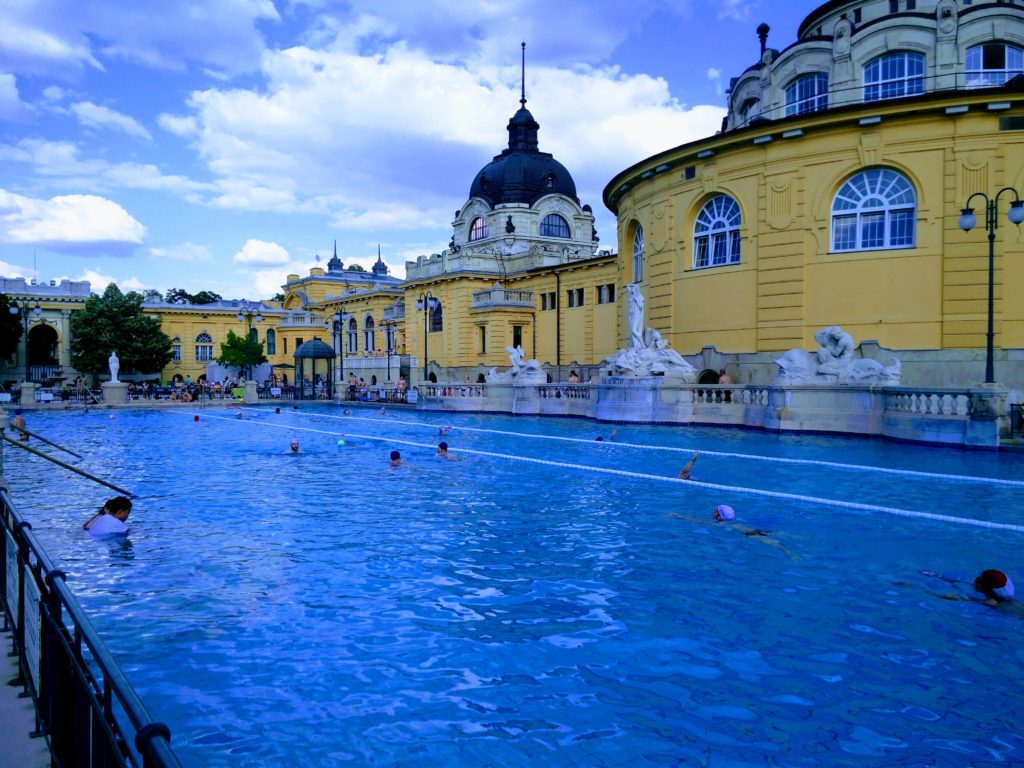 Szechenyi baths tickets
Getting in will cost around 5000-5500 forint (17-18€). Depends if you decide to get a locker or a cabin to put your stuff. When you pay, they give you an electronic bracelet. With it, you can open/close your locker/cabin. There's often a long line to buy your ticket. Be smart, and buy your ticket online now! You'll be able to skip the line!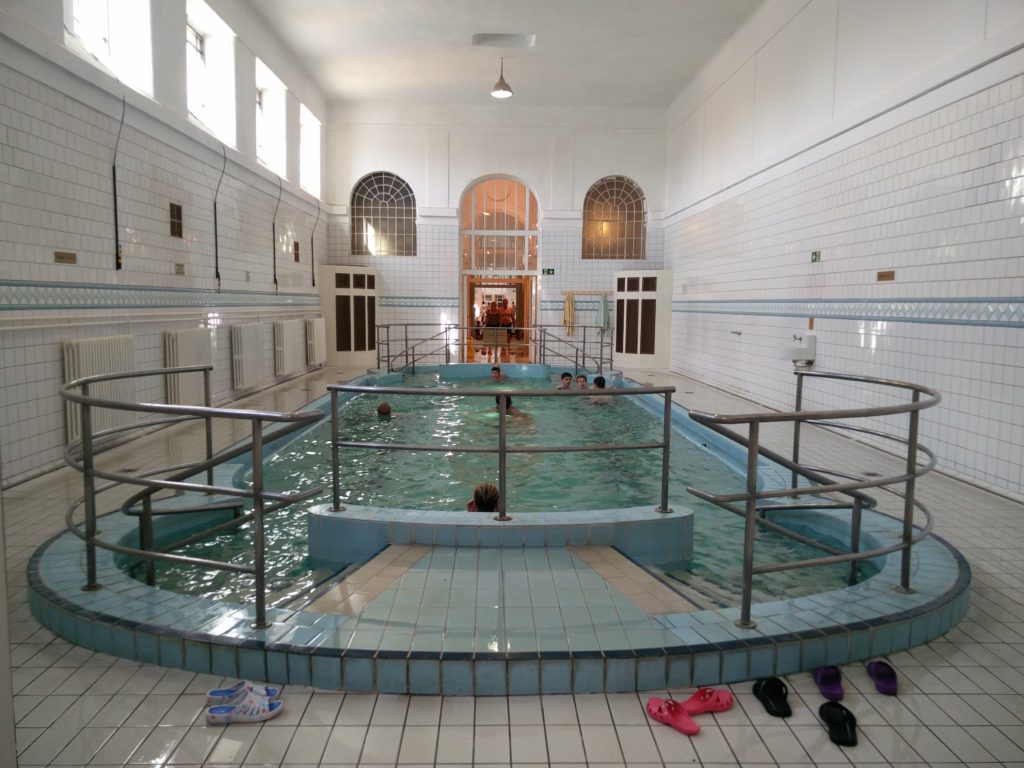 The outdoor baths
Szechenyi baths are the biggest ones in Budapest, one of the biggest in Europe, and it's understandable. You'll find fifteen indoor baths and three large outdoor baths, and also a swimming pool outside (where the swimming cap is mandatory). The water in the outdoors baths is hot! It goes from 32°C to 38°C (90°F to 100°F). There are water jets around the baths, and in one of the baths, they set up a whirlpool. You just get there, and get carried away by the tide. In one of the outdoor baths, you'll see chess, and regulars flock to it to play. The architecure reminded me the Romans time, and it's possible to eat and to drink there.
The indoor baths
As I said, inside you'll find fifteen baths, a lot smaller than the ones outside, with various temperatures, from 18°C to 40°C (64°F to 104°F), and there's a beer spa (didn't try that one!). There is also a hammam and saunas, again with various temperatures. I saw one at 50°C (122°F), and another one at 95°C (203°F)!
I went there on a Sunday, the weather was nice, 30°C (86°F), and as you can see on the pictures, the place was crowded. Indoor baths were also packed, and there was no places to be alone. Apparently, Szechenyi baths are open all year long, and during the winter, there are a far less people, so it's more enjoyable.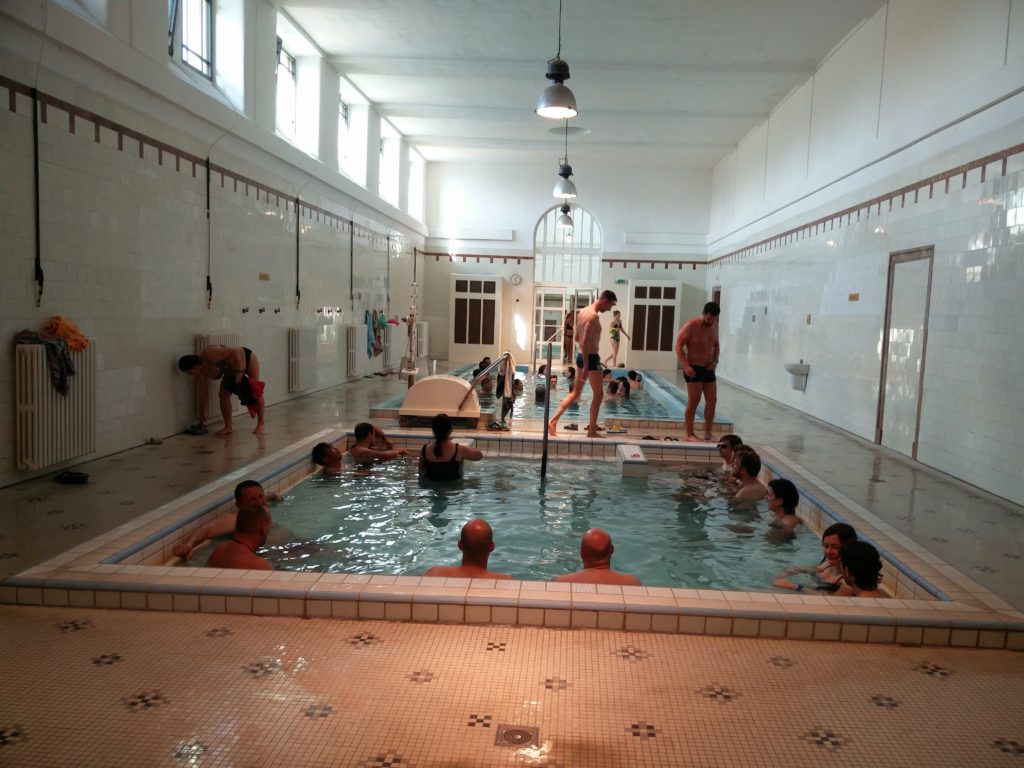 Szechenyi baths parties
I couldn't talk about Szechenyi baths, and not mention the Sparties! What is that? Sparties are bath parties taking place in the Szechenyi baths on saturday nights, from 10pm to 3am. I didn't test out, but hey! Why not give it a try? From what I heard, this is where you realize people from Hungary know how to party! When you mix thermal baths, people half naked and alcohol in your blood, it often ends up in debauchery!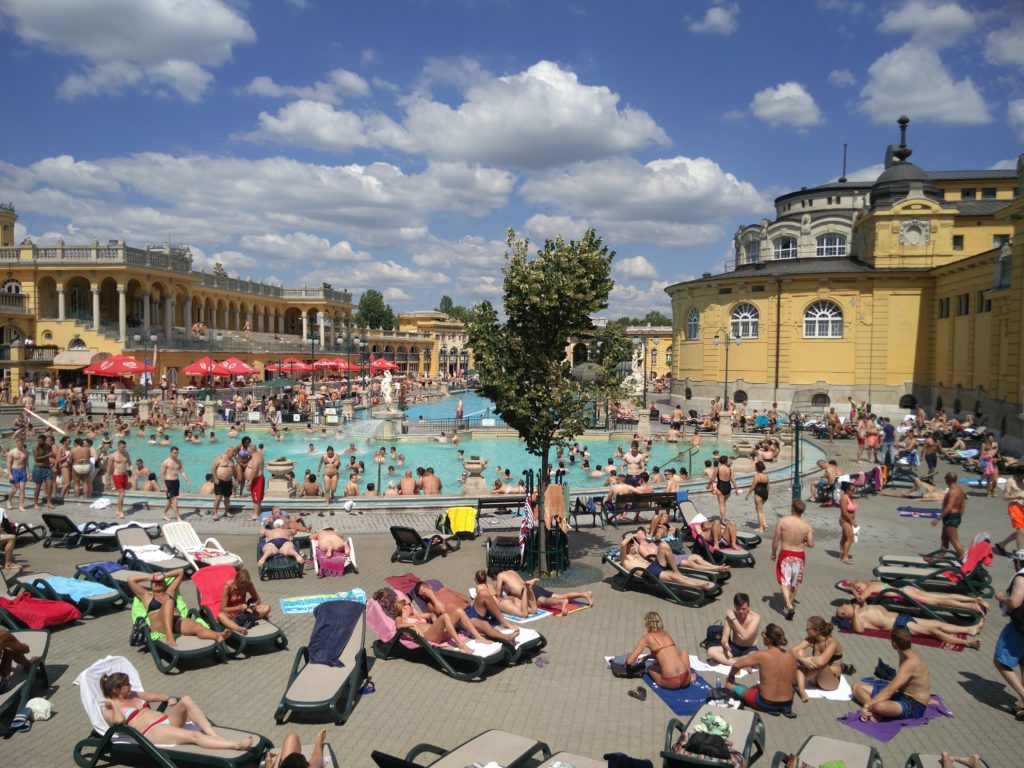 Szechenyi baths, like other thermal baths, have to be tested out if you go to Budapest. I've been there because of its iconic status, and unlike other thermal baths, anyone can go there -some thermal baths only accept men or women, depending on the day-, and it's still a nice place! Do not hesitate! Going to Budapest? Here are the best hotels in Budapest! If you spend some time in the country, check out this list of places to visit in Hungary!
Szechenyi baths tips