Some links are affiliate links, which means if you make a purchase through these links, I earn a commission, at no extra cost to you.
I decided to start off my trip in Sri Lanka by the south of the country, before heading to Ella and Kandy, in the center of the country. As days were passing by, I noticed almost all travelers were doing it the other way around : they prefer to save the beaches in the south for last, and start off their trip by visiting Ella and Kandy, in Central Sri Lanka. Therefore, at each stopover, I met travelers who were having the same itinerary as me… but the other way around! Thus I could give them information about what I already did, and they were giving me tips about the places I wanted to visit : Ella and Kandy, in Central Sri Lanka. By the way, here's a Sri Lanka 10-day itinerary.
Description of Ella and Kandy
Ella and Kandy are two cities located in the center of Sri Lanka, and many travelers visit those two towns during their stay in Sri Lanka. I understand, they're both beautiful. As days were passing by, watching the locals in their daily routine reinforced the first impressions I had about them, they're really kind and smiling. For my ride from the south of the country to Ella, I had to take three different buses and sometimes I was kinda lost… There was always someone noticing I wasn't from around there, who came to me asking "Where are you going?" before guiding me to the right bus (a little bit like in Iran).
Not much changed compared to the south of the country. In Ella and Kandy, the Indian headshakes are still here, Sri Lankans are still relaxed, nice and smiling, and we eat more or less like in India. Many locals greet me with "Hellooo!" in the street, and a black girl did the black nod and went straight to me to chat when she spotted me in Ella! Oh and many local guys there came to me, asking if I was smoking, or if I was selling drugs… Unlike the south, in Ella and Kandy, I saw many couples (mostly from France and the UK), and also many families (I was there during school vacation). Some of them had been to Jaffna and were raving about this little town in the north of Sri Lanka! Here are a few things to do in Jaffna if you plan to go there!
Ella
Ella is a nice and charming town in Sri Lanka. Not too small, but not too big either. I had a good time there. In my case, the only downside was the rain. It rained a looot when I was there. That means I was sometimes stuck in my hostel in Ella, since I didn't have an umbrella, …ella, …ella #notfunny. And as soon as the first rays of sunlight were showing up, I made the most of the good weather, spending time outside. My visit of Ella and the time I spent outside mostly depended on the weather. What a shame, I didn't do everything I wanted to do, but I still managed to see nice spots in the city.
Nine Arches Bridge
I was lucky enough to see the Nine Arches Bridge, the most famous bridge in Sri Lanka! You can either see it from above (it's perfect from the Nine Arch Café!), or you can just go on the bridge, which is what I did! The manager of my hostel told me how to go to the Ella train station, and he told me that I just had to walk along the rails, until I reached the bridge!
"But it's not dangerous??? There are no high-speed trains passing by, about to mow me down?" "No, don't worry, there's about one train per hour, and they're veeery slow… There are very few chances a train will pass by while you walk along the rails, and if by any chance it happens, you'll have plenty of time to see it coming!" Therefore I walked along the rails from the train station to the bridge. It's a tourist attraction today, and when I arrived there, there were already many tourists waiting for the train to come. We finally saw the train, and 10 minutes after the passage of the train, the bridge was empty, everyone left!
Little Adam's Peak
A hike to Little Adam's Peak is a perfect way to stay in shape while traveling! Why "little"? Because there's also Adam's Peak, the big one, the real one in Dalhousie, still in Sri Lanka! I didn't go there but from what I heard, hiking Adam's Peak is longer and a lot harder! Check what it's like to climb Adam's Peak! I contented myself with the "little" one, admittedly not too difficult but there are still 300 stairs to climb! Needless to say, once you're on top, the view is breathtaking!
The Ravana Falls
You can also go 6 kilometers away (3.5 miles) from Ella, to admire the Ravana Falls, a popular waterfall in the area. There are several signs asking people not to swim in the water because 36 people already died there… But you'll see by yourself, locals and tourists don't care and take a dip in the water… For your information, the waterfall is just next to the road, and the monkeys are numerous around the Ravana Falls. Keep an eye open on your stuff…
I took a bus to go to the Ravana Falls from Ella. It's 25 rupees (0.15€) to go there, 25 to come back.
Ella Rock
Because of the rain, I didn't do what I wanted to do as a priority in Ella : climbing Ella Rock. A little bit harder than Little Adam's Peak from what I heard, but doable. Some people took a little bit more than one hour to go all the way up, for others it took two hours… It depends on your physical condition I guess! In Ella, it's also possible to visit tea plantations, but I didn't want to, since I had already seen tea plantations in Munnar, India! FYI, you can also spend a day with a guide visiting Ella Rock, Nine Arches Bridge and Little Adam's Peak. Click here for more info.
If you wanna know more about this beautiful city, here's a backpackers guide to Ella!
Kandy
Train ride from Ella to Kandy
Apparently, the train ride from Ella to Kandy is one of the most beautiful in the world. All those who did this train journey said the landscapes were wonderful, breathtaking, stunning, etc… Therefore I couldn't wait for the ride! Remember? I said earlier that I was visiting Sri Lanka the other way around (south first, unlike most travelers). It meant -a local confirmed- there would be less people in the train Ella-Kandy (compared to the train Kandy-Ella).
The train passes by tea plantations, rice fields and forests and at times you can see locals working in the fields. Anyway, I was really looking forward to it, and see those landscapes from my own eyes! And I didn't see anything… It didn't stop raining during the whole 6-hour ride. Not the rain like back home, a real monsoon! It was pouring! I was pissed… Hopefully one day… But if you ever go to Sri Lanka one day, this is a ride you cannot miss (apparently!). I had to put up with the locals passing by the wagons in the train, selling food and shitty stuff… And I made it to Kandy a bit frustrated. And then I started to visit the city, bigger and noisier than Ella.
The Temple of the Sacred Tooth relic
The Sri Dalada Malagawa, also called the Temple of the Sacred Tooth relic, is a Buddhist temple and houses a relic of the tooth of the Buddha himself! Everyday, monks, locals and pilgrims visit the temple, and commune with themselves in front of the tooth of Buddha! Unfortunately, tourists cannot get in the room where the tooth is, but you can have a glimpse for a few seconds. The entrance fee is 1500 rupees (8 euros), and you have to cover your shoulders and legs. Otherwise, they won't let you get in…
To get in the temple of the sacred tooth relic, you have to put your shoes in the shoe rack counter. It's 100 rupees (0.55€).
The botanical garden
The botanical garden is also very popular! It's normal, this garden is wonderful, big (60 hectares), very well maintained, with many tall trees, lakes, a great variety of plants and trees (orchids, palm trees, bamboos…). Take a few hours to visit the garden, and relax a bit. Many young locals and couples are there. It's 60 rupees (0.35€) for the locals to get in, 1500 rupees (8 euros) for the tourists.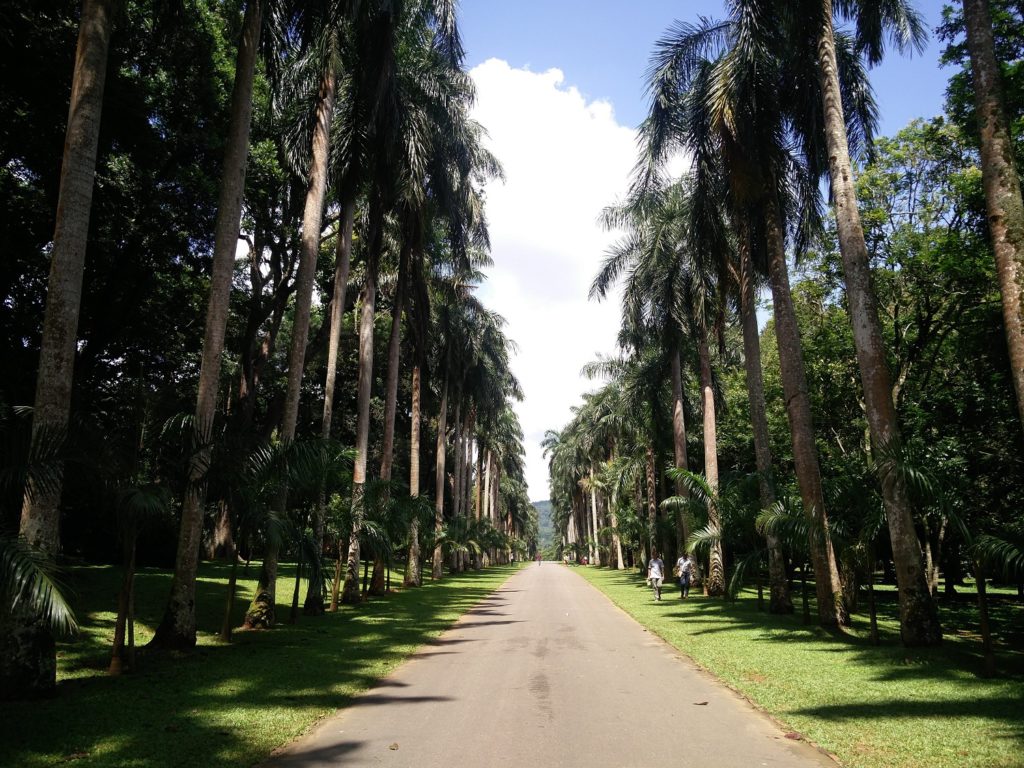 Kandy lake
Don't forget to have a walk around Kandy lake, in the heart of the city. You can even see a small island with palm trees in the lake! In some areas around the lake, having a walk is enjoyable. In other parts, the lake is just next to the road, so it's a bit noisy. Still, having a walk there is worth it!
Ella or Kandy?
It depends on what you're looking for. Ella is smaller, quieter and perfect if you wanna have some rest. It's also possible to hike there (Little Adam's Peak, Ella Rock…). Kandy looks more like a big city (everything is relative, big city for Sri Lanka). However having a walk in Kandy is still enjoyable, and the botanical garden is wonderful. If you don't have much time, here's how to spend one day in Kandy. I liked my stay in Ella and Kandy, although I prefer Ella. Ella is a quite small town, and Kandy is more crowded, more hectic, noisier… But Ella and Kandy are two cities you must visit, if you go to Sri Lanka!
If you spend some time in the country, check out this list of beautiful places to visit in Sri Lanka!
How to get to Sri Lanka
You'll probably get to Sri Lanka by plane. Click here to check the latest flight prices. I arrived from the south of the country to Ella. From Mirissa Beach, I paid 300 rupees (2.65€) to go to Ella (18 from Mirissa Beach to Matara, 217 from Matara to Wellawaya, and 65 from Wellawaya to Ella!). There was a direct bus from Matara to Ella but I had to wait for a few hours… Anyway, I left Mirissa Beach at 9:40am, and I was in my hostel in Ella at 3:30pm. 20 minutes from Mirissa to Matara, 4 hours from Matara to Wellawaya, and one hour from Wellawaya to Ella!
I paid 240 rupees (1.30€) my train ride from Ella to Kandy in second class. 6-hours ride, just for 65 kilometers (40 miles). A marathon runner is faster than that!
How to get around in Ella and Kandy
They're not big cities, you can visit them by foot.
When to go to Ella and Kandy
Ideally from January to May. Otherwise there's the monsoon!
Where to stay in Ella and Kandy
In Ella, I stayed at a nice hostel but far from everything. Click here to check what are the hotels available in Ella. In Kandy, I stayed at the Best Hostel and I loved it! The staff is awesome, I really recommend it! Click here to book your stay. If you're not into hostels, click here to check the hotels available in Kandy.
Finally, if you prefer to stay in an apartment, click here to check the apartments available in Ella on Airbnb. Click here to check the ones available in Kandy.
Other things to do in Sri Lanka
Apart from Ella and Kandy, you can visit Colombo, Galle and a beach in the south (Mirissa, Polhena, Matara…). You can also climb Sigiriya. There are places to visit, where I didn't go : Nuwara Eliya, a town located between Ella and Kandy. Also Dambulla, located between Kandy and Sigiriya. Those who are motivated, you can climb Adam's Peak (the real one, not Little Adam's Peak!). The view there is amazing for the sunrise!
Ella and Kandy travel tips