When you ask people what is the most beautiful city in the world, two names come up quite often: Paris or Rome. I can't be objective regarding the city of lights since I'm living there, but Rome clearly deserves this title. Rome is literally an open air museum. There are so many places to see that you need a lifetime to visit Rome.
It's a city full of history, culture-lovers but also couples will love it! It's one of the best honeymoons destinations in Europe! Be that as it may, visiting Rome is compulsory if you're into travel. What to do in Rome? So many things! For those visiting Rome for the first time, here's a non-exhaustive list of the places to visit in Rome in 3 days. But first off, let's introduce the city.
Description of Rome
You probably already know, Rome is a city full of history, about 2800-years-old. We immediately feel it as we're walking the streets, the architecture is wonderful. The Italians have a melodious accent which is nice to hear. By the way, since I speak French, I can understand the meaning of the Italian sentences without too much difficulty, and people kinda understand when I'm speaking (Italian sounds more like French than Spanish. But speaking both languages is useful).
In Rome, you'll find nice little streets and numerous terraces (like in France actually!). Italian women dress with class and men also pay attention to what they're wearing. By the way, if you want to find out more about the locals, here are 15 real facts about Italians! I can't forget to mention the delicious: the succulent pastas but also the pizzas, the gelatos (ice creams), the prosciutto, the espressos, the cappuccinos… Rome is a big city but still, we feeling like living la dolce vita when having a walk in Rome and admiring the Roman piazzas (squares). Rome sometimes reminds of Bucharest. Anyway, here's what to do in Rome in 3 days!
What to do in Rome
The Colosseum
This is one of the New 7 Wonders of the world, an unmissable in Rome! The Colosseum, also called Flavian Amphitheatre, was completed in AD 80! It could hold 50,000 spectators which was a lot compared to the Roman population at the time! Admittedly the Colosseum is a mythical place but let's not forget this is where animal hunts, gladiatorial contests and executions took place!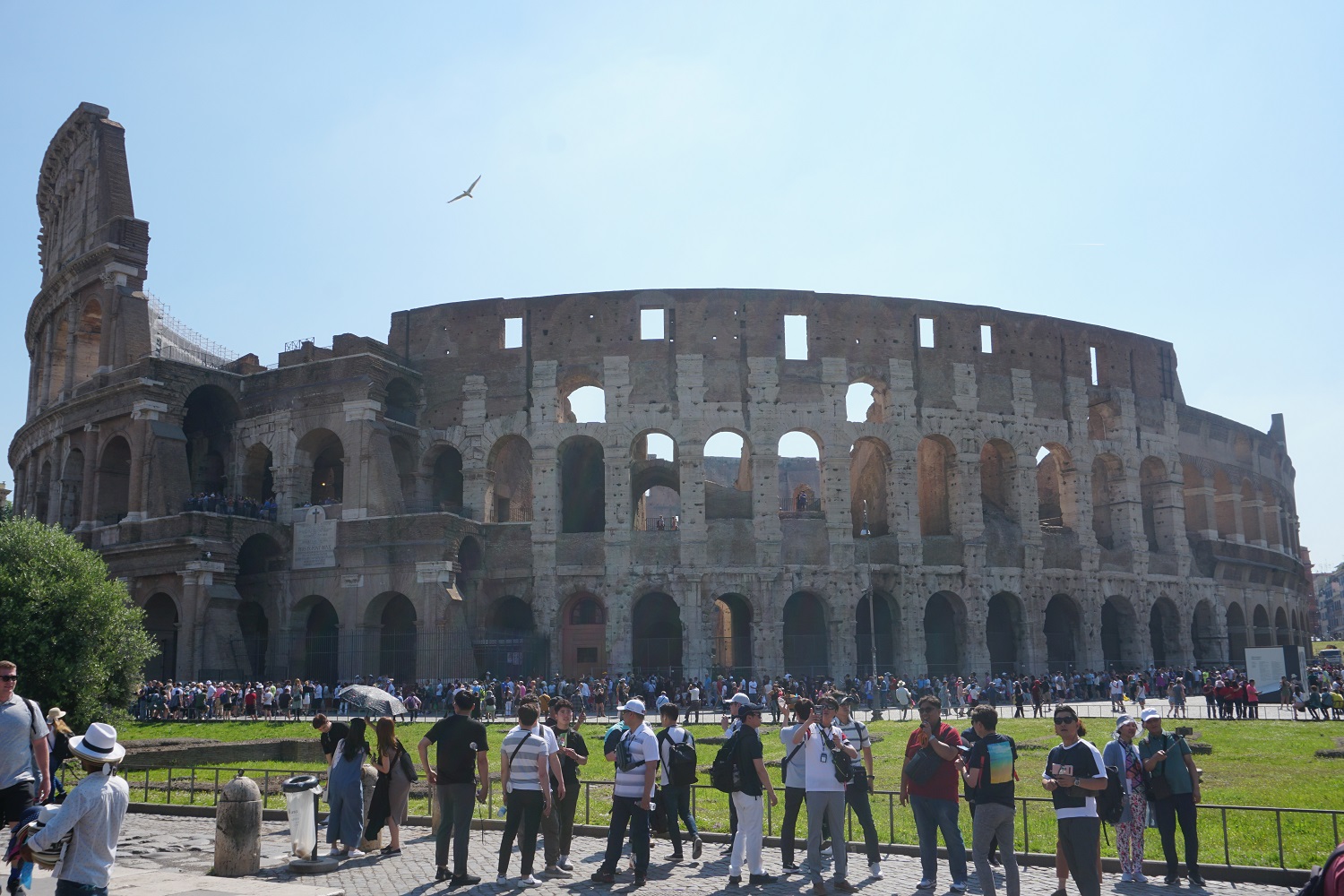 The Colosseum continued to be used for contests approximately until the 6th century. Today, it's not in its best state because of time of course, but also because of numerous earthquakes. But it still attracts more than 7 million visitors every year. Needless to say, you have to wait for a very long time to get in. To gain time, visit the Colosseum first thing in the morning but above all, get a skip-the-line ticket. Otherwise you're gonna wait for a veeeery long time!
Click here to buy a skip the line ticket. Otherwise click here to buy the Omnia Card. I'll talk about it in details further, but you get access to numerous tourist attractions in Rome and free access to public transportation! If needed, I wrote a whole post about visiting the Colosseum.
The Roman forum
Located just a few minutes away by foot from the Colosseum, the entrance to the Roman forum is included with your Colosseum ticket. It's the former city center of the Roman empire. You'll find there numerous structures like the temple of Saturn, the Senate house, the arch of Titus…
You can have a walk in the middle of the old important structures but keep in mind the Roman forum is outside! Avoid going there if it's raining and don't forget to take a bottle of water if it's hot. If you want to visit the Colosseum and you don't have a ticket, it's best to go to the Roman forum and buy a ticket there. This ticket will give you access to the Colosseum and the wait is shorter (still, about 30 minutes!).
The Palatine Hill
The entrance to the Palatine Hill is also included with your Colosseum ticket, and it's also a few minutes away by foot. It's one of the seven hills of Rome but most importantly, this is where the city was founded by Romulus and Remus, two twin brothers. A she-wolf took them in and raised them in a cave. The Roman emperors had their houses here, on the Palatine Hill. Don't miss the houses of Livia and Augustus, and the Palace of Domitian.
The Pantheon
The Pantheon in Rome dates back to 128 AD. At first it was a place dedicated to divinities from the mythology, but it's a Christian church since the 7th century. Take some time to admire its wonderful dome. There's also the tomb of painter Raphael and king Victor Emmanuel II of Italy. It doesn't take long to visit the Pantheon. It's free to get in.
The piazza Navona
Located just next to the Panthon, you'll find on the piazza Navona the famous Fontana dei Quattro Fiumi (Fountain of the Four Rivers) representing the Nile, the Ganges, the Danube and the Rio de Plate. Numerous couples have a break on a bench, savor an ice cream or eat a snack. There are also street artists. In addition to the fountain of the four rivers, there's also the fountain of Neptune and the fontana del Moro. Piazza Navona is built on the site of a former stadium dating back to the Roman empire, which explains its shape. There are numerous terraces there but everything is expensive (let's not forget piazza Navona is a touristic place before anything else). This square reminded me of the main square in Isfahan, Iran.
The Vatican
You cannot visit Rome and not go to the Vatican even if you're non-religious! Go there to admire the wonderful St. Peter's Square, St. Peter's Basilica and of course the Sistine Chapel and the frescos on the ceiling. Actually you're going through various rooms and gardens and the last stop is the Sistine Chapel. You already know, get there at the opening time to avoid the crowd. Or get there around lunchtime, there are less people.
With a skip the line ticket, you get access to the Vatican from 8am. Otherwise you'll have to wait 9am (meaning there will be numerous people already when getting in…). For your information, photos are forbidden in the Sistine Chapel. Once again, there's no wait to get in the Vatican with the Omnia Card. Click here to buy it. If you want to, you can visit the Vatican at night. Click here for more info. I wrote a detailed article if you plan to visit the Vatican!
The Trevi fountain
I guess you already know, the Trevi Fountain is often crowded! But you have to see it! It's the largest fountain of Rome, it was finished in 1762. It represents Neptune on his tank heading to the sea. The marriage proposals are common there! If you want to admire the fountain without the crows, head there arouns 11pm (I know, it's late!). But nighttime, the fountain is floodlit. The tradition says you have to turn your back on the fountain and throw two coins. The first one to make a wish, the second one to make sure you'll go back to Rome.
The bocca della verità
The bocca della verità (mouth of truth) is a sculpture dating back to the 1st century used as a drain cover. The legend says if you put your hand in the mouth, the mouth of truth chops off the hand of those who don't tell the truth. I was surprised to see that many people waiting to get a picture with the bocca della verità.
The Ponte Sant'Angelo and the Castel Sant'Angelo
The Ponte Sant'Angelo is decorated with ten statues representing angels. They were built by artist Bernini. The bridge offers a really nice view of Rome, especially when the sun sets. The Ponte Sant'Angelo dates back to the 2nd century! The bridge is often crowded, as crowded as the Charles bridge in Prague! You get it, this bridge allows you to go to the Castel Sant'Angelo. Commissioned by the Roman emperor Hadrian as a mausoleum for himself and his family, other Roman emperors rest there. It's one of the most beautiful bridges of Rome!
But the castle then had a military role, it was turned into a military fortress to protect Rome from various attacks. The popes were taking refuge during invasions, they were able to reach the Vatican via a secret tunnel. It's 14 euros to get in. You'll be able to visit the castle, watch the tombs and the former popes' apartments. Click here for a guided tour of the castle.
Villa Borghese gardens
This is probably the largest garden in Rome, and probably one of the most beautiful. It stretches over 80 hectares (197.7 acres) and offers some calm which contrats with the hustle and bustle of Rome. Numerous families relax there, kids are riding ponies, adults feed the turtles in the pond, the couples walk along a lake surrounded by statues and fountains. In the gardens, there is the Galleria Borghese. It's a museum where works of art of numerous artists ( Raphaël, Bernini, Rubens, De Vinci…) are exhibited. You cannot go directly to the museum, you need to buy your ticket online for a visit at a specific hour. Click here to buy it.
Campo de' Fiori
Campo de' Fiori (field of flowers) is a famous square in Rome. You'll find there a market selling fruits, vegetables, meat, fish, fresh products, souvenirs, cheese, clothes… Although Campo de' Fiori is quite touristy, the prices aren't inflated! It's open everyday except on Sundays.
Capitoline Hill
During the Roman empire days, all the important political and religious buildings were there. You can still see the senators' palace, the "palace of the Conservators" and the new palace which is housing the Capitoline museum (it's 16 euros to get in). In this museum you'll find works of art of Titien, Bernini, etc. On Capitoline Hill, you'll be able to see Romulus and Remus being suckled by a she-wolf. Don't miss the basilica of St. Mary of the Altar of Heaven and the Victor Emmanuel II monument (it's huge!), they're just a few minutes away. It's free to get in the Victor Emmanuel II monument. However your legs and shoulders have to be covered. If you want to go on the roof, you'll have to pay 10 euros.
Piazza di Spagna
It's a charming square mostly known for its stairs and the fontana della Barcaccia, a baroque-style fountain. Many people sit on the stairs. When climbing the stars, you'll get in front of the Trinita dei Monti, a Roman catholic church. There are mainly luxury stores on piazza di Spagna.
More than 3 days in Rome
As I said earlier, it's a non-exhaustive list. By visiting all the places I listed, you'd see the most important things in Rome. It's definitely doable in 3 days in Rome. However there are way more places to see in Rome. If you have more than 3 days in Rome, go to the baths of Carcalla, the second largest Roman public baths. It's 8 euros to get in. There are also the catacombs of Rome. And of course Aventine Hill, one of the seven hills of Rome.
For those into cinema, don't miss Cinecitta Studios, a large film studio where you'll learn about the history of Italian cinema. Take some time to wander in Trastevere, a boho district with charming little streets. In the evening, the district becomes lively with numerous restaurants and terraces. You can also admire the numerous piazzas of Rome. I listed several of them already, but there's also piazza del Popolo, piazza Venezia, etc.
Finally, if you want to go shopping, via Condotti is one of the most famous shopping streets of Rome. However there are mostly luxury stores (Gucci, Prada, Armani…). Wanna know more about Rome? Here are fun facts about Rome. Staying in Rome for a long time? Check out this post listing the best small towns near Rome!
What to eat in Rome
You probably already know, but eating in Rome (and in Italy in general) is an experience in itself. The food is succulent almost everywhere! Want to eat like a local? Here are the best restaurants in Rome! And here are dishes you have to try! You'll know what to eat in Rome!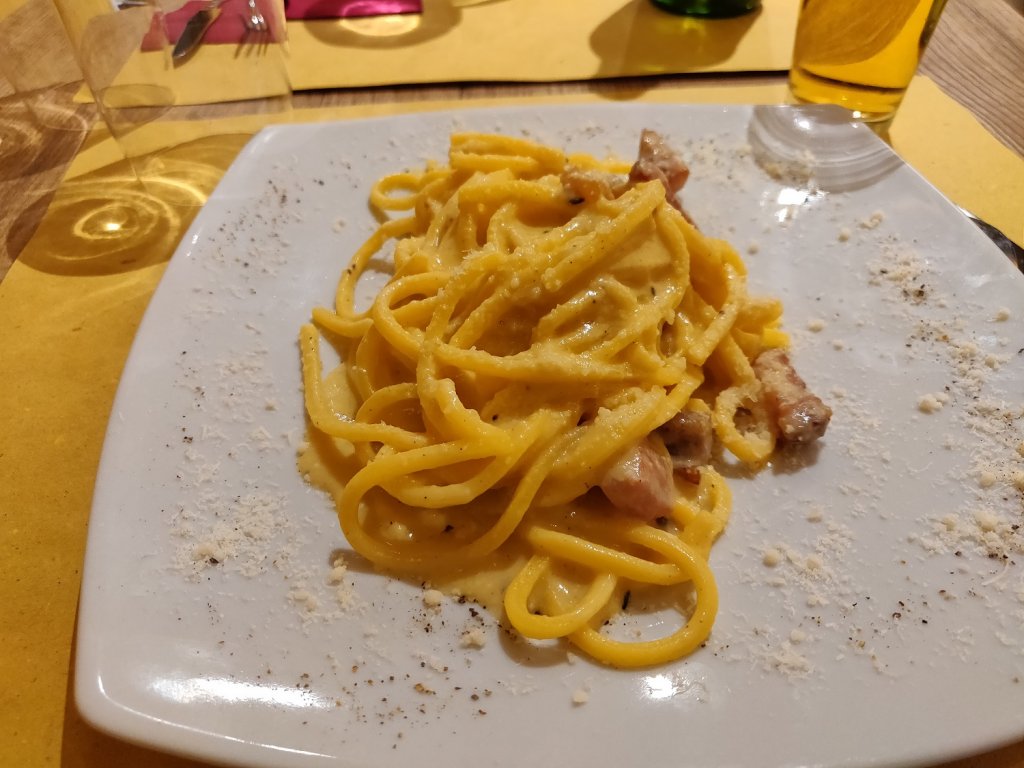 Pastas of course! Try the carbonara, the cacio e pepe (pecorino romano cheese and black pepper), and the bucatini all'amatriciana (tomato, guanciale (cured pork cheek) and pecorino romano cheese with onions, pepper and olive oil).
The pizzas too! I cannot give advice regarding pizzas, but try a pizza alla romana (very thin base with tomato sauce, mozzarella, anchovy, olive oil and oregano)
Suppli alla romana. Those are rice croquettes stuffed with mozzarella and bolognese sauce. You eat them as a snack or as an appetizer.
For your antipasti (appetizer), try the local cold meats and cheese. Let's not forget the carciofi alla giudia. It's a deep-fried artichoke with parsley, white wine, olive oil, lemon and a bit of salt.
For your antipasti, there are also the fiori di zucca. Those are fried zucchini flowers. Locals mostly eat them in spring and in the summer.
Trippa alla romana. Tripes in a tomato sauce with fried vegetables, mint and pecorino romano cheese. Very popular in Rome.
Saltimbocca alla Romana. It means "it jumps in the mouth". This is veal wrapped with ham, prosciutto and sage.
Coda alla vaccinara. This is an oxtail stew with tomatoes , wine, spices and vegetables.
Regarding the desserts, there is of course the tiramisu made of ladyfingers dipped in coffee layered with a whipped mixture of eggs and sugar. Also the crostata di ricotta, made with ricotta mixed with sugar and lemon zest. There are also maritozzi, an orange and grape-flavored brioche stuffed with cream. And of course the gelatos (ice creams). Go to Il Gelato di San Crispino to savor great ice creams.
Check out this post listing Italian drinks you must try!
And many other things: fried calamars, mozzarella di buffala, the spritz… Like any local, you have to do the aperitivo: before having dinner, head to a bar, pay about 10 euros, and you'll get a drink plus an all you can eat buffet (snacks mostly). A pleasant moment with your friends, your lover or with your family!
Wanna know more? Check out these fascinating facts about Italian food and cuisine! Otherwise, you can go on a food and wine tour in Trastevere. Click here for more info. If you plan to spend some time in the country, here are the best things to do in Italy!
The Omnia Card
So handy if you spend 3 days in Rome! The Omnia Card allows you to get in all the popular attractions in Rome! And of course you skip the line! Go straight to the Colosseum, the St. Peter's basilica, the museums in Vatican and the Sistine Chapel. The Omnia Card gives access to a yellow bus to sightsee Rome. And public transportation is free with the card! You'll gain time, and money! Click here to buy it.
How to get to Rome
If you arrive from abroad, you'll probably head to Rome by plane. Click here to check the latest flight prices. Otherwise you can get there by bus. Click here to check the bus ticket prices. You can also get there by train. Click here to check the train ticket prices.
How to get around in Rome
It's better to get around by metro (subway). A single ticket costs 1.50 euro, a one-day ticket costs 6 euros, a one-week pass costs 24 euros. The easiest thing to do is to get an Omnia Card. For your information, there are three metro lines only. There could have been more but they don't want to damage the heritage of the city. By the way, the metro is a lot cleaner than when I went there in 1999. The signal is great even inside the metro. Here's a Rome guide for disabled travelers.
There are also buses all over the city but I didn't use them. Otherwise you can get around like a local by scooter. Click here to rent one. You can also go on a electric bike tour. Click here for more info. Finally, you can of course explore Rome by foot. Be careful though, birds can be dangerous. I mean, bird droppings are common there, I was hit on the shoulder and I saw many people getting hit too!
How many days to visit Rome
Spending 3 days in Rome is a minimum. There are many things to see in Rome and even if you follow the advice of this article, you'll spend time waiting to get in attractions. Ideally, if you can spend one or two more days in Rome, it would be perfect!
Is Rome safe to visit
There's usually no real problems regarding safety in Rome. However, you need to know there are numerous pickpockets around the famous tourist attractions, and they're really "talented". Keep an eye on your belongings! Better safe than sorry, click here to get travel insurance! Otherwise nothing to report. I met other black travelers, we were doing the black nod. They were also having a great time in Rome!
Best time to visit Rome
What's the best time of the year to visit Rome? First off, Rome is very popular, the city is crowded all year long! Regarding the weather, it's better to go between April and October. But avoid July and August, Rome is packed! There are less people between January and March, and accommodation is a bit cheaper. When is the best time to visit Rome then, I'd say June, September and October are the best months. But here are things to do in Rome in winter.
Where to stay in Rome
There are many nice hotels in Rome. If you're traveling on a budget, the Roma Scout Center is a good hostel. Click here to check the photos, reviews and availability. If you prefer mid-range hotels, the Barberini Boutique Hotel is a really nice hotel, and the staff makes sure you're having a good time. Click here to check the photos, reviews and availability. If you're into luxury hotels, the Singer Palace Hotel is for you, and it's in the heart of Rome. Click here to check the photos, reviews and availability. Otherwise click here to check the hotels available in Rome.
Rome travel tips