Portland is the largest city in the state of Oregon, on the westcoast of the US. This city has a special and unique atmosphere and you have to see it, especially if you're traveling on the westcoast. Indeed, visiting Portland is discovering an alternative, industrial, hipster and environmentally friendly city. Before anything else it's a progressive city where the locals want to show they accept everyone (gays, black people…). What to do in Portland? I'm gonna list all the things to do in Portland in a weekend, but first off, let's describe the city!
Description of Portland
The slogan of Portland is "Keep Portland weird" because it's an original and quirky city (by the way, Austin has the same slogan). You'll find there numerous parks, many bridges but also bicycle lanes everywhere. Unfortunately there are also numerous homeless people, especially around Chinatown. Some of them are very young (less than 25), like in San Francisco…
Beer is an institution in Portland and there are numerous breweries where you can taste local beers. There are also many distilleries and Starbucks all over the city! Those who like coffee will not be disappointed, they take it serisously and there are many coffee roasters. Donuts and ice creams are also very important in Portland, I talk about it later on in the article!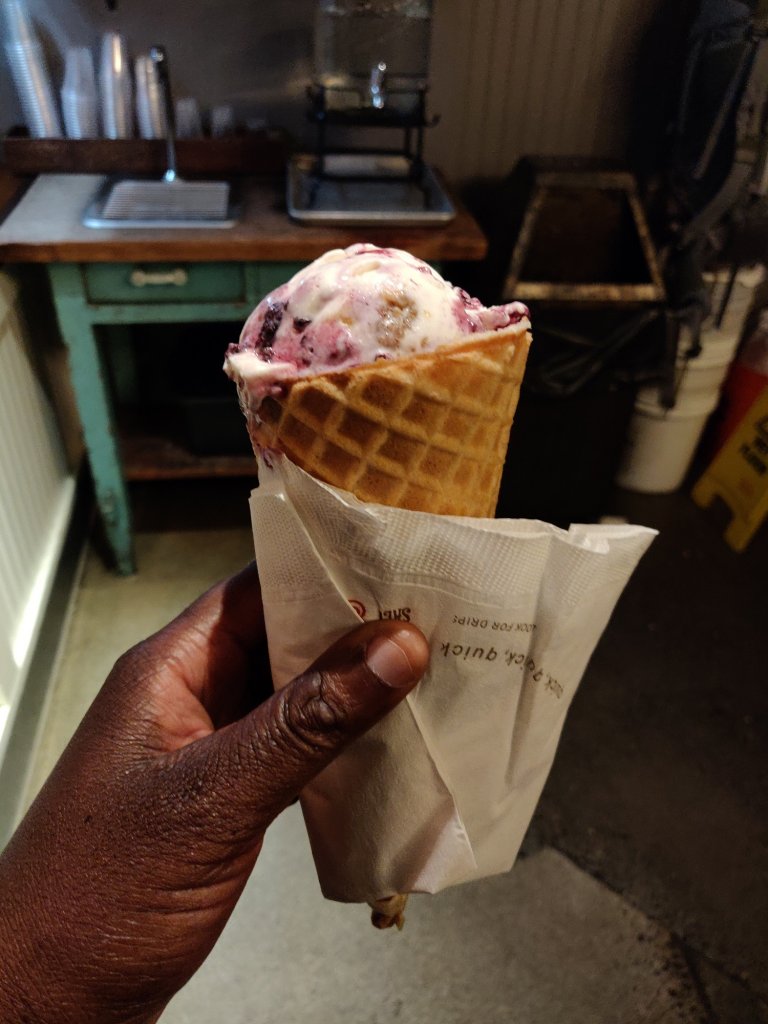 Numerous artists live in Portland, especially musicians and comedians. For your information, the creators of The Simpsons come from Portland, and they borrowed titles from select Portland landmarks to name several of their cast of goofy characters.
Portland is divided into five parts. The Willamette river separates the east from the west, and the main street separates the north from the south. Above Burnside Street is the north of Portland. The West part is clearly more gentrified than the East. On the East you'll see a lot of street art. On the West there are numerous parks. By the way Portland is called the city of roses due to the numerous roses in the green spaces. While we're at it the commitment to environmental conservation is very strong there, I realized it when talking with the locals.
Anyway, Portland is a cool, hipster and quirky city. Some people greet you in the street, sometimes girls smile at men outside (it happened to me!), cars stop to let you cross the street… Those into cannabis will love Portland, smoking weed is legal here (it often smells like weed outside!). Let's see what to do in Portland!
Things to do in Portland
Powell's City of Books
In the heart of Portland, this famous independent bookstore is the largest in the world. Four floors full of books! It's impossible not to find what you're looking for! New books, used books, novels, books for kids… There's literally everything! There's an area where you can relax and have a coffee. There's also a section where they're selling board games and souvenirs from Oregon. You have to see this bookstore!
The international rose test garden
I said it earlier, Portland is called the city of roses! Therefore you have to see its international rose test garden. It's located in Washington Park. It's one of the oldest of the country but also the largest in the world! There are more than 500 varieties of roses there! Head there between April and October to really admire the beauty of the garden. There's a free walking tour everyday at 1pm.
The Japanese garden
Next to the international rose test garden, there's another one you have to see, the Japanese garden! It opened in 1963 and is known for being the most authentic Japanese garden outside of Japan. It's a real haven of peace, an oasis of calm. Don't miss it! It's $18.95 to get in. Get there early in the morning otherwise the wait is long to get in. In Chinatown, there's the Lan Su Chinese Garden which is also very beautiful. It's $12.95 to get in.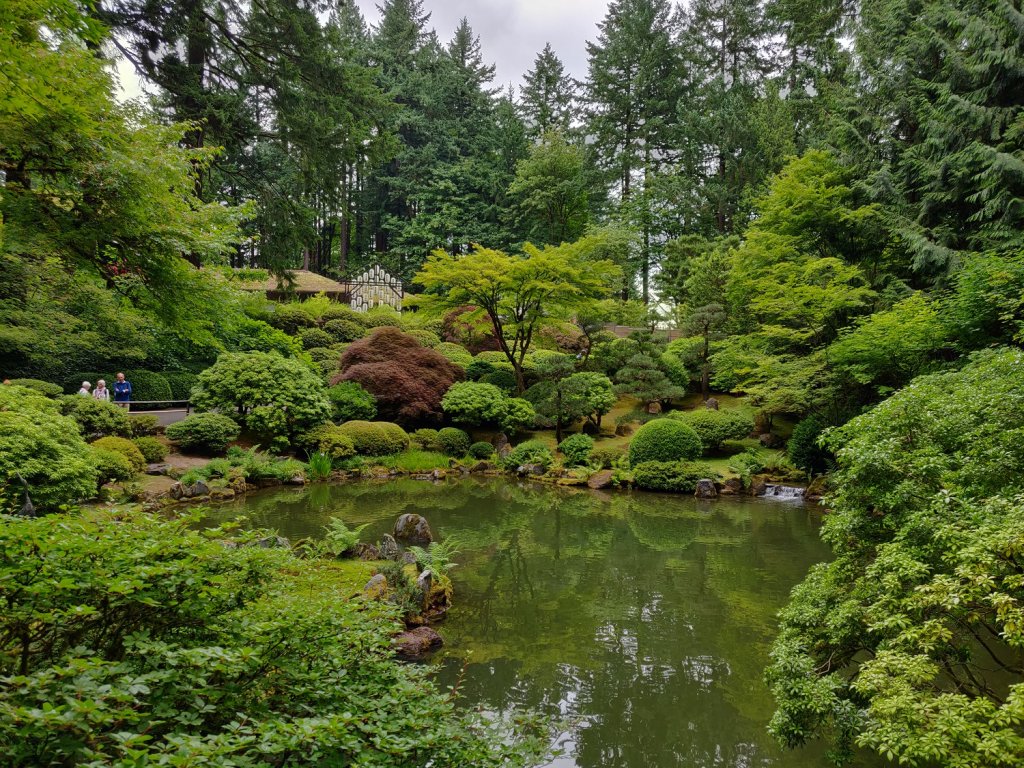 Pittock Mansion
It used to be a 23-room manor house built in 1914 which belonged to a rich and influential family, the Pittock. It turned into a museum telling the history of Portland, its transformation and its evolution through the property of the Pittock. The Pittock Mansion is located in the heights of the citys and offers a panoramic view of Portland! It's free to access the gardens but you have to pay $12 to get in the museum. Wanna go on a Portland highlights tour which includes the Pittock Mansion but also the international rose test garden? Click here for more info!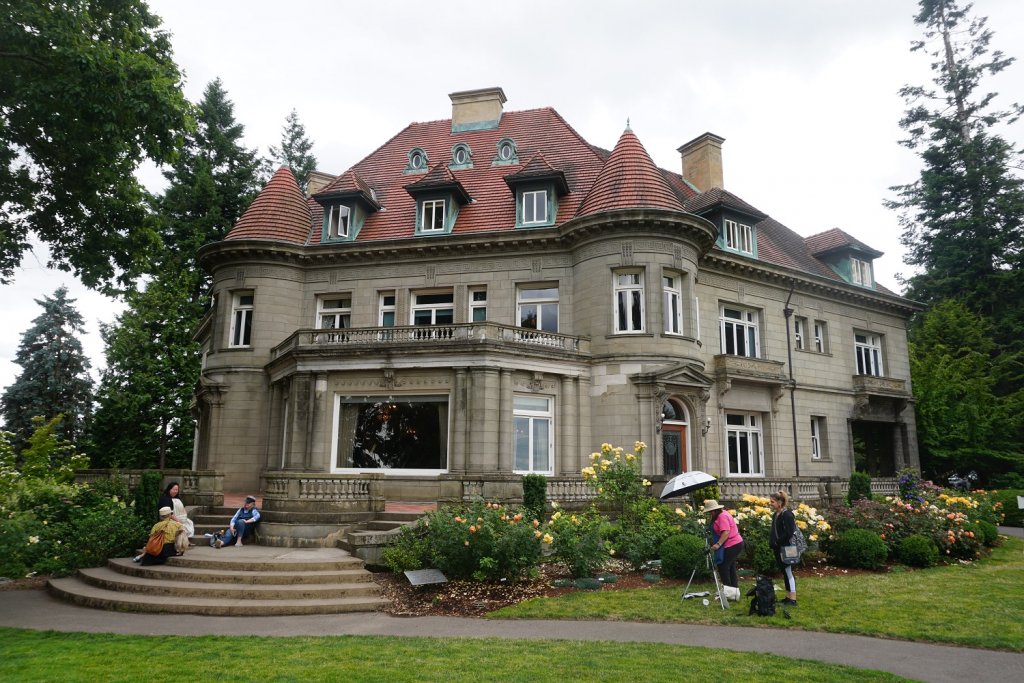 Alberta Street
Here's a street you have to see if you wanna grasp the weird and alternative side of Portland. You'll find there numerous art galleries but also many restaurants, bars and well decorated stores. You can admire the local street art on Alberta Street, discover the colorful facades, check the original decoration of the houses and look at how eccentric people are dressed!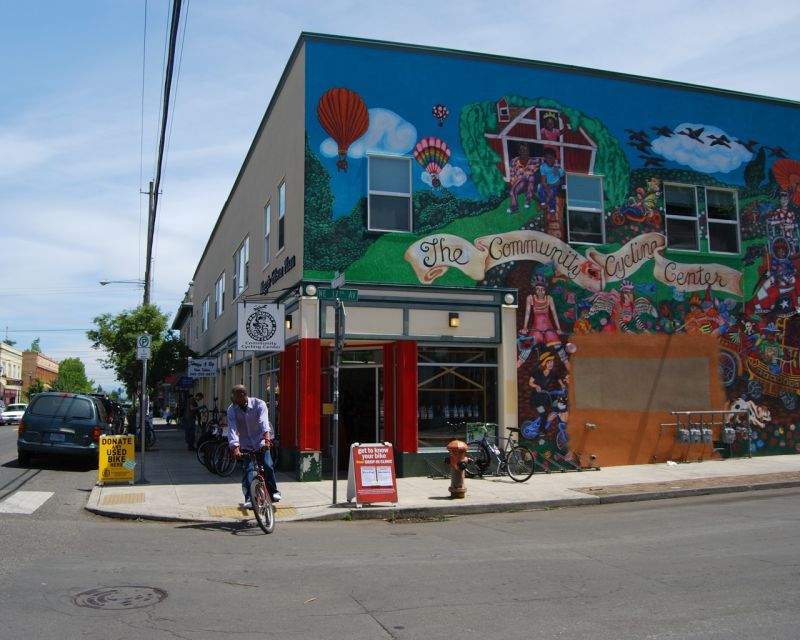 North Mississippi Avenue
Here's another emblematic avenue of Portand! It's one of the most trendy avenues of the city. You'll find there plenty of bars, restaurants and food trucks selling all kind of food! The area is quite hip, you also see many bearded guys, musicians and interior design shops. You have to go there!
The food trucks
It's an institution in Portland, the food trucks! You know, the trucks equipped to prepare, and sell food and drinks. In Portland they're all over the place! In Mississippi Avenue, Downtown, etc. They're serving all kind of food! Burgers, pizzas, Indian dishes but also Chinese, Japanese, salads… You have to try and most of them are not bad at all!
The Saturday market
Contrary to what its name says, it's not open on Saturdays only but also on Sundays. At the Saturday market, there are of course food trucks if you're hungry but also several handicraft stalls. In fact there are numerous locals trying to sell their hand-crafted production: homemade candles, T-shirts, leather notebooks, etc. The atmosphere is quite relaxed, just like the city in general. The Saturday market is located on 2 SW Naito Parkway.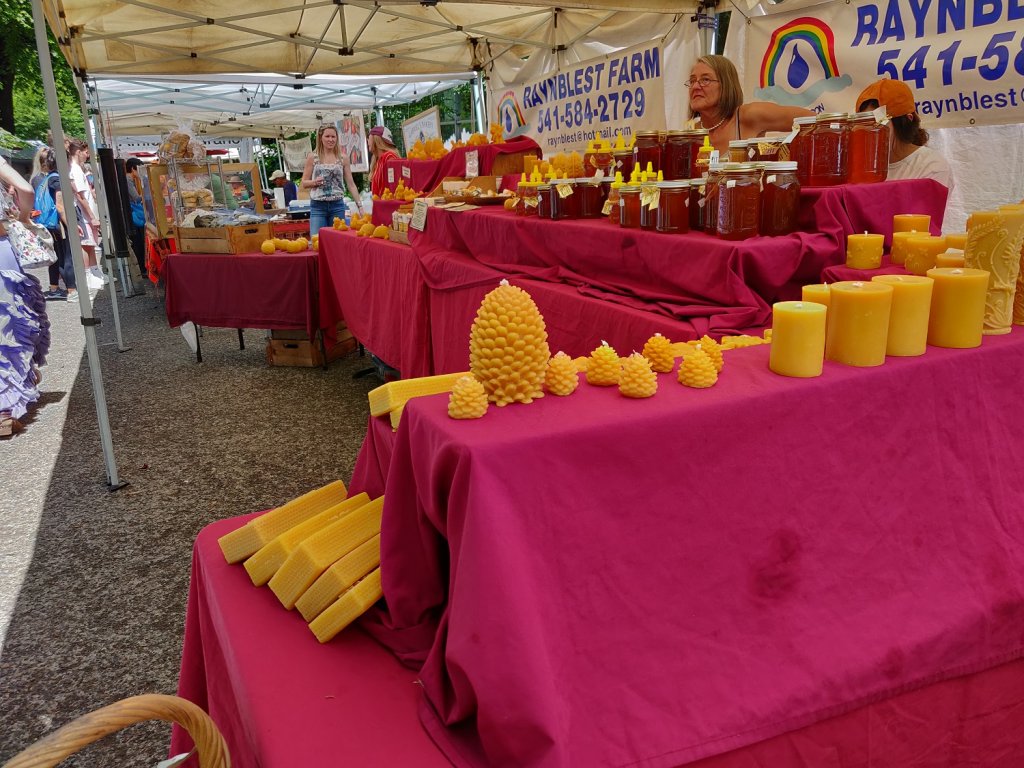 Try the donuts
Usually I'm not really into donuts but people kept telling me I had to taste the donuts in Portland. I gave in… and honestly they were good! Where to savor good donuts? Voodoo Doughnut is by far the most famous in the city to try a donut! Be careful though, since it's popular sometimes there's a long line just to get a donut! Its competitor, Blue Star Donuts, sells good donuts and you usually don't wait. There's also Pip's Original Doughnuts. Are you a food lover like me? Go on a donut tour! Click here for more info! On a different note, go to Salt & Straw to have an ice cream, they're really good!
Enjoy the green spaces
There are numerous parks in Portland. When the weather is nice, it's really enjoyable to have a walk there, relax, picnic, etc. Where to go? You have plenty of options: Forest Park, Washington Park, Tom McCall Waterfront Park, Laurelhurst Park… Oh and don't miss Mill Ends Park, the smallest park in the world!
The Oregon Holocaust Memorial
You have to see it if you go to Washington Park. It's a memorial dedicated to victims of the Holocaust, where you can see the name of the victims. It makes you think about the atrocities of human nature. Like the shoes on the Danube bank in Budapest, there are everyday items (suitcase, shoes, toys, glasses) scattered there. They symbolize life interrupted.
Other things to do in Portland
Relax at Pioneer Courthouse Square, the main square in the city center. While we're at it, have a walk in Downtown, it's lively there. Another area you have to see is Pearl District, a trendy and lively district. You have to taste the local beer in a brewery. Click here to go on a brewery walking tour!
Wanna go on a dinner cruise? Click here for more info. You can also go on a lunch cruise. Click here for more info. If you're into museums, you're gonna like the art museum. On a different note, the OMSI is a sciences museum, mostly for kids and families.
Day trips from Portland
There are many things to do outside Portland. The area is so beautiful! First off, check out these weekend getaways from Portland. And here are more ideas:
I really liked my visit to Portland. A city where people are relaxed and open-minded. If you're on the westcoast, take some time to spend a few days in Portland! Moreover, it's one of the most beautiful cities in the US! Here are travel tips now!
How to get to Portland
If you're road tripping in the country, you'll head to Portland by car. Otherwise you'll probably head there by plane. Click here to check the flight prices. Wanna go to the US? If you're not a US citizen, you need to apply for the ESTA beforehand here. That's the only website you need to use to apply for an ESTA. It's 14 dollars. If you're using another website, you'll inevitably pay more and you're gonna get fucked. The unofficial website will apply for your ESTA using the official website, and needless to say, they'll take their commission. FYI, you can also arrive by train with the Amtrak.
How to get around in Portland
Having a car is nice especially if you wanna go on day trips outside of Portland. But in the city having a car is not useful with all the traffic and finding a place to park is a struggle. In Portland, public transportation is very convenient and the city is well-connected. A single ticket costs $2.50 and gives you access to the metro, streetcars and buses for two hours and a half. A 1-day pass costs $5. You can also rent a bike from Biketown, Portland's bike share system. Finally there's Uber and Lyft if needed.
Best time to visit Portland
The best time to visit Portland is by far the summer, especially in July and August. The weather is nice, the temperatures are comfortable (73-80ºF/23-27ºC) and you can fully appreciate the potential of the city. In May, June and September, it's a little bit colder and it might rain, but it's still a good time to visit. However from October to April, the weather is gloomy, it's cold (37-41ºF/3-5ºC) but above all it rains a lot.
Where to stay in Portland
If you're traveling on a budget, I suggest you to stay at the HI Portland Northwest Hostel. A clean hostel, the beds are comfortable and the staff is really nice! Click here to check the photos, reviews and availability. If you prefer mid-range hotels, you'll like the Portland International Guesthouse. Very clean, comfortable, not expensive, well located… Click here to check the photos, reviews and availability. If you like to stay in luxury hotels, you have to stay at the Sentinel. Well decorated, large rooms, great staff! Click here to check the photos, reviews and availability. Otherwise click here to check the hotels available in Portland.
Portland travel tips