Moldova holds a sad record, this is the poorest country of Europe. And let's be honest, few people go visit Moldova, thinking there's nothing to do there. However there are places to visit in Moldova, this small country stuck between Romania and Ukraine. What to do in Moldova? Read the article to find out more about the Moldova attractions, then I'll share Moldova travel tips.
Places to visit in Moldova
Chisinau
Chisinau is the capital of Moldova. You'll see there numerous green spaces and historical monuments. But also many restaurants, spas, clubs, art galleries and even casinos. Don't miss the Nativity cathedral, the arc de triomphe and the museum of natural history. I wrote a detailed article if you plan to visit Chisinau. Click here to find your accommodation.
Orheiul Vechi
Orheiul Vechi is one of the most visited places of Moldova. It's an archaeological complex located in the countryside of Moldova, which is 2000 years old! The Mongol invaded here in the 10th century, and the Golden Horde occupied Orheiul Vechi in the 14th century. Today, you'll find there monasteries, caves, ruins, baths and a museum explaining the history of Orheiul Vechi. I wrote a detailed article if you plan to go to Orheiul Vechi.
Cricova
Don't miss Cricova! It's one of the largest wineries in the world! There are 120 kilometers (75 miles) of labyrinthine roadways, 1.3 million bottles of wine, 30 million liters of wine, 6 to 8 metric tons of wine per barrel, hundreds of types of cognac, wine… Make the most of your time there and buy bottles of Moldavian wine. I wrote a detailed article if you plan to visit Cricova. For your information there's also Milestii Mici in Moldova, another huge winery.
Saharna
Saharna is a very popular small village in Moldova. You'll find there the holy trinity monastery of Saharna. Along the river, you can admire 22 waterfalls, the most famous being "Gipsy hole". Saharna is a place of pilgrimage for Moldavians because there's a footprint on a rock which is believed to be the Virgin Mary's. Nature lovers and those innto hiking will enjoy Saharna.
Soroca
Soroca is not far from the Ukraine border and it's the unofficial capital of Roma. Soroca overlooks the Dniestr river and this is where armies were defending the country. Indeed the main attraction of the city is the Soroca fortress which dates back to the 14th century. You have to see it!
Tipova monastery
It's one of the largest monasteries in Europe. Dug out from beneath the rocks, the monastery is comprised of three complexes and offers a nice view of the Dniestr river. There's the Church of the Feast of the Holy Cross which dates back to the 11th century, the Church of St. Nicholas (14th century) and Horodiste (16th century). The monastery can host 700 monks, but about 20 monks only live there. There's also a nice waterfall not far from the monastery.
Curchi monastery
Another monastery, this one is wonderful. Believe me or not, it used to be a psychiatric hospital during the Soviet era! In this complex you'll find five churches, several abbeys, a refectory and monk cells. There are also beautiful orchards around the monastery.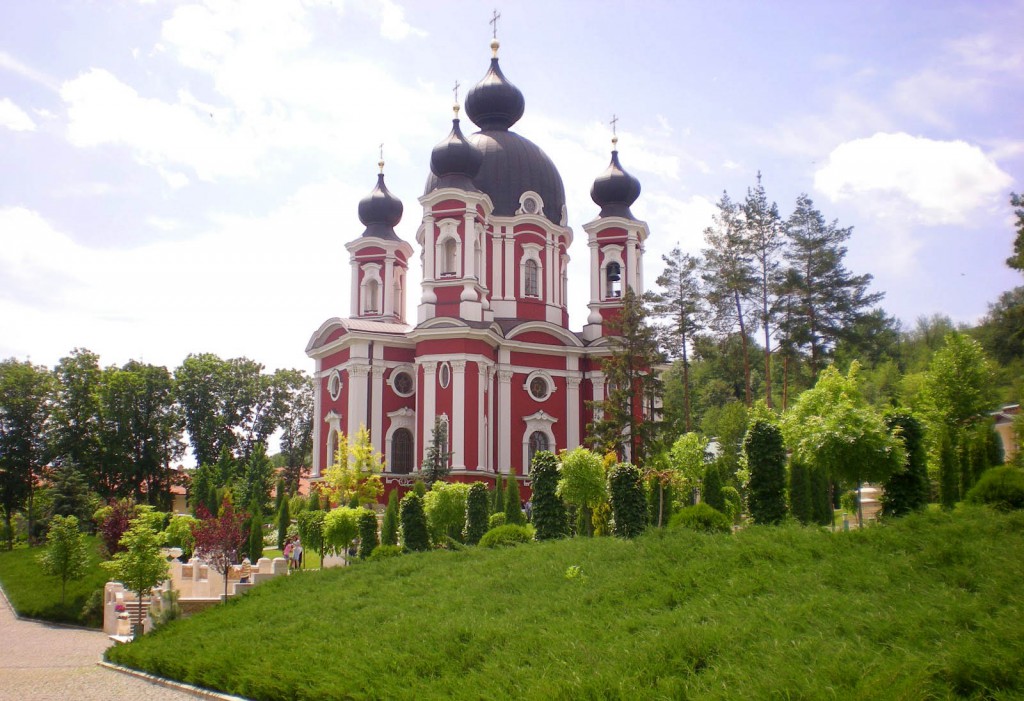 Gagauzia
Gagauzia is an autonomous region located in the south of Moldova. Its capital is Comrat. They don't speak Romanian nor Moldavian but Gagauz. It's a region with three towns and 27 villages, and its culture is influenced by Turkey. The inhabitants are Christians but their ancestors were Muslim refugees. Visit the Comrat Regional History Museum to learn about the history of the region and the daily life of its inhabitants.
Padurea Domneasca (royal forest)
Opened in 1993, this is the largest natural reserve of Moldova. It's located in Glodeni. There's also the oldest oak tree in the country there, it's about 450 years old. Once again nature lovers will love this place. You can admire numerous bird species, and even spot bisons!
Capriana
Located 40km (25 miles) northwest of Chisinau, people go to Capriana to admire its monastery, which was founded in 1429 by Alexander the Good! It used to house the Moldavian bishop but also Chipiran, one of the first Moldavian poets. There's also the largest convent library of the country.
Taul Park
Taul park is located in Taul village, and it's the largest park of the country. In this park, you cannot miss the manor house of Ivan Pommer, a testament to Moldova's landscape architecture. There are also 150 varieties of trees in the park. Taul park is divided in two parts: the upper part with the manor house and the lower part which feels more like a forest.
Codru natural reservation
Codru natural reservation is the oldest of the country. You'll find over 1000 species of protected plants, 145 bird species butl also mammals, reptiles, etc. You can admire beautiful valleys but also ravines. There's a a Natural History Museum in the reserve, don't miss it.
Transnistria
Transnistria proclaims itself an independent country, but is unrecognized by any United Nations member state. They have their own currency, their constitution, their president, their government… Unrecognized by any state! Tiraspol is the capital. You have to see it because it feels like being in the ex-USSR era. In Tiraspol, you have to see the Kvint factory. It produces high-quality cognac since 1897! Click here to find your accommodation.
These were the best places to visit in Moldova! Now here are a few Moldova travel tips!
Moldova travel budget
Accommodation is not expensive in Moldova. One night in a hostel dorm costs about 150 MDL ($8.50). To stay in a budget hotel, you'll pay about 600 MDL ($34) per night. Otherwise, prices start from 1000 MDL ($57) to stay in a middle range/luxury hotel. Click here to book your accommodation.
Food is not expensive either. A local dish costs about 100 MDL ($5.50). Same for fast food, a pizza or if you get Asian food for instance. A sandwich costs around 60 MDL ($3.50). A three-course meal costs around 200-250 MDL ($11.50-14). You'll pay about 20-40 MDL ($1-2) for a beer.
Regarding transportation, nothing is expensive. A bus ticket in Chisinau costs 3 MDL ($0.15). Going to Tiraspol from Chisinau costs 20 MDL ($1). Any journey within the country costs less than 150 MDL ($8.50). Same for the train rides. Taxis start at 25 MDL ($1.50) + 5 MDL ($0.25) for each kilometer. You can rent a car for 450 MDL ($25) per day. Finally hitchhiking is very common in Moldova.
Regarding activities, nothing is expensive. Museums cost less than 100 MDL ($5.50). Vineyards tours like Cricova are a bit more expensive, it's about 300 MDL ($17).
Basically, if you're traveling on a budget, you can get by with $35 per day. Otherwise you'll spend about $80+ per day.
How to get around in Moldova
In Chisinau there's the bus. Otherwise to get around in the country there are trains and buses. You can also rent a car. Moldova being a small country, there are no domestic flights.
Best time to visit Moldova
July and August are good months to visit Moldova. It's the high season and the weather is nice (around 25°C/77°F). April, May, September and October are also good months to go to Moldova. However I'd avoid going there from November to March. It's cold (around -5°C/23°F), the weather is gloomy and the sky is grey.
Visa policy of Moldova
If you're an European citizen or coming from a Western country, you don't need a visa to get to Moldova. You can find all the details here.
Safety in Moldova
Moldova is not really a dangerous country. But it's the poorest in Europe, some people there have nothing to lose especially when they see a tourist coming (meaning that person has money!). There are pickpockets around the bus stations, but also in the buses and trains. Keep an eye open. Avoid withdrawing money at the ATM in the street, it's better to do it within banks to be safe.
I listed in this article the common travel scams. Generally speaking, always trust your instinct. And don't forget to get travel insurance. It will protect you against illness, injury, theft and cancellations. Click here to get one.
Packing list for Moldova
I'm not gonna list all the things to pack for Moldova. I don't know how long you're gonna stay there, where you're going in Moldova, what you're going to do and when you'll visit. Take all the necessary clothes, toiletries, and also:
Here's a full list of travel accessories, which can be useful!
What to eat in Moldova
Moldavian cuisine is influenced by Bulgarian, Ukrainian, Russian, Romanian and Turkish cuisine. Tocana cu mamaliga is the most famous dish. It's a mix of egg, semolina, meat, sheep's milk cheese, and crème fraiche. There's also the ghiveci (lamb stew).
That's it! You have all the information needed to travel to Moldova! Everything will go smoothly thanks to this guide!