Thinking about visiting Nepal? You'll be pleasantly surprised if you go there! Nepal is mostly known for attracting trek lovers (Annapurna, Everest…). But there's more than that in Nepal! You can visit national parks, temples, monasteries, admire Himalaya, relax along wonderful lakes… Yes, there are numerous Nepal tourist places! What to do in Nepal? Read this article listing the best places to visit in Nepal, then I'll share Nepal travel tips.
Things to do in Nepal
Kathmandu
Kathmandu is the capital of Nepal. It's the largest city of the country, and this is where most travelers start when they visit Nepal. Kathmandu is mostly known for its stupas (place of worship for Buddhists), monuments, medieval temples and public squares. Kathmandu was severely damaged by an earthquake in 2015, but the city's being restored. Don't miss Durbar Square where there are many temples and stupas. You have to see Boudhanath Stupa, one of the largest of Asia.
You also have to see Swayambunath temple and don't miss Patan (also known as Lalitpur). Located in the south of the city, it was a different city back then but they've merged into one with Kathmandu. There's a wonderful golden temple there. I wrote a detailed article about my visit to Kathmandu. Click here to find your accommodation. Click here to find the best activities.
Pokhara
Second largest city of Nepal, Pokhara is wonderful and is actually not that big. It's the starting point of numerous treks. A perfect place to relax before or after a trek. Take some time around Fewa lake, where you'll find many guesthouses, restaurants, bars and small shops. It's also possible to go paddle boarding, paragliding or rafting there. You have to see Shanti Stupa and the Davis Falls! I wrote a detailed article about my visit to Pokhara. Click here to find your accommodation. Click here to find the best activities.
Chitwan National Park
Nepal is more than just mountains and treks. A UNESCO World Heritage Site since 1984, Chitwan National Park allows you to watch wildlife and offers a tropical climate different than the rest of the country. Over there you'll see one-horned rhinos but also leopards, sloth bears, gaurs, deers, more than 500 species of birds and even Bengal tigers! Chitwan National Park is one of the most famous Nepal places! It's recommended to get a guide there! Here are the best things to do in Chitwan. Click here to find your accommodation.
Bhaktapur
Bhaktapur is close to Kathmandu. It was one of the three royal cities with Kathmandu and Patan. It's the cultural capital of the country, one of the many historical places of Nepal. Unfortunately it was severely damaged during the 2015 earthquake. Go to Durbar Square to see the royal palace but also several temples and shrines. Bhaktapur is known for its handicrafts and potteries from local markets. Click here to find your accommodation.
Lumbini
Numerous Buddhist pilgrims go to Lumbini. This is where Siddhartha Gautana, also known as Buddha, was born. His mother Maya Devi gave birth near a tree in the garden, and there's a temple dedicated to her. Don't miss the Maya Devi temple and the Royal Thai monastery. Click here to find your accommodation.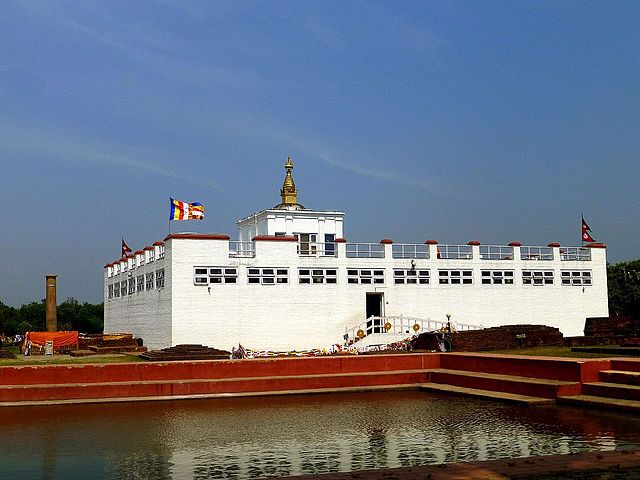 Annapurna trek
Annapurna is one of the most famous regions of Nepal to go trekking, and one of the most popular Nepal tourist spots. There are several trekking routes. Some of them take a few days to complete, others two or three weeks. You pass by valleys, rice fields, forests, several villages and sacred temples. You don't need to be a seasoned trekker, there are circuits for every level, and local guides can escort you.
Everest base camp
The summit of Mount Everest, the highest mountain on earth, reaches 8,848 meters (29,028 ft.) high. The Everest base camp trek will allow you to reach Kala Patthar, 5,600 meters (18,372 ft.) above sea level. The trek starts either at Lukla or Jiri, a four days walk away from Lukla. The trek lasts 15 to 20 days. You'll pass by numerous villages and you'll see breathtaking landscapes. It's better to get there from March to May, or from September to December. It's also possible to fly in a helicopter over the mountain.
Nagarkot
It's one of the most beautiful places of Nepal. Actually it's the place to be if you want to enjoy the beauty of the Himalayas without arduous physical activity. Located not far from Bhaktapur, you'll experience fantastic sunrises and sunsets, and admire Kathmandu Valley. On a clear day, you can even glimpses of Mount Everest. You can go paragliding, trekking or mountain biking in Nagarkot. Click here to find your accommodation.
Langtang
The Langtang region is an area where it's possible to experience numerous treks and hikes. It's also home to Langtang National Park, one of the places to visit in Nepal! It's a park with stunning views, old monasteries and there are various trek circuits. FYI, some villages of the area were completely destroyed by the 2015 earthquake.
Bandipur
Bandipur is a quiet little town of Nepal. It's not one of those cities with numerous Nepal tourist attractions, but visitors like it thanks to its peaceful vibe. This is where the Newari culture was born. Visit the shrines, the bazaars and admire the natural beauties of the city. Don't miss Siddha Gufa cave. You can also go paragliding or canyoning in Bandipur. Click here to find your accommodation.
Bardia National Park
Located southwest of Nepal, Bardia National Park is less touristy than Chitwan National Park because it's harder to get there (15 hours drive from Kathmandu). Therefore it's still a wild park, well preserved from tourism. You might get the chance to see a Bengal tiger! There are also elephants, rhinos, crocodiles, dolphins… Click here to find your accommodation.
Janakpur
Janakpur is not far from the border with India. This is where goddess Sita married Lord Ram, in Janaki Mandir temple. Every year, thousands Hindus head there to celebrate the anniversary of their marriage. It's one of the most beautiful temples, but also the largest one! FYI, there are more than 70 ponds in Janakpur. Click here to find your accommodation.
That's it! Now you know all the beautiful places to visit in Nepal! Here's a Nepal travel guide now!
Nepal travel budget
Accommodation is not expensive in Nepal. A night in a hostel dorm costs around 500 NPR ($4). One night in a basic guesthouse costs around 1,000 NPR ($8). You'll pay about 2,000 NPR ($16.50) per night to stay in a mid-range hotel. Prices start at 5,000 NPR ($40) per night in a luxury hotel, but you'll probably pay around 15,000 NPR ($125) per night. High-end hotels are only available in Kathmandu and Pokhara.
Food is not expensive either. If you eat local, you'll pay around 200-300 NPR ($1.50-2.50) per meal. One meal in a high-end restaurant will cost around 1,000 NPR ($8). A beer costs around 300 NPR ($2.50).
Regarding transportation, in big cities you can take a tuktuk or a taxi. One ride costs around 50 NPR ($0.50) per kilometer. To get around in the country, a bus ride will cost between 1,000 and 2,000 NPR ($8-16.50).
Regarding transportation, the entrance fee for popular tourist spots (Durbar Square…) is about 1,200 NPR ($10). For treks, a guide/porter costs around 2,000 NPR ($16.50) per day.
Basically, if you're traveling on a budget, you can get by with $15 per day. Otherwise you'll spend about $30+ per day (if you don't go trekking). Otherwise your budget will be higher. Anyway Nepal is a cheap travel destination.
How to get around in Nepal
In big cities, you can walk or take a tuktuk. There are also taxis if needed. To get around in the country, it's better to take the bus. They go all over the country. There are also domestic flights between Kathmandu and Pokhara.
Best time to visit Nepal
September, October and November are the best months to visit Nepal. The sky is clear, the mountains are visible and the weather is perfect to go trekking. February, March and April are also good months to visit Nepal. Avoid June, July, and August because there's the monsoon.
Visa policy of Nepal
You'll need a visa to go to Nepal. Don't worry, you can get it on arrival at the Kathmandu airport. You'll have to pay $30 for a 15-days visa, $50 for a 30-days visa or $125 for a 90-days visa. You need to ID photos, and your passport must be valid for at least six months. You can find all the details here.
Safety in Nepal
Nepal is a very safe country. There are almost no scams targeting and female travelers won't be harassed, given the religious and chaste nature of the country. Travelers mostly have gastrointestinal issues in Nepal. Easier said than done but try to avoid fresh fruit and vegetables from street vendors, often cleaned with tapped water. Here's how to avoid traveler's diarrhea.
Tourists may have problems when trekking. Always tell people where you're going, don't trek alone and make sure you're physically fit. Don't forget to get travel insurance. It will protect you against illness, injury, theft and cancellations. Click here to get one.
Packing list for Nepal
I'm not gonna list all the things to pack for Nepal. I don't know how long you're gonna stay there, where you're going in Nepal, what you're going to do and when you'll visit. Take all the necessary clothes, toiletries, and also:
Here's a full list of travel accessories, which can be useful!
What to eat in Nepal
Even if many travelers have gastrointestinal issues, the food is delicious in Nepal. Nepal's signature dish is Daal Bhaat Takaari: rice, lentils and vegetable. There's also a strong influence from Tibet: soups, potatoes and pastas and of course Indian influence. Momos are also very popular. These are steamed dumplings stuffed with minced meat.
That's it! Now you know everything thanks to this Nepal travel guide!