Planning to visit Georgia (the country)? Georgia is not the priority of tourists but it becomes more and more popular among travelers. Culture and history lovers really like it, and there are numerous things to do in Georgia: relax on he beach, go to the moutains, admire monasteries, and old villages… The food is delicious and it's the birthplace of wine. What to do in Georgia? Read the article to find out, then I'll share Georgia travel tips.
Things to do in Georgia
Tbilisi
Tbilisi is the capital of the country, and it's one of the main Georgia points of interest. It's a city full of history where old and new mix. Indeed, the city was fouunded in 458, and you go there for the culture, the art and the food! The architecture is incredible! Have a walk in the old town, relax in Mtatsminda park and please don't miss the Holy Trinity cathedral! I wrote a detailed article if you want to visit Tbilisi. Click here to find your accommodation. Click here to find the best activities.
Batumi
It's really enjoyable to visit Batumi, because it's along the Black sea. It's the second largest city in Georgia, and it's next to the border with Turkey. People call it the Las Vegas of Caucasus because there are numerous casinos there. Have a walk along the beach, go to the botanical garden, admire the alphabetical tower and wander in the old town. I wrote a detailed article about my visit to Batumi. Click here to find your accommodation.
Svaneti
Many people say Svaneti is the most beautiful region of Georgia. For a long time it was an isolated region because it's in the mountains. Svans had their own language and culture. You'll see many medieval towers, which were useful in case of an attack. It's a lovely place if you're into hiking. Mestia is the main city, you have to go there. Don't miss Ushguli, a small village which is one of the highest inhabited villages in Europe. There's also Gudauri if you're into skiing. Click here to find your accommodation in Mestia.
Mtskheta
Mtskheta is only 20km (12 miles) away from Tbilisi. It's the religious capital of Georgia, in fact it was the capital of the country before Tbilisi. In Mtskheta, there are three of the most important churches in Georgia: the Jvari monastery, the Svetitskhoveli which dates back to 1010, and the Samtavro monastery. You can visit them but men cannot wear shorts and women have to cover their head. Click here to find your accommodation
Vardzia
Vardzia is a cave monastery founded in the 12th century, under the reign of king (actually queen!) Tamar. This cave monastery is 500-meters long and spreads over 13 levels. There were more than 400 rooms, 25 wine cellars, a church, a bakery… Get comfortable shoes to visit Vardzia.
Kazbegi
Located about 3 hours away by car from Tbilisi and close to the border with Russia, Kazbegi is a city located in the mountains. Kazbegi is mostly known because in this area you'll find the Gergeti Trinity church, that you can see on all the brochures of Georgia tourism board. Head to Kazbegi to go hiking, or even to go horse riding. A quiet and enjoyable place.
Borjomi
Maybe the name Borjomi rings a bell? It's the name of a mineral water sold all over Eastern Europe. It comes from Borjomi in Georgia! It's a quiet town where you can relax in the central park, take the cable car to enjoy the view in the heights of Borjomi, or visit Borjomi-Kharagauli park. Click here to find your accommodation.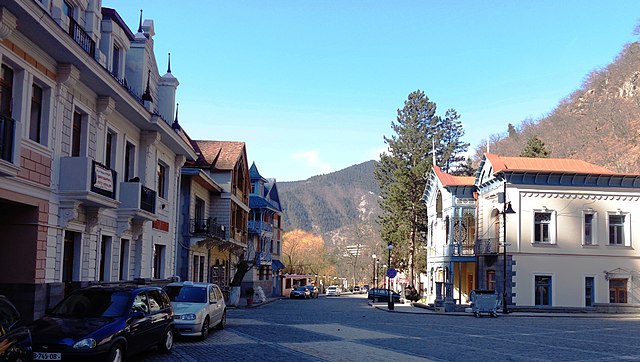 Kutaisi
It's one of the largest cities in Georgia, however it's not that big. Still, Kutaisi is a charming city you have to see. Admire the Bagrati cathedral which dates back to the 11th century. Don't miss the Sataplia nature reserve, Prometheus cave, the Gelati monastery and the parliament. And spend some time at the Green Bazaar. Click here to book your accommodation.
Gori
Joseph Staline was born in Gori. Actually there's even a museum dedicated to him where his belongings, photos, documents… are exhibited! But there's more than that in Gori. Go to the Gori fortress, you'll enjoy an amazing view of the city there. There's the great patriotic war museum where you learn about the 2008 conflict that impacted the area. Click here to find your accommodation.
Uplistsikhe
Not far from Gori, there's Uplistsikhe. It's an ancient cave city dating back to 1000 BC! That was the capital of the Kingdom of Kartli. It's easier to get there than Vardzia, and it's nice to explore this cave city by foot. From the heights of the complex, you can admire the Mtkvari river. You have to see the hall of king Tamar, the wine cellar and the Princely church.
Sighnagi
Sighnagi is a charming little town located in the Kakheti area. It's Georgia's most productive wine region, and it's the perfect town for wine tasting. Have a walk along the city walls, it has 23 towers and each one has its own name. Go to the Bodbe Convent, this is where St. Nino is buried. On Sundays, go to the Bodbiskhevi bazar to buy local products. Take some time to visit the Kakheti region. You cannot miss David Gareji monastery, which dates bacl to the 6th century! Click here to find your accommodation.
Tusheti
Located northeast of Georgia, Tusheti is only accessible from late May to early October. 2000+ meters above sea level, the road is not accessible in winter because of snow. If you make it there, don't miss the Tusheti national park which is wonderful! Spend some time in Omalo, the main village of the area. Otherwise you can go trekking, horse riding… Click here to find your accommodation.
These were the best places to visit in Georgia (country)! Now here are a few Georgia travel tips!
Georgia travel budget
Accommodation is not expensive in Georgia. One night in a hostel dorm costs about 25 GEL ($8). One night in a hotel room costs around 50-70 GEL ($16-22.50). One night in a luxury hotel costs about 300 GEL ($96). Click here to book your accommodation.
Food is not expensive either. If you eat local food, a meal costs around 20 GEL ($6.50). For a meal in a high-end restaurant, you'll pay about 60 GEL ($19). A beer costs around 3 GEL ($1). Same for a glass of local wine.
Regarding transportation, a subway or bus ride costs 0.5 GEL ($0.15). For a taxi ride, prices start at 3 GEL ($1) and cost around 0.60 GEL ($0.20) for every 1km. An intercity marshrutka ride costs between 5 and 20 GEL ($1.50-6.50). A train ride costs around 50 GEL ($16). Renting a car costs about 70 GEL ($22.50) per day.
Regarding activities, visiting a museum costs between 2 and 10 GEL ($0.50-3). To get in a monastery or a historical monument, you'll pay between 10 and 20 GEL ($3-6.50).
Basically, if you're traveling on a budget, you can get by with $45 per day. Otherwise you'll spend about $100+ per day. Georgia is a cheap place to travel on a budget.
How to get around in Georgia
In Tbilisi only, there's the subway. But there are also buses in almost every city in Georgia. Taxis too, and Yandex, the local Uber. You can get around in Georgia by train, but it's not the cheapest option. Marshrutkas are cheaper and more convenient. You can rent a car or try ridesharing (Blablacar is there). There are a few domestic flights (between Tbilisi, Batumi and Kutaisi). Finally, you can try hitchhiking.
Best time to visit Georgia
It's better to go to Georgia in spring or in autumn. From late April to late June or in September or October. The weather is nice, it's possible to do outdoor activities and there are festivals there. In summer, it's scorching outside! In winter, it's freezing! Only get there wintertime if you want to go skiing!
Visa policy of Georgia
If you're an European citizen or coming from a Western country, you don't need a visa to get to Georgia. You can find all the details here.
Safety in Georgia
Georgia is not a dangerous country at all. Tourists are rarely targeted for scams or petty crimes. There was a revolution and protests in 2008 but it's in the past now. The situation is tensed in Abkhazia and South Ossetia, not far from the Russian border. But tourists are not allowed to get there.
The only real danger is the road. And stray dogs in the countryside. Road accidents are common, drivers are a bit aggressive. Don't forget to get travel insurance. It will protect you against illness, injury, theft and cancellations. Click here to get one.
Packing list for Georgia
I'm not gonna list all the things to pack for Georgia. I don't know how long you're gonna stay there, where you're going in Georgia, what you're going to do and when you'll visit. Take all the necessary clothes, toiletries, and also:
Here's a full list of travel accessories, which can be useful!
What to eat in Georgia
The food is really good in Georgia! They serve quality ingredients and you're completely full after a meal! Try the khinkali, these are dumplings filled with meat usually: beef, veal, lamb and sometimes potatoes, cheese… Khachapuri literally means cheese bread. It's bread stuffed with cheese, or a boat-shaped bread with melted cheese an and egg on top. Churchkhela is not a dish but a snack. These are walnuts and almonds in dry grape juice. Lobio is a bean stew with cornbread and pickles.
That's it! You have all the information needed to travel to Georgia! Everything will go smoothly thanks to this guide!