Some links are affiliate links, which means if you make a purchase through these links, I earn a commission, at no extra cost to you.
I couldn't go to Germany, spend 3 days in Munich, and not take at least a full day to go to the Neuschwanstein castle. I heard about this castle some time ago, I only knew it was located in Bavaria, and that it had been a source of inspiration for Walt Disney's Sleeping Beauty. As I was in Munich (thus in Bavaria), I thought it was a great opportunity to see this castle. The Neuschwanstein castle was in competition in the early 2000s to be one of the "New seven wonders of the world" (but it didn't make the cut). From Munich, the Neuschwanstein castle is a nice day trip, but there are other great day trips from Munich!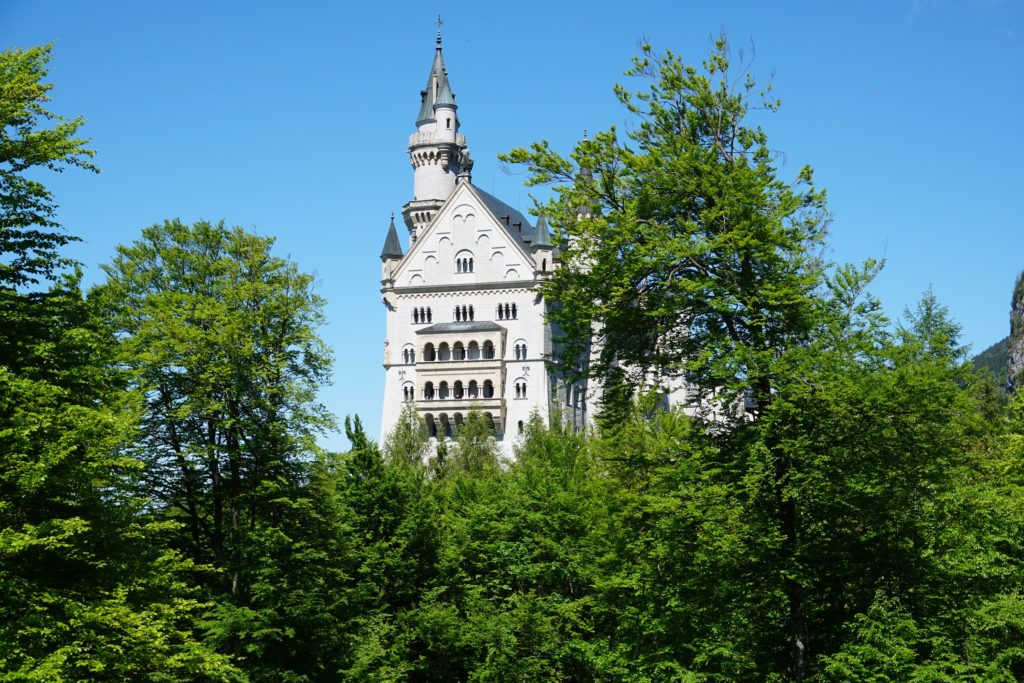 History of the Neuschwanstein castle
The Neuschwanstein castle was built during the 19th century, upon request from Ludwig II from Bavaria. Ludwig II was regarded as a crazy, eccentric, homosexual guy (frowned upon at the time), unable to run Bavaria (which was financially draining because of him), and obsessed with castles (Neuschwanstein castle is not the only one he wanted to have). Ludwig II died in 1886 with his psychiatrist, and the circumstances surrounding his death remain suspicious. Neuschwanstein castle was supposed to be his personal retreat, but he died before the castle could be completed. A few weeks after his death, the castle was opened to the public. Today, thousands of tourists go there everyday, since it's one of the most beautiful German landmarks.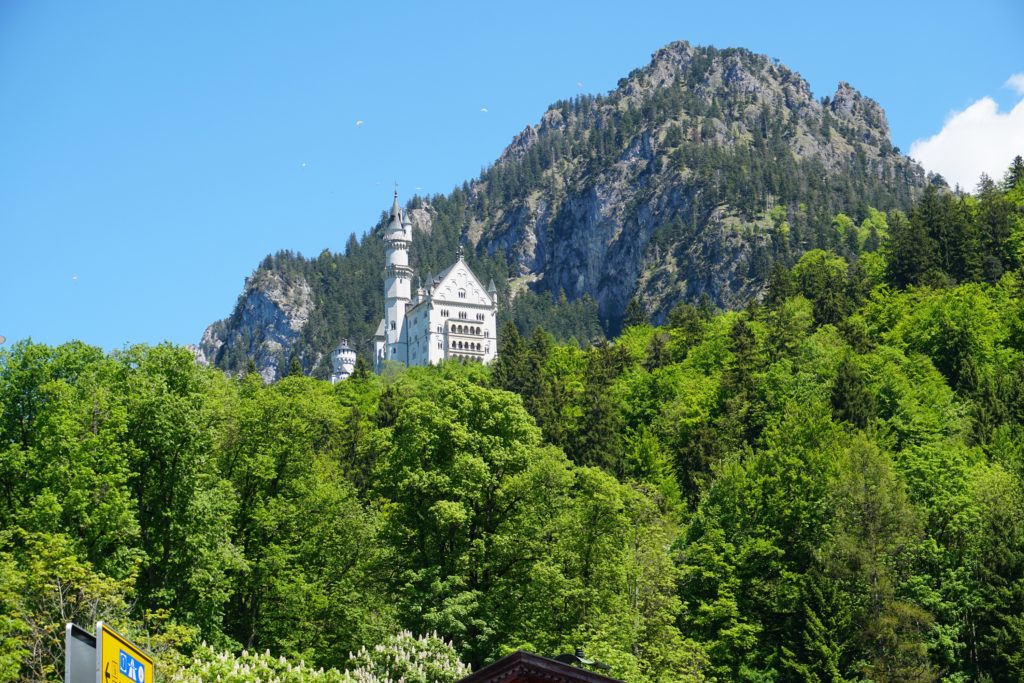 Neuschwanstein castle tips
One thing you need to know, either for the castle or any popular touristic spot. The earlier you go, the better. If you go there on a weekend in the middle of the afternoon, the castle and its surroundings will be crowded, and it will be very hard to take good pictures. Between the waiting time to get to the bridge to see the castle, the lack of space cause obviously you are not alone, people who take dozen of selfies to take the perfect picture thus blocking the path… Late morning, or early afternoon at the latest.
If you have the luxury to know exactly which day you're going there, then go on a weekday and buy your tickets online a few days before to visit inside the castle. It's 12 euros. Otherwise it's possible to buy tickets on the spot. I mean, just before climbing up to the castle. But those tickets sell like crazy. I wanted to buy a ticket once I got there but it was too late, so I didn't have the chance to see inside the castle (from what I heard, it's forbidden to take pictures in it).
For the lucky ones who have a ticket, they'll assign a time slot to you to get inside the castle. If you miss the time slot, they won't let you in afterwards.
For the ones who have a chance to get a ticket to go inside, the tour lasts around 30-35 minutes.
Don't forget to bring water, because you'll have to hike up to the castle (good for your legs, and also a good way to stay in shape!)
Getting to the Neuschwanstein castle
Needless to say, it's possible to get to the castle by car or with a tour that taking care of everything for you (how to get there, get in the castle…) but I'll just explain how to get there by train from Munich when you're solo, resourceful, and with no car!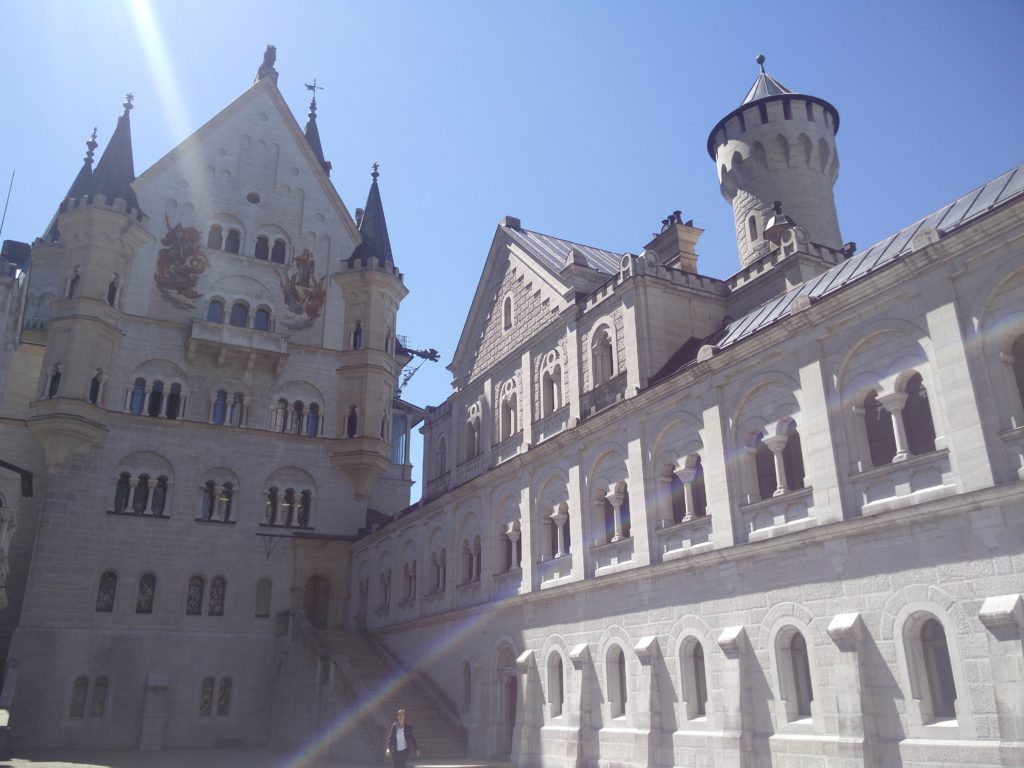 First off, you have to go to the central train station in Munich (Hauptbanhof). Once you're there, go to the information center and buy a Bayern ticket. This ticket costs 27 euros, and with it you have one day of unlimited access to transport in Bavaria. With this ticket, you can go to the castle from Munich, and come back at the end of the day. There are departures every hour from 6h53 to 12h53. The train goes to Füssen, and the ride lasts about two hours to go there, and two more hours to come back. Some trains go straight to Füssen, in other cases, you'll have a connection but it's very easy. The trains from Füssen to Munich also pass every hour from 14h06 to 19h05, and the last train is at 20h33.
In Füssen, you'll have to take either the 73 or 78 bus (no need to pay with the Bayern ticket!). Those buses stop by randomly, you can wait 15 minutes up to a hour for them to come. When we all got off the train in Füssen, a bus was already there, people were pushing one another to get in, and it was packed. I decided to let them fight and wait for the next one. That next bus came one hour later… But then the ride just lasts 10 minutes.
Now let's get down to business! This is where you can (upon availability) buy tickets to get inside the castle. This is also where you'll decide how you're gonna hike up the hill : by foot, shuttle bus (again!), or horse carriage. Obviously, you have to pay for the shuttle bus or the horse carriage (I went up by foot so I don't know the prices but it wasn't exorbitant from what I remember). By foot, they announce a 40 minutes walk to go up to the castle. It took me about 25-30 minutes, and I didn't even feel like I was walking fast.
Taking good pictures of the Neuschwanstein castle
Finally, to take the picture everybody wants to get (the main pic of this article), you'll have to walk 15 more minutes. You'll end up on a bridge, the Marienbrücke. This bridge is suspended over a waterfall. Hope you're not suffering from vertigo! Moreover, you can really feel the bridge swaying! Getting to the castle, I didn't understand I had to walk 15 minutes more for that picture we all see. By the time I understood and went to the bridge, it was too late…
After taking all those instagrammable pictures, it's time to come back down, which is a lot easier 🙂 Of course, it's possible to visit another castle just opposite to Neuschwanstein, Hohenschwangau castle. I didn't do it, but it's impossible not to see it from Neuschwanstein. I suggest to take a whole day to visit Neuschwanstein castle. Time to go there, come back… But it's really worth it!
You can, if you want to, get a ticket with a guide to go to the Neuschwanstein castle from Munich. If you're spending some time in Germany, check out my Germany travel tips article!