Some links are affiliate links, which means if you make a purchase through these links, I earn a commission, at no extra cost to you.
20 swiss francs (18 euros) for a little salad and a bottle of water. I knew life was expensive in Switzerland but damn, not that expensive! So here I am in Switzerland, in Bern exactly, for a few days. And, not surprisingly, I didn't see any backpacker. For those who travel on a budget, it's pretty simple, you can skip Switzerland. Of course, if you want to indulge yourself and if you have the money, do not hesitate! Not only the city is stunning, but people there are really nice! Here's what to expect if you plan to visit Bern!
Description of Bern
From what I heard, in Switzerland, Bern is known for being the city where people are reaaally relaxed, kind of slow… Slow I'm not sure, but I can tell they are way less aggressive than people in Paris. Relaxed yes, well-mannered too (cars stop to let you cross the street, people start conversations with you in the bus…). A little disconcerting at first, but you quickly get used to it!
There are four official languages spoken in Switzerland, depending on the region : German, Italian, French, and Romansh. Bern is in the German part, but they almost all speak french too, with their "Swiss German" accent, which is funny to hear at first but again, you get used to it.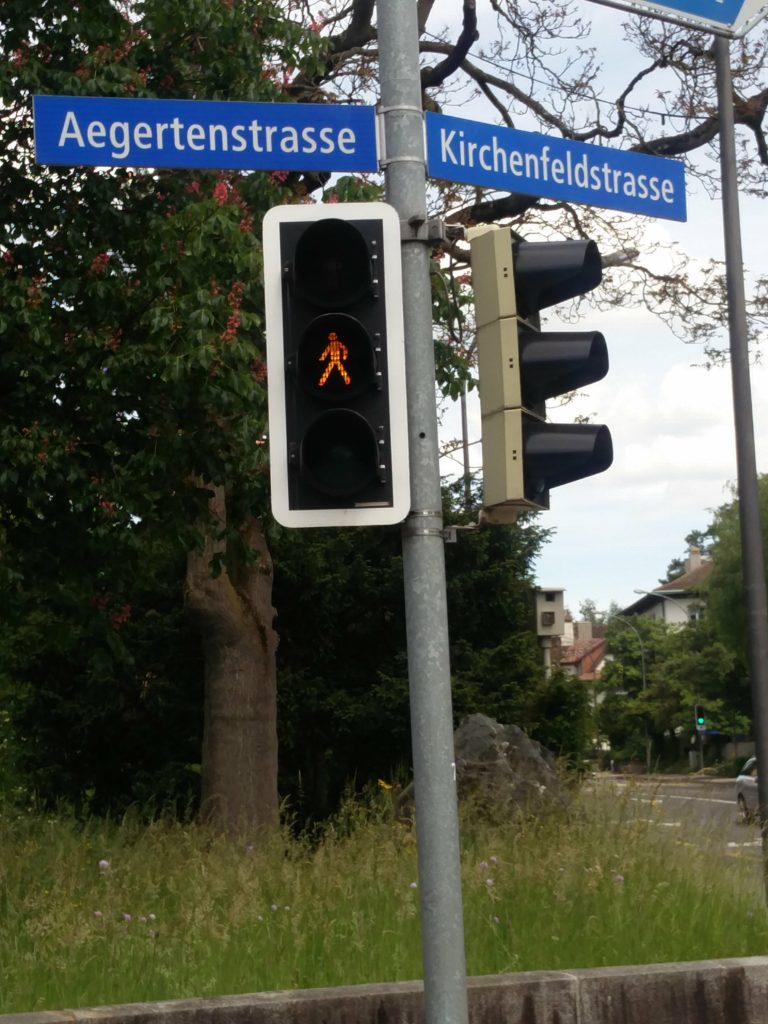 Wandering around the streets, we can see different things. I was first surprised to see that there was a lot of people from Eritrea and Sri Lanka. I would have pictured them anywhere in the world but not in Switzerland ! In the streets, a lot of fancy cars can be seen (a lot of Tesla, Porsche, but also Bentley, Audi, BMW, Benz…). There's money in the bank ! Also a lot of bikes. People usually use their to get around… After two good days walking around in Bern, I realized I saw it all. Bern is not really a big city. But there's still some nice spots to check.
Just for its spellbinding architecture and for the parks, Bern deserves to be visited for a few days. There's a lot of pedestrian precincts and it's pleasant to take a walk in the old town. Actually Bern is a walkable city. Trams and buses are all over the city, and they pass by on a regular basis. But if you want to spend more time in the country, here's how to enjoy a summer road trip in Switzerland.
What to do in Bern
The old town
Take some time to have a walk in the old town, it's wonderful. By the way, you can have a stroll through the old town with a local guide. Click here for more info. You can also have a walk by yourself with an audio guide. Click here for more info. In the old town, don't miss Zytglogge, a huge clock tower! You can get inside. Click here for more info.
The federal palace (Bundeshaus)
We tend to forget it because it's a small town, but Bern is the capital of Switzerland. You can visit its federal palace, which was built in the 19th century. It houses the Swiss federal assembly and the federal council. It's possible to visit inside but you need to book in advance. In front of the fountain, you'll see 26 fountains, symbolizing the 26 Switzerland's cantons (areas).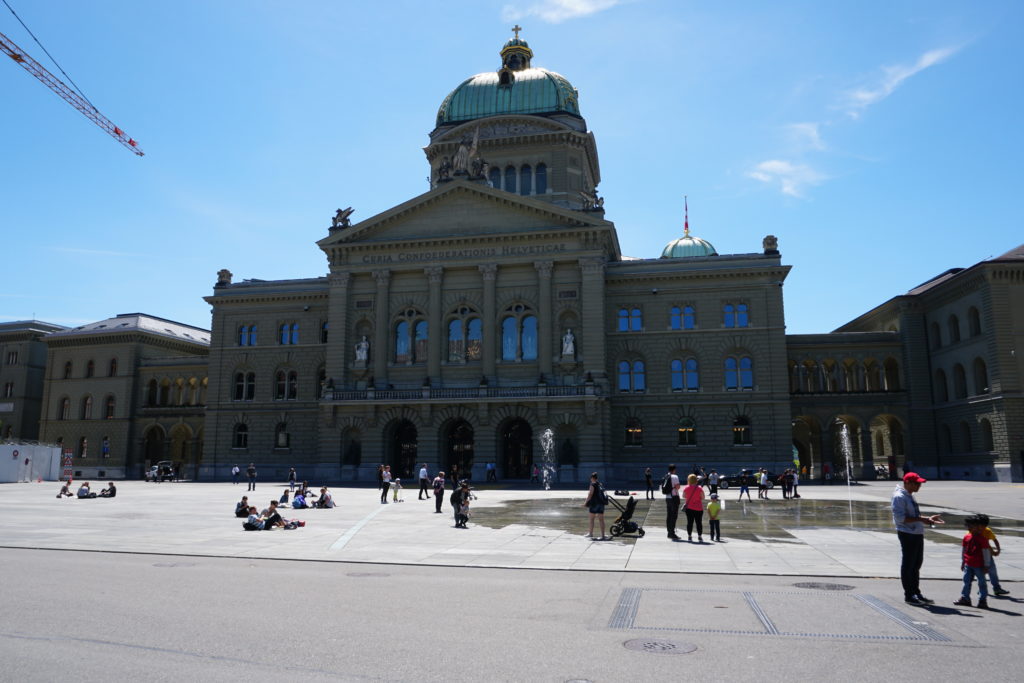 Rosengarten
Rosengarten is a wonderful park located in the heights of Bern. It offers a really nice view of the city. It was first a cemetery, and it turned into a park about 100 years ago. The garden has 223 rose, 200 iris and 23 rhododendron species. There's also a restaurant and a small park where kids play.
Gurten
Reachable via cable car, (which exists since 1899), you'll be 858-meters high and you'll have a nice view of Bern and the Alps. A nice green space which houses the Gurtenfestival in mid-July. A lot of couples and families relax there.
The Bern historical museum
It's one of the largest Swiss museums dedicated to the history, archaeology and ethnography of the region. You'll find items dating back to the Stone Age! It's 8 francs (7.50€) to get in. In this building, there's also the Einstein museum, which is quite small. The name speaks for itself, it's dedicated to Einstein, who lived several years in Bern. It's 6 francs (5.50€) to get in. Here's more info about the Einstein House in Bern.
Barengraben
Vert surprising to see bears in a city! However, there's a pit with bears in Bern, the bear being the emblem of the city since the 12th century! There are statues of bears everywhere in the city! And yes, you can see three bears living in their pit. But you won't see them if you visit Bern in the winter, they're hibernating!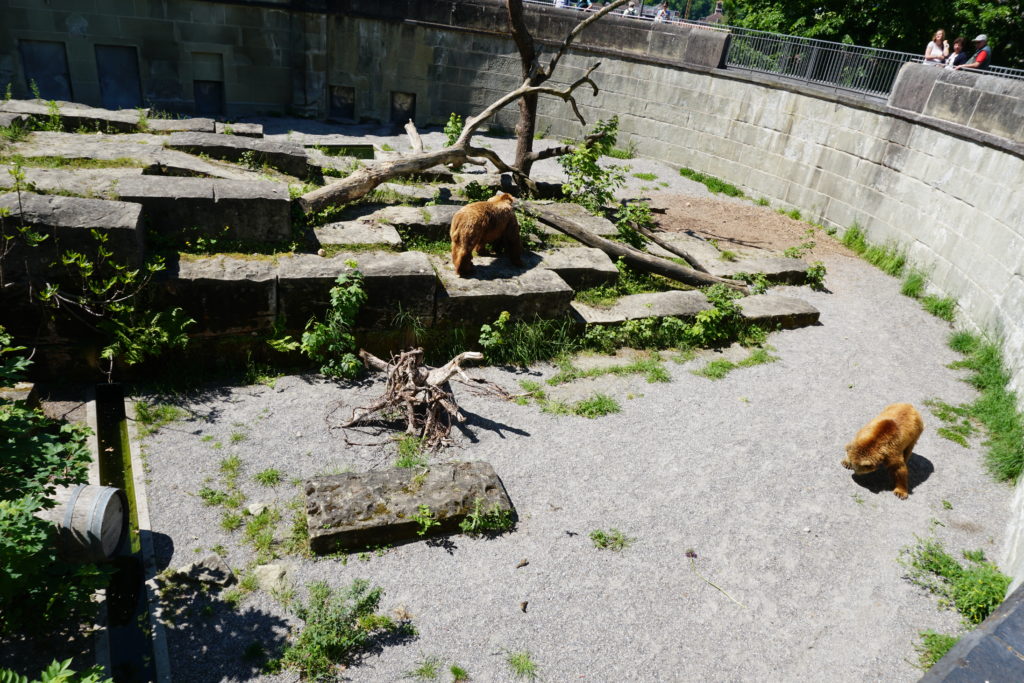 The Marzili pool
A nice place in the summer! The Marzili pool is an outdoor pool where you can take a dip! There are also a few restaurants and bars to have a snack and drink!
Here's how I visited Bern in Switzerland. It's a quiet city but still rather popular in Switzerland. For the foodies, check out this vegan guide to Bern. You can also go off the beaten path in Switzerland. A BIG thank you to Frank and Ursina who warmly showed me the city during my stay in Bern. It's a really quiet city. Two days are enough to visit Bern. If you're spending some time in Switzerland, you should go to Basel. Here are 15 things to do in Basel!
How to get to Bern
If you're not too far in Europe, there are trains going to Bern. You can also try to get there by bus. Otherwise, click here to check the latest flight prices.
How to get around in Bern
Bern is not a big city, you can honestly see everything by foot! Still, there's public transportation if needed.
Where to stay in Bern
Accommodation is quite expensive in Bern and in Switzerland in general. If you're traveling on a budget, the Bern Backpackers Hostel Glocke is the place to be. Click here to book your stay. For a mid-range hotel, I suggest you to stay at the Hotel Jardin Bern. Click here to book your stay. For a luxury hotel, you'll have a great time at the Hotel Schwaizerhof Bern & the spa. Click here to book your stay. Otherwise click here to check the hotels available in Bern!
Finally, if you prefer staying in an apartment, click here to check the apartments available on Airbnb.
Bern travel tips