Some links are affiliate links, which means if you make a purchase through these links, I earn a commission, at no extra cost to you.
Beers, beers, beers… I think I didn't have that many beers in a looong time. Actually, it's hard not to drink any when you're in Bavaria, exactly in Munich, where people drink beers just like we drink water. Yes, when you order a beer here in a typical bavarian bar, the waiter doesn't bring you a half-liter pint, but directly a one liter stein. Crazy! I didn't see our tiny 0.25 liter pint we have in France. Yep, that's what to expect if you plan to stay 3 days in Munich!
Description of Munich
So here I am, ready to spend 3 days in Munich! First thing that draws my attention when I get there "Oh wow! There's a lot of black people here! I thought I'd be the only one, apparently no!" Just like Bern, I quickly notice that here too, people drive nice cars. Porsche, Audi, BMW, Mercedes Benz everywhere. Oh, and pedestrians respect the red lights. Red light for pedestrians, they stop and wait for their turn to cross the street, even if there's no cars on the horizon.
I still had my old Parisian habits (where we cross the street anyhow), and I quickly learned my lesson. Cars come from anywhere, moreover at full speed. Two or three cars almost ran over me (fortunately I have a travel insurance!). Since they have to slow down because of a disrespectful pedestrian, they honk at you and yell at you some German slurs. The other respectable pedestrians then stare at you with that despising look "What a fucking moron! He can't even wait just like us, and he decides to cross the street! It's not even his turn!"
When it's not the cars, you have to watch out for all the bikes out there. Yeah, Munich has 900km (560 miles) of bicycle path. Bikes are all over the place, people all use them whenever they need to get around. And with all the green spaces you have in this city (English garden notably), and the bicycle paths, I strongly recommend to rent a bike, especially on a sunny day. That's what I did during my whole trip there. Perfect to cross the city, to soak up the local atmosphere and to do things at your own pace. Different companies propose bike rentals, but my hostel was next to the main train station of Munich (Hauptbahnhof), where you can rent a bike for a few hours, a whole day, or a few days. By the way, while you're in the Munich area, read this article which features the best day trips from Munich!
Anyway, by riding your bike in Munich, it's possible to explore the city with complete freedom, and to enjoy green spaces, bavarian beers, architecture, and typical bavarian food. Munich is not always the first city we think about when we decide to go to Germany (people go to Berlin). But there's still a lot of things to do and to see in 3 days in Munich.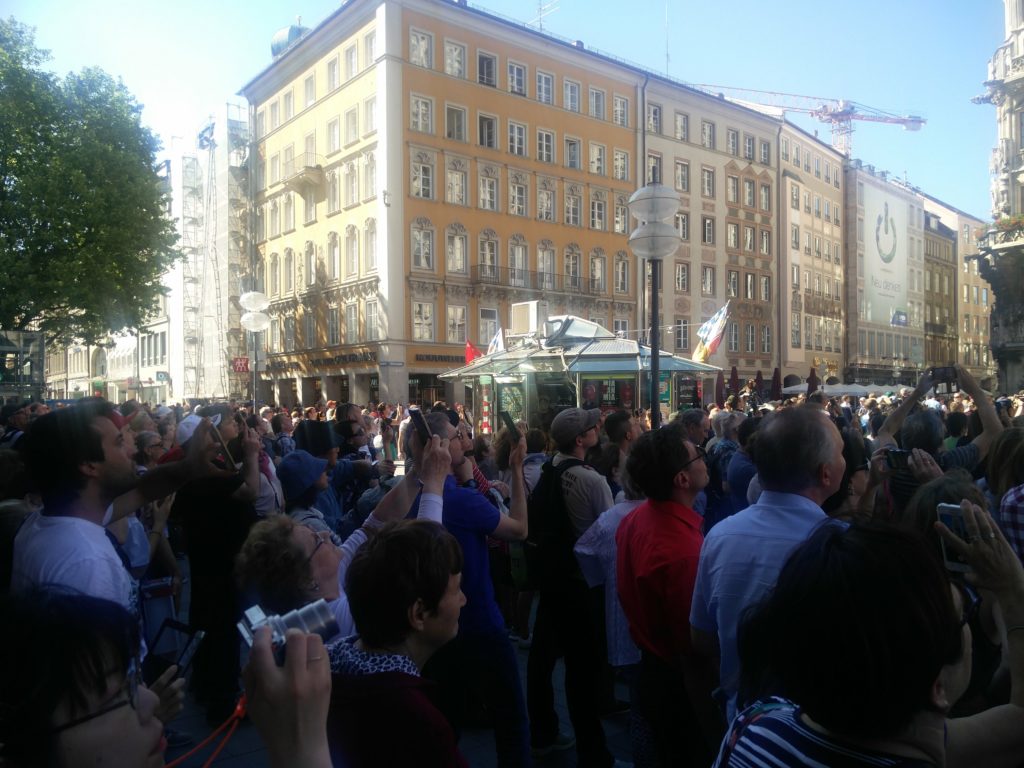 Things to do in Munich
Marienplatz
In the city center you'll find the famous Marienplatz, place founded in 1158. And just next to it the St. Peter's church. For your information, it's possible to go on top of this church for three euros. No elevators, you'll have to climb the 306 stairs to get there. Once you're on top, you have a great view of the old town.
The beer and Oktoberfest museum
Next to Marienplatz and St. Peter's church is the Beer and Oktoberfest museum. Museum located on a discreet street, where you can get in for four euros. The museum recounts the history of bavarian beer, its production, why beer is so important in the bavarian culture, and also the history of oktoberfest. The building was founded in 1327, and it was first a citizen house. After being restored, the museum opened in 2005, and they maintained the old appearance of the building. This is a small museum, which can be visited pretty fast. If you're into beer, it's possible to visit the oldest brewery in Germany. Click here for more info.
Munchen Residenz
Not too far from this museum is the Munich Residence "Munchen Residenz", and its garden "Hofgarten". Check it out! Munchen Residenz is the biggest palace in Germany with its 10 courtyards and 130 rooms. It's possible to visit this palace for 7 euros. Huge residence, I didn't have any map and I got lost… It took 15 minutes and the help of a nice employee to get me out of there… The Residenz is one the numerous instagrammable places in Munich!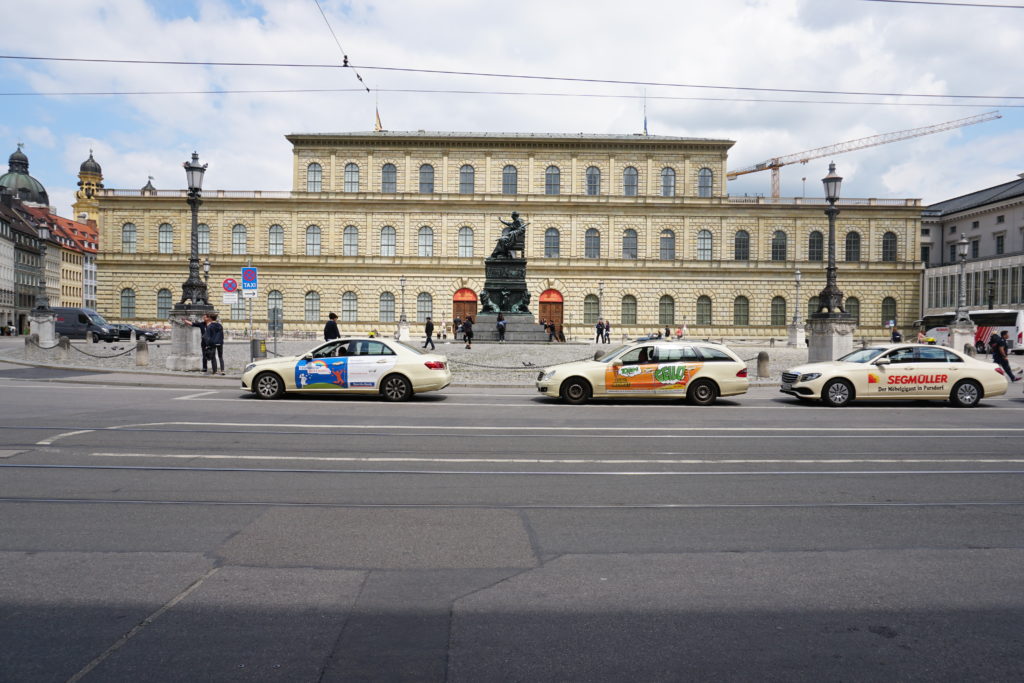 Englischer garten
WIth your bike, it's hard to be in Munich and not have a look around the english garden, or "Englischer garten". A huge park, where people go to chill with their friends, picnic, go jogging, go cycling, bring their kids… Basically to have a good time! In the middle of the park is the Chinesischer Turm and next to it an outdoor restaurant selling bavarian food : sauerkraut, sausage, bretzels, beers… The park was crowded when I was there (a sunday under 30°C/86°F…).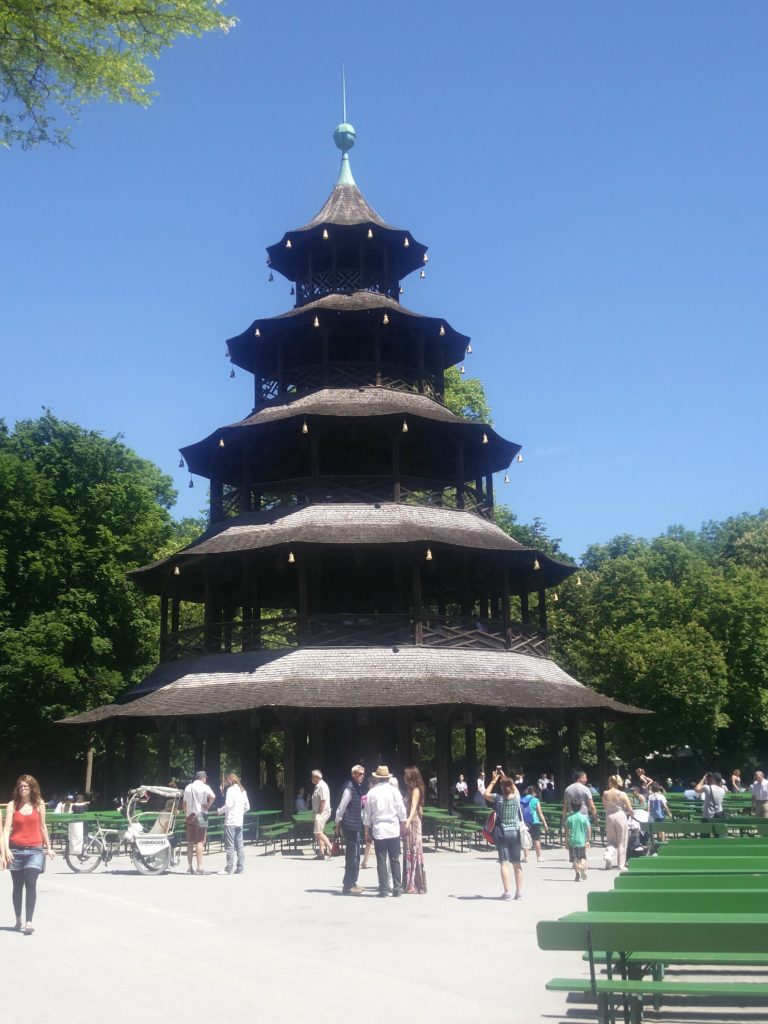 The memorial to Michael Jackson
As I kept walking around in Munich, I found something we don't have back home in Paris. Just below the statue of a composer called Orlande de Lassus is a shrine, a memorial to Michael Jackson! From what I heard, this is a memorial since the King of Pop passed away in 2009. Flowers, pictures, candles… in memory of the artist. The shrine is maintained by the fans on a regular basis.
The BMW museum
All of the places mentionned above are more or less in the same area. So you don't have to cross the whole city to check out all those places. However, there are other things to see a little bit further. I'm thinking about the BMW Museum, where you can get in for 10 euros. I'm not a big fan of cars in general, but still interesting. The museum tells the history of the group, and of course exhibits cars from different eras. You get to see the first models from the 1930s and also the new ones.
BMW Welt
Just opposite to the museum is the BMW Welt (free), with other BMW cars exhibited. In this building, customers who just bought a brand new BMW go get their shiny new toy and leave the building with it (I was there a saturday and I saw three different guys leaving BMW Welt at the wheel of their new car).
Olympiapark
Not too far from the museum is another park, and not a small one, the Olympiapark. HUGE park where people chill, take a walk… Some stands here and there sell sausages and beers. In this park, you'll find a tower called Olympiaturm. Like the Saint Peter's church, you can get on top of it. When you're up there (200+ meters above ground), you'll have a nice 360 degrees view of Munich.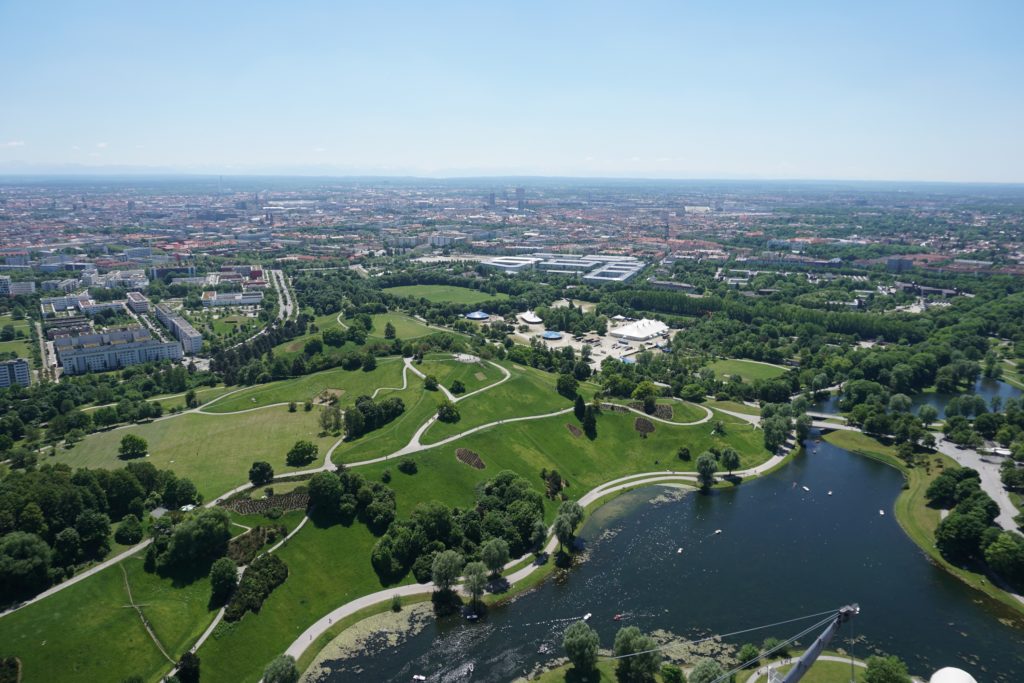 The Olympic stadium
In this park is also the Olympic stadium. It was built for the 1972 olympic games, which took place in Munich. It's possible to climb the roof and walk on it, and even more, go ziplining! I didn't try… Unusual, it's possible to cross the stadium suspended in the air.
The Nymphenburg Palace
Those who are motivated can go to the Nymphenburg Palace, a little further. The gardens surrounding the palace are splendid and it's possible to get inside the palace for six euros.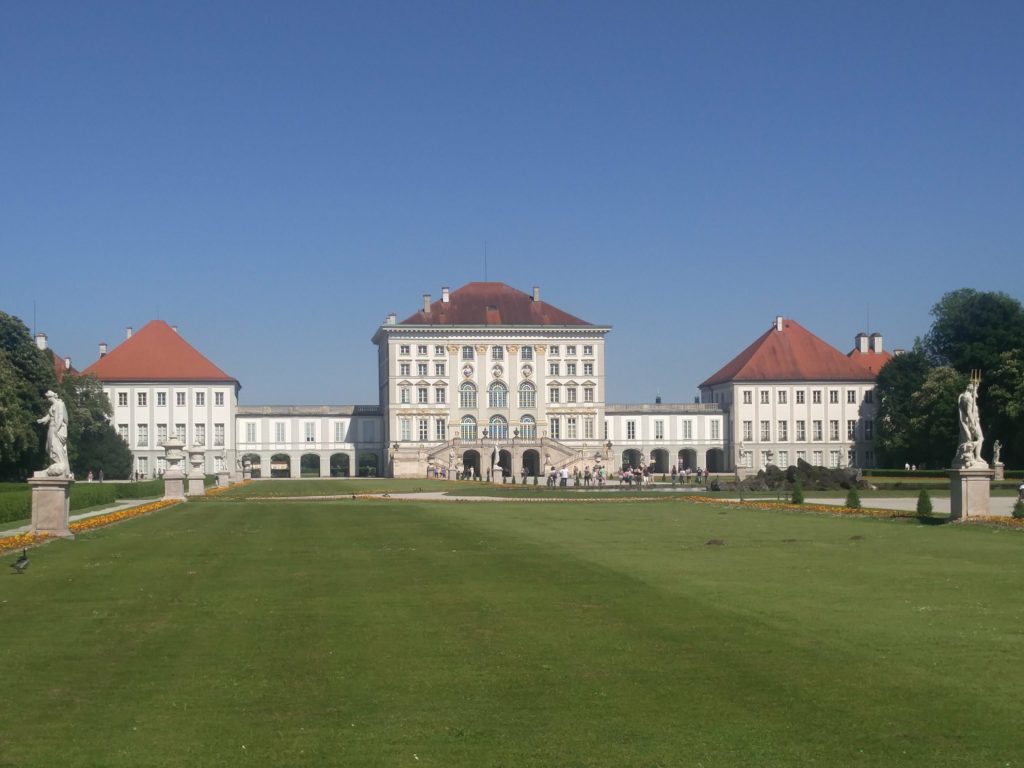 The Allianz Arena
As you noticed, there's a lot to do in Munich. I wanted to see the Allianz Arena, a famous soccer stadium where plays the Bayern Munich, but it was too far, it was hard to get there, and I didn't want to go just to take a few pics. I saw the stadium from afar. If you want to visit the stadium, it's possible. Click here for more info. I didn't go to the stadium, but I did go to the Neuschwanstein castle!
I can say I had a really good time in Munich and I suggest to go there if you have the opportunity. I don't think Munich fits those who travel on a budget, but the city is pleasant, especially on sunny days. If you don't have much time, here's what to do in Munich in 2 days. If you're spending some time in Germany, check out my Germany travel tips article!
How to get to Munich
If you're in a neighboring country, you can get to Munich by train or even by bus. Otherwise click here to check the latest flight prices.
How to get around in Munich
You have several options. You can take the subway. The ticket machines sells 1-day and 1-week tickets. I suggest you to take the Munich City tour card. It allows you to get many discounts and you can use public transportation for free. Click here to buy it. Otherwise you can rent a bicycle.
Where to stay in Munich
If you're traveling on a budget, the Euro Youth Hotel Munich is a good hostel. Click here to book your stay. For a mid-range hotel, the Lizz Hotel Munich has great reviews. Click here to book your stay. For a luxury hotel, the Rocco Forte the Charles Hotel is a good fit for you. Click here to book your stay. Otherwise click here to check the hotels available in Munich.
When to go to Munich
I think it's best to go in spring or summer. The weather is nice and staying in Munich is enjoyable. You can also go wintertime but it's cold!
Munich travel tips
Traveling soon? Check out my travel resources page! This list of travel accessories can also be useful!
Don't leave home without a travel insurance! Here's why buy travel insurance!
Want a tailor-made trip to Germany? Get a free quote here!
Always use a VPN when traveling. I use ExpressVPN and I love it! Here's why use a VPN when traveling.
Here's a thorough Germany itinerary.
Staying 24 hours only? Here's what you can do in one day in Munich!
Here are a few day trips from Munich ideas!
Check this list of the 15 best German music festivals!
Apparently there are six urban naked zones where you can get a tan completely naked. Yeah naturism is allowed in six different places in Munich. I didn't check… But do your research if you want to try!
I talked to a few guys from there. In a typical bavarian breakfast, you get a beer! With sausages and bretzels.
Getting on top of the St. Peter's church can be a pain in the ass. The earlier you go, the better (it applies to all popular spots in the world). It's better to go there in the morning, at the end of the morning at the latest. Otherwise, you'll have to wait to get a ticket to go up. And once you're up there, you'll have to wait to take pictures because of all the people taking selfies, pictures of the city hall…
I saw a lot of "school bus", those yellow school buses they have in the US. Those are actually "party bus", and people party and drink inside.
Something I don't see much in Paris. In restaurants, there's often two menus. A regular one, and one with allergens (gluten, dairy products, soya…)