Thinking about visiting Rome in winter? You should definitely do it! People visit Rome all year round, but there are less visitors in winter. Which is a shame because winter is not cold compared to other European cities, it's less crowded than usual and since there are few tourists, the prices are lower. You get it, you'll enjoy traveling Rome in the off-season! But what to do there? Check out this list of things to do in Rome in winter!
Check out the Christmas markets
First off you should definitely check out the Christmas markets. The most popular and the biggest traditional Christmas market can be found at Piazza Navona. It takes place from December 8th to early January. You can buy gifts and souvenirs there, delicious street food but also toys and handicrafts. Another good Christmas market can be found at Piazza Mazzini. At this market, they mostly sell Christmas decorations, candies and souvenirs.
Go ice skating
Even though it's not really freezing in Rome in winter, you can still experience winter activities like ice skating. Castel Sant'Angelo is one of the most visited public ice rinks in Rome, and ice skating is a magical way to spend a winter evening in Rome. There are also ice rinks in Testaccio at the Città dell'altra economia, one set up on the terrace of Galleria di Roma (a huge mall) and the one at the Parco della Musica. Over there, you'll also find food stalls, exhibitions, live music, puppet shows, and market booths!
Savor the seasonal food
What to eat in Rome in winter? Artichokes (carciofi in Italian) are in season so you have to eat plenty of them. You'll find them either alla Romana (braised) or alla giudia (twice-fried). It's served with different kinds of meat, especially lamb. Roast chestnuts and pasta carbonara are also quite popular in winter. Other dishes to eat in Rome in winter include minestrone soup, puntarelle (chicory salad with garlic and anchovies), and broccoletti (similar to broccoli rabe).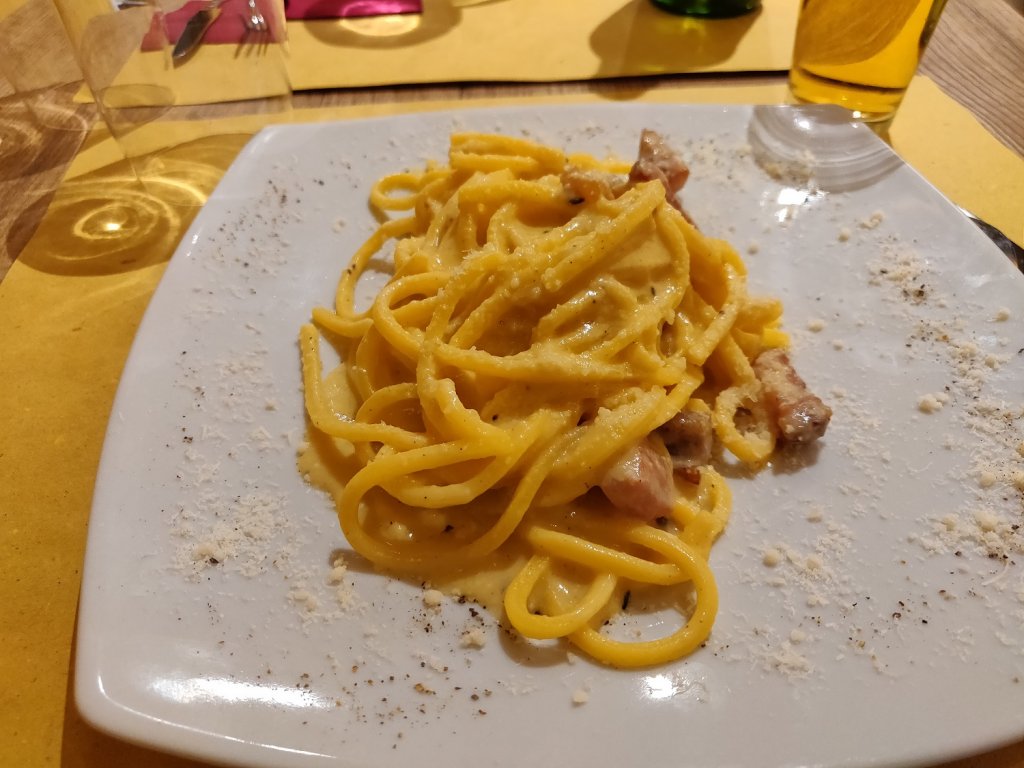 Enjoy the popular tourist attractions
Yes, going to Rome in winter means enjoying the popular tourist attractions without the crowd! Visiting the Vatican or the Colosseum in high season is a bit annoying, it's packed all the time! In the winter, there are a lot less people and you can spend more time enjoying the beauty of these masterpieces. So head to the Pantheon, the Trevi Fountain, Piazza di Spagna and all the famous tourist attractions!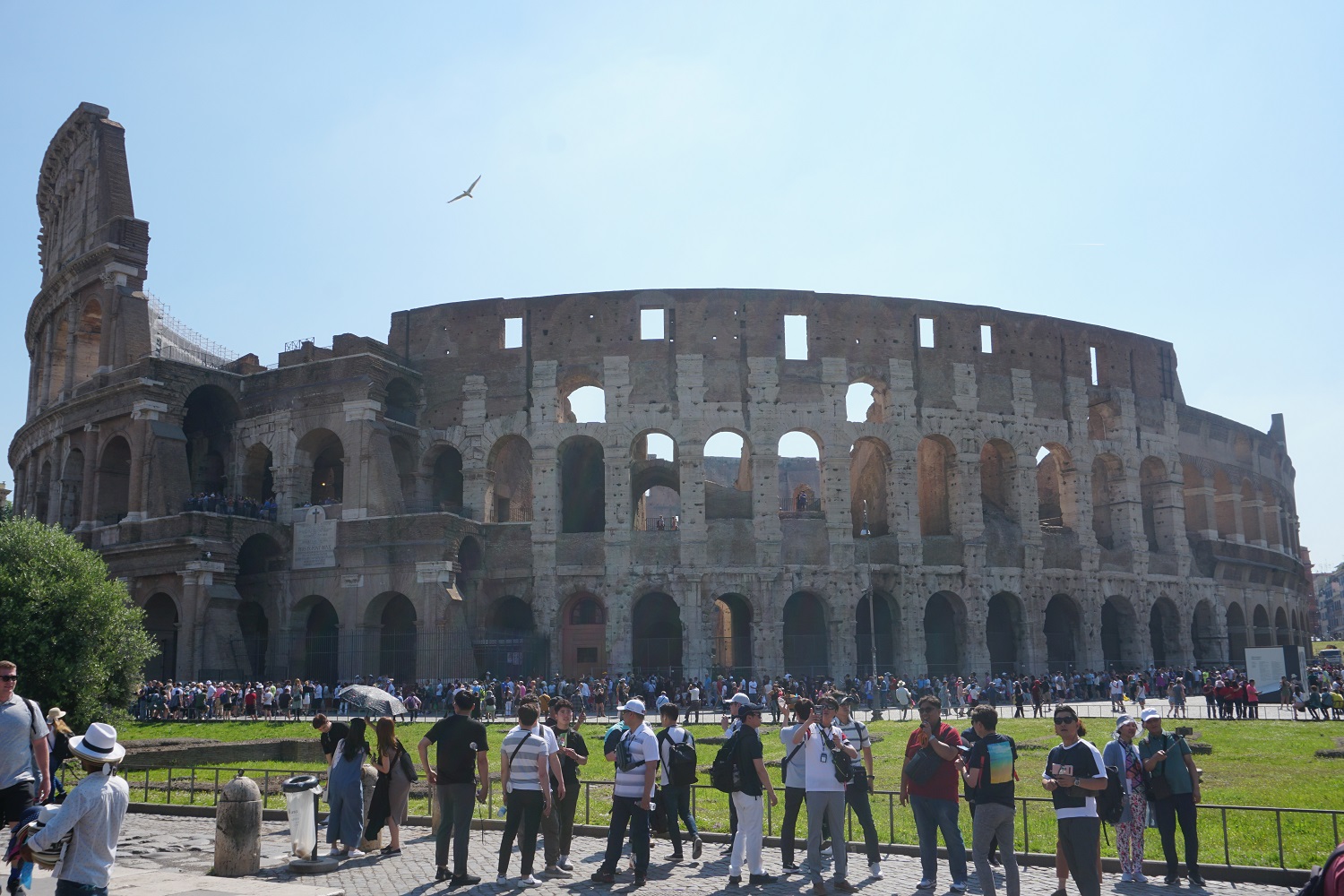 Admire the winter decorations
There's more than the Christmas markets, there are also Christmas decorations all over the city. Head to Piazza Venezia to see Rome's main Christmas tree. It's 20meters high, swathed in lights, and it's enthralling. Vatican Square is also full of decorations, and you may see the menorah at Piazza Barberini. You also have to see Via del Corso and its tens of thousands of lights. And I have to mention Via Condotti to see the elegant Christmas chandeliers and the seasonal window displays.
Celebrate the Carnival
In February there's the Carnival. Kids dress up and throw coloured confetti in the streets. There's a parade which starts in the Piazza del Popolo and follows through in the Piazza di Spagna and Piazza Navona. It takes place during the week before Lent, so if you're in the area at this time, don't miss it!
Enjoy the celebrations
If you're in Rome around Christmas or the New Year, there are many celebrations. There's the Christmas Eve mass at St. Peter's square, where the Pope delivers the most-watched mass in the world. You can also celebrate Hannukah at Piazza Barberini. On January 6th, there's Epiphany: a witch called La Bafana visits all the children and brings them gifts and candies. And of course there's Valentine's day!
Have a walk in the city center
Just enjoy walking in the Centro Storico (historic center). This is the heart of the city and this is also where most of Rome's attractions are located. So you can cover many popular spots by foot. Moreover, since you're going in the low season, you don't need to rush, the area is not crowded and it's possible to take great photos.
Seize the winter sales
Italy launches its winter sales (saldi) in January, and knowing Rome is one of the fashion capitals of the world, you can't miss it. This gives you the opportunity to experience the vast shopping offers and get great deals on some of the Italian fashion staples. The winter sales are definitely the perfect time to treat yourself. They start early January and go through mid-February.
Visit the palaces and churches
The weather in Rome in winter is very mild. However if the weather turns sour, there are great indoor activities that are perfect for winter. Visit the art filled halls of Palazzo Barberini or Palazzo Braschi. You can also visit one of the numerous museums of the city, or have a look at the churches for their beautiful and unique inside design.
That's it! You now what what to do in Rome in winter! You won't regret your trip there during the low season! If you're going to Rome another time of the year, check out my general Rome guide. Planning to spend some time in the country? Here are the best things to do in Italy!
How to get to Rome
If you arrive from abroad, you'll probably head to Rome by plane. Otherwise you can get there by bus. Click here to check the bus ticket prices. You can also get there by train. Click here to check the train ticket prices.
How to get around in Rome
It's better to get around by subway. A single ticket costs #1.50, a one-day ticket costs #6, a one-week pass costs €24. The easiest thing to do is to get an Omnia Card. FYI, there are three metro lines only. There could have been more but they don't want to damage the heritage of the city. By the way, the subway is a lot cleaner than when I went there in 1999. The signal is great even inside the subway.
There are also buses all over the city but I didn't use them. Otherwise you can get around like a local by scooter. Click here to rent one. You can also try an electric bike tour. Click here for more info. Finally, you can explore Rome by foot. Be careful though, birds can be dangerous. I mean, bird droppings are common there, I was hit on the shoulder and I saw many people getting hit too!
Where to stay in Rome
There are many nice hotels in Rome. If you're traveling on a budget, the Roma Scout Center is a good hostel. Click here to check the photos, reviews and availability. If you prefer mid-range hotels, the Barberini Boutique Hotel is a nice hotel, and the staff makes sure you're having a good time. Click here to check the photos, reviews and availability. If you're into luxury hotels, the Singer Palace Hotel is made for you, and it's in the heart of Rome. Click here to check the photos, reviews and availability. Otherwise click here to check the hotels available in Rome.