Thinking about going to Paris in the summer? Spending a few days in the summer in Paris is a great idea! Indeed, the locals take their vacation in August mostly and Paris is quite empty. The streets are calmer than usual, the streets are less crowded, the vibe is more relaxed, with a slower pace. Still, there are many tourists, you won't be alone! Since the Parisians flee town for vacations elsewhere in France or abroad, you'll notice many restaurants are closed in August. Don't worry, there are still several things to do in Paris in the summertime! Let's get into it!
Go to the beach at Paris Plage
Yep, you read it right. You can go to the beach… in Paris! From late June until late August, Paris Plage is an event held on the banks of the Seine river. The river embankments are converted into beaches by the addition of sand, palm trees, umbrellas ans sun-loungers. There are also watersports and games for both kids and adults, and large swimming pools. You'll find snacks and drinks stalls if needed. You can also enjoy Paris Plage at La Villette Canal Basin. Access is free for all.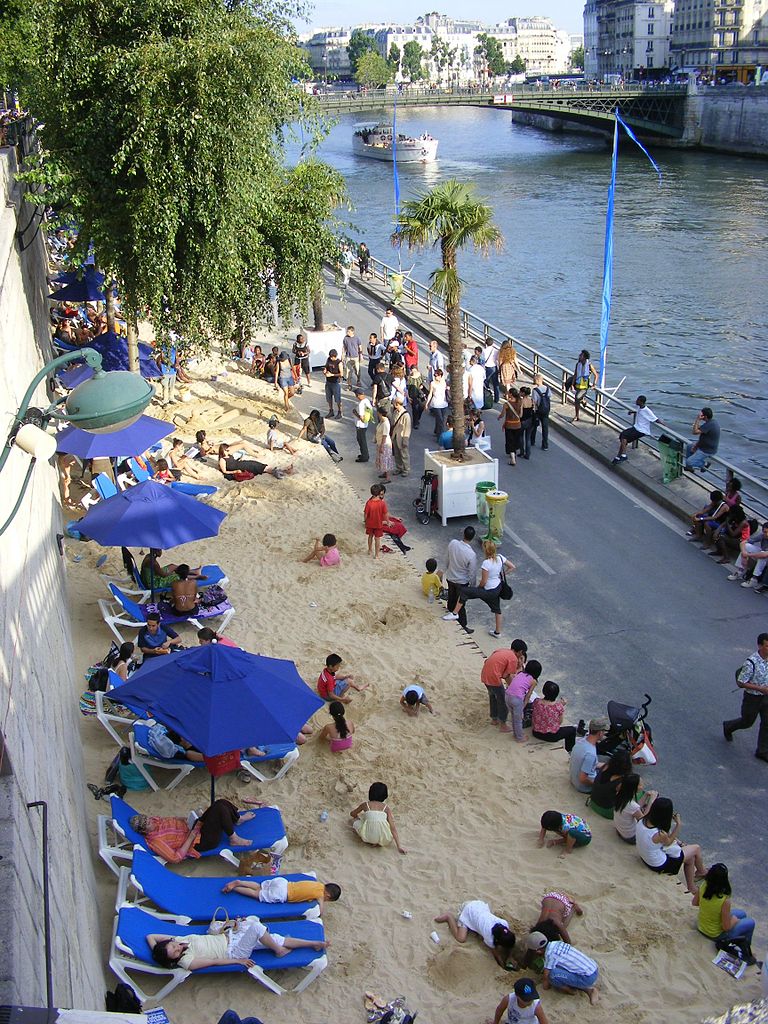 Celebrate Bastille Day
It tales place on July 14th and it's actually the French National Day! Bastille Day is the anniversary of Bastille's taking during the French revolution in 1789. First there's a military parade from 10am down the Champs-Elysées with the French president leading the ceremonies. At 11pm, a remarkable firework is projected above the Eiffel Tower.
To fully enjoy the fireworks, watch from the Champ de Mars, the park around the Eiffel tower. This is one of the best Eiffel Tower views. However, since it's a popular event, so get there early to secure a nice spot. Don't feel like going home after the fireworks? Don't worry, that night every fire station in Paris holds its annual Fireman's Ball, big parties from 9pm 'til the break of dawn! And it's free!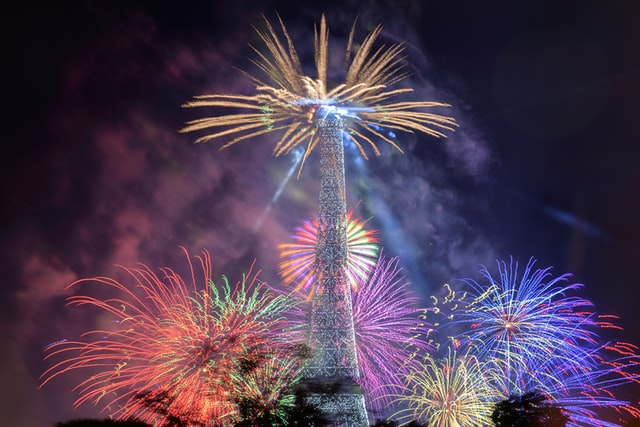 Have a picnic
Paris is great if you want to have a picnic! Go to an épicerie (grocery), get a baguette, cheese and a bottle of French wine, and head to one of the numerous green spaces in Paris. Where to go? You have numerous options: the Champ de Mars in front of the Eiffel Tower but also the Luxembourg gardens, Invalides, the Buttes Chaumont, Parc Monceau, Jardin des Tuileries, the Bois de Vincennes, etc. Each park has its own distinct personality and charm. It's a great idea to have a picnic and enjoy the Parisian green spaces at the same time!
Take a boat tour of the Seine river
Taking a boat tour of the Seine river is probably the best way to see Paris' most popular landmarks like the Eiffel Tower, Notre Dame, the Louvre, Invalides, place de la Concorde, the Statue of Liberty… Summer is the best time to do it, you'll enjoy nice views and a great weather. Click here to enjoy a hop-on hop-off sightseeing cruise. Click here to go on an evening cruise with dinner on the Seine river. Click here to go on a cruise with crepe tasting near the Eiffel tower.
Drink and dine al fresco
Since the weather is nice, you'll notice the Parisians love outdoor drinking and dining. Find a nice terrace and enjoy a croissant, a coffee or a beer! You can also have lunch or dinner there while people watching! Where to go? There are hundreds, sorry thousands of terraces. Among others Paname Brewing Company, Grand Coeur, Chez Gladines, etc. Check out this list of trendy restaurants in Paris!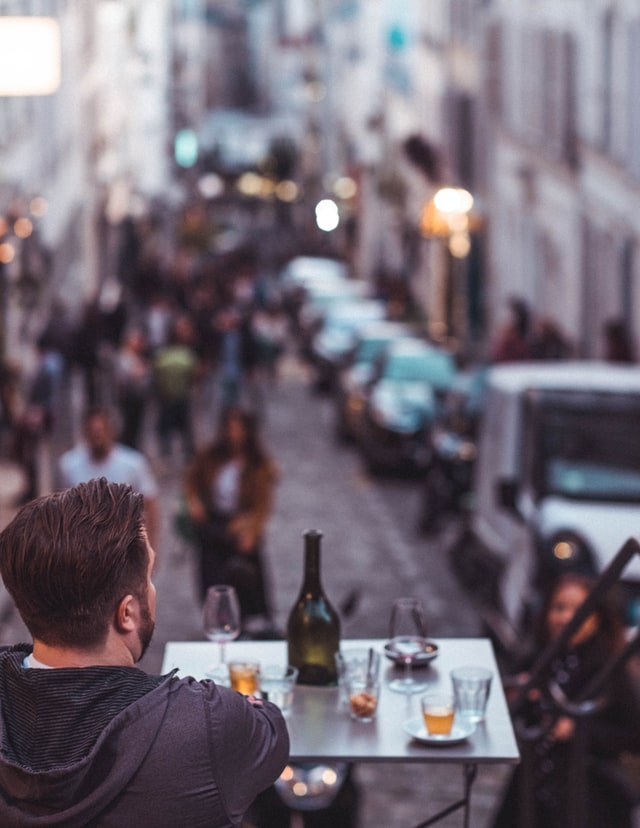 Attend a festival
During the summer, there are numerous great open-air events and festivals in Paris. If you're into music, you're gonna love it! Rock en Seine is a 3-day rock festival, the Paris Street Music Festical takes place on June 21st and the whole city turns into a giant party with music literally everywhere. There's also the Paris Jazz Festival, Lollapalooza, the Paris Gay Pride…
Watch a movie outdoors at the parc de la Villette
From late July to late August it's possible to enjoy an outdoor movie at the parc de la Villette in the city's north, and it's entirely free. The movies are broadcast on a giant screen overlooking the lawns of the Parc de la Villette. Watching a movie under the stars is really nice! All you have to do is pack a chair, some food to eat and something to drink!
Savor an ice cream
Paris can get hot during the summer. After spending the day walking in the streets of Paris, why not indulge yourself by getting an ice cream? Gelatos will leave you refreshed on a summer afternoon, and there are many local gelato places in Paris! Berthillon is probably the most popular (it opened in 1954!) but there's also Il Gelato del Marchese, Amorino, Pozzetto, Grom…
Enjoy a fun fair in the Jardin des Tuileries
In the heart of Paris, the Jardin des Tuileries opens its fun fair from late June to late August. It's called Fete des Tuileries. Enjoy a Ferris wheel overlooking Paris and a double-decker carousel, play fun carnival games and indulge in crepes, waffles, cotton candy and many more. Enjoy the fun fair with your soulmate, your friends or your family. It's free to get in, you just pay by the ride.
Check out the flea markets
Summer is a good time to check out the Paris flea markets. You'll find there hidden gems you won't find anywhere else. Head to Porte de Clignancourt to find the biggest flea market in France, les puces de Saint Ouen. Get there early, about 150,000 people visit each weekend!
Go to the Chateau de Versailles
Take a day trip to the Chateau de Versailles. It was the official royal residence of France for over 100 years. To this day, it's still one of the largest palace complexes in the world. You have to get there during the summer because you'll be able to fully enjoy the wonderful gardens there. There are also several events in the gardens through the summer. Click here to buy your Versailles Palace ticket. Click here to buy your Versailles Palace ticket with transport to and from Paris. Click here to buy your Versailles Palace ticket with transport to and from Paris, and a guide. Click here for a Versailles Palace private tour for families.
Relax on a rooftop
There are numerous rooftop bars in Paris and surprisingly they're not that crowded (don't forget the locals are on vacation!). Each rooftop bar has its own vibe. Head to Le Perchoir Marais, Le Perchoir de l'Est, Mama Shelter, Le Point Ephemere, the Terrass Hotel or the Bar à Bulles.
That's it! Now you know how enjoy Paris in the summer! It's one of the most beautiful cities in France! If you're going to Paris during another season, or if you're visiting Paris for the first, here's how to spend a weekend in Paris! You can also check out this list of best hotels in Paris. Have you been ever spent summer in Paris? Let me know!