Planning to visit Armenia? It's an excellent idea! It's not the most popular destination, but Armenia is a wonderful country! Culture and history lovers will love it, Armenia is 3500 years old! It's the first country to declare Christianity as its national religion. Due to its location, everyone passed through the region: Romans, Byzantines, Persians, Soviets… What to do in Armenia? Here's a list of Armenia tourist places, then I'll share Armenia travel tips!
Things to do in Armenia
Yerevan
Yerevan is the capital of Armenia and it's the largest city of the country (1/3 of the Armenian population lives there). There's an big cafe culture, numerous restaurants and a vibrant nightlife. You cannot miss Republic Square where you'll see the history museum of Armenia and a beautiful fountain. You have to see the statue Mother Armenia, the cascade complex and of course the Armenian Genocide Memorial. I wrote a detailed article about my visit to Yerevan. Click here to find your accommodation.
Lake Sevan
It's one of the most famous Armenia tourist attractions! Lake Sevan is in the heart of Armenia and it's the largest lake of the country. It's popular among the locals and tourists because you can enjoy numerous activities offered there (watersports…). There are also many monasteries and churches around the lake such as Sevanavank monastery. Some quiet villages surround the lake, but there are also more lively places with bars and clubs. Don't miss Noratus cemetery and try isxhan (trout) from the lake, it's delicious! Click here to find your accommodation.
Dilijan National Park
Dilijan National Park only opened in 2002 but it's already one of the most popular Armenia tourist spot. You'll find there wonderful lakes and monasteries dating back to the 10th century such as Matosavank and Hagharstin. It's an ideal park if you like hiking. People mostly go there to enjoy its lush forests. Dilijan was a peaceful retreat for creative types (musicians, writers etc.). Click here to find your accommodation.
Khor Virap
It's probably the most famous monastery in Armenia. It's among Armenia's most visited pilgrimage sites, and Armenians get married there. It was where Gregory the Illuminator was imprisoned for 14 years. After being released, he convinced King Tiridates III of Armenia to convert to Christianity. This is how Armenia became the first Christian nation. You also have a wonderful view of Mount Ararat from the monastery.
Noravank
There are many monasteries in Armenia, another popular one is Noravank, built in the 13th century. People say the monastery was saved by God himself when Armenia was conquered by the Mongols. Surrounded by high cliffs of beautiful orange and red colors, it's very popular thanks to the carvings and motifs on the facades.
Garni
Garni is not far from Yerevan, and it's definitely one of the places to see in Armenia. People go there to admire its temple dating back to the 1st century and its monastery. Some people say the temple was the sumer house of the royal families, others think it's a tomb. Don't miss it, and also Geghard monastery, a UNESCO World Heritage Site. Click here to find your accommodation.
Gyumri
It's the second largest city of Armenia. It was devastated during the 1988 earthquake, and you can still see today how badly it was destroyed then. Head to the black fortress to enjoy a nice view of Gyumri. There are also many museums there, a brewery and also a Mother Armenia statue! Click here to find your accommodation.
Echmiadzin
It's the cultural capital of Armenia. Its real name is Vagharshapat but no one uses it. People go there to see its breathtaking cathedral. Saint Gregory the Illuminator built it from 301 to 303. It's one of the oldest churches in the world! There are other churches in the city, all of them being UNESCO World Heritage sites. Click here to find your accommodation.
Tatev monastery
Located in the south of the country, close to the border with Iran, Tatev monastery was built in the 9th century. It's not easy to get there but the stunning views make the long trek worthwhile. Surrounded by mountainous landscapes, you'll see there three churches, a library, a refectory, a bell tower and a mausoleum.
Jermuk
Jermuk is a wellness town! You'll find there numerous spas and wellness centers! They say its mineral water has healing properties. Don't miss the Jermuk waterfall, the second highest of Armenia. Click here to book your accommodation.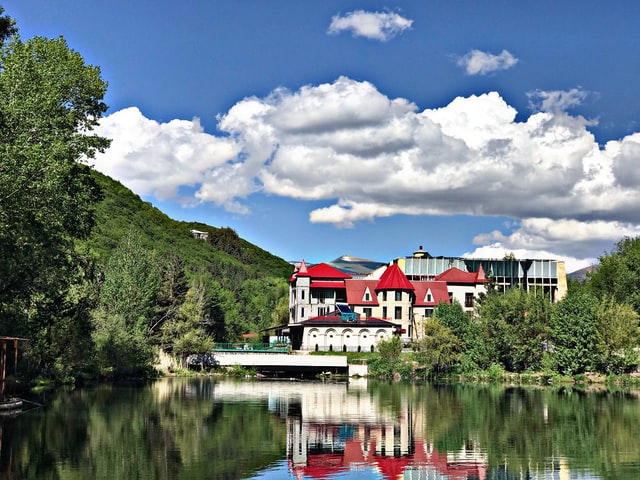 Areni
This is where you'll find the best wine of the country. The Armenian wine is mostly produced in Areni. You can taste the local wine at different vineyards and buy some bottles. For your information, Areni is also home to the earliest known leather shoe, one of the oldest surviving brains, and a 6,000-year-old straw skirt! Click here to find your accommodation.
Vanadzor
Vanadzor is the third largest city of Armenia. It's in the north of the country. You have to see the botanical garden of Vanadzor, and take some time to visit the museum of fine arts. Have a walk in the charming city center. Vanadzor is a good starting point to visit the Lori region and its monasteries. Click here to find your accommodation.
Amberd fortress
Amberd fortress dates back to the 7th century. Its name means "fortress in the clouds" cause it's 2,300 meters (7,500ft.) above sea level! Consequently sometimes the fortress is not accessible in winter because of the snow. The fortress is impressive, and the view from the top of it is stunning!
Karahunj observatory
Sometimes we call it the Stonehenge of Armenia! It's made up of over 200 massive stone tombs, plus 40 stones standing in a circular formation. Each stone has holes 5cm (2inch.) in diameter. Like Stonehenge, this construction remains a mystery for scientists. Most people say it served as an observatory for star-watching.
These were the best places to visit in Armenia! Now here are a few Armenia travel tips!
Armenia travel budget
Accommodation is not expensive in Armenia. One night in a hostel dorm costs around 4,000 AMD ($8). One night in a mid-range hotel costs about 10,000 AMD ($20). If you prefer luxury hotels, you'll pay around 50,000 AMD ($100) per night. Click here to find your accommodation.
Food is not expensive either. A local dish cost around 3,000 AMD ($6). One beer costs about 1,000 AMD ($2). A meal in a high-end restaurant costs around 5,000 AMD ($10).
Regarding transportation, a metro or bus ride costs 100 AMD ($0.20). For the taxis, prices start at 600 AMD ($1.25) plus 100 AMD ($.20) per kilometer. There's Uber too. Intercity buses and marshrutka rides are not expensive, around 1,000 AMD ($2). Train rides costs between 1,000 and 6,000 AMD ($2-12), depending on where you're going. There are domestic flights between Yerevan and Gyumri. A one-way flight costs around 60,000 AMD ($120). You can also rent a car for 25,000 AMD ($50) per day. Finally, hitchhiking is very common in Armenia.
Regarding activities, nothing is expensive. You'll rarely pay more than 1,000 AMD ($2) to visit a monastery.
Basically, if you're traveling on a budget, you can get by with $40 per day. Otherwise you'll spend about $70 per day.
How to get around in Armenia
In Yerevan only, there's the subway (one line with 10 stations), and Uber. There are also buses and marshrutkas (vans). To get around in the country, there's also the train, the marshrutkas, domestic flights and hitchhiking. Be careful though, there are very few signs in English. Don't hesitate to ask a local for help.
Best time to visit Armenia
June, September and October are the best months to visit Armenia. The weather is nice (around 20°C/68°F) and it's possible to enjoy outdoor activities. In May it rains a lot. In July and August it's scorching outside (around 35°C/95°F). In winter it's really cold (below 0°C/32°F), only get there if you want to ski. On the first week of January, almost everything is closed! If you go to Armenia 14 weeks after Easter (around July), you'll enjoy Vardavar festival.
Visa policy of Armenia
If you're an European citizen or coming from a Western country, you don't need a visa to get to Armenia. You can find all the details here.
Safety in Armenia
Armenia is a very safe country. Since it's not a touristy country, there are almost no scams targeting tourists. You might face being overcharged by taxi drivers but that's it. Also avoid the Nagorno-Karabakh region which is in conflict with Azerbaijan and everything will be fine. Solo female travelers felt very safe in Armenia.
Sometimes the locals will stare at you, but it's just because they're not use to see tourists. If you drive be careful because the driving can be crazy there. Don't forget to get travel insurance. It will protect you against illness, injury, theft and cancellations. Click here to get one.
Packing list for Armenia
I'm not gonna list all the things to pack for Armenia. I don't know how long you're gonna stay there, where you're going in Armenia, what you're going to do and when you'll visit. Take all the necessary clothes, toiletries, and also:
Here's a full list of travel accessories, which can be useful!
What to eat in Armenia
There are many dishes you have to try in Armenia! Lavash is a thin flatbread which is complimentary with almost every dish. Dolma is a dish of minced meat, rice, herbs and spices wrapped in grape leaves. Lahmajun is an Armenian thin crust pizza with beef. Ghapama is an entree comprising of rice cooked in a pumpkin-vegetarian. Tan is a yoghurt drink like the Indian lassi. Finally, the Armenian brandy is renowned all over the world (Churchill and Stalin loved it).
That's it! You have all the information needed to travel to Armenia smoothly!